As you swipe your favorite balm over your lips or apply foundation over your face, have you ever wondered if the products you use are manufactured properly? Do they contain ingredients that will benefit your skin? More importantly, were they developed compassionately? This blog post aims to answer the question "Which makeup brands are cruelty free?" But before presenting all the makeup brands we've reviewed, we discover the answers to these important questions:
What does it mean to be cruelty free?
Cruelty free is defined by the Merriam-Webster dictionary as "developed or produced without inhumane testing on animals." Additionally, People for the Ethical Treatment of Animals (PETA) states that for something to be considered cruelty free, both its raw ingredients and final product should not be tested on animals.
How can one get certified as cruelty free?
The two most popular groups that verify if products, brands, and companies are cruelty free are Beauty Without Bunnies and Leaping Bunny. If a cosmetic brand hopes to gain cruelty free accreditation, they must apply and meet all of the organisation's requirements. Once they receive cruelty-free certification, they may choose to license the animal-test-free logo for a fee, which can be used on their website, product packaging, and promotional materials.
Beauty Without Bunnies
A program created by PETA, Beauty Without Bunnies has over 5,400 global companies in their database that don't test on animals. They've broken down their list to include companies that don't test on animals, companies that do test on animals, and companies working for regulatory change. They also have a category for vegan companies that don't test on animals.
For a brand or company to get PETA's approval, they must submit a legally binding statement of assurance and the necessary paperwork. All of these must prove that the raw ingredients used, the formulations made, and the finished products are not tested on animals anywhere in the world. PETA also requires companies to give details on how they test their products, where their products are sold, what kinds of products they offer, and what kinds of ingredients they use. The companies should also have proof that their suppliers do not engage in animal testing at any stage.
Leaping Bunny
Operated by the Coalition for Consumer Information on Cosmetics in the US and Canada, Leaping Bunny Program has been vetting personal care and household products since 1996. The organisation defines animal testing as "all testing of finished Cosmetics and/or Household Products, or any one or more Ingredients or formulations used in manufacturing or production of such products in which whole non-human animals are the test subjects, including without limitation, fish, amphibians, reptiles, birds, and non-human mammals. Animal Testing excludes in vitro tests or tests conducted completely with human volunteers."
At present, Leaping Bunny has over 2,180 certified cruelty free brands. It is known to have more stringent requirements than Beauty Without Bunnies as it requires companies to renew their certification on an annual basis and agree to independent audits. Their detailed criteria for cruelty free accreditation is posted on their website.
What are the major considerations to be considered cruelty free?
For a makeup product or brand to be considered truly compassionate towards animals, it must meet all of these conditions:
Its ingredients must not be tested on animals by the company's suppliers at any phase
Its formulations and product developments must not be tested on animals by the company at any phase
Its final product/s must not be tested on animals by the company or a third party contracted by the company
Aside from these conditions, Waldo's Friends only considers a brand 100% cruelty free if it is not sold in countries with mandatory animal testing. Ethical Animal reports that China has exempted general cosmetics (namely makeup, skin care, hair care, nail polish, and perfume) from animal testing in 2021. However, certain products may still undergo post-market animal testing depending on its ingredients and product claims.
Since there is no official regulating body or government-sanctioned organisation for cruelty free products, some brands loosely use the phrase "cruelty free" or "not tested on animals" without gaining certification. To guarantee that the cosmetics brands you're buying are truly cruelty free, it is best to search for them in the Leaping Bunny and Beauty Without Bunnies databases. Also, since brands and companies are not legally required to undergo cruelty free certification, the names on the lists are the ones that have voluntarily applied for certification.
Are cruelty free products automatically vegan?
Not necessarily. Cruelty free is focused on not using animals as test subjects. On the other hand, PETA states that a vegan product must not include any animal-derived ingredients. Common animal ingredients and by-products used in cosmetic products include honey, beeswax, gelatin, yogurt, lanolin, squalene, carmine, ambergris, and placenta. As such:
If a cruelty free product uses any animal-derived ingredients or by-products, it cannot be considered vegan.
If a vegan product, its raw ingredients, or its formulations are tested on animals, it cannot be considered cruelty free.
A product that does not have any animal-derived ingredients or by-products and did not undergo any animal testing at any stage is vegan and cruelty free.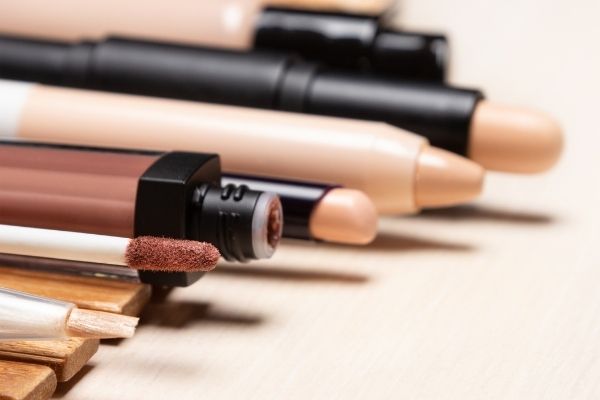 Which makeup brands are cruelty free?
Following the major considerations listed above, find out which cruelty free makeup brands we've reviewed on Waldo's Friends and consider truly cruelty free.
Cruelty Free Makeup Brands:
Non-Cruelty Free Makeup Brands:
Although some of these makeup brands and their companies are considered cruelty free by PETA, they are imported and sold in countries such as China where animal testing is still legal.
Aside from these makeup brands, you can find out which skin care, hair care, and personal care brands are cruelty free in our blog.