Make gift buying a fun and thoughtful experience! Knowing who your recipient is plays a huge part in purchasing the perfect present, and when it comes to animal rescuers and animal rescue supporters, we've got you covered! Before diving into our amazing gift suggestions, let's take a quick look at what we mean by animal rescuer.
Who is an animal rescuer and an animal rescue supporter?

Sentient Media defines animal rescue as "a broad term that refers to any effort to save animals from cruelty and abuse. An animal rescue operation, whether law enforcement or civilian, identifies animal cruelty, recovers animals from substandard conditions, and makes every effort to give those animals better lives."

Animal rescuers work with domesticated animals by rescuing, rehabilitating, and rehoming them. They care for these animals in need through multiple ways, such as helping feed, bathe, groom, and exercise them, or by performing administrative tasks to help the rescue centre run smoothly. Day-to-day operations include arranging the staff workload, setting up meetings between prospective parents and pets, and screening rescue volunteers.

Animal rescue supporters may or may not necessarily be rescuers themselves, but they usually affiliate themselves with animal rescue groups and/or animal welfare communities. These people take pleasure in assisting animal rescue organisations through donations, volunteer work, supporting animal rescue-related events, and spreading the word about the benefits of animal rescue and proper pet parenting.
What should you consider when buying a gift for an animal rescuer or animal rescue supporter?
When selecting gifts for animal rescuers or animal rescue supporter, make sure the item meets one or more of the conditions below:
Shows the person's love for animals
Speaks out about the person's animal rescue advocacy
Was made without hurting animals or testing on them
Supports an animal-related cause
What kind of gifts can I give an animal rescuer or animal rescue supporter?
Choose from 20 items as possible gifts for animal rescuers! Look through five different categories: fashion, accessories, kitchen, home, and travel. Think about what your receiver's interests are or do some low key stalking to find out what the person needs at the moment, then read on to learn more about each product. For sure, you'll find something that would match the animal rescue lover in your life!
Fashion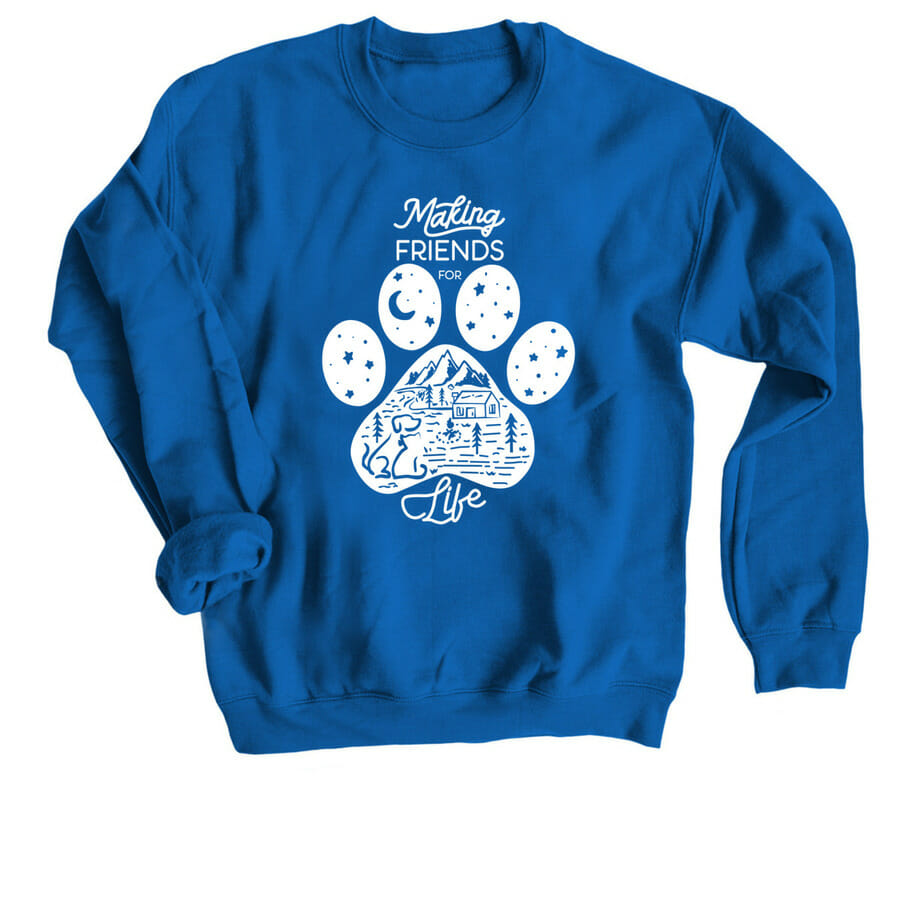 Delaware Humane Association Making Friends for Life Crewneck Sweatshirt
24.99 USD
Founded in 1957, this non-profit, no-kill animal care and adoption centre acts as a voice for companion animals rescued in Delaware, USA. Each year, they save hundreds of animals by getting them off the streets, providing them with food and temporary shelter, nursing them back to health, and, eventually, finding them new homes. To raise funds for their centre, they sell apparel via the fundraising website Bonfire.
Delaware Humane Association makes use of its motto "making friends for life" to craft one-of-a-kind graphic apparel for men and women. Available in four colours (dark heather, royal blue, purple, and orange) and from small to 3XL, the comfy sweatshirt features the typography combined with a paw print illustration of two animals appreciating a camping lodge, a roaring fire, and the great outdoors.
Buy the product here.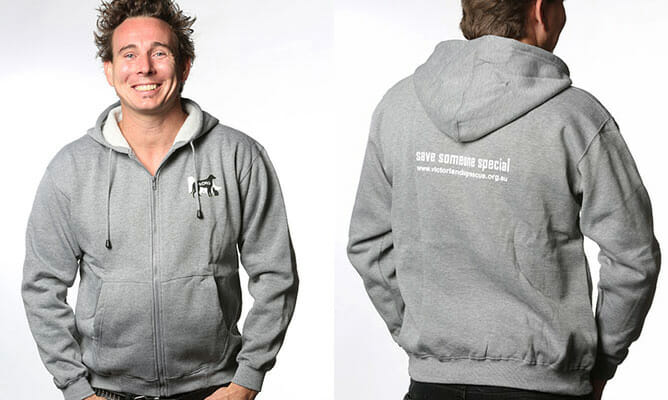 Victorian Dog Rescue & Resource Group Save Someone Special Hoodie
49 AUD
Victorian Dog Rescue & Resource Group (VicDRG) treats and cares for every dog or cat that comes into their care. The group goes the extra mile to permanently foster and pay for the vet bills and medical needs of abandoned or un-adoptable pets.
As a not-for-profit charity, VicDRG relies on donations and fundraisers to keep their organisation running. Support them and their wards while finding a cool, wearable present for the animal rescuer in your life by choosing from their merchandise. Available in XS to XXXL, their understated unisex hoodie comes in black, grey, or charcoal, and can be ordered in full zip or pullover style. The VicDRG logo sits on the upper left part of the chest, while the line "save someone special" is printed on the back over the VicDRG web address.
Buy the product here.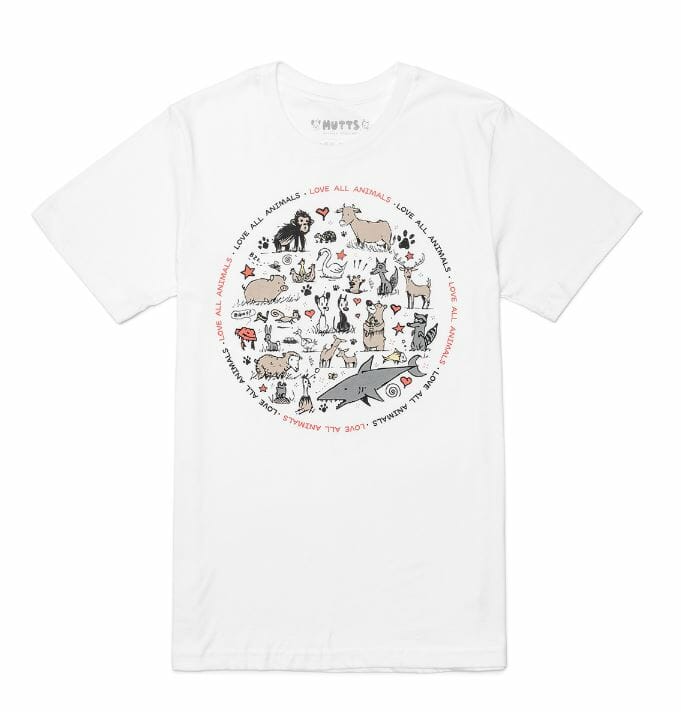 MUTTS Love All Animals Short Sleeve Tee
25 USD
Comic illustrator and book author Patrick McDonnell is a passionate advocate for animals and the environment. The stories he has told and drawn have inspired real-life adoptions and support for animals of all species and backgrounds. For every purchase from the MUTTS Shop, five percent is donated directly to The Humane Society of the United States' Animal Rescue Team. Donated funds help the organisation combat large-scale cruelties such as puppy mills, animal fighting, and wildlife trade.
Give someone a chance to profess their love for all kinds of animals through an illustrated MUTTS shirt. Made of the finest ringspun cotton from India, the white, short-sleeved tee (S to XXXL) for adults features illustrations of Mooch, Earl, and other creatures such as sharks, bears, swans, and more! A must for animal rescuers or supporters that are also into comic book-style drawings.
Buy the product here.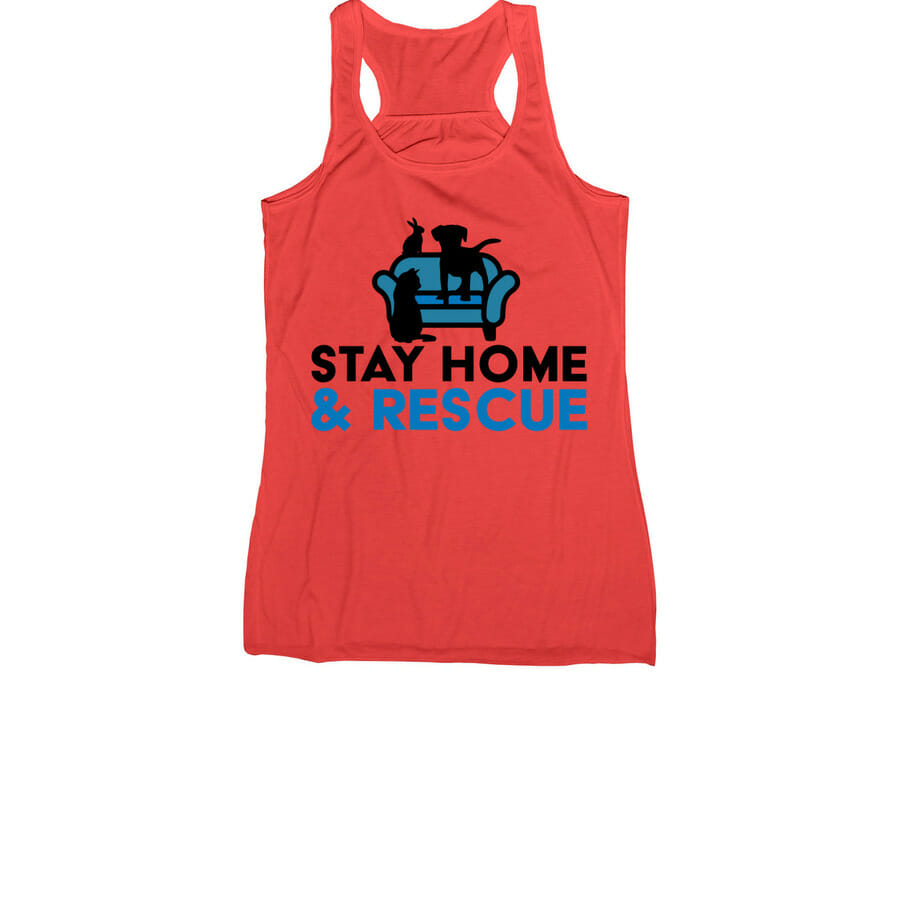 PSPCA Stay Home and Rescue Women's Racerback
30 USD
PSPCA has been an advocate for animals since 1867. It was created to protect animals, to prevent cruelty against animals, and to improve the health and quality of animal life throughout Pennsylvania, USA. Every donation given or merchandise bought from PSPCA allows the facility to help more voiceless animals suffering from cruelty and neglect within the community.
Their "stay home and rescue" women's racerback top features silhouettes of three animals—a rabbit, dog, and cat—on or by a couch. It can be ordered in the preferred shade (athletic heather, red, or white) and size (small to 2XL) of your recipient. The animal rescuer or rescue fan who receives it will surely enjoy wearing this soft and airy poly-blend tank top whether she's spending time with her pets at home or taking the dog out for a quick walk.
Buy the product here.
Accessories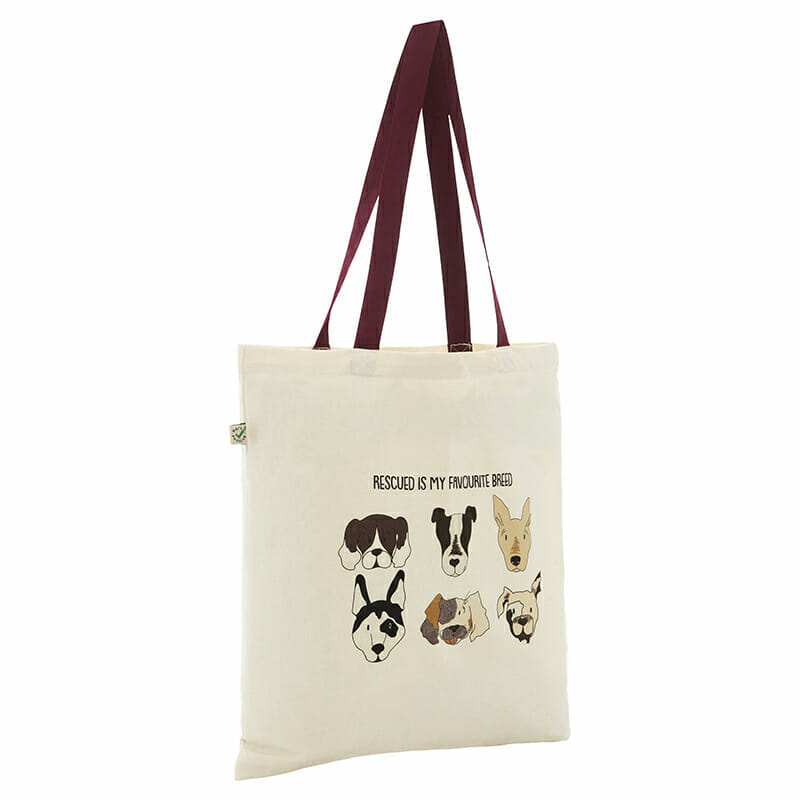 Waldo's Friends Rescue Dogs Tote Bag
25 AUD
Waldo's Friends is all about raising awareness and funds for animal rescue through beautifully crafted and ethically produced goods. Through the "rescued is my favourite breed" rescue dogs tote bag, the not-for-profit gives the opportunity for voiceless, homeless dogs to be heard, and, hopefully, be taken from local shelters or animal hospitals and into furrever homes.
Aside from proudly supporting animal rescue efforts (50% of each tote bag's profits are donated to animal rescue shelters), the 38 cm x 42 cm pure organic tote bag is also environmentally friendly. The original graphic design was printed using eco-conscious screen printing inks, and shows off six unique-looking dogs of various sizes, breeds, and colours. The ecru bag can be purchased with either black, burgundy, or navy straps.
Buy the product here.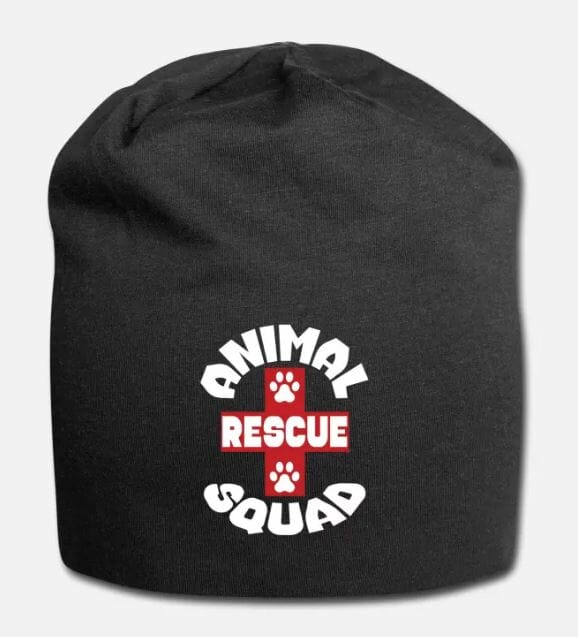 Animal Rescue Squad Beanie
27.99 AUD
This stylish accessory proudly advocates for the cause in bold white letters that proudly state "animal rescue squad" with white paw prints across the red cross. Perfect for winters, the soft yet snug-fitting beanie complements any outfit. This beanie is made of a polyester, cotton, and spandex blend, and is available in heather grey, charcoal grey, and black. The design is also slightly longer at the back of the head.
Buy the product here.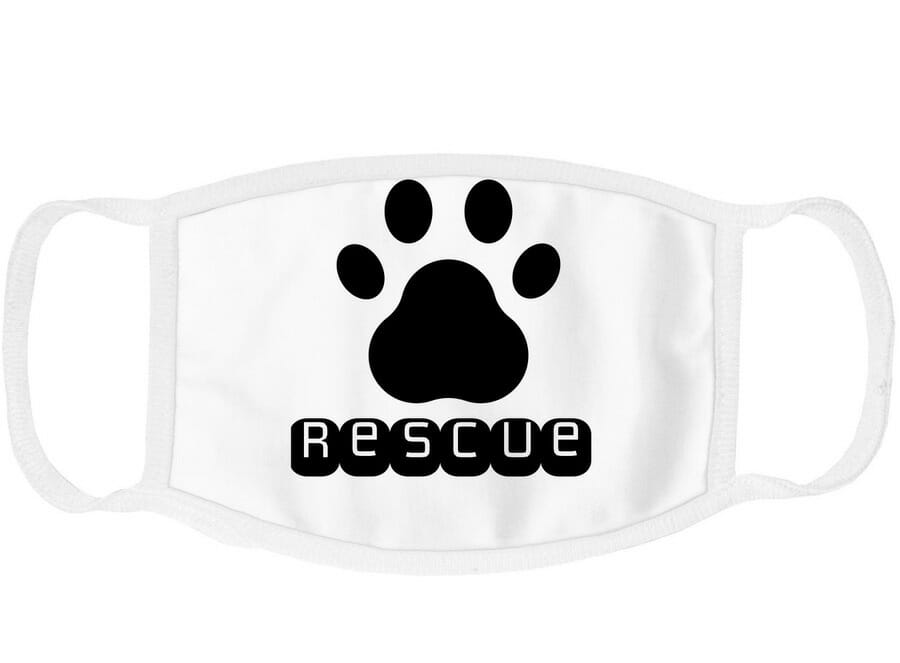 Few Steps from Home Animal Rescue face mask
9.99 USD
Support a volunteer-run group from Bay City, Michigan by buying a couple of their white cotton face masks and presenting them as gifts. Not only are they thoughtful presents that prioritise the health of the receiver/s, but they also benefit someone else in need (Bonfire promises to send a mask to a healthcare provider for every mask purchased).
This face mask created by Few Steps from Home Animal Rescue features a black paw print and the word "rescue" presented in block form. Recommended for people four years old and above, the two-ply reusable mask can be used regularly but must be washed after every use.
Buy the product here.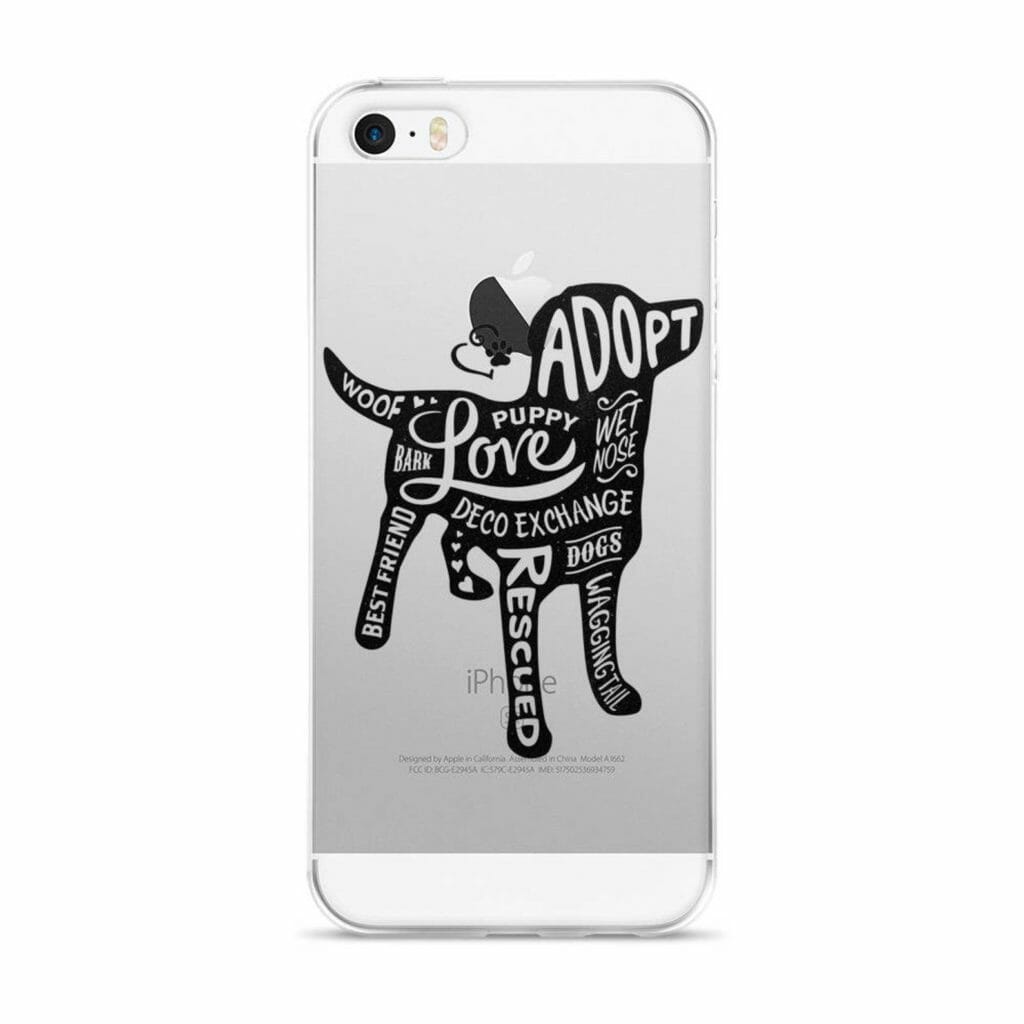 DecoExchange Dog Silhouette iPhone Case
38.80 AUD
If the animal rescuer or animal rescue fan in your life owns an iPhone (models 5 to X), they might love to receive this clear case that would instantly dress up any mobile phone. The sleek yet flexible case is made of hybrid thermoplastic polyurethane and polycarbonate material, which can protect the gadget from scratches, liquid, and dust. Best of all, it has a gorgeous dog silhouette design that contains animal rescue-related words such as puppy love, best friend, wagging tail, and more. Definitely a phone case that will earn a rescue dog's paw of approval.
Buy the product here.
Kitchen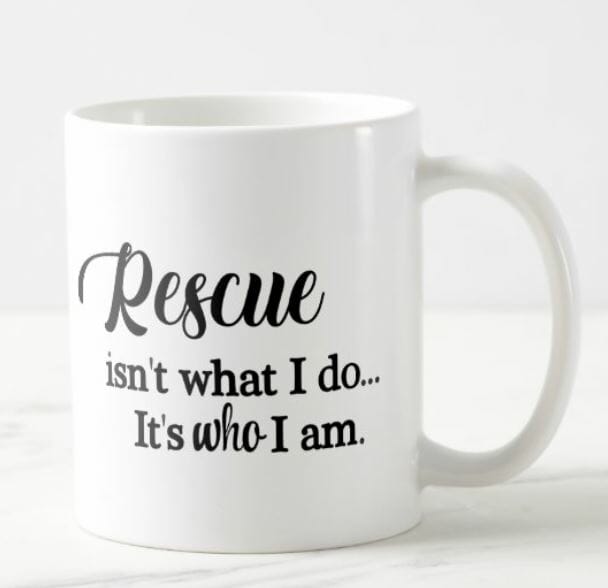 Who I Am Coffee Mug
Starts at 25.45 AUD
This mug is the ideal gift for animal rescuers who are longtime advocates of the cause or those who need a bit of a push to remind them who they can become. Printed against a white backdrop, the black-tinted typography features a simple yet powerful statement: "Rescue isn't what I do… It's who I am." You can pick from two mug options (325 ml or 444 ml at 28.85 AUD) or pay extra to purchase a more special mug: two-tone, combo, frosted, morphing, stein, or travel mug.
Buy the product here.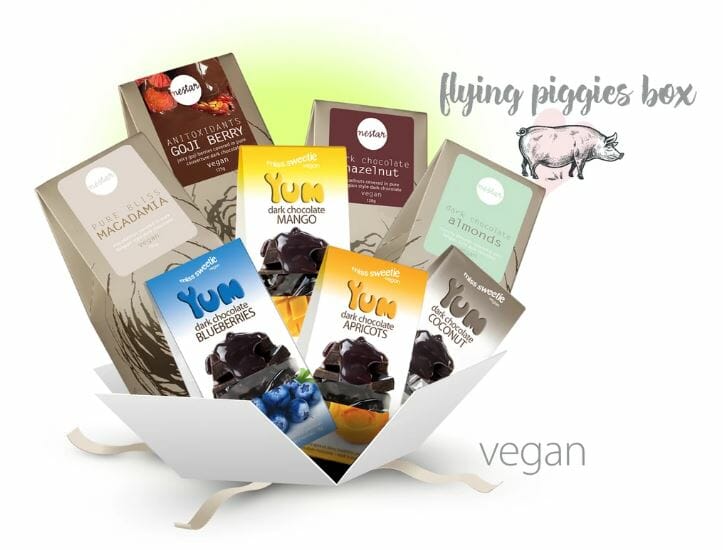 Flying Piggies Box
46 AUD for a set of 7
One good deed deserves another. If the animal rescuer in your life has been selflessly devoting her time to animals, it's time to shower that person with not-so-sweet treats by Nestar and Miss Sweetie Chocolates. All vegan, dairy-free, and cruelty-free, your friend can slowly eat their way through the packs of Dark Chocolate Almonds (128 g), Dark Chocolate Hazelnut (128 g), Dark Chocolate Macadamia (130 g), Dark Chocolate Goji Berries (125 g), Dark Chocolate Mango (100 g), Dark Chocolate Apricots (100 g), and Dark Chocolate Coconut Cubes (100 g) before deciding which flavour they love best!
Buy the set here.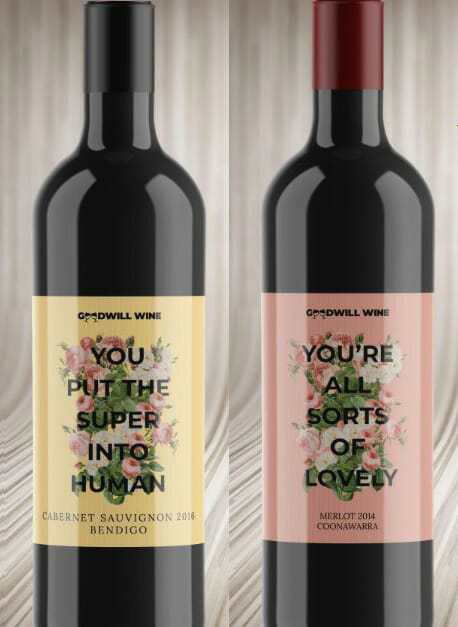 Animals Australia for a Kinder World Goodwill Wines
Starts at 14.95 AUD/bottle (minimum of 6 bottles/order)
Animals Australia for a Kinder World tied up with Goodwill Wines to raise money to protect vulnerable animals across the world. With every bottle purchased from Goodwill Wines, half of its profits will be donated to fund animal cruelty investigations.
Choose from their wide selection of reds (like shiraz, pinot noir, and merlot) or whites (like sauvignon blanc, pinot grigio, and marsanne) that are all vegan-friendly. If you can't make up your mind or simply don't know what your recipient would like, you can go for their most popular sets: First Timer's Mix and Mixed Red. Not only will the contents bring joy to the recipient, but the beautiful messages ("kind people are my kind of people" and "the world needs more of you," to name a few) printed on the labels will make him or her take pause before enjoying the drink.
Buy the product here.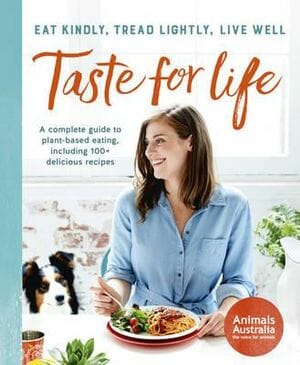 Taste For Life: Eat Kindly, Tread Lightly, Live Well Cookbook
30.95 AUD
Animals Australia is the country's leading animal protection organisation with over 1.5 million individual supporters. In 2017, it came up with a plant-based cookbook that features nutritious and mouthwatering recipes. Taste For Life: Eat Kindly, Tread Lightly, Live Well shares why eating meat-free dishes is beneficial for people, animals, and the planet. It presents easy ways to get started on or continue one's plant-based food journey, sharing what ingredients to ditch and switch, and providing tricks for easy meals to try. With more than 100 recipes to devour from morning, noon, night, and in between, this cookbook will help your recipient eat kindly, tread lightly, and live well.
Buy the product here.
Home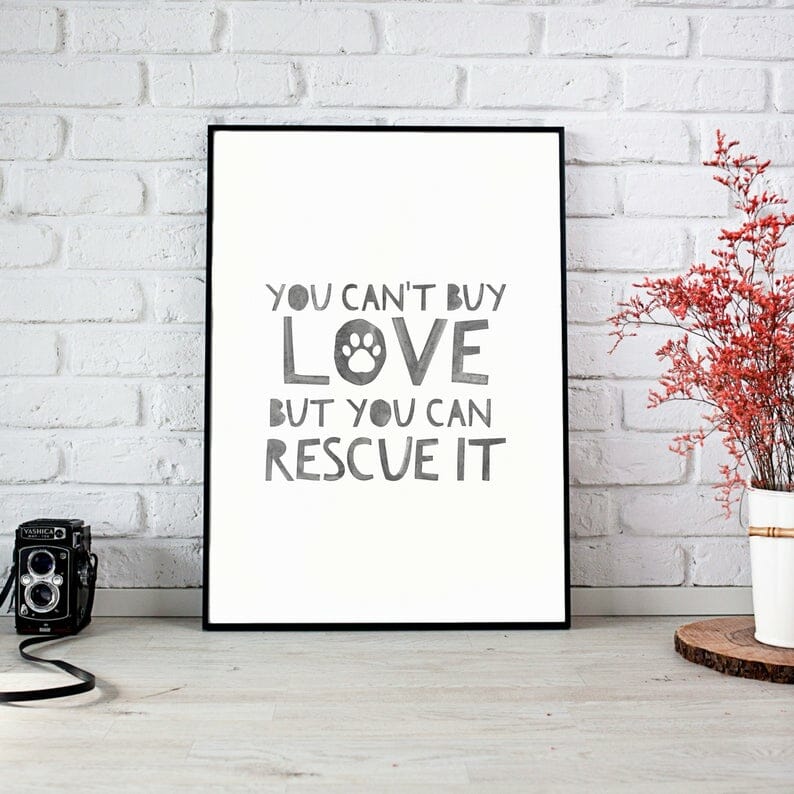 You Can't Buy Love But You Can Rescue It Animal Rescue Digital Print
12.14 AUD
Purchase this digital poster with the words "you can't buy love but you can rescue it." It's a cool gift idea for people who have adopted rescue pets, are actively rescuing animals, or even those involved in foster care. Sold as a set in high-resolution JPG format (three sizes: 7 x 5 inches, 10 x 8 inches, and 20 x 16 inches), the watercolour-inspired artwork can be instantly downloaded once paid for. Head out to the nearest print shop to have this lovely artwork printed on thick paper, canvas, and other surfaces.
Buy the product here.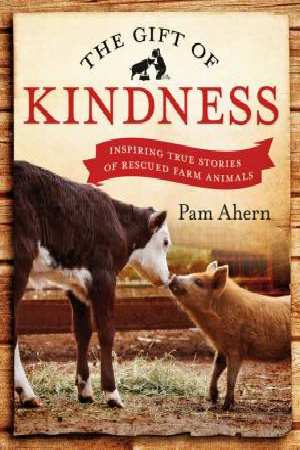 The Gift of Kindness: Inspiring True Stories of Rescued Farm Animals Book
20 AUD
A great addition to an animal welfare advocate's home, The Gift of Kindness was compiled by the founder of the not-for-profit sanctuary for rescued farm animals, Edgar's Mission. In her 215-page book, Pam Ahern shares real-life tales focused on compassion shown to animals. From Ruby (a working dog who found her perfect job after getting a second lease at life) to Macho (an orphaned alpaca who discovered happiness while living with sheep), the adorable creatures in these stories brought out the best in people and changed their lives forever.
Buy the product here.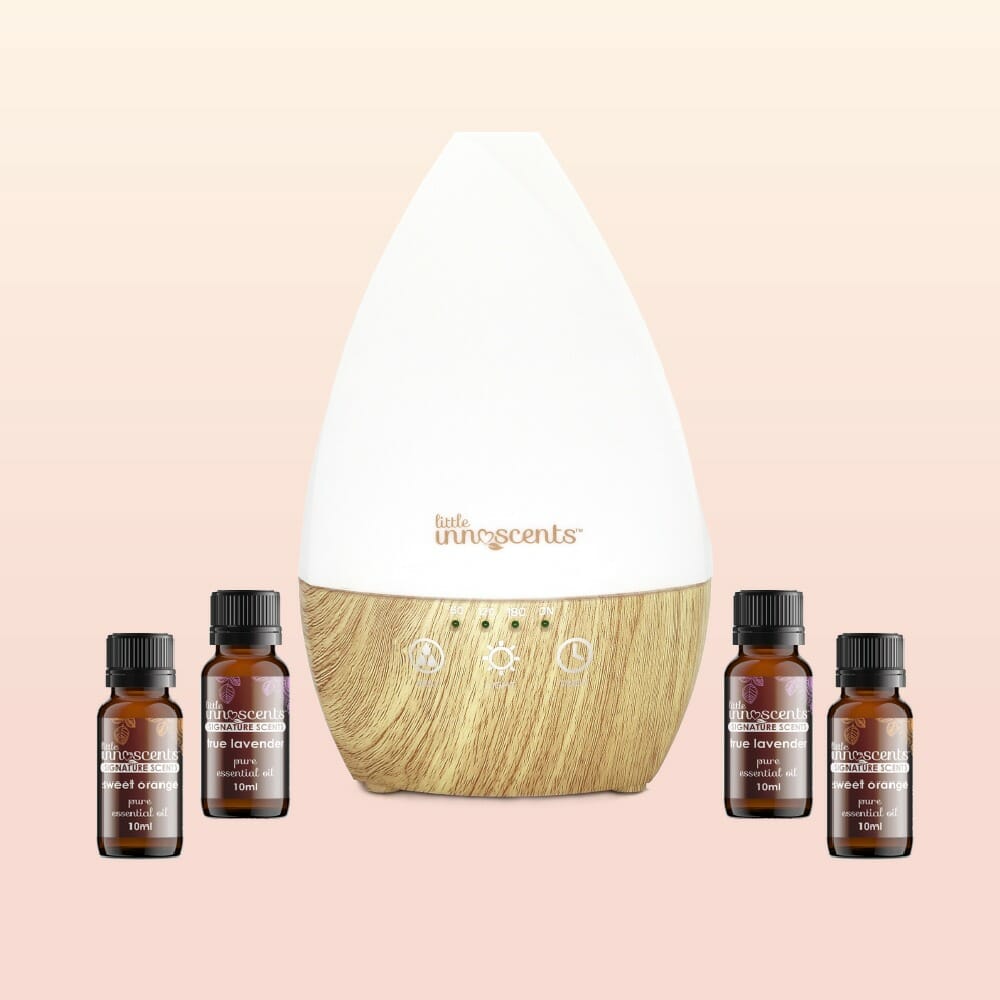 Little Innoscents Luxury Aromatherapy Gift Pack
100 AUD for a set
Little Innoscents creates cruelty-free products that are certified organic and free from harmful chemicals, synthetic ingredients, parabens, SLS or SLES, petrochemicals, and GM materials. Their Luxury Aromatherapy pack can be an indulgent gift for animal rescuers and supporters, which will surely change the atmosphere of any home.
Each pack includes a modern-looking diffuser and four essential oil bottles: lavender (helps people relax and freshens up the air), lime (helps energise and cleanse the air), sweet orange (helps soothe the mind and provide stress relief), and bergamot (helps elevate mood and alleviate stress). Also acting as an air humidifier, the diffuser can eliminate air dryness and improve people's moods through the oil used.
Buy the set here.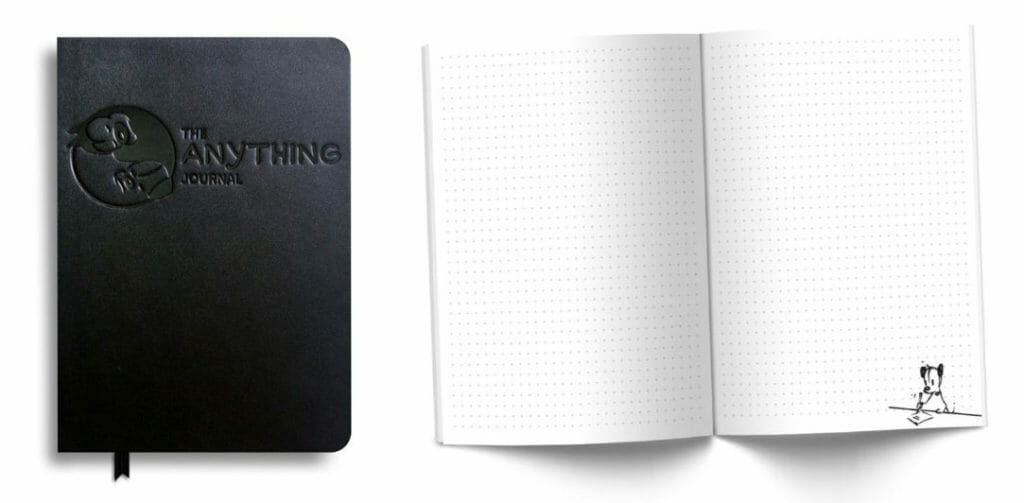 MUTTS The Anything Journal
22 USD
Encased in a vegan faux leather cover, MUTTS The Anything Journal is whatever your recipient wishes it to be. It can be a diary for secret thoughts, a dream journal to chronicle dreams, a sketchpad for new ideas, and so much more! Each page measures 8.25 x 5.75 inches, is 90gsm thick, and has a customisable dot grid. Famous MUTTS characters Earl, Mooch, Sourpuss, and Woofie (and a few other surprises!) weave in and out of the 200+ pages to delight the journal user. The Anything Journal also comes with an attached ribbon bookmark.
Buy the product here.
Travel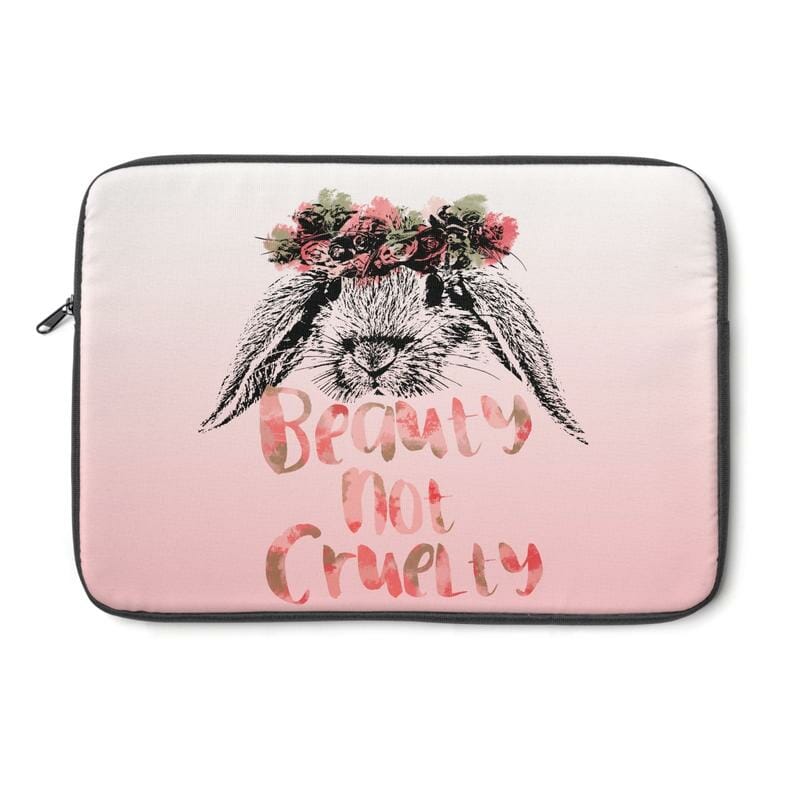 Arm the Animals Beauty Not Cruelty Laptop Sleeve
32.99 USD
Tying together fashion, attitude, and activism, Arm the Animals was founded in 2010 with the goal of raising funds and awareness while supporting animal welfare groups. Their "beauty not cruelty" laptop sleeve is the perfect gadget accessory for animal welfare supporters. Available in three sizes (12, 13, and 15 inches), the polyester laptop sleeve with a top zip closure features an illustrated bunny wearing a flower crown against an ombre pink setting. Lightweight and elegant, it can protect a laptop from scratches and minor impacts.
Buy the product here.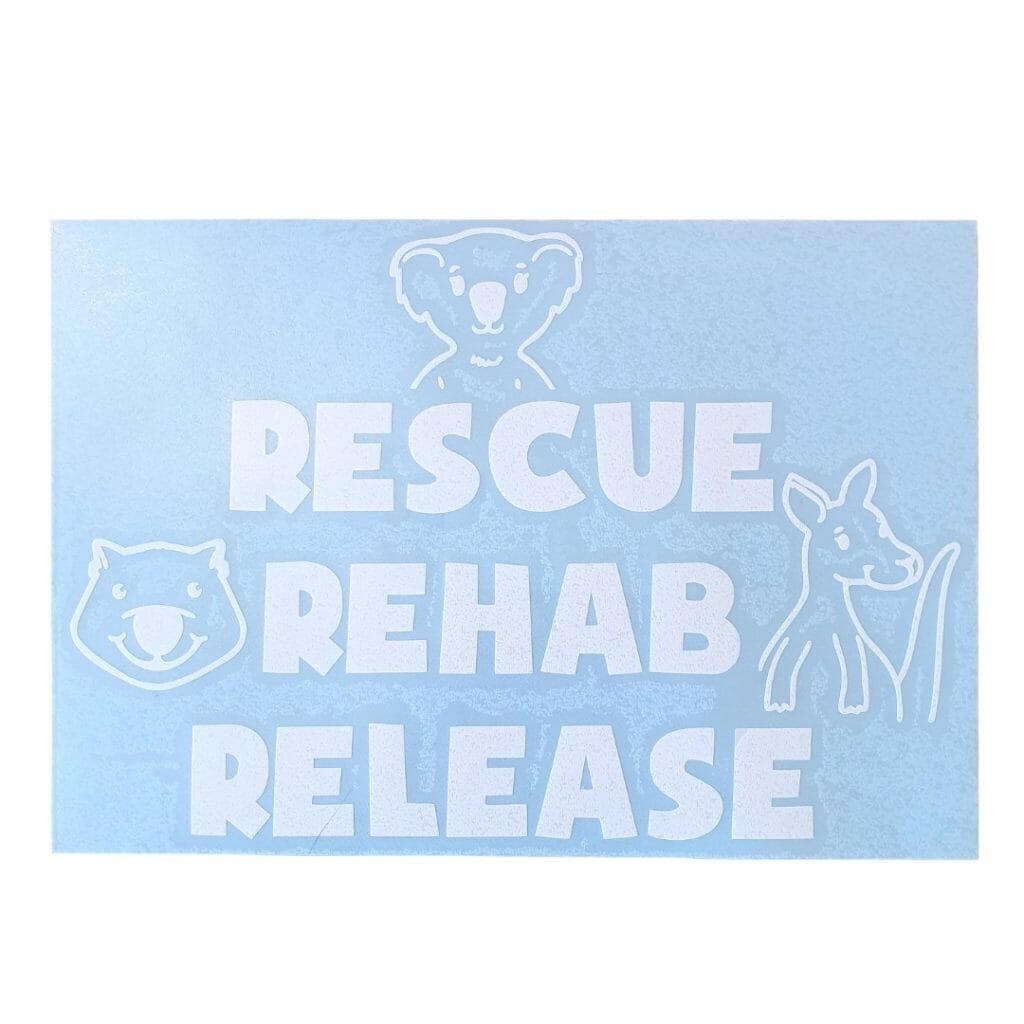 Waldo's Friends Rescue Rehab Release Car Decal
9 AUD
Help your loved one get the word out about animal rescue, rehab, and release work through this weatherproof glossy car decal in white. Measuring at 22 cm (width) x 15.5 cm (height), the premium-quality decal by Crafty Dog Studio features stunning illustrations of our beloved Australian wildlife— a koala, wombat, and kangaroo—alongside the words "Rescue Rehab Release" in bold, white letters.
The weatherproof decal has a glossy outdoor vinyl and is set against a transparent background. It can be attached to all kinds of clean, flat surfaces such as cars, windows, bumpers, hoods, mirrors, and gadgets, and if applied correctly, can last up to five years. It can be easily removed without leaving any sticky residue.
Buy the product here.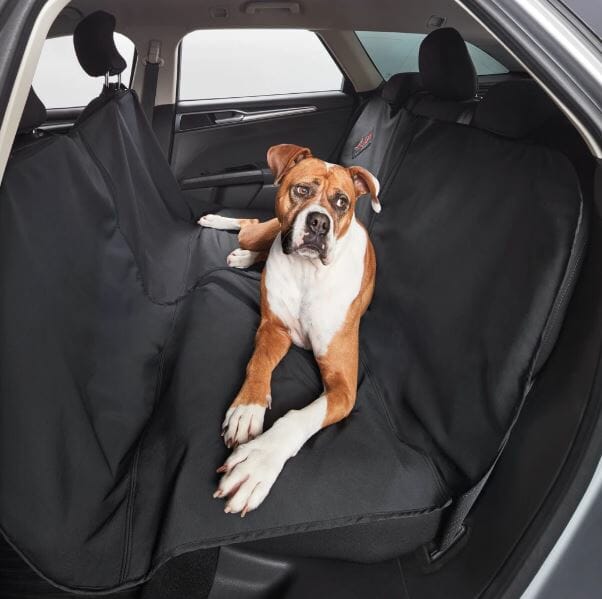 Snooza The Road Tripper Dog Car Seat Cover
149.90 AUD
Protect your rescue-loving friend's car seats with this useful gift by Snooza! An amazing tool that can be used when they need to bring rescue animals to the vet or take them to their furr-ever homes, The Road Tripper is a hammock-style seat protector that fits the back seat of most medium to large-sized cars and SUVS.
Made with reversible, machine-washable materials (cosy polar fleece, water resistant ribbed woven fabric, and polyester), the versatile seat cover can be quickly zipped to cover half or the entire back seat depending on how many animals are tagging along for the ride. Plus, seat belt holes are provided to guarantee the 1740 cm x 1440 cm seat cover doesn't budge no matter how active the furry passengers are.
Buy the product here.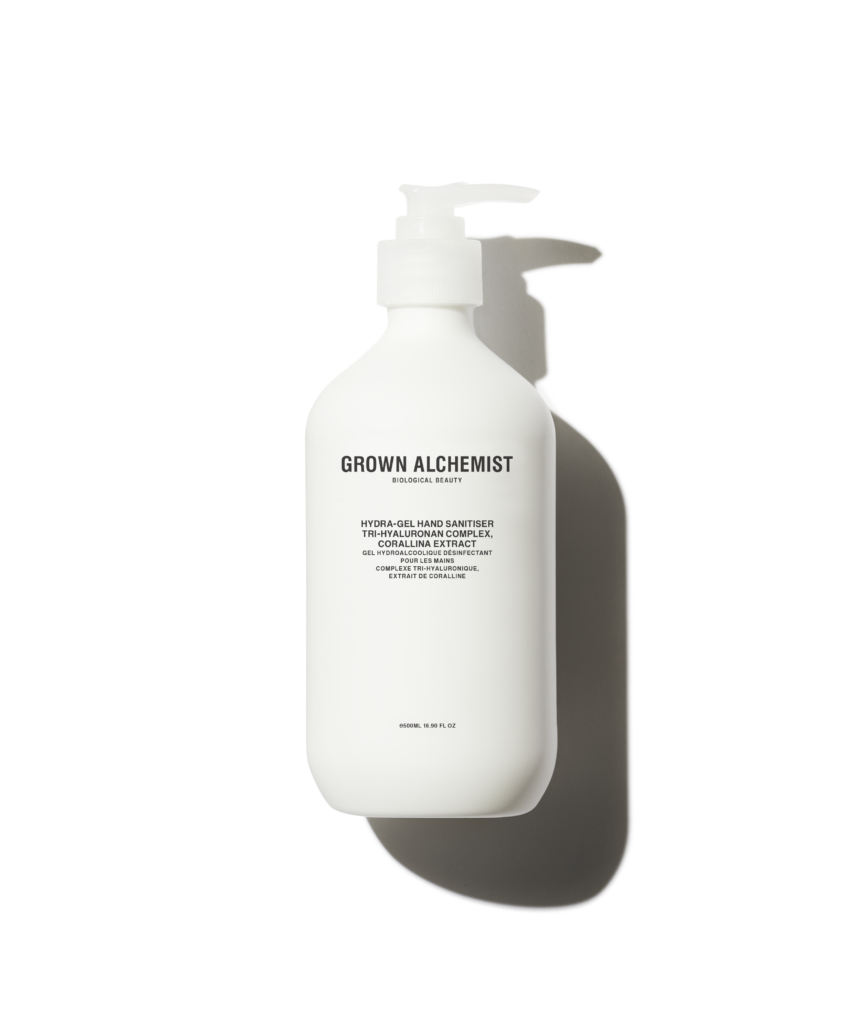 Grown Alchemist Hydra-Gel Hand Sanitiser
55 AUD
Totally organic and cruelty-free, this antiseptic gel hand sanitiser from Grown Alchemist is a nifty travel companion, or simply the best alternative when hand washing is not possible. It contains ingredients that effectively cleanse and hydrate the skin at the same time: 70% ethyl alcohol extracted from cane sugars (which effectively kills bacteria), hyaluronan (which noticeably increases hydration levels), coconut oil (which releases triglycerides that remove dirt and grime), cold pressed sweet orange oil (which restores balance to skin), sweet almond oil (which boosts the skin's lipid content and preserves moisture levels), and pot marigold (which provides flavonoids that leave the skin calm and soothed). Packed in a 500 mL bottle, the hand sanitizer can be used repeatedly and shared with others engaged in animal rescue work.
Buy the product here.
In conclusion
We hope you love our suggestions of gifts for animal rescuers and animal rescue supporters! Bookmark this Waldo's Friends article, jot down your top picks from any of the five categories, and click on the appropriate links to stock up on it all.
Searching for other gift ideas? We've got amazing suggestions for vegans, dog lovers, and wildlife supporters.