Raise your hand if you personally know a true-blue dog lover! Let's face it, most of us are close to at least a handful of these paw fanatics—dog owners who devote most of their time and energy to their four-legged best friends.
To show these dog lovers in your life just how special they are to you, why not surprise them with pooch-themed presents they'll treasure forever? Waldo's Friends rounded up the best gifts to give dog lovers everywhere!
First the basics: How do we recognise the dog lovers amongst us?

A crazy dog lover is a person who is (spoiler alert!) crazy about all dogs. They obsessively care for one or more dogs (or have owned a couple of them throughout their life), constantly post pictures of said dog/s, pet strangers' dogs, and have a house filled with canine-related knickknacks. They may also be passionately involved in dog rescue by supporting dog charities, volunteering at dog shelters, or taking in foster puppies.

In case you didn't know: A fancy name for dog lovers is cynophilist, which refers to people who are 'favourably disposed towards dogs of all breeds, shapes, and sizes'.
What should you consider when buying a gift for a crazy dog lover?
Much like cat fanatics, crazy dog people love everything dog. So when choosing the right gift for them, you need to see if it…
Expresses their love for dogs
Highlights their dog obsession in a witty or humorous way
Has some cute dog graphics or dog puns to remind them of their best furry friend
What kind of gifts can I give a crazy dog lover?
Browse through 20 dog-themed items from these four categories: fashion, accessories, home, and travel. Get more details about each product, find out why a dog person would go crazy over it, and decide if it's something that matches your receiver's personality or needs. 
Fashion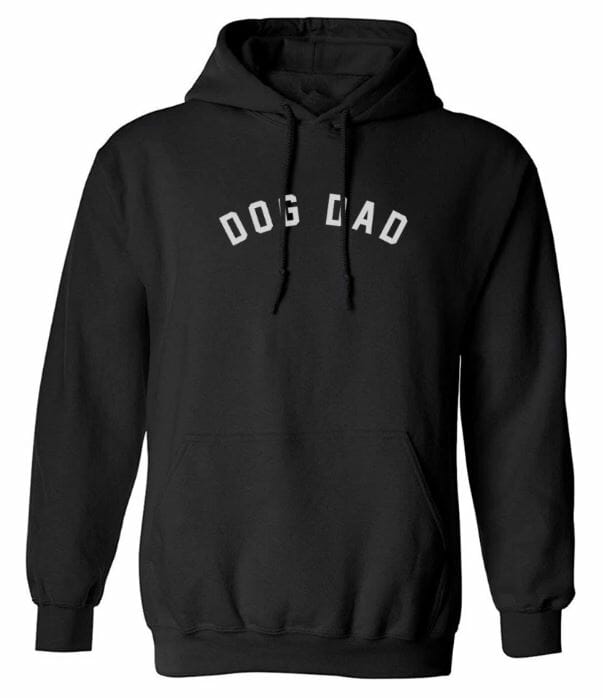 The Shop Forward Dog Dad Men's Hoodie
42 USD
This cosy, all-black hoodie has the words "dog dad" across its chest area to proudly announce a man's pawrenting status. Aside from making your recipient feel good while slipping on this polyester-cotton outerwear, buying it will make you feel good too! That's because every Dog Dad hoodie sold from The Shop Forward helps abused and abandoned dogs under the care of Proverbs 12:10 Animal Rescue, a no-kill organisation based in Nashville, Tennessee.
Buy the product here.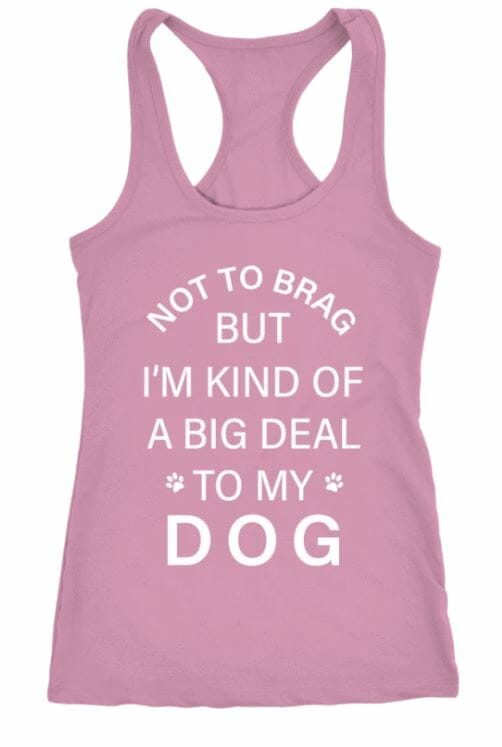 The Animal Rescue Site Not To Brag Tank Top
Starts at 26.95 USD
This cheeky racerback tank top from The Animal Rescue Site proclaims "not to brag but I'm kind of a big deal to my dog" (which is how every dog owner feels, to be honest!). It is available in 12 vibrant shades (banana cream, black, hot pink, kelly, light orange, lilac, navy, purple, raspberry, red, royal, turquoise) and five sizes (XS to XXL). The best part of this purchase is knowing how many shelter animals you helped feed (71 to be exact!).
Buy the product here.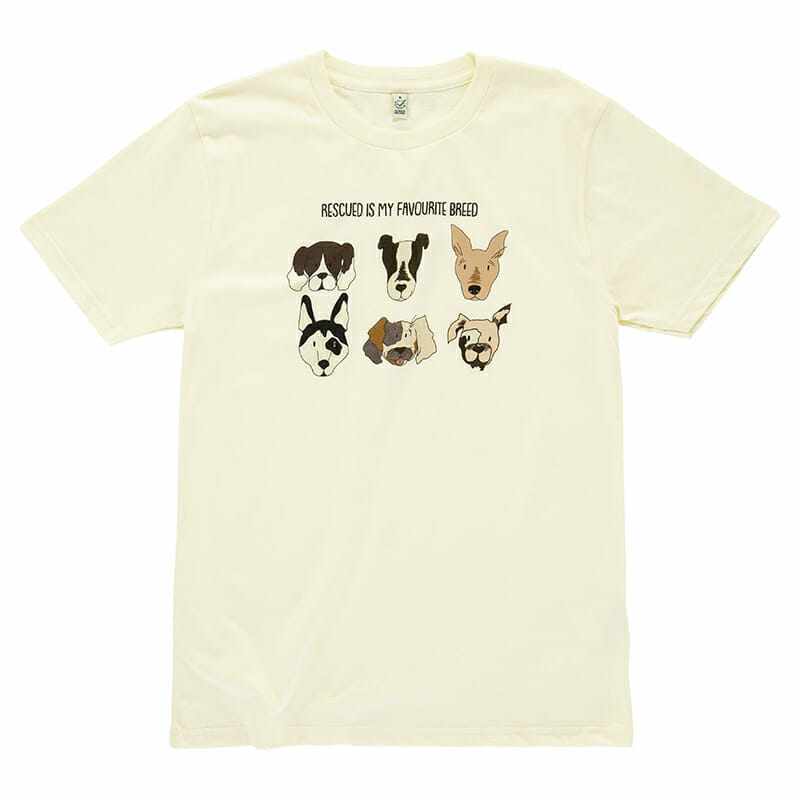 Waldo's Friends Rescued is My Favourite Breed Unisex Shirt
35 AUD
Support local rescue shelters by buying ethical, animal-themed products from Waldo's Friends. The "rescued is my favourite breed" classic fit shirt is the perfect gift for any dog lovers who can't resist caring for and taking in neglected dogs from local rescues or animal hospitals. Available in three sizes, the 100% organic cotton t-shirt in ecru has an original graphic design that shows off six unique-looking dogs. The design was printed using permaset eco-friendly screen printing inks.
Buy the product here.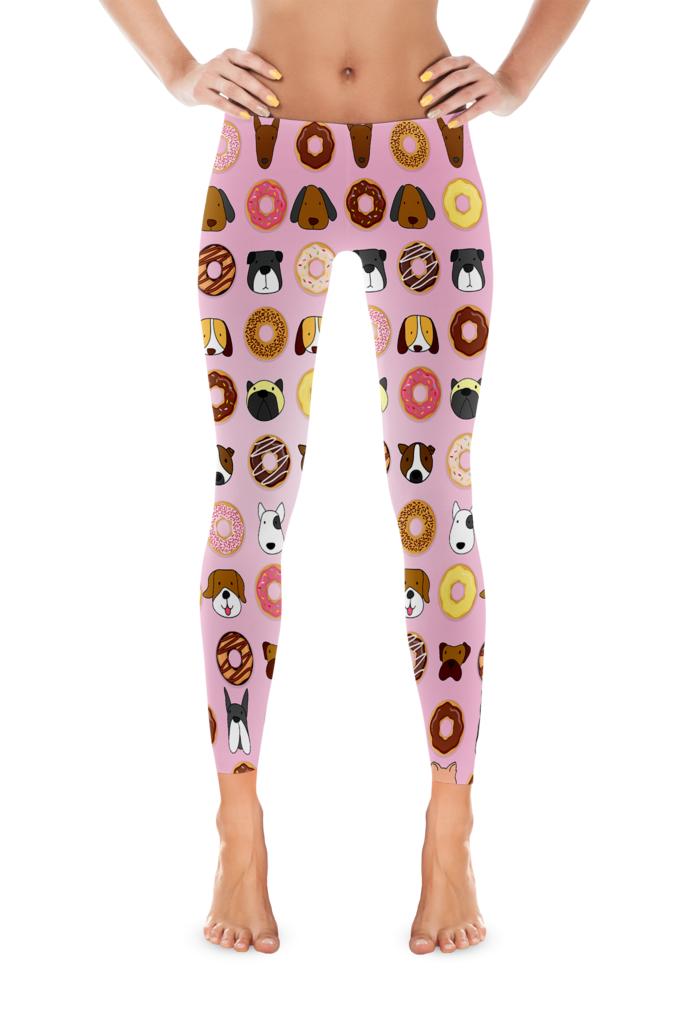 FURtribe Dogs & Donuts Dog Lover Leggings
49 USD
FURtribe is passionate about supporting rescue organisations in various ways. To raise money for these rescues, the brand sells high-quality, dog-themed apparel that help people look good and feel good. The dogs and donuts leggings will be perfect for the person who can't get enough of both in her life. Available in sizes extra small through extra large, the pink-coloured patterned pair can be worn all day since it is made of the finest microfiber yarn.
Buy the product here.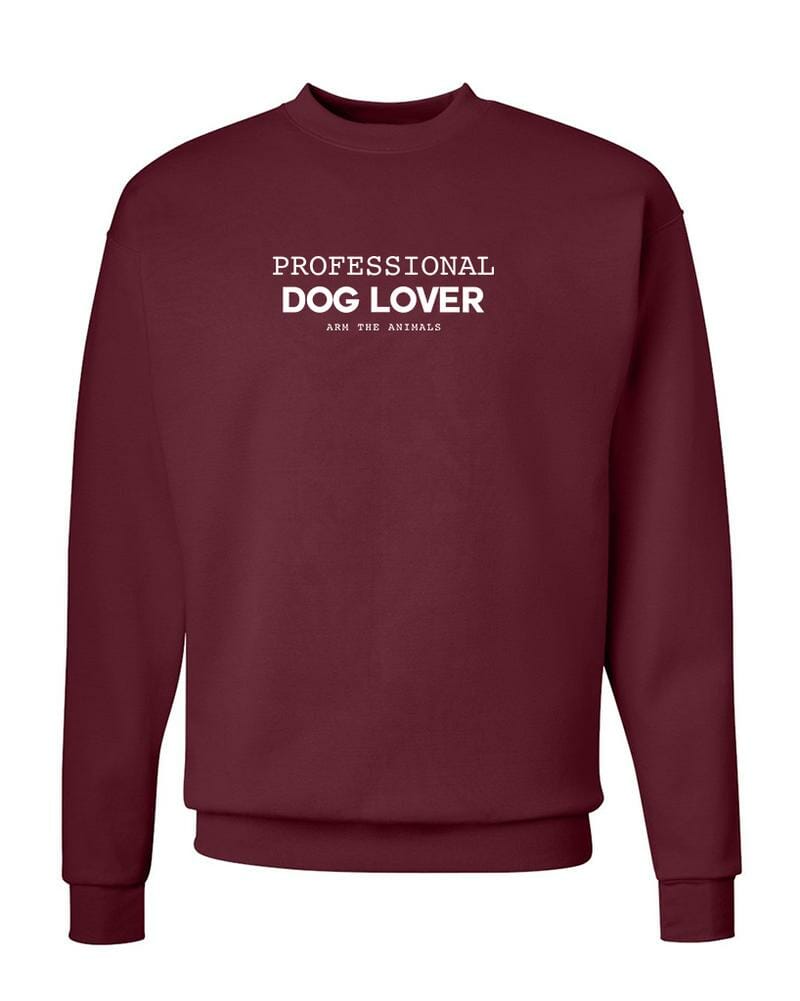 Arm the Animals Professional Dog Lover Women's Crewneck Sweatshirt
29.99 USD
Select your cynophilist's favourite colour to wear (maroon, white, black, or heather grey) as the background for Arm the Animals' minimalist "professional dog lover" typography design. Combining 80% cotton and 20% polyester, this soft pullover can be worn whenever and wherever she wants! It is comfortably ribbed on the neck, cuffs, and waistband areas, and available in five sizes: small, medium, large, extra large, and double extra large.
Buy the product here.
Accessories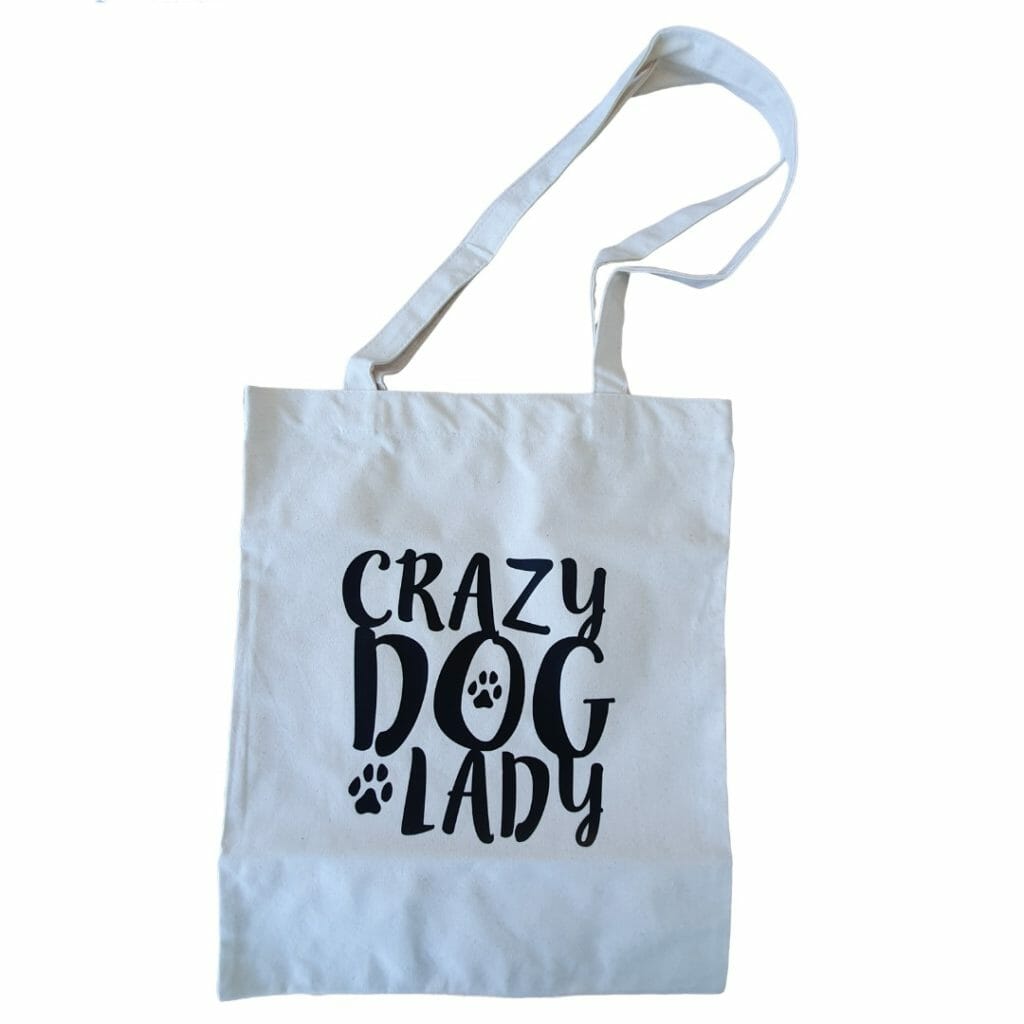 Crazy Dog Lady Tote Bag
18 AUD
You can never go wrong with giving a handy and durable item that can be used every day! Waldo's Friends carries this eco-friendly, reusable "crazy dog lady" tote bag from Crafty Dog Studio to help spread awareness about shelter dogs. Help the dog lover in your life stash all of his or her essentials in a pure organic tote bag that measures 32 by 72 cm with handles. It comes in two colours (natural or black) and with a bold set of letters (in black or white) printed on one side.
Buy the product here.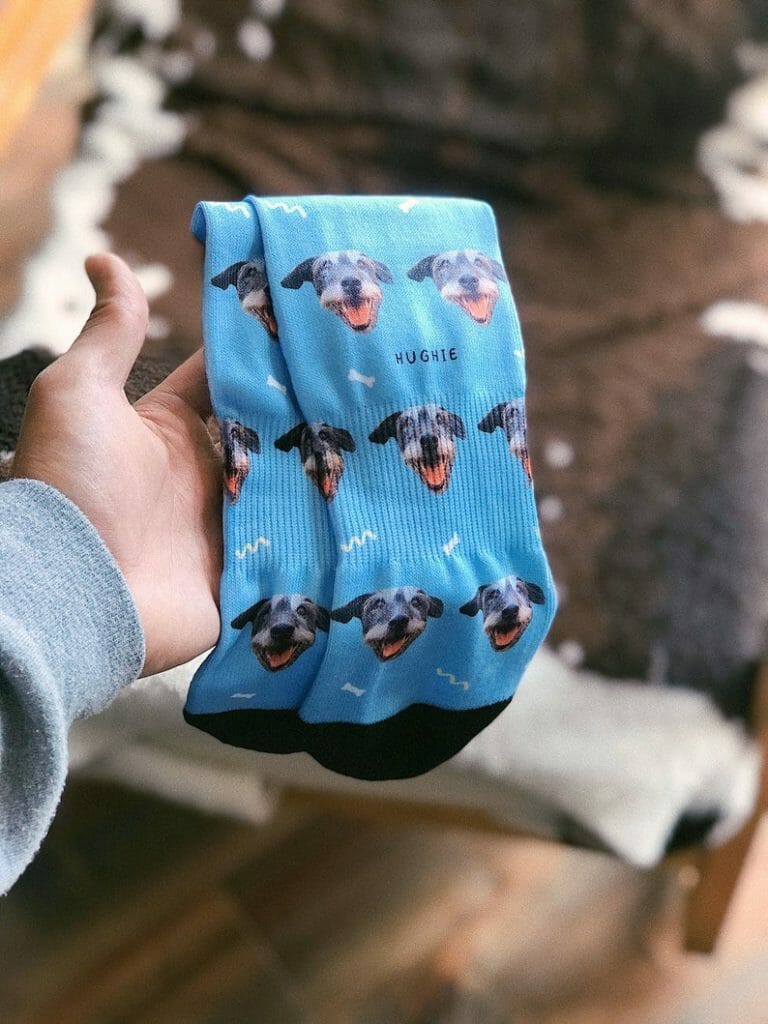 FourFeetsocks Custom Pet Socks
27 AUD
Let the dog lover in your life inconspicuously take his beloved pet wherever he goes by printing his pet's cute image on customised socks! A great present for people with 17 to 22 cm feet, this handmade gift is printed using a process called sublimation. The design features the dog's name, the dog's image, and tiny white bones printed as a pattern on the coloured socks (choose from light blue, blue, green, pink, grey, or purple). Made with 80% polyester material, these socks feel great against the feet and are made to last longer even after multiple washes.
Buy the product here.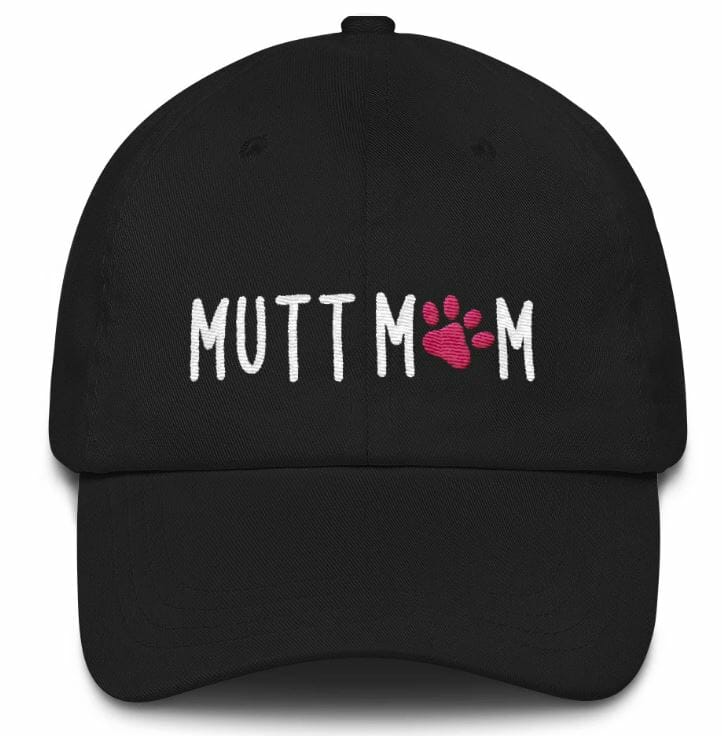 FURtribe Mutt Mom Dad Hat
26 USD
A dogtastic accessory for active pooch pawrents, this embroidered black cap contains the words "mutt mom" in white, and a cute red paw that replaces the letter O. It is a fun, casual accessory that fits most head sizes. Made with all-natural cotton chino twill, the curved visor maintains its shape while protecting the wearer's face from sunlight and other harsh elements. It also has an adjustable strap closure with a hideaway side buckle.
Buy the product here.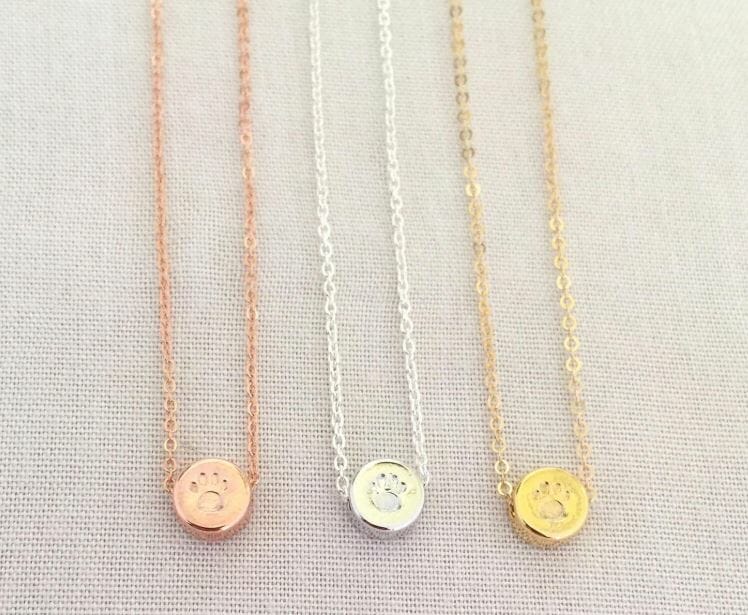 StampedEve Personalized Pet Necklace
35.50 AUD
Looking for an understated gift for a dog lover who loves to pile on the accessories? This customisable pendant necklace is great as a pet memorial gift. Personalise your present from the material (sterling silver, 14K gold filled, or 14K rose gold filled) to the stamping (you can place a paw on one side, then the dog's initial on the other!) to the length of the necklace (from 14 to 20 inches). The delicate, fine-chained necklace includes a jump ring and clasp, and comes in a satin pouch.
Buy the product here.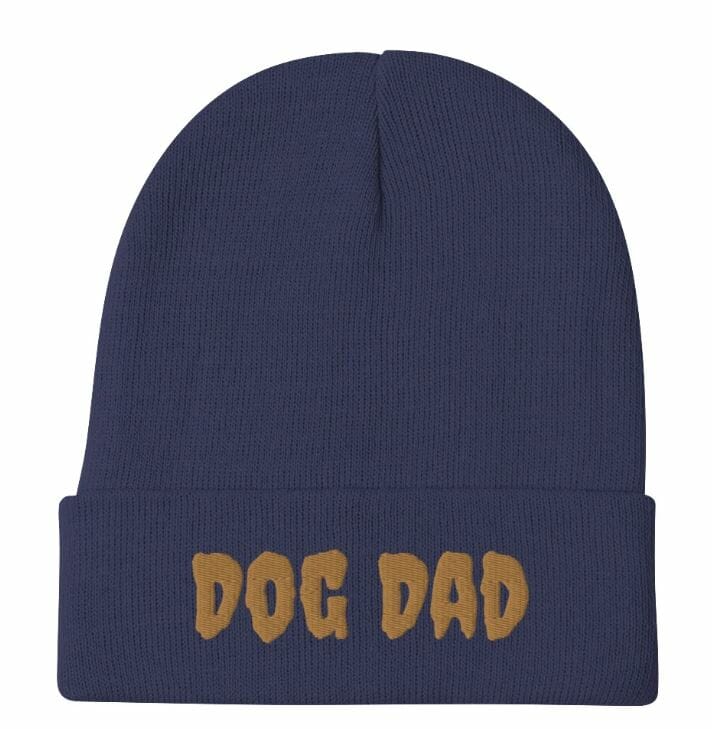 My Breed is Best Dog Dad Embroidered Beanie
35.10 AUD
Help a dog dad keep his head warm and protected through this "dog dad" beanie from My Breed is Best. The brown embroidered typography is set against a navy, black, or dark green beanie. Though it only comes in one size, the brimless, form-fitting hat can be worn by most people. The 60% cotton and 40% acrylic blend is highly breathable, which guarantees comfort no matter what he's doing in the brisk weather.
Buy the product here.
Home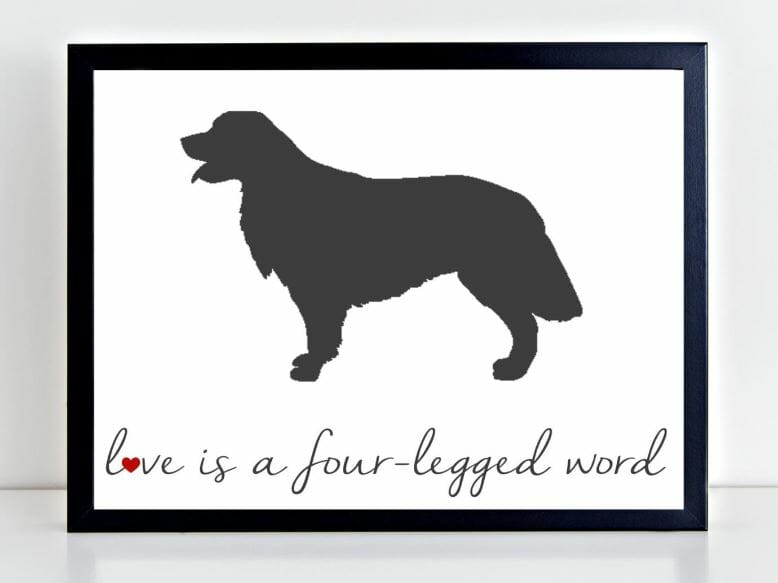 PetLoversPlace Golden Retriever Dog Printable Wall Art
7.61 or 15.22 AUD
Order a high resolution, 300 dpi-printable file for the Golden Retriever owner in your life! This 8 by 10-inch wall art design can be customised to match the dog owner's interiors (there are 90 possible shades to choose from!) and can also include the dog owner's surname or his pet's name. Rounding out the design is the phrase "love is a four-legged word" scrawled under the silhouette. This beautiful gift is also for a good cause as 100% of its proceeds go to Friends of Animals in Need, a non-profit that provides free medical care to financially-challenged pet owners.
Buy the product here.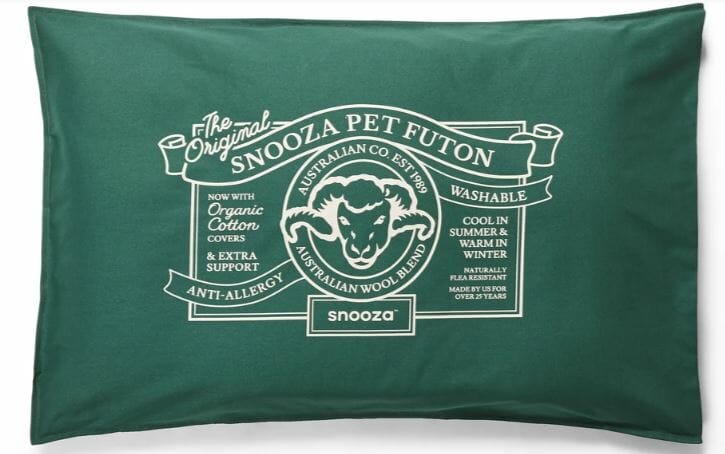 Snooza Organic Pet Futon
44.90 to 99.90 AUD
Available in green, blue, white, or ash grey, this Snooza mattress comes in an anti-allergy organic cotton cover that's removable and washable. The wool and recycled PET blended material gives added warmth to a dog during the cold seasons, and makes his skin feel cool during the hot seasons. This pet mattress will be any dog's new best sleeping buddy, and whatever makes a pooch happy will definitely make his owner doubly happy! (Bonus use: A dog owner can stash the futon inside his pet's kennel during a trip to the vet, or bring it during their next pet-accompanied road trip!)
Buy the product here.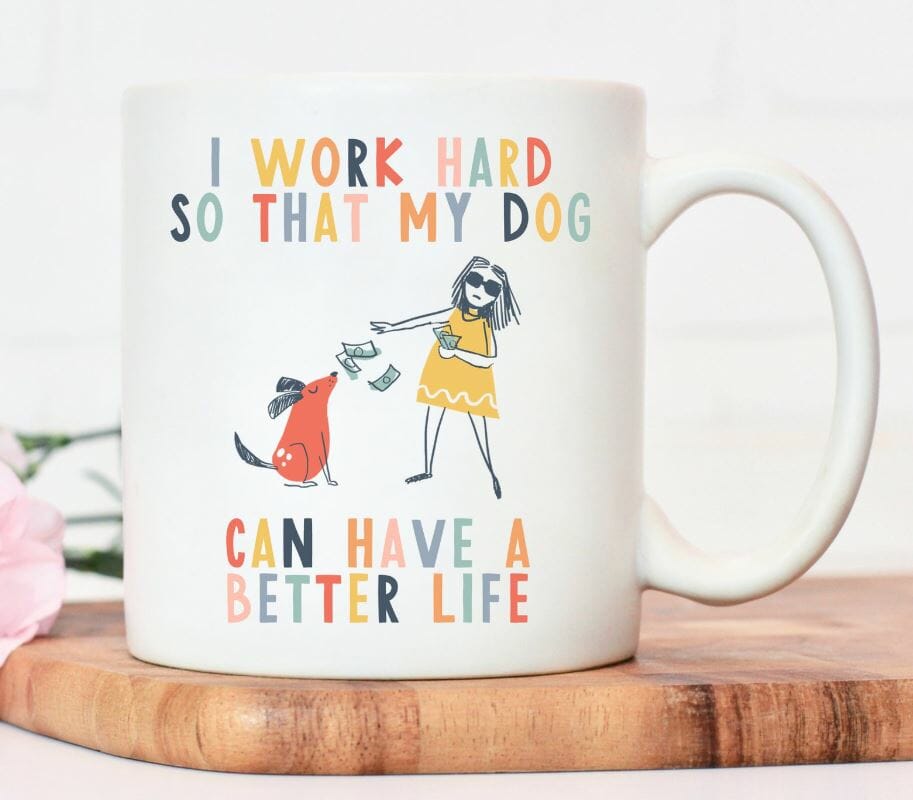 MantaMakesLtd I Work Hard So My Dog Can Have a Better Life Coffee Cup
16.96 AUD
Crazy dog mums can have a laugh each time they drink coffee or tea with this "I work hard so that my dog can have a better life" ceramic mug. The colourful design features a stylish woman throwing money at her snooty dog, with the caption written over and under the graphic illustration. The mug is 10 ounces in size, and is microwave and dishwasher safe.
Buy the product here.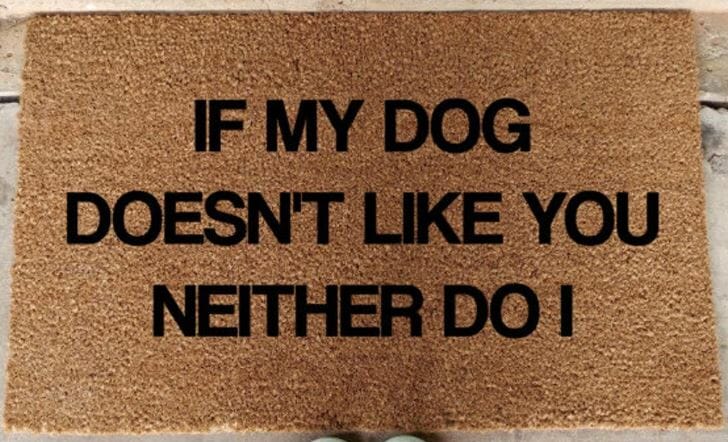 AtlasBelleStudio If My Dog Doesn't Like You Neither Do I Welcome Mat
57.82 AUD
An ideal gift for newly transferred dog owners or those who need to jazz up their front porch, this pure coir doormat helps keep dirt and debris out of anyone's home while expressing the homeowner's secret thoughts. The phrase "if my dog doesn't like you neither do I" is hand painted with outdoor acrylic paint in black, and then protected with a long lasting sealant.
Buy the product here.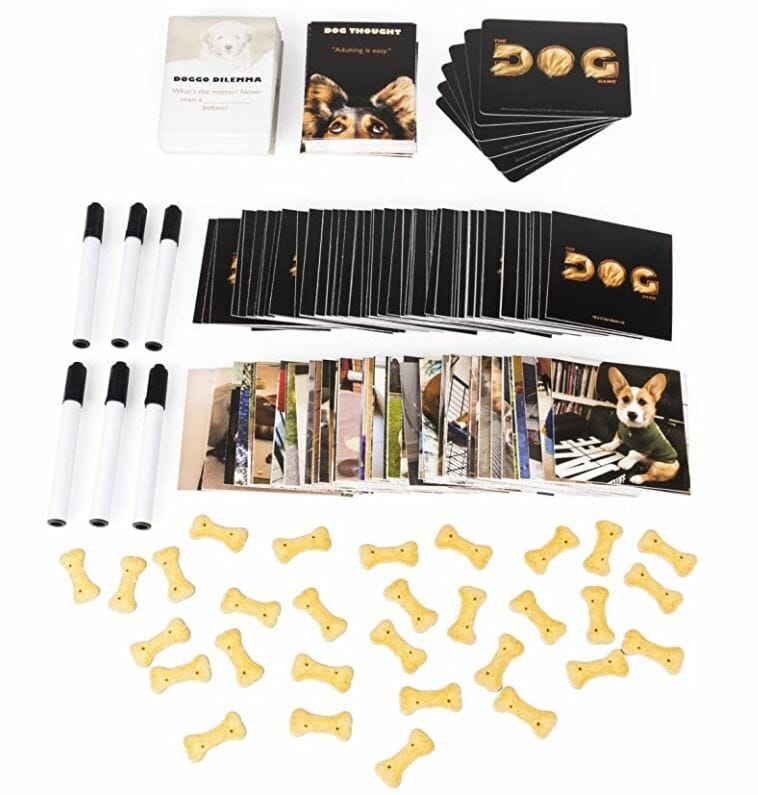 The Dog Game
20.32 USD
A hilarious board game for people aged eight years old and above, this three to six-player game for dog lovers focuses on the age-old question, "What do dogs think about?" Equipped with a dry-erase marker and a dry-erase card, every player is encouraged to get creative in answering silly questions or filling up blanks from the Doggy Dilemma or Dog Thought cards. For each round, the player that garners the most number of votes wins a doggy treat. By the end of the game, the player with the most doggy treats wins! Definitely a fun game to play with dog-loving members of the family, or when dog-owning friends come over for a visit.
Buy the product here.
Travel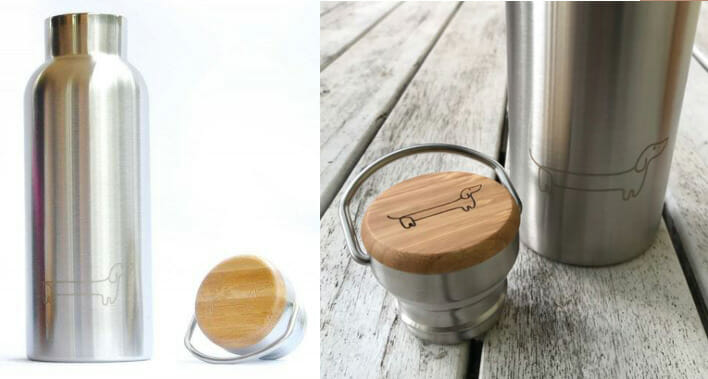 Dachshund Rescue Stainless Steel Drinking Bottle
40 AUD
Dachshund moms and dads will adore receiving this 500 ml stainless steel drinking bottle from Dachshund Rescue. Perfect for holding hot or cold drinks, the silver-coloured container is made from eco-friendly materials. Each bottle has two laser-engraved dachshunds that showcase the non-profit's logo. With every container you buy for a loved one, you help rescue and privately rehome dachshunds across Australia.
Buy the product here.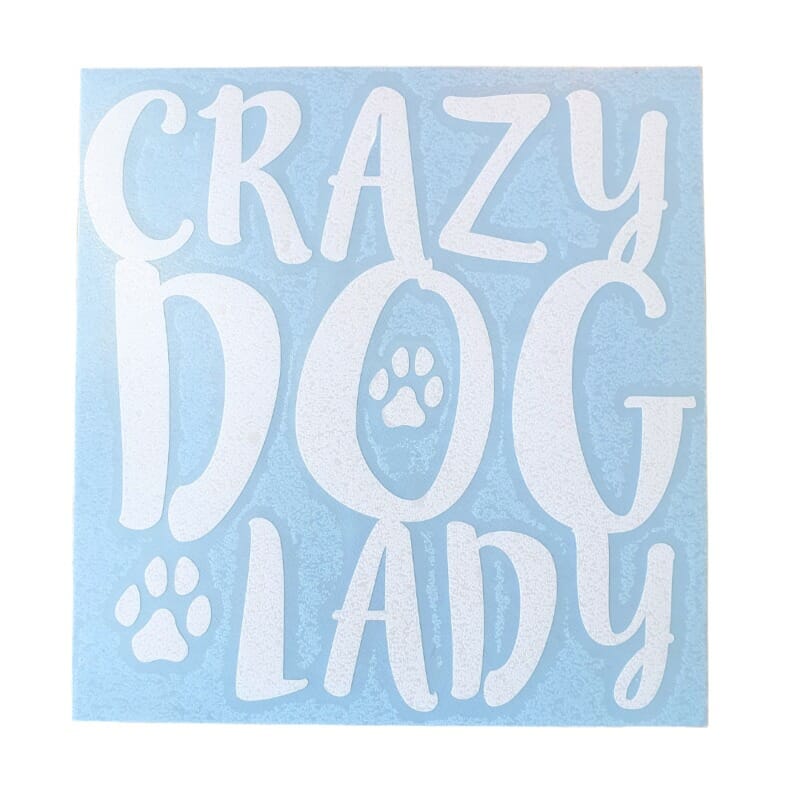 Crazy Dog Lady Car Decal
9 AUD
Another fun product distributed by Waldo's Friends, this decal from Crafty Dog Studio can be used to decorate a female dog lover's car. The white-coloured, square-shaped decal contains the words "crazy dog lady" in casual, block letters, and is decorated with two paw prints. Measuring at 16 by 16 cm, the weatherproof design can be attached to all kinds of clean, flat surfaces such as car windows, mirrors, and even gadgets.
Buy the product here.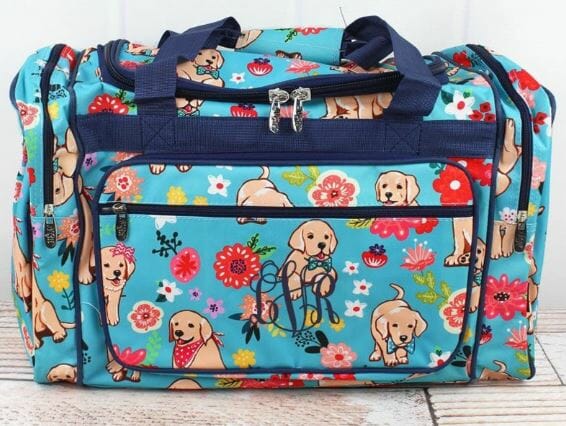 CustomHorseandHound Dog Printed Overnight Bag
53.26 AUD
Surprise the cynophilist in your life with this monogrammed canvas bag, which can be used to store clothes for the gym or an overnight trip. The 20 by 10 by 13-inch duffle bag has a zipper on top as well as zippered pockets on the front, back, and sides. It can be slung over the shoulders with an adjustable shoulder strap, and carried by hand using two shorter straps with a Velcro handle. Don't forget to choose the thread color and the font for the personalised monogram design of the bag!
Buy the product here.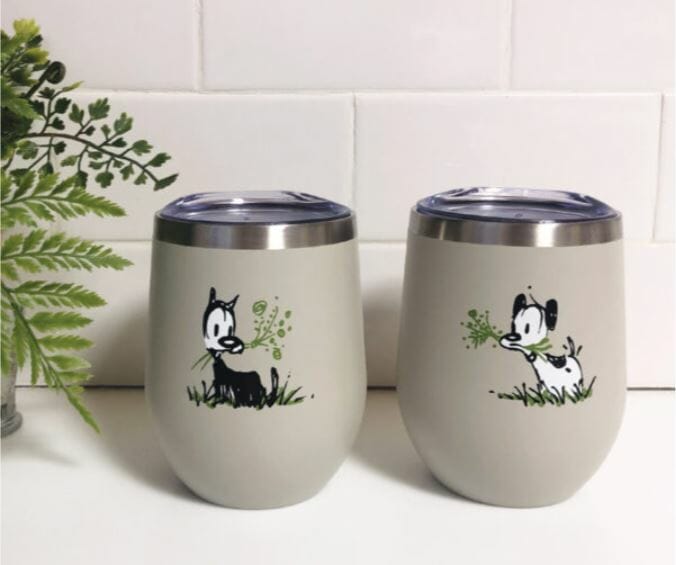 MUTTS Insulated Wine Tumbler Set
45 USD
What do you give someone who's a huge fan of dogs, wine, and traveling? What about this set of 12-ounce stemless wine tumblers, which is a must-have for barbecue cookouts and beach trips? Each tumbler set contains two vacuum-insulated, double-walled stainless steel tumblers with push-on lids that keep drinks chilled for hours. Plus, the stone grey matte tumblers are adorned with illustrations of MUTTS characters, Mooch and Earl. In case you didn't know: Five percent of each product sold from the MUTTS Shop helps support The Humane Society of the United States' Animal Rescue Team, an organisation which works to combat large-scale animal and wildlife cruelties.
Buy the set here.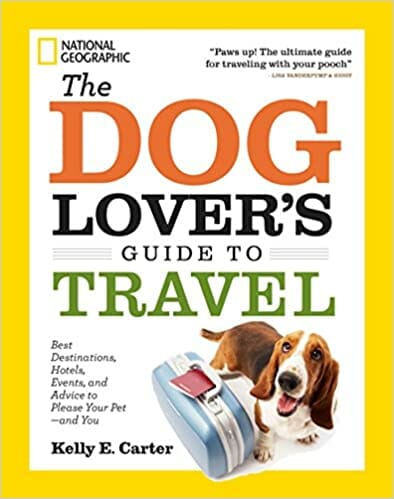 The Dog Lover's Guide to Travel book
13.14 USD
Written by chihuahua owner Kelly E. Carter, The Dog Lover's Guide to Travel: Best Destinations, Hotels, Events, and Advice to Please Your Pet-and You is the ultimate resource for traveling with a furry pal. The National Geographic-produced book contains pooch-approved excursion ideas, from canine cruises and winery hikes to pet-friendly accommodations and attractions. Aside from suggesting pawsome destinations, the helpful book gives a lowdown on what a dog owner needs to know when traveling with a pooch by land or by air.
Buy the book here.
Before you start shopping…
The crazy dog person in your life will surely love any of the items we suggested above, but you can also browse our other comprehensive guides to discover cool gift options for vegans, animal rescuers, and cat moms. Once you've made a short list, it's time to shop and surprise him or her with your delightful presents!