Buying a gift is not as easy as it sounds. When selecting a present for someone, you must put into consideration the recipient's personal taste, varied interests, and current needs (not to mention your budget). If the receiver is a vegan, the gift giving process can be a lot more interesting and rewarding as you include your friend's animal loving and climate neutral ethics – to give them something they'll love and appreciate. Waldo's Friends is here to help you find the best vegan-friendly gift suggestions.
What is a vegan?

By definition, a vegan is a person who does not consume animals and animal by-products such as meat, seafood, honey, and dairy. A vegan also chooses not to use animals, their derivatives, and their by-products. Examples include fur, leather, wool, lanolin, beeswax, and silk.
What should you consider when buying gifts for vegans?
When selecting a vegan-friendly gift, you must make sure that:
The item you buy isn't made of animals, animal by-products, and animal derivatives. Though by-products and derivatives don't technically harm the animals, taking them might diminish the animal's resources and habitat.
The item you buy is made of natural, plant-based ingredients or synthetic, recycled materials.
The company does not test on animals. Vegans are against animal cruelty and exploitation, so check for cruelty-free logos such as Beauty Without Bunnies and Leaping Bunny on the packaging. You can also look for the PETA-Approved Vegan logo to make sure the item is ethically made using all-vegan materials.
What kind of gifts are vegan-friendly?
Take your pick from 30 vegan-friendly products across five categories: face/body, fashion, kitchen, home, and travel. Check them out for some handy ideas about how to make the special vegan in your life happy!
Face/Body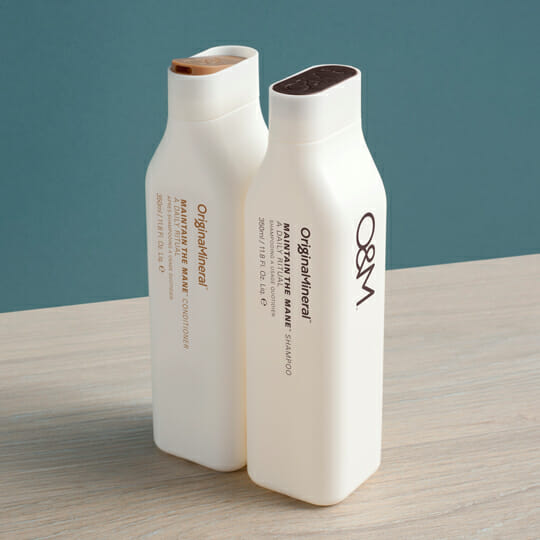 O&M Maintain the Mane
34.95 AUD for 350 ml/79.95 AUD for 1 L
Original & Mineral is a hair care brand that uses natural extracts and active minerals in its products. All their products are devoid of harsh chemicals such as parabens, sulphates, and triclosan.
Containing oils of evening primrose and macadamia seed as well as amino acids and antioxidants from banksia flowers, O&M's Maintain the Mane Shampoo can be used regularly to gently clean the hair and scalp. The vegan in your life will definitely love using this all-natural, moisturising hair cleanser on a daily basis!
Buy the product here.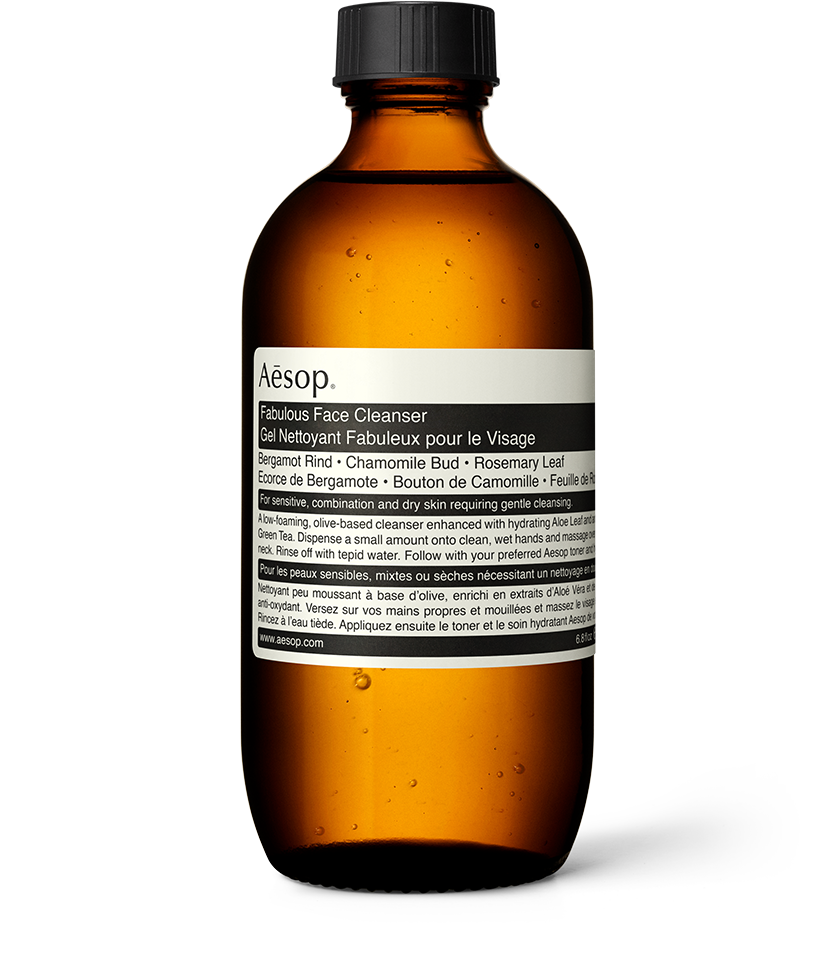 Aesop Fabulous Face Cleanser
35 AUD for 100 ml / 53 AUD for 200 ml
Committed to formulating skin, hair, and body care products of the finest quality, Australian brand Aesop searches for plant-based and laboratory-made ingredients, and uses only those with a proven record of safety and efficacy.
Their Fabulous Face Cleanser is a mild, olive-derived facial cleanser that can be used by people with normal and combination skin, or those with dry skin during warm seasons. The bergamot rind, chamomile bud, and rosemary leaf work together to help the skin feel calm and refreshed without stripping away its natural oils. A coin-sized dollop of the low foaming gel can be massaged into the face every morning and night, then rinsed with warm water.
Buy the product here.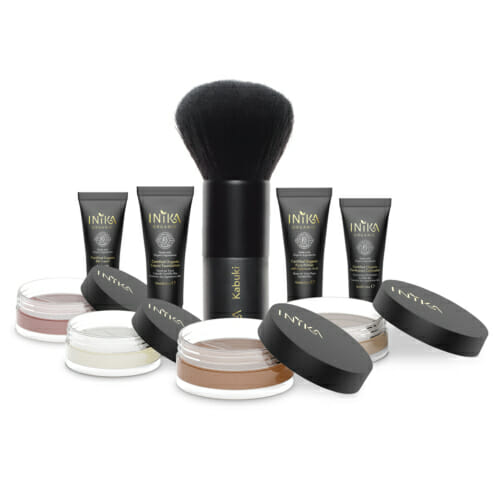 INIKA Organic Face in a Box – The Essentials Starter Kit
99 AUD for a nine-piece set
With its humble beginnings in Sydney, this Australian company has grown into a global brand that's known for creating certified organic, cruelty free, vegan, halal, and sustainably sourced products. They use the finest Australian botanicals and pure minerals to whip up organic makeup and skincare that nourish the skin.
Available in four shades (Unity, Nurture, Patience, Trust), Face in a Box contains nine beauty essentials: Loose Mineral Foundation SPF 25 (3 g), Loose Mineral Bronzer (3.5 g), Vegan Kabuki Brush, Certified Organic Liquid Foundation (10 ml), Certified Organic BB Cream (4 ml), Certified Organic Perfection Concealer (4 ml), Certified Organic Pure Primer (10 ml), Mineral Mattifying Powder (0.7 g), and Mineral Blush (0.7 g). From a nourishing primer to a hydrating foundation, this essential starter kit will help the vegan in your life kick-start her flawless beauty routine.
Buy the set here.

HURRAW! BALMTOO Lemon Balm Coconut Pulp
29 USD at 30 ml
HURRAW! ensures the quality and integrity of their products by creating them in a dedicated National Organic Program and EcoCert certified manufacturing facility. Using only trusted organic, vegan, and raw ingredients, the materials are clearly listed on their packaging and website in their commitment to being transparent to their users.
Bee free, shea free, soy free, and palm free, the BALMTOO Lemon Balm Coconut Pulp is a vegan balm that's stored into a 100% recyclable aluminum tube. One tube is equivalent to about seven sticks of lip balm. The enzyme-packed papaya seed oil and rich avocado fruit oil blend well with the delicate coconut and calming lemon. This balm can be used anywhere on the body—face, lips, fingers, neck, feet—and doesn't contain water or hydrogenated butters.
Buy the product here.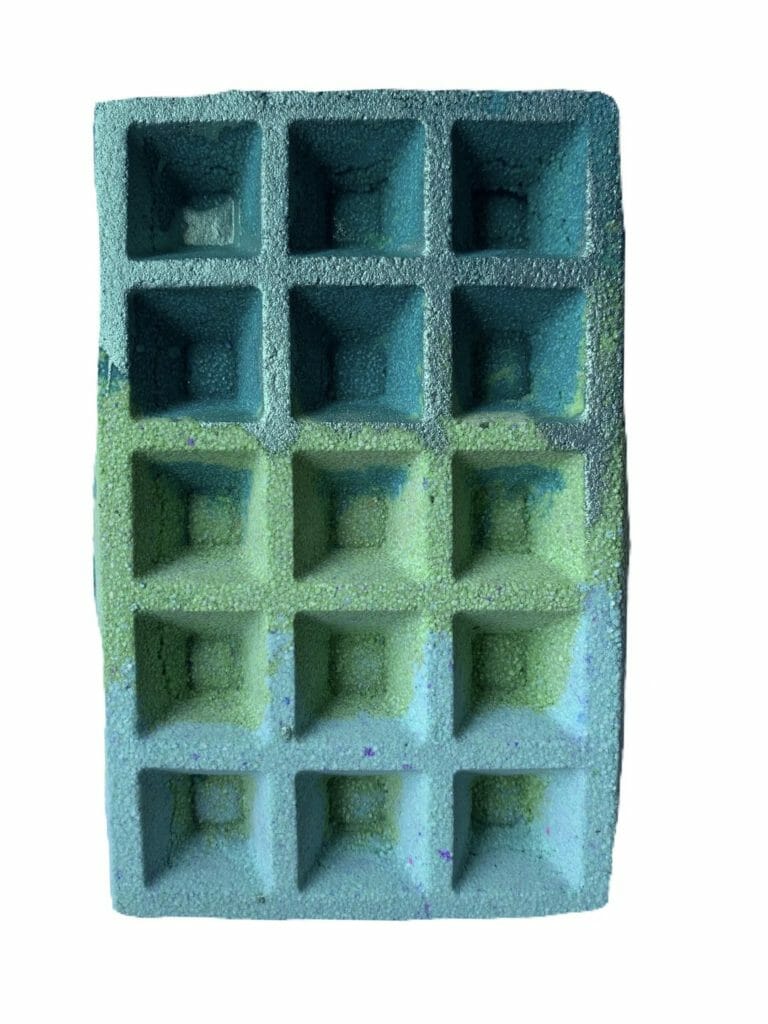 Oh Deer Sugar Tall, Dark & Foamy Waffle Bath Bomb
11.50 AUD for 180 g
Oh Deer Sugar is a non-edible bakery that handcrafts vegan "food for the skin" products all the way from Brisbane, Queensland. Popular for creating dessert-inspired bath bombs that look good enough to eat, their Donut Bath Bombs and Waffle Bath Bombs are sensory treats for vegans who love a good soak in the tub.
With a deep, dark, and earthy scent, the Tall, Dark & Foamy Waffle Bath Bomb can be used by simply placing it in a tub filled with water. Watch it fizz and foam as the earthly palette melts into the water like liquid magic. Your vegan recipient will surely love this indulgent gift!
Buy the product here.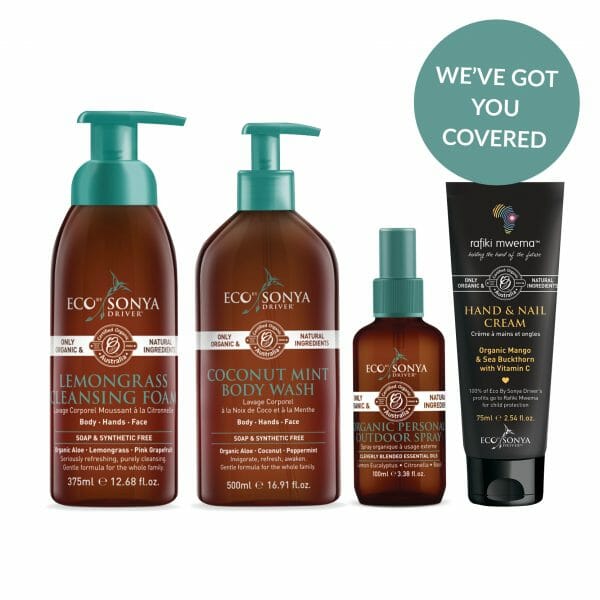 Eco by Sonya Driver Hand Wash and Hand Cream Pack
83.80 AUD for a four-piece set
Another proudly Australian made and owned company, Eco by Sonya Driver creates certified vegan, organic, toxic-free, and cruelty-free body care products that everyone can use.
This special gift set contains Lemongrass Cleansing Foam (375 ml pump bottle), Coconut Mint Body Wash (500 ml pump bottle), Organic Personal Outdoor Spray (100 ml spray bottle), and Eco by Sonya Hand & Nail Cream for Rafiki Mwema (75 ml). Made with effectively purifying and refreshing ingredients, the cleansing foam and body wash can be used for the entire body and are suitable for most skin types. Meanwhile, the outdoor spray contains a blend of essential oils and organic ingredients (including lemon eucalyptus, citronella, basil, lemongrass, and cedarwood) that are suitable for children and adults. The hand and nail cream is made of organic mango butter, sea buckthorn, sunflower seed oil, and organic aloe vera juice. Another reason to get this set: 100% of the profits from the sale of the hand and nail cream goes to Rafiki Mwema, a charity that provides protection, support, and love for young children in Kenya.
Buy the set here.
Fashion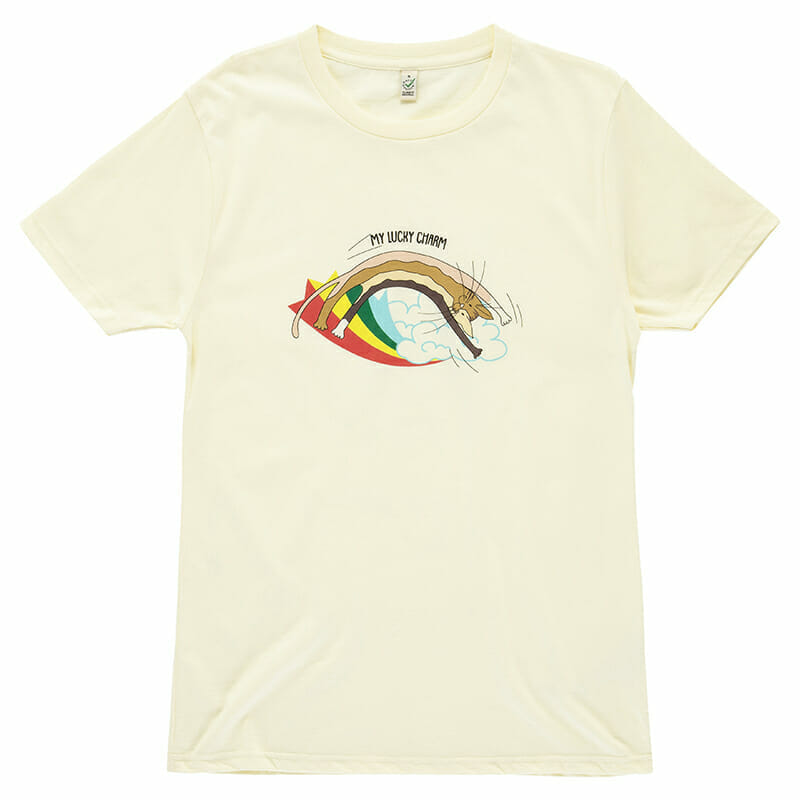 Waldo's Friends My Lucky Charm shirt
35 AUD
Waldo's Friends is all about creating and selling ethically produced goods that raise awareness and funds for animal rescue. Available in three sizes (small, medium, and large), the ecru-coloured My Lucky Charm shirt comes in a classic fit that can be worn by both males and females. A unique cat-themed graphic design is screen printed by OCCC Apparel using eco-friendly techniques on an all-natural organic cotton shirt from EarthPositive. Produced from Indian Cotton, each climate neutral shirt is manufactured in accordance with the Global Organic Textile Standard (GOTS), and certified by the Control Union and Soil Association Certifications. Aside from supporting fairtrade clothing, buying this vegan-friendly shirt also supports animal rescue since 50% of profits from each sale is donated to animal rescue shelters. Definitely a win-win for both the giver and receiver!
Buy the product here.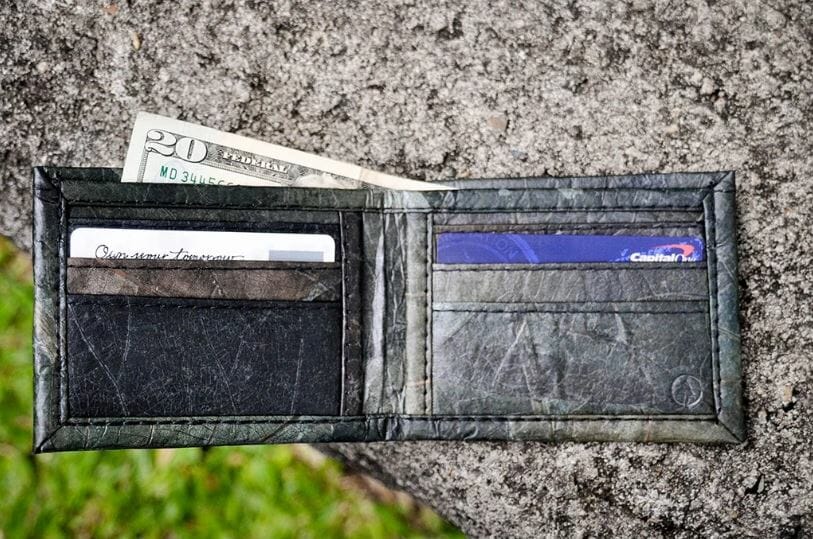 Tree Tribe Leaf Leather Bifold Wallet – Black
52.92 AUD
Drawing inspiration from nature, Tree Tribe crafts eco-conscious lifestyle products while partnering with organisations that plant trees to naturally replenish the environment. For every item sold on their website, a tree is planted somewhere in the world. To date, they've planted 440,120 trees in 12 different countries!
For their innovative Leaf Leather line, Tree Tribe uses fallen, sustainably harvested teak tree leaves, which were soaked in water, dyed, arranged flat together, and set out to dry. The leaf layer was then mended with cotton fabric and a non-toxic BOPP outer film to provide backing, structure, waterproofing, durability, and longevity. There are 6 card slots, 2 inside pockets, and 1 cash pocket that fits most currencies. Every handcrafted bifold wallet (9.3 cm x 11 cm x 1 cm) is special because of the varying textured leaf patterns, and how the leaf sheet was cut and coloured.
Buy the product here.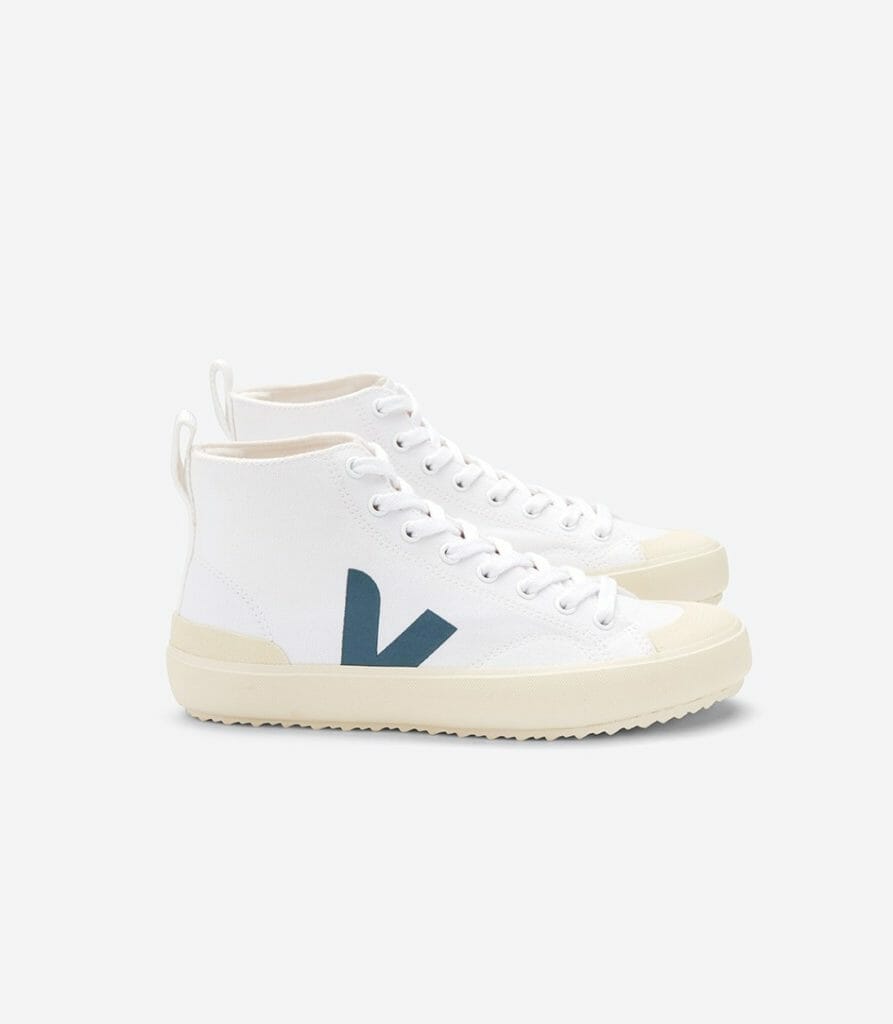 VEJA Vegan Sneakers Nova HT White California Butter Sole
95 EUR
A French footwear and accessories brand, VEJA was established in 2005 to make sneakers differently by infusing each stage of production with a positive impact. VEJA focuses on not just producing beautiful retail items, but helping its raw material suppliers and their environment through eco-friendly and fair trade practices.
The Nova HT White California Butter Sole sneakers from its vegan line are created using organic cotton from Brazil farms, wild rubber from the Amazon forest, and recycled E.V.A. Distinct yet understated, the unmistakable V logo is silk screened in a cool blue shade and stands out against the white cotton fabric and cream sole. Sizes are available from 36 to 46, so these stylish kicks can be given to both female and male vegans.
Buy the product here.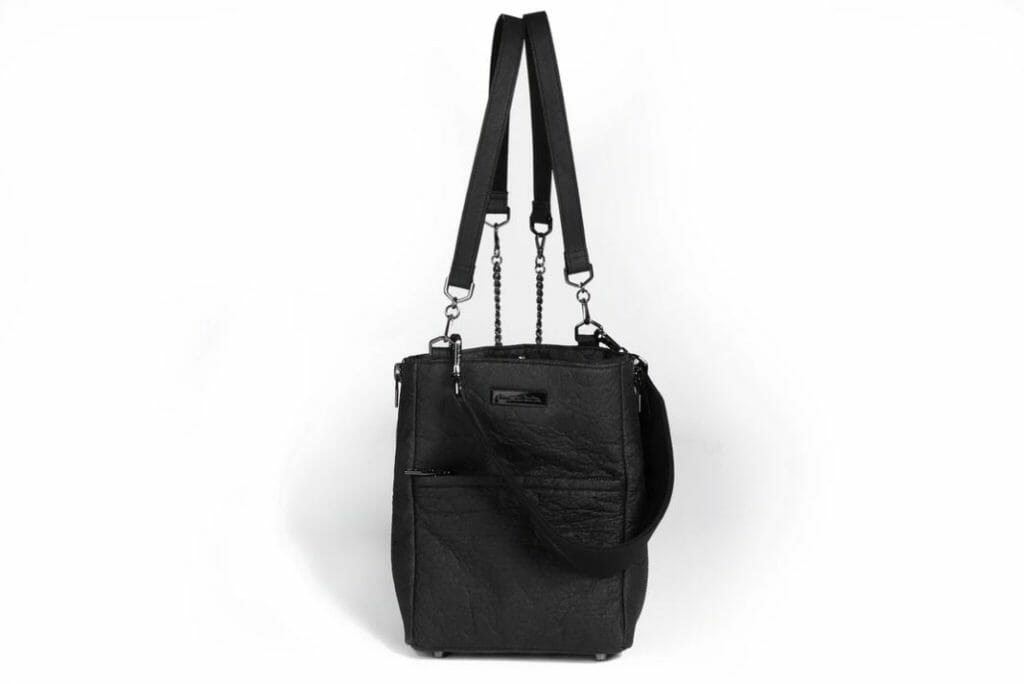 Ahimsa Collective Zip the Lip Backpack – Smoke
289 AUD
Ahimsa means "respect for all living things and avoidance of harm toward others." With that, Ahimsa Collective was founded by passionate change agents who wanted to prove that sustainability and luxury goods could coexist. They wanted to offer a bag that was not only environmentally friendly, but also environmentally beneficial. They found the solution by producing handbags out of existing resources, would-be-waste, and innovative plant-based textiles. Their noteworthy materials include recycled water bottles, certified washable paper, and reused hardware.
Zip the Lip Backpack – Smoke is Ahimsa Collective's first backpack that also doubles as a bucket bag. Made from durable pineapple leather (piñatex), this black, 24.5 cm x 20 cm x 12 cm-sized bag will be a hit with the fashion-savvy vegan in your life. Plus, she would be thrilled to know that 5 AUD of this bag's sale will go to Ahimsa Collective's social enterprise partners.
Buy the product here.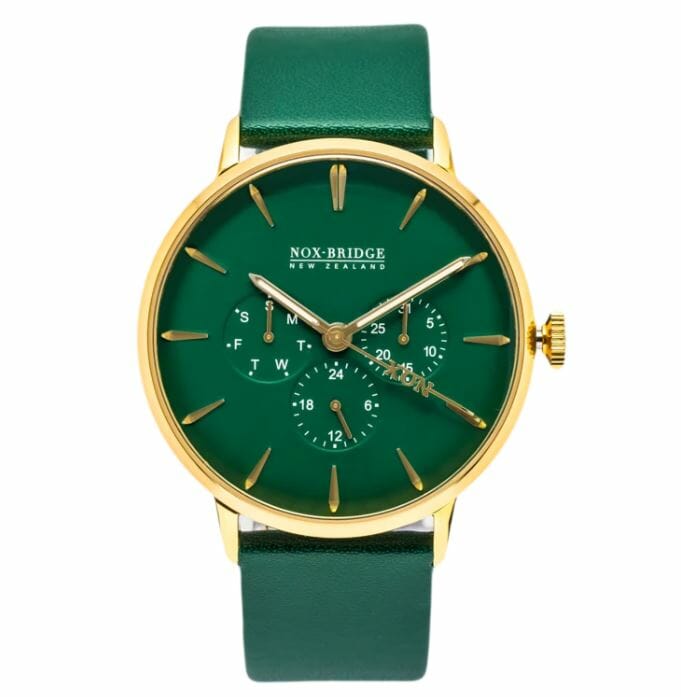 NOX-BRIDGE Classic Vega Viridi 41 mm watch
339 NZD
Vegan fashion and watch-making can go hand in hand, as proven by this group of New Zealanders who created NOX-BRIDGE in 2014. Produced without compromising ethical practices, their elegant watch designs and waterproof leather straps are 100% vegan.
The Classic Vega Viridi 41 mm timepiece is made and assembled in Japan. It consists of a surgical grade 316 L stainless steel green face encased in gold, and 20 mm x 18 cm (19.5 cm with buckle) vegan straps in a rich forest green shade. Water resistant and with quick release straps, this striking men's watch can go from day to night.
Buy the product here.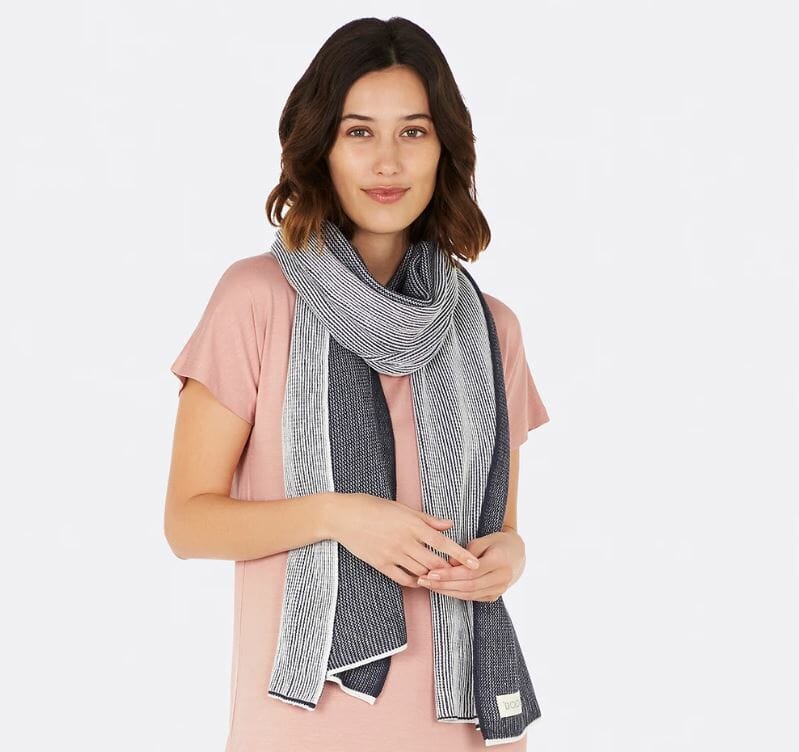 Boody Cosy Knit Wrap – Storm
99.95 AUD
An Australian brand that's focused on making eco-conscious, sustainable clothing, Boody crafts everyday apparel for men, women, and kids using materials that are better for the environment.
Make your vegan friend feel like she's receiving a warm hug from you each time she uses Boody's Cosy Knit Wrap. Made from pure, organically grown bamboo viscose harvested in FSC-certified fields in Sichuan, China, this 180 cm x 80 cm knitted shawl can be used at home on a cold winter night or worn softly draped around the neck during a chilly outing. Naturally antibacterial, hypoallergenic, thermo-regulating, and breathable, the two-toned fabric feels good against the skin, and, more importantly, matches any attire.
Buy the product here.
Kitchen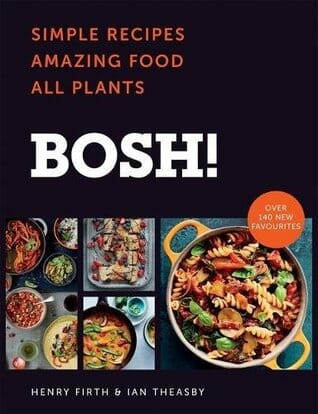 BOSH! The Cookbook
29.99 AUD
Best friends Henry Firth and Ian Theasby both turned vegan in 2015, and a year later, started BOSH!—the largest plant-based video channel on Facebook. With a mission to help everyone eat more plant-based food, the duo published this cookbook in 2018 containing 140 easy and tasty vegan dishes to try.
With BOSH! The Cookbook, new or longtime vegans can take a crack at making breakfast staples, crowd-pleasing party dishes, hearty dinners, sumptuous desserts, and sharing cocktails using fresh and supermarket-available ingredients. This 288-page cookbook will surely inspire the vegan in your life to spend more time in the kitchen and whip up satisfying plant-based recipes. And if you're lucky, you might end up tasting and loving the culinary creations!
Buy the product here.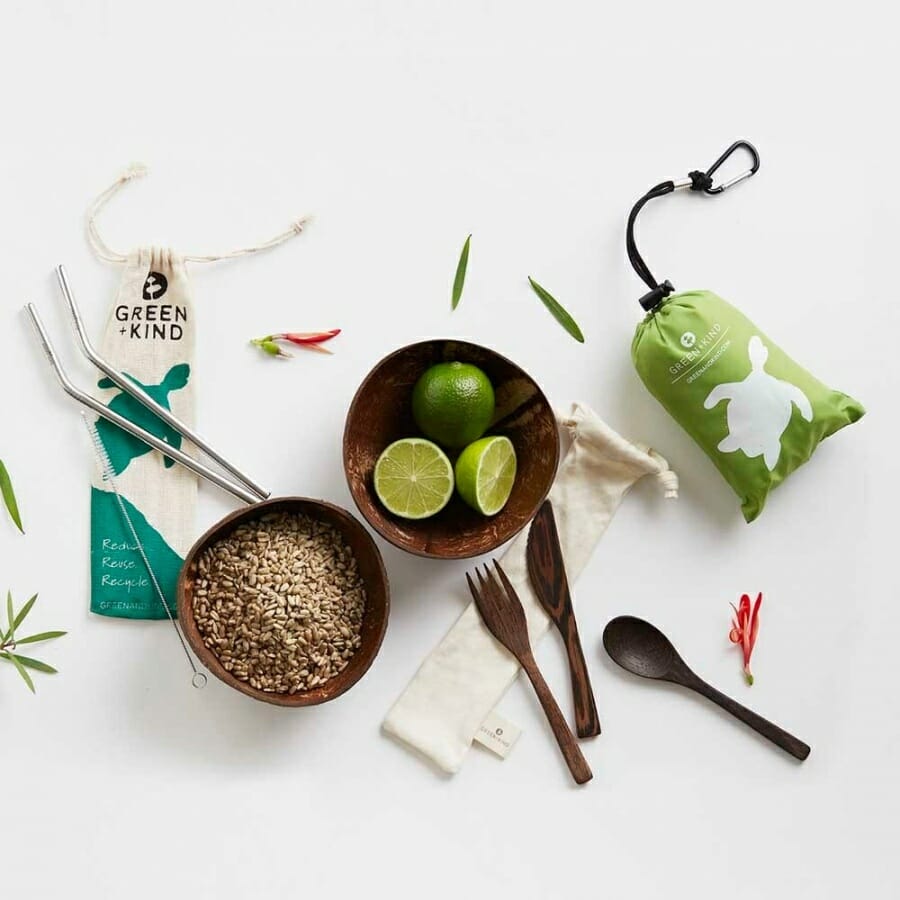 Green + Kind Eco Box
64.95 AUD for a five-piece set
Green + Kind is committed to making products that are vegan, cruelty free, planet friendly, ethically made, and biodegradable or reusable. Their primary purpose is to change the way people shop through education and creation of eco alternatives to products that are used daily, helping minimise people's impact on the planet.
This zero-waste eco set will help vegans (or practically anyone!) get started on their eco journey. It can be used for mealtimes, and can also be brought out for picnics, road trips, and outdoor adventures. Each box contains two natural coconut bowls, a set of utensils (knife, fork, and spoon), certified organic cotton carry pouch, a pack of 2 stainless steel bent straws, and a handy pouch that contains 8 30 cm x 35 cm produce bags.
Buy the set here.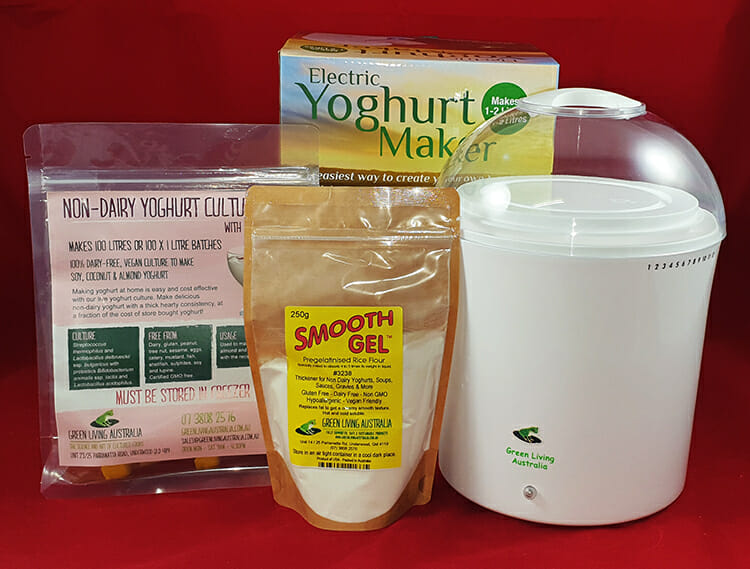 Green Living Australia Non-Dairy Yoghurt Bundle
81.75 AUD for a three-piece set
Green Living Australia is a business that resulted out of a need to create homemade, preservative-free, additive-free foods, and chemical-free body products. The company aims to provide pure cultures, equipment, and education to conscious foodies, and to make all-natural and sustainable body products.
Their Non-Dairy Yoghurt Bundle is the perfect gift for vegans who want to create their own tasty probiotic snack. Each vegan-friendly culture set contains a BPA-free electric yoghurt maker (which can hold up to 2 litres and maintain the needed temperature for prolonged periods of time), 100 litres of non-dairy yoghurt culture with probiotics (which can be turned into soy, coconut, or almond yoghurt), and 250 grams of smooth gel (which helps create a thick, creamy texture).
Buy the product here.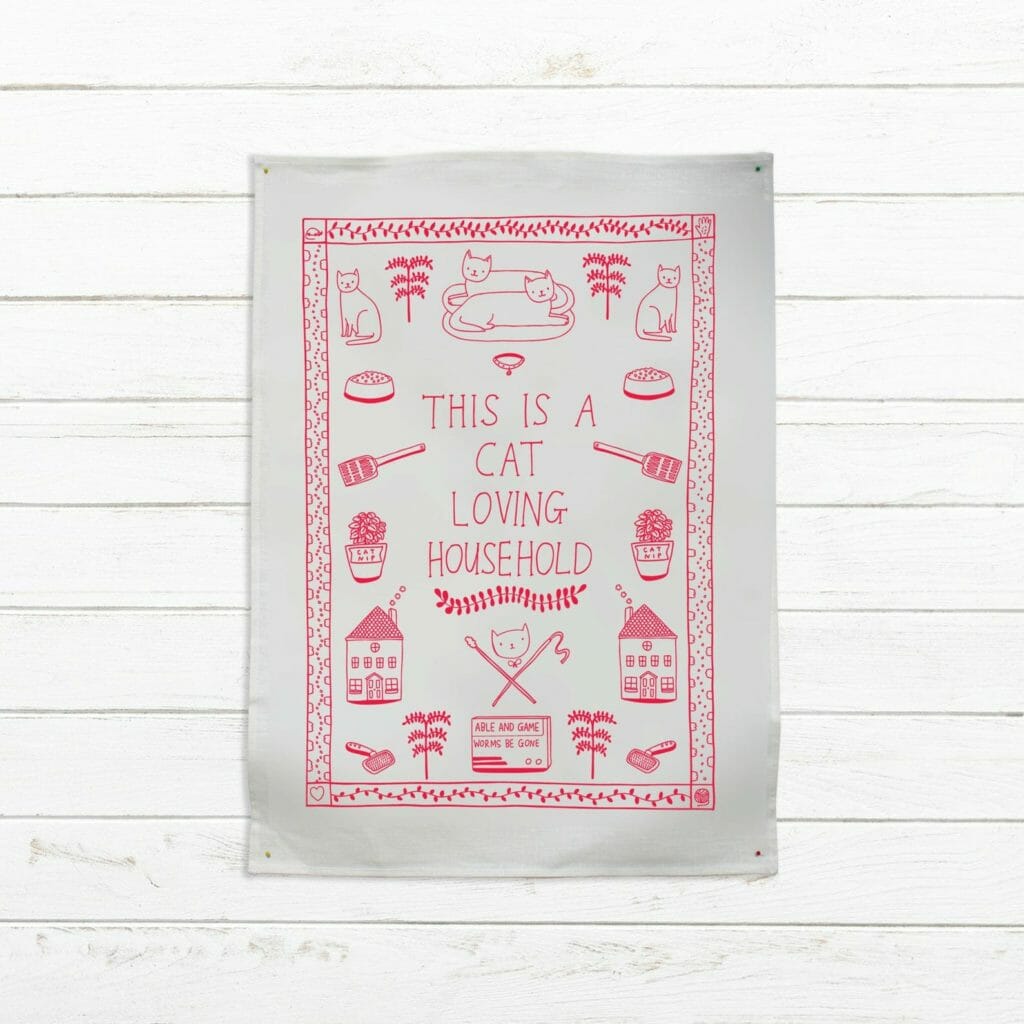 Waldo's Friends This is a Cat Loving Household Tea Towel
18 AUD
Waldo's Friends carries Able and Game tea towels, which are made of pure linen and hand screen printed in Melbourne. The 50 cm x 70 cm print features a beautiful set of illustrations accompanied by typography in the centre that says: This is a cat loving household. The white and red tea towel can be used to line a serving basket, to dry and store salad greens, to protect pots and pans from scratches, or can even be displayed as eye-catching wall art. Perfect for the feline-loving vegan in your life!
Buy the product here.

Treat Dreams Dream Bars
12.50 AUD for 80 g
The chocolates and desserts by Treat Dreams may be dairy-free and vegan-free, but they're just as rich and decadent as their non-vegan counterparts. Lis Armstrong founded Treat Dreams after turning vegan in 2013, and wanted to recreate classic treats that were made of plant-based and animal-friendly ingredients.
Their square-shaped vegan chocolate Dream Bars come in five delicious flavours: Creamy White (direct trade white chocolate bar and almonds), Berries + Cream (creamy white chocolate bar with freeze dried raspberry pieces), Cookies + Cream (creamy almond white chocolate bar with crunchy chocolate biscuit pieces), Creamy Milk (direct trade milk chocolate bar), and Peanut Crunch (milk chocolate bar with toasted peanuts and crunchy toffee pieces).
Buy the products here.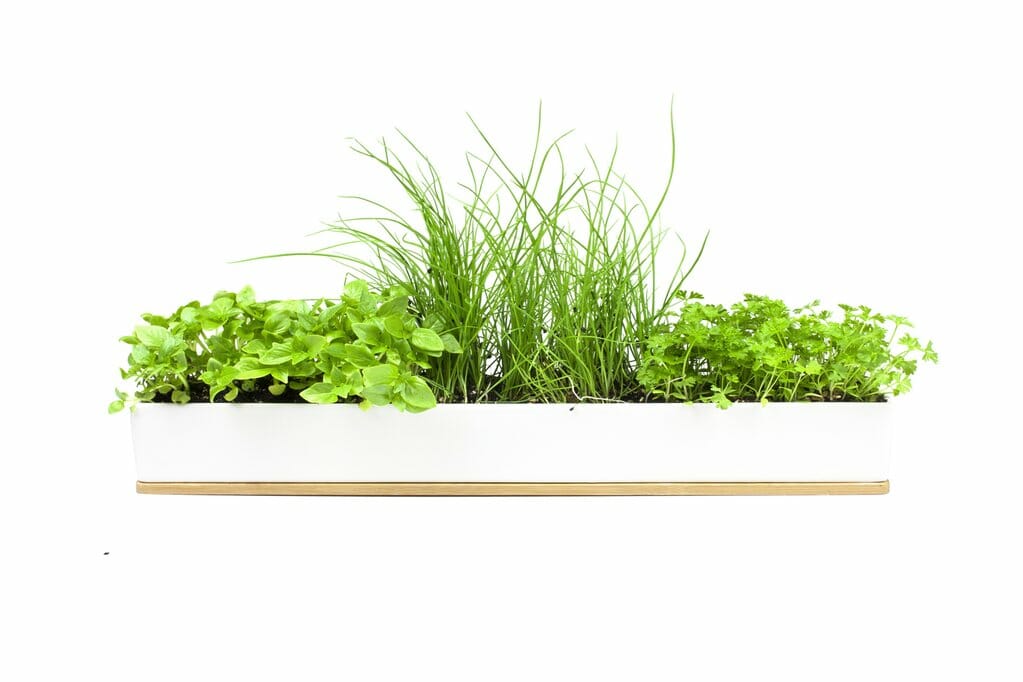 Urban Greens Co Micro Herbs Windowsill Grow Kit
49.95 AUD
With a mission to create gifts that are purposeful, sustainable, and gratifying, Urban Greens Co allows the vegan in your life to receive a growable gift and gain satisfaction from it for a longer period of time.
The Urban Greens Grow Kit has all the essentials needed to grow a windowsill full of nutritious and flavour-packed herbs. Perfect for the aspiring urban gardener who is limited to small spaces, the kit includes a 40 cm x 8 cm x 7 cm porcelain windowsill box (includes a bamboo lid and drip tray), 3 micro herb varieties (basil, chive, and parsley seeds), sustainable organic coir propagation mix, plus growing instructions and hot tips.
Buy the product here.
Home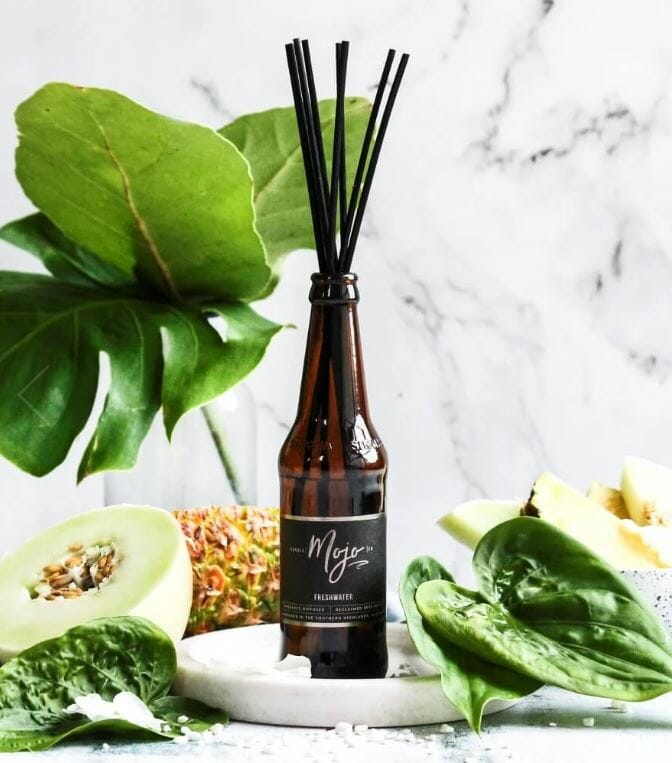 Mojo Candle Co. Reclaimed Beer Bottle Diffuser – Freshwater
44.90 AUD
Add flair to the home of an alcohol-loving vegan through the nifty creations of Mojo Candle Co. With a passion for the planet, founders Monty and Jo found a sustainable way to reuse old beer and wine bottles from Australian breweries and restaurants, and turn them into candle and diffuser vessels. The results are stunning, sophisticated fragrance keepers containing natural soy wax or premium oils.
One of Mojo Candle Co.'s most popular scents, Freshwater is masculine with sharp citrus top notes that include blackcurrant and pineapple. It is rounded off with base and middle notes of honeydew, muguet, water lily, and the bold scent of vetiver, amber, and a touch of mulberry. Each beer bottle diffuser is hand-poured in small batches and sold with natural fibre reeds. The diffusing time takes approximately six months depending on the surroundings.
Buy the product here.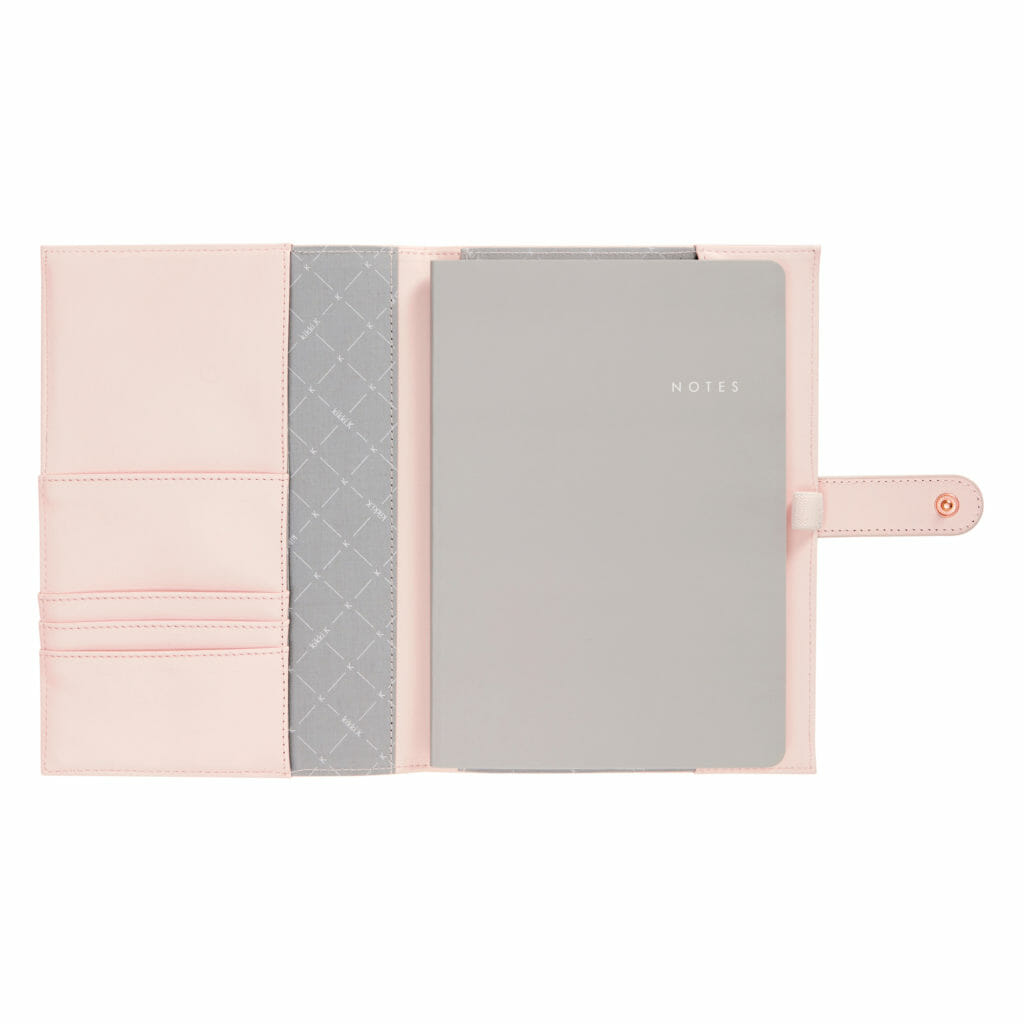 kikki.K A5 Quilted Notebook Holder Blush: Self
49.99 AUD
Prettify your vegan friend's home working space with Swedish brand kikki.K's 165 mm x 30 mm notebook holder. Set in a delicate shade of blush pink and a gray inner lining, the quilted vegan-friendly holder contains an elastic pen loop, 4 internal card slots, and a 76-page, limited-edition lined notebook.
Buy the product here.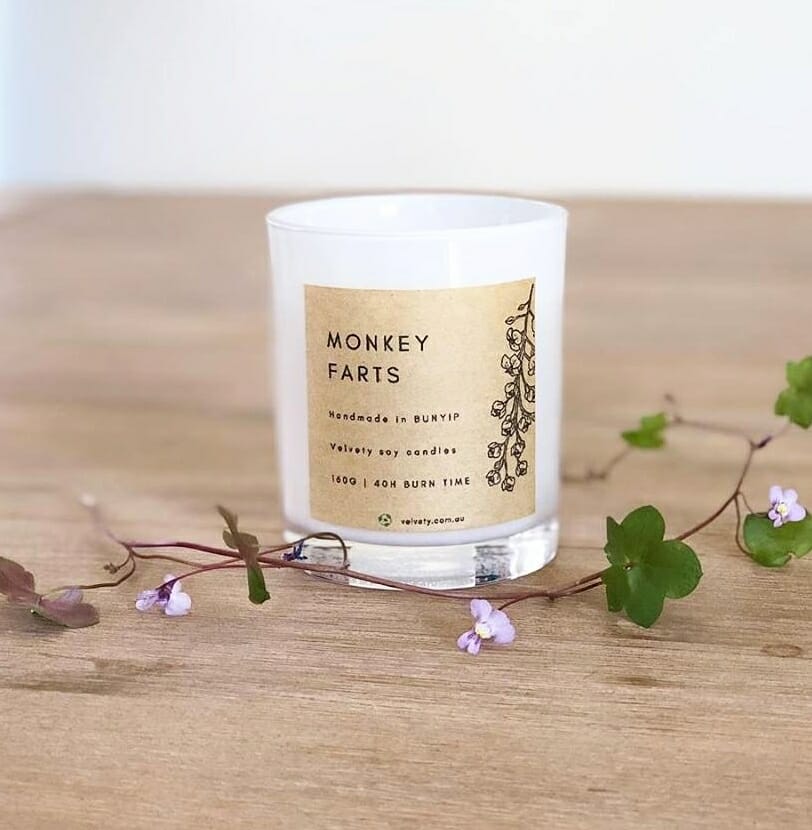 Velvety Monkey Farts Soy Candle
27 AUD for 160 g
A personal project by Lorena Estelle, Velvety sprung from a desire to offer vegan-friendly, sustainable, and ethically made items in a singular online platform. Velvety lets you choose affordable and cruelty-free fashion, beauty, and home items for the vegan in your life.
Think of a vegan who will get a kick out of this hilariously named soy candle. Monkey Farts has a complex citrus scent that starts with a subtle base of vanilla, mango, kiwi, and bubblegum, and finishes off with top notes of banana, grapefruit, and strawberries. Velvety Soy Candles are handmade and poured using natural soy wax for an eco-friendly, clean burn. The lead-free cotton wick is covered with vegetable-based wax and premium fragrances or essential oils. Each tumbler burns for approximately 40 hours.
Buy the product here.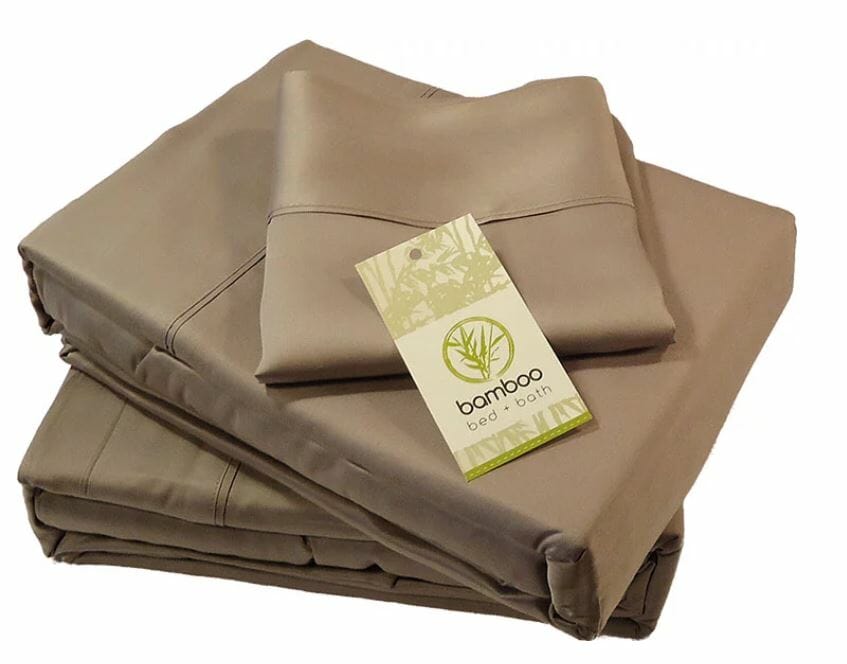 Bamboo Bed + Bath Bed King Bed Sheet Set
199 AUD for a set
Proudly Australian owned and operated, Bamboo Bed + Bath has been crafting quality certified organic products for bed and bath since 2000. Their bamboo fibre products are from trusted and respected manufacturers with Oeko-Tex Standard 100, USDA, and FSC certifications.
Made with 100% bamboo, the pure organic sheets are luxuriously soft on the skin. They are also known for being thermo-regulating—warm in winter, cool in summer—so they can be used all year round. Each Bamboo Bed + Bath King Bed Sheet Set contains 1 flat sheet (290 cm x 270 cm), 1 fitted sheet (183 cm x 203 cm x 40 cm), and 2 pillowcases (48 cm x 73 cm) in fresh white or rich taupe shades.
Buy the product here.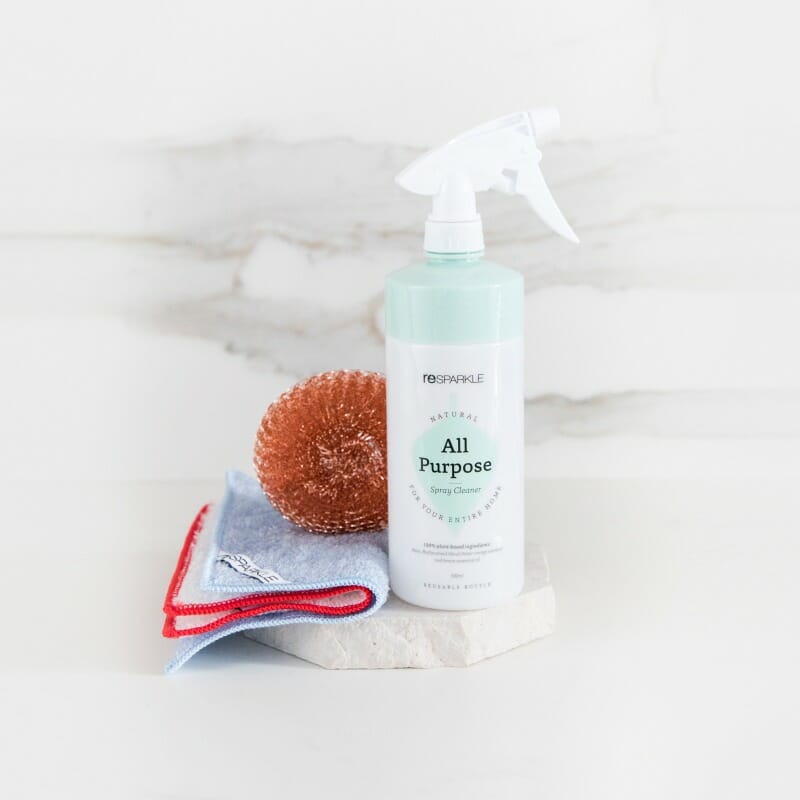 Resparkle Ultimate Natural All Purpose Cleaning Kit
20.45 AUD
Resparkle manufactures plant-powered products that make homes naturally clean. The brand promises to save the planet while keeping homes dirt-free through their toxin-free items found in reusable, zero-plastic packages.
This best-selling cleaning kit from Resparkle is an awesome present to give to a vegan neat freak as it will allow him or her to breeze through housework faster and more effectively. The nature-powered cleaning kit includes a 500 ml Natural All-Purpose Reusable Bottle, Natural All-Purpose Concentrate Refill Pod (which can be used for any tough-to-clean surface), a 100% copper scrubber (which can help scour away grease and grime on any kind of cookware), and a 100% natural bamboo microfibre cloth (which can save the ocean from micro-plastic pollution).
Buy the product here.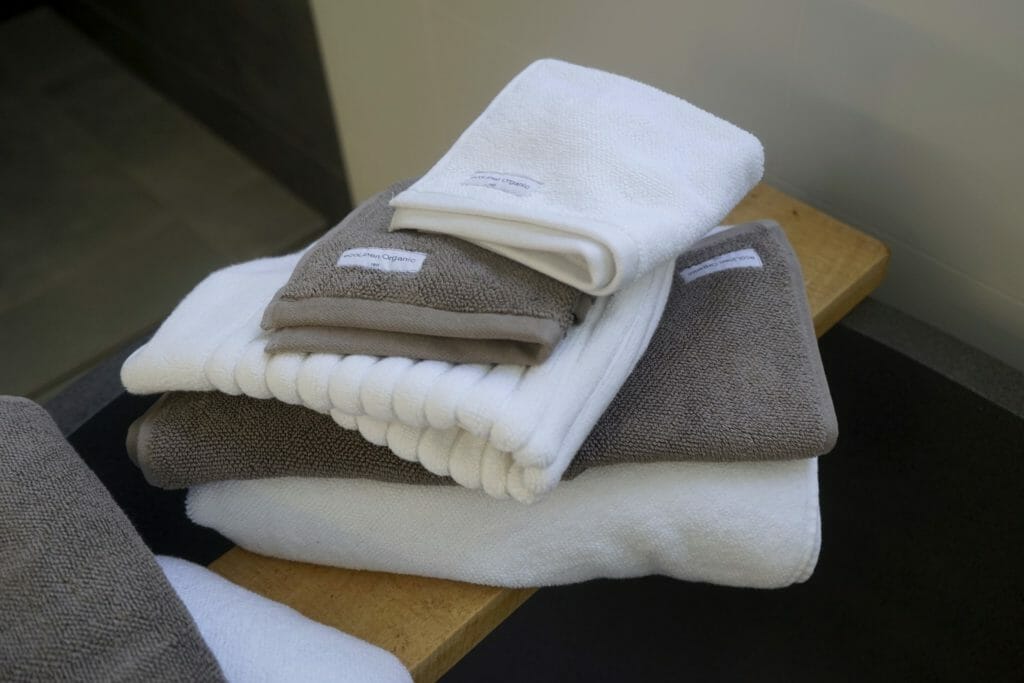 ecoLinen Organic Cotton Bath Towel
29.90 AUD
Make the vegan in your life feel pampered with ecoLinen Premium Organic's cotton bath towel. The brand uses all-natural cotton, which is free from toxic dyes, harmful pesticides, insecticides, and harsh chemicals.
EcoLinen's thick organic bath towels are used in some of Australia's top luxury resorts. They are made with the softest, sturdiest, and most absorbent materials, which are hypoallergenic and safe for the entire family to use. Available in white or charcoal grey, each plush bath towel comes at a generous size (75 cm x 150 cm) and with 650 gsm for maximum absorbency.
Buy the product here.
Travel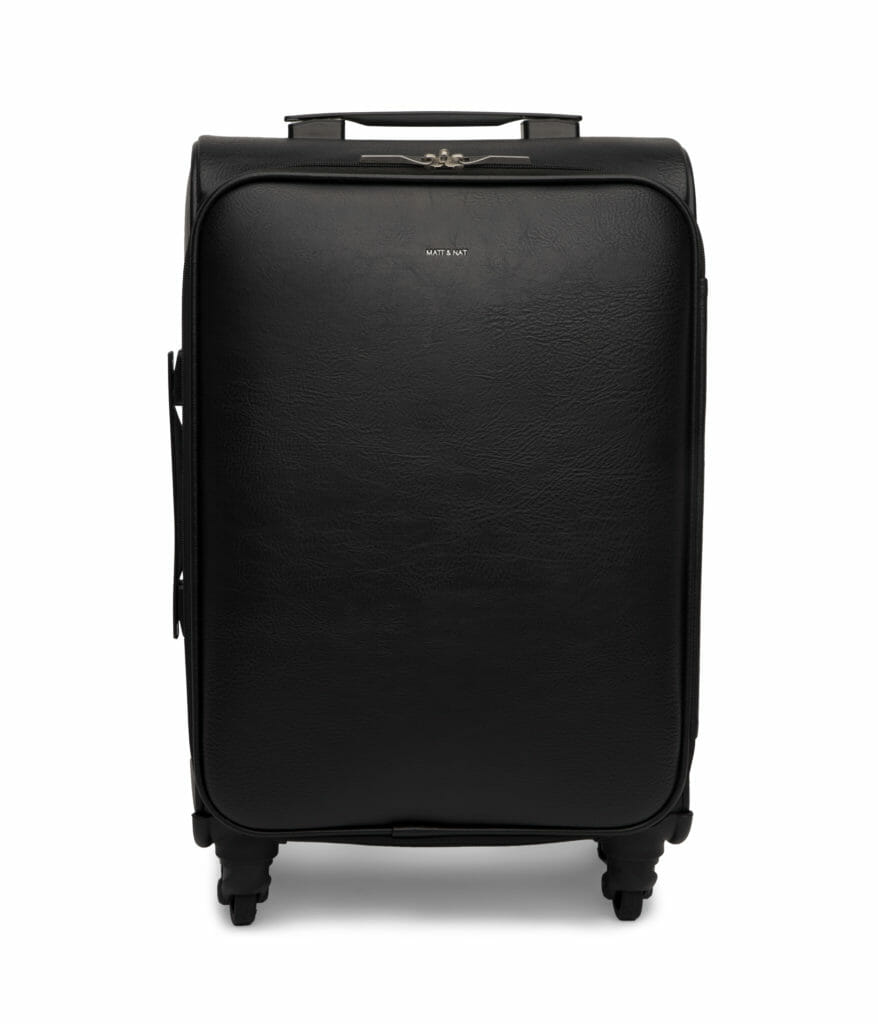 MATT & NAT COAST Vegan Carry On Luggage – Black
265 AUD
MATT & NAT is focused on exploring the beautiful synergy between material and nature. Choosing to find innovative ways to remain sustainable and eco-friendly, their fashionable designs do not use leather or other animal-based materials. Instead, they have experimented with different recycled materials such as recycled nylons, cardboard, rubber, and cork.
COAST Vegan Carry On Luggage is a must-buy for vegan jetsetters. The 14 inch x 20.5 inch x 9-inch bag (excluding wheels) comes in a sleek black colour, with a double zipper detail, a short handle drop, and an extendable, easy-carry handle. Inside, the luggage offers a removable snap pouch, a zip around zipper compartment, and a double interior.
Buy the product here.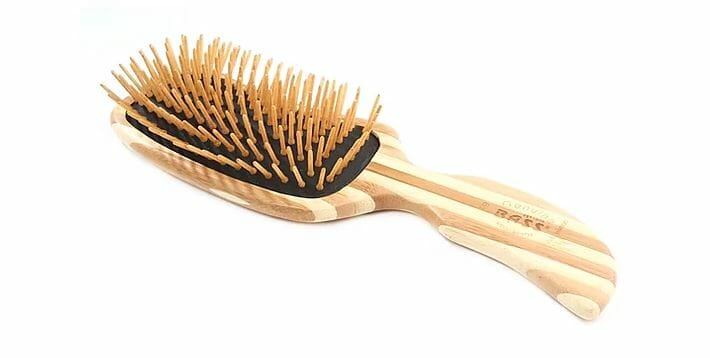 Bass The Green Brush 19
16.95 USD
Founded in 1979, Bass has been manufacturing premium grade brushes, body, and skin tools with an emphasis on using the finest natural, sustainable, and durable materials. Their high quality items have been used by professional stylists, barbers, and aestheticians worldwide.
Combining luxury design with sustainable resources, Bass Green Brush Series uses 100% eco-friendly premium bamboo for its pins and handle. The two-toned semi S-shaped brush is expertly designed for easy gripping, while its bamboo pins are created with radius tips for extra comfort in the tresses and scalp. This organic brush is suitable for all hair types.
Buy the product here.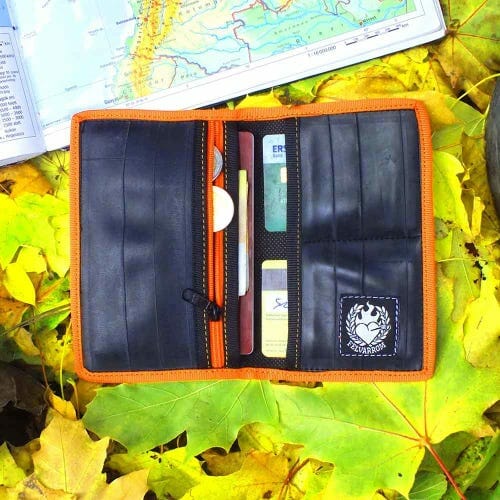 Felvarrom Recycled Inner Tube Passport Holder
44.90 AUD
With a name that means "I'll stitch it up," Felvarrom upcycles discarded bicycle parts and materials and creatively transforms them into durable fashion accessories. The Hungarian brand keeps their entire making process sustainable and environmentally friendly, from recycling bicycle parts to using biodegradable cleaning materials to properly disposing of their waste.
Made from old inner tubes from bicycle tires, the black and orange passport holder has a deep safe passport slot, 2 card holder pockets (each slot can hold 4 cards), and a zip pocket for coins. Because of the varying scuffs, marks, and patches the inner tubes have previously received, no two passport holders will look exactly alike.
Buy the product here.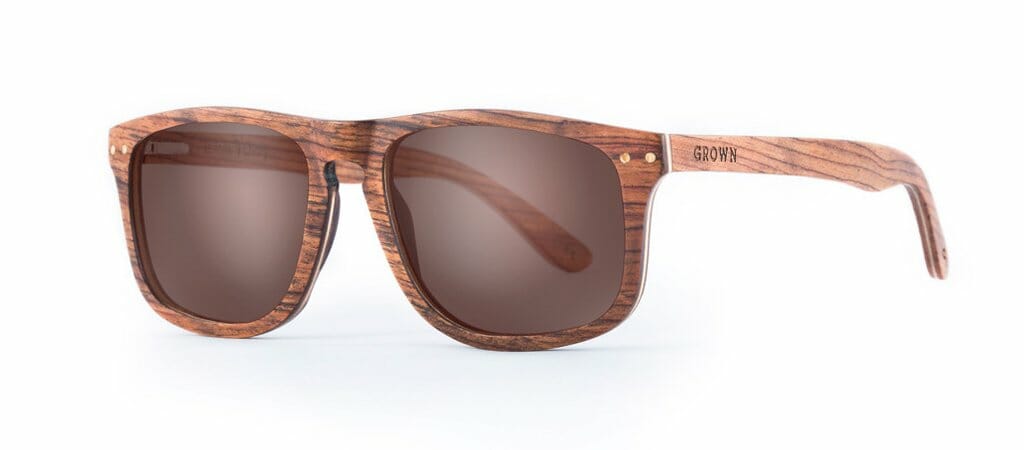 GROWN Sustainable Wooden Eyewear Lennox
169 AUD
GROWN chooses to get all their organic materials from ethically sourced and managed forests that are bound by the sustainable forestry management standards of the FSC. Using durable bamboo and hardwoods (such as maple, ebony, and walnut) to handcraft their wooden eye frames, each pair of sunglasses has a distinct finish because of the unique wood grain. As a bonus, GROWN provides a 100-day warranty and a 180-day accident coverage for their buyers.
The Lennox has a lightly polished red ebony wood finish. It comes with a keyhole bridge, Canadian maple accents, premium spring loaded hinges, and European standard (CE) UV400 (100% UVA/UVB) polarized lenses. Aside from this being an ultra-stylish gift for the vegan in your life, it is also animal-friendly because for each pair purchased, GROWN will help support one orphaned or injured Australian animal via WIRES.
Buy the product here.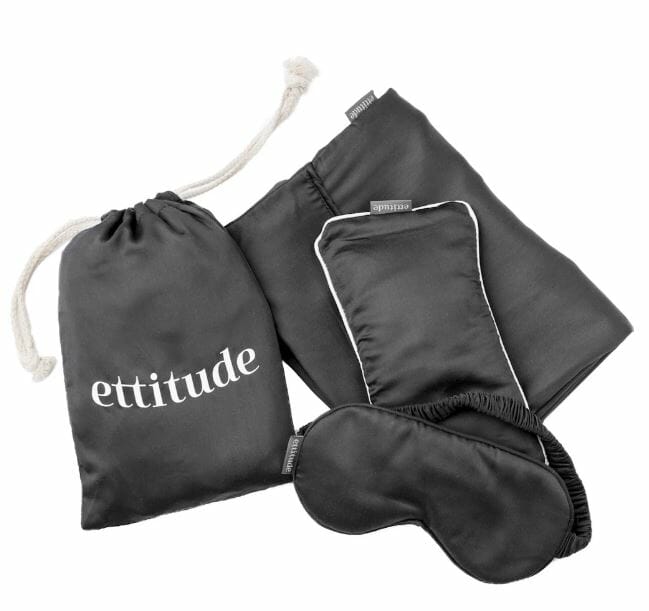 Ettitude Bamboo Lyocell Luxe Travel Kit
75 AUD
Ettitude is an eco-conscious brand that guarantees luxury and comfort using sustainably sourced materials and renewable methods. They've created a breakthrough bamboo lyocell fabric, CleanBamboo, whose manufacturing process is designed to save energy and water. The result is a breathable, hypoallergenic, and thermo-regulating cloth with a silk-like texture.
Lightweight and convenient, the vegan-friendly Bamboo Lyocell Luxe Travel Kit is great for long-haul flights, camping adventures, and anything in between. The pure organic bamboo set contains 1 standard size pillowcase, 1 sleep mask, and 1 eye pillow with removable organic lavender insert, which are all stored inside a reusable fabric drawstring bag. The set comes in four colours: blue nights, grey, cloud pink, and pepper.
Buy the product here.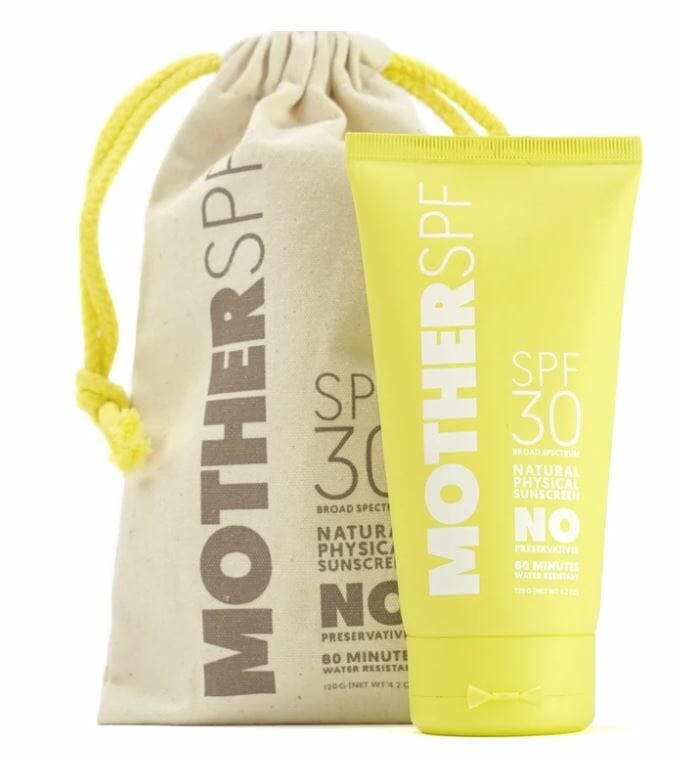 MOTHER SPF Natural Physical Sunscreen
42 AUD for 120 ml
MOTHER SPF is an effective, all-natural sun protectant alternative to commercially produced sunscreens. The brand promises that there are no chemical UV filters, preservatives, emulsifiers, silicones, nano-particles, titanium oxide, animal derivatives, water, gluten, nut oils, fragrance oils, essential oils, animal testing, phthalates, and parabens in their product.
Produced consciously, sustainably, and ethically, MOTHER SPF only uses nine certified and organic ingredients from trusted suppliers: zinc oxide, coco-caprylate, polyglyceryl-3 polyricinoleate, isostearic acid, caprylic capric triglyceride, coconut oil, castor oil, candelilla wax, and DI alpha tocopheryl acetate. All these hydrating ingredients work together to provide broad-spectrum protection for the face and body (SPF 30) for approximately four hours. A handy essential, the 120 ml tube is a welcome addition to any vegan's travel bag. It is safe for all skin types including those with sensitive and acne-prone skin.
Buy the product here.
In Conclusion
With these 30 vegan-approved selections to choose from, you won't need to stress over what to give your vegan loved one when a milestone or special event comes along. Bookmark this Waldo's Friends article, list down your favourites from the face/body, fashion, kitchen, home, and travel categories, or visit the corresponding websites to stock up on these amazing vegan-friendly items now!
Check out other gift guides with items you can give for any occasion! We've got options for dog lovers, cat fanatics, and wildlife lovers.