Thinking of bringing home a puppy from an animal shelter? There are many questions to answer so you can be absolutely sure you're ready to care for a young pooch. From figuring out who the primary carer will be to choosing a training method, you need to devote lots of time, effort, and (some) money to ensure your adopted puppy grows up to be a happy, well-adjusted dog. Walking your pup for potty time and daily exercise will be a part of your new schedule, and this involves making him wear a harness every time he steps outside. This guide covers everything you need to know about choosing the right harness for your puppy:
Why your puppy should wear a harness
An important part of a puppy starter kit, a collar is worn around a dog's neck and helps identify a pooch. It is connected to a leash to help a person limit the movements of his pet when outdoors. A dog harness, on the other hand, consists of a full vest or multiple straps that are worn around the dog's torso. Connected to a leash, the harness helps guide, lift, or hinder a dog's movement, especially when he is prone to pulling and lunging.
Puppies as young as eight weeks old can start loose leash walking in your living room or backyard. Some veterinarians recommend that puppies being trained for walking and socialising should wear a harness since it offers more control for the dog owner. Compared to a collar, this walking equipment reduces strain on the dog's neck and back as he is gently steered towards the right direction. The pressure is spread evenly, so pulling him up to stand will not cause any discomfort or pain. More importantly, a dog harness prevents injuries such as choking and hacking. It also covers a bigger area of your puppy's body, so the right one will make it difficult for him to accidentally get out of it.
How to choose the right harness for your puppy
Not all harnesses are made equal. When selecting a puppy harness, make sure that it is made with adjustable and durable materials. Since your puppy is still growing, the size you pick should still fit him in a few weeks' time. As for durability, remember to select one made of chew-resistant materials since teething puppies may gnaw on the harness when you're not looking.
Moreover, consider your puppy's size, weight, personality, and breed to find the best harness. Some designs are suited for particular breeds, so it may be too tight or loose for your canine. Measure your pup's rib cage (the area behind his front legs) to get the right fit. Check to see that you can insert two fingers under the straps. But at the same time, make sure he is unable to pull the harness over his head. 
Lastly, observe how much and how hard your puppy likes to pull. The wrong harness can cause chafing when he pulls too much. Certain materials can also cause discomfort when they become wet. 
Types of puppy harnesses
There are a number of factors to decide on when buying a puppy harness. These include, but are not limited to: straps or vest type; mesh or padded; lightweight or reflective; and waterproof or washable. Before making your choice, learn about the common harness designs available in the market.
Front-clip dog harness
Also known as a front-hook harness, this type of harness has the D-ring or clip placed at the center of the chest area. It gives the owner more leverage, helping him control the direction the dog takes and redirect him as needed. It also minimises dog pulling on the leash.  
Note that because of the clip's placement, the leash may get in the way of your dog's paws as he walks. This may aggravate or annoy some dogs.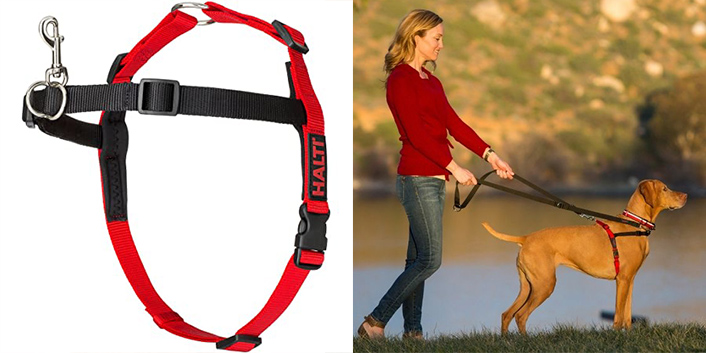 Back-clip dog harness
The most common harness style, this harness's D-ring is found at the top part of the material—just over your dog's back. Offering more control than a collar-and-leash set, this type is ideal for smaller breeds with thin necks, delicate throats, and tender spines.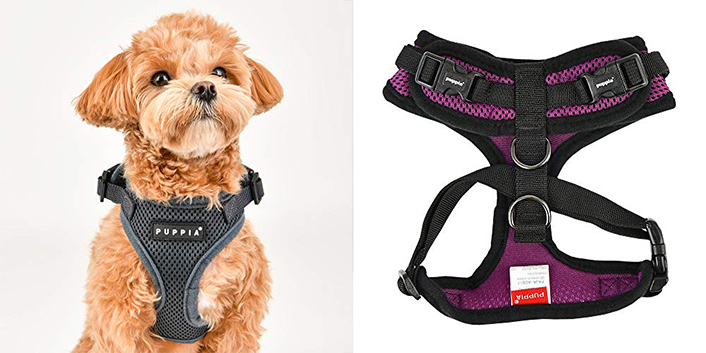 Dual-clip dog harness
Offering more versatility for dog owners, this type of harness can be attached to a leash via the front or rear clip. Though it offers an extra level of control when the leash is attached to both rings, the webbed design may cause more chafing around the dog's shoulders. This type also tends to be more expensive than front-clip and back-clip harnesses.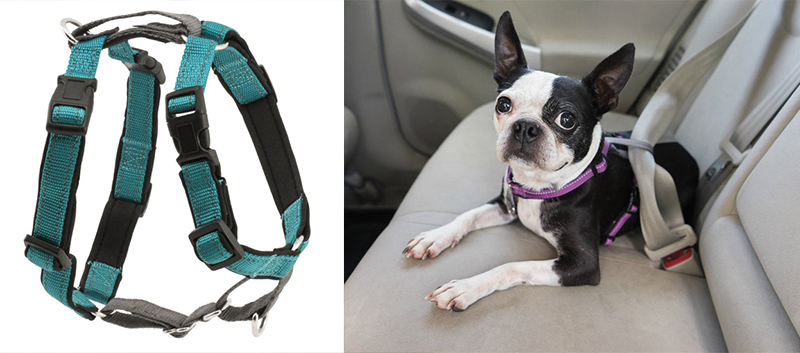 Step-in dog harness
Puppies that do not like being touched in the head or neck area (or are injured in these parts) may appreciate wearing this harness since it isn't pulled over their head. However, it may take a pup some time to learn how to wear it, and the sizing is not as adjustable as other types. Vests are a common type of step-in harness, which are highly suitable for small-sized dogs.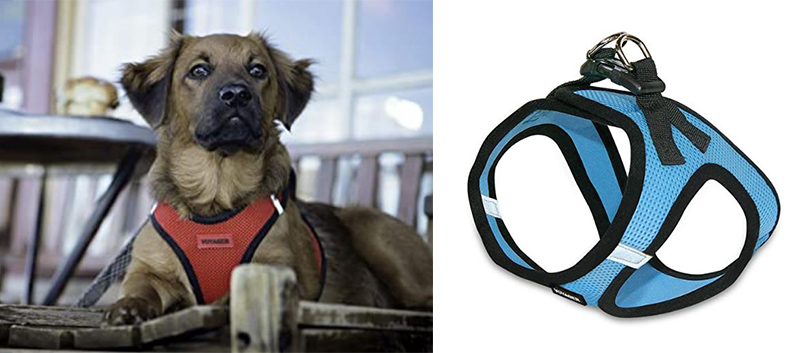 In conclusion
As with all new experiences, give your puppy ample time to get used to wearing his harness. Make it a positive experience by starting off with shorter periods of time indoors (where there are less distractions) and rewarding him with treats and praises each time he puts it on. Speak with your veterinarian so he can give his advice on the best harness to buy and how to help your dog get used to wearing it. 
Discover more informative guides on our blog. You can read through our buyers' guide for dog collars or cat harnesses (yes, you can take a cat out for walks, too!). Or you can learn more about pet adoption and responsible pet parenting.