Getting a new puppy home is a fun experience and as much as you prepare, one that comes with several last minute runs to the neighbourhood pet store. Most new pup parents prepare with beds, toys and kibble, but the complete puppy starter kit looks a lot longer and takes some research. Enter: our complete DIY puppy kit to help you get started. Here are some essentials, with links to shops, that you would need to have in place long before little fluff-ball enters your home.
Please note that this list is created with a young pup in mind. Click here for starter kit must-haves for adult rescue dogs.
01. Puppy carry crate
A carry crate is an essential in any pet parent household. Even if you're not using this to fly your pup around, it'll come in handy for vet visits and emergencies. For this reason, it's a good idea to have one with a comfortable bed in the house – with the door open so your pup goes in and out and sees it as a comfortable safe space. This way if you ever need to use it, little pooch won't be distressed about it. Usually, airline approved dog crates are the sturdiest of the lot and will pass muster for any transport use.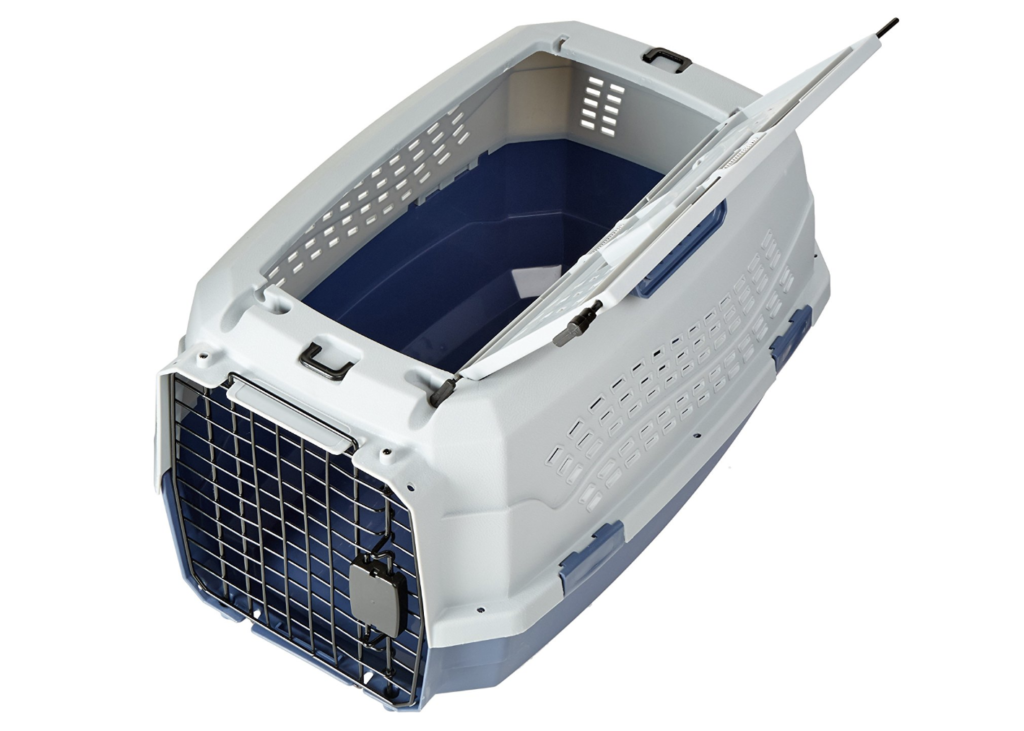 Quick tips to pick a crate:
Choose a hard-sided carrier made of rigid plastic, fiberglass, and/or welded metal mesh

Choose one with a solid floor

Choose a carrier with a secure locking system in a metal mesh door without sharp edges

Don't compromise on ventilation – pick one with at least two open sides

Stock up on some LIVE ANIMAL stickers – purely in case of household emergencies

Choose one with your dog's measurements in mind. Here's a handy explainer from Petcratesdirect.com
Product to buy:
02. Puppy bed
Buying a puppy bed can be confusing but ultimately depends on which school of thought you subscribe to – do you prefer buying something sturdy and expensive from the get go, or would you rather buy a cheap bed first and invest in a good one that your puppy chooses later? Either way, size is the first decision. Puppies grow very quickly and what seemed like a big bed in the beginning will become tiny quite quickly. Start by choosing where in the house this bed will sit – if it's within the crate, then choose one that'll fit there nicely.
Quick tips to pick a bed:
Make sure that the bed fits inside the crate – if a near match isn't possible, use a washable liner mat or puppy blanket to cover the crate's floor end-to-end

Consider the breed – known or predicted – when choosing a size, since the pup will likely outgrow its first bed in a few short months

Choose the fluff factor and colour according to your pup's furcoat and fur colour – long hair will stick to a very plush bed, and dark hair will make any light colour bed look messy

Be ultra safe about how chew-friendly the bed is – don't buy a bed if you're unsure of the toxicity of its material

Look for a bed that's washable and has a floor pillow that can be dried separately, as these beds dry a lot quicker than compact beds

Choose a bed that's warm and helps your pup gently ease into sleeping alone, away from its pack's huddle

Look for a bed with support round the edges for maximum comfort

Products to buy:
03. Puppy training crate
Crate training is a great way to housebreak your new puppy, but the wrong crate can damage the best intentions. Aside from the right size (just enough for your dog to be able to stand, lie down and turn around), you'll need to choose material and make.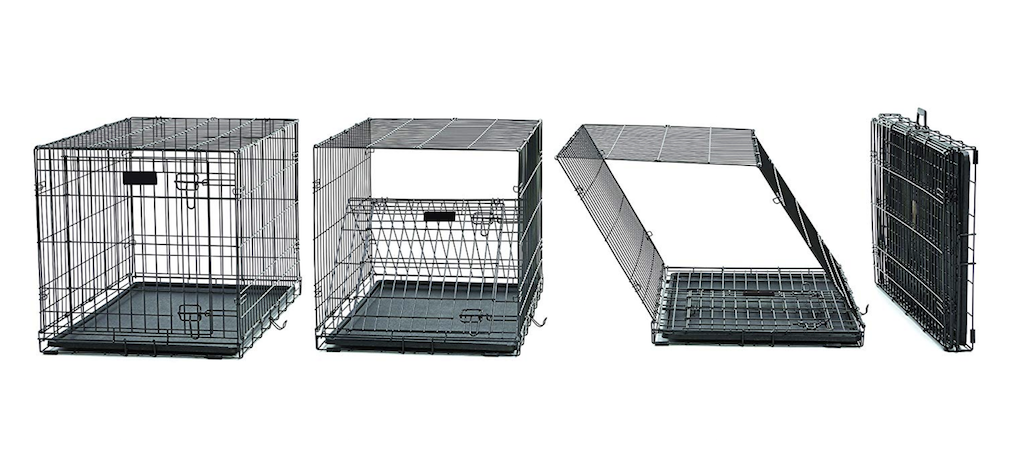 Quick tips to pick a crate:
While there are plastic and soft-sided crates, we recommend a metal crate because of better ventilation, durability and flexibility (wood crates can be a chewing hazard and are harder to clean)

If your pup is likely to grow big quickly, choose a flexible crate with room to increase your pup's crate area

If space is an issue, choose a crate that's collapsible and can be re-used for storage later

Choose one with a removable tray to make cleaning easier

Pick one with a lid, because as your pup grows it will try to escape by jumping out

Add a comfort toy and kong to pacify your puppy in its new living quarters
Product to buy:
04. Puppy patch or pet loo
This one's for city pet parents, especially those living in apartment blocks or houses with small backyards. A puppy patch will become your best friend when housebreaking your new dog. It's a great controlled training setup for your pup to understand how to ask for permission to go outside and use the facilities. It's also handy for bad weather days and easy to clean.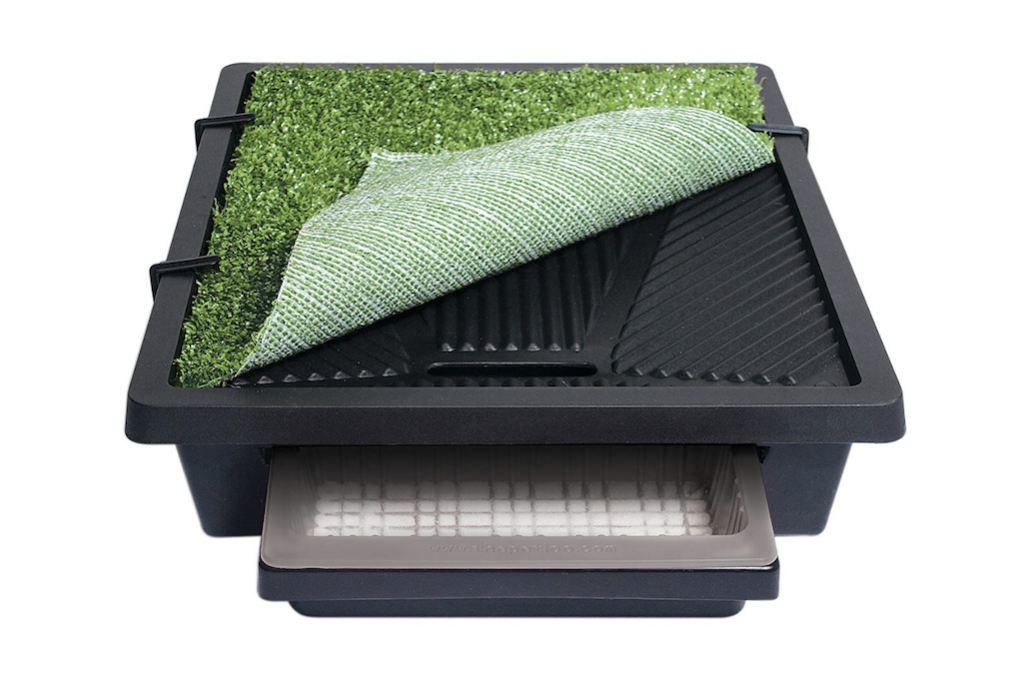 Quick tips to pick a puppy patch:
Choose a fresh puppy patch if you're comfortable with recurring costs. Keep in mind that these patches are made of fresh grass and can't be rinsed out without breaking down or getting a little messy (stay tuned for our assessment of fresh puppy patches in the market)

Choose an artificial pet loo if you'd rather own something that's easy to clean, with less frequent recurring costs (changing the artificial grass patch)

Look for one that's easy to clean. Most pet loo containers are essentially a base with a removable tray that can be cleaned every couple of days

Choose a size right for your dog's predicted growth
Product to buy:
05. Bowls, dishes and feeding mats
Your new puppy is going to need a few kitchen essentials of its own – food and water bowls, feeding mats, and outdoor collapsible bowls that make picnics and walks quite convenient. The good news is that you're spoilt for choice. There are hundreds of bowls of different shapes, sizes and materials to choose from. We recommend combining all three uses – food, water and drip mats into one efficient and compact solution.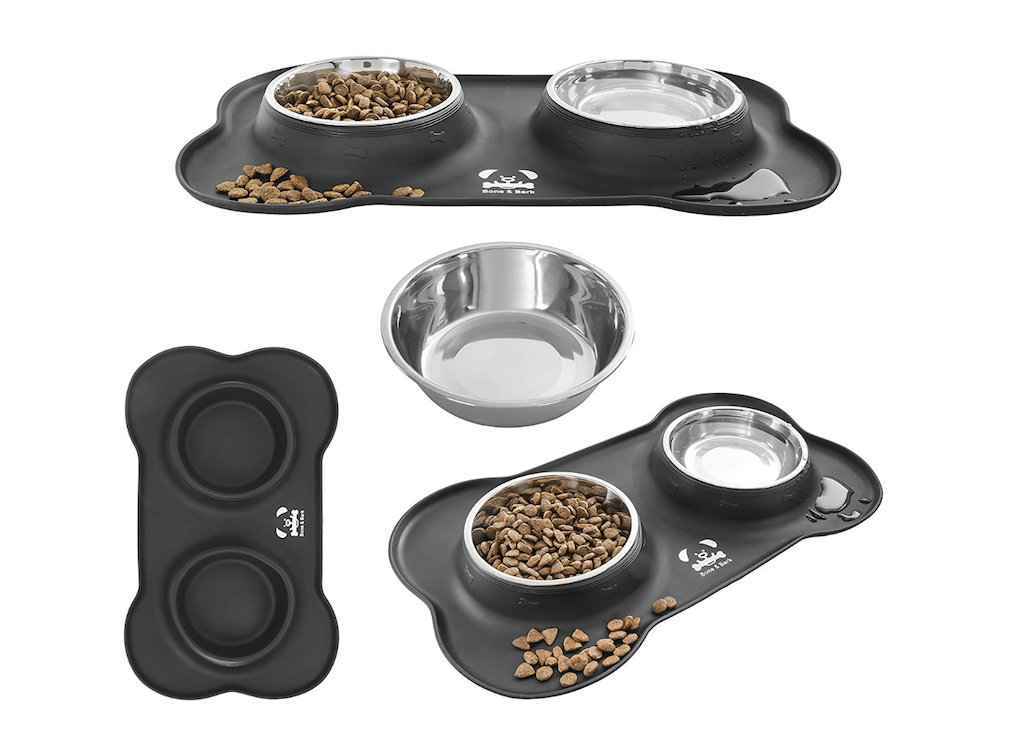 Quick tips to pick a compact food and water dish:
Pick one that's appropriate for your puppy's size – especially the height

Choose a mat that's easy to clean and doesn't have any hard-to-get-to corners

Pick two separate collapsible outdoor food and water bowls for convenience

Choose stainless steel for easy cleaning. However, several dishwasher-friendly materials are available as well, or if aesthetics are more important to you then stoneware options work too
Product to buy:
06. Shampoo, conditioner and brush
Puppies have sensitive skin and fur, and your vet will usually advise that you don't wash your new dog immediately, or too frequently. Look to get your vet's guidance regarding washing supplies as well. In general, you would get hypoallergenic and gentle cleaning products, and avoid anything harsh that causes irritations or flakiness. Similarly, the right fur-coat brush would be gentle as well as effective.

Quick tips to pick shampoo, conditioner and brush:
Consult your vet before buying anything for sensitive skin, anything medicated or for flea and tick rinses – especially during your first visit

Folllow instructions regarding use, especially for leave-in or rinse products around other pets
Products to buy:
07. Puppy food and treats
Buying pet food can be quite confusing as you walk down pet food aisles and try to decipher one brand from the next. After all, what you feed your pet is an important decision. Your choices encompass dry, wet (or tinned) and fresh food – and it doesn't stop there. As with everything critical to your growing puppy's health, you must consult a vet to get a good initial idea about how to keep your dog healthy and fit. The tips that follow are strictly suggestions for variety and convenience.

Quick tips to pick dog food and treats:
Puppy dry food or kibble is packaged per puppy size and age, so look for these clearly marked on the kibble packaging

In order to balance dry food with the right levels of hydration, check recommended water requirements with your vet

Tinned food is convenient and your pup will love it mixed with the kibble, but check recommended dry to wet food ratio with your vet

Variety is great!

Different textures of treats for teething puppies is usually recommended
Products to buy:
08. Puppy supplies for the outdoors
Outdoor supplies for your puppy will range from daily use essentials like a lead, harness, collar (discover how to choose the right one here!), poop bags and a carry case to more fun stuff like a treat case, travel bowls, frisbees and balls. As a new parent, all the options may seem overwhelming, but remember to buy for functional use first and your choices will immediately begin to make sense.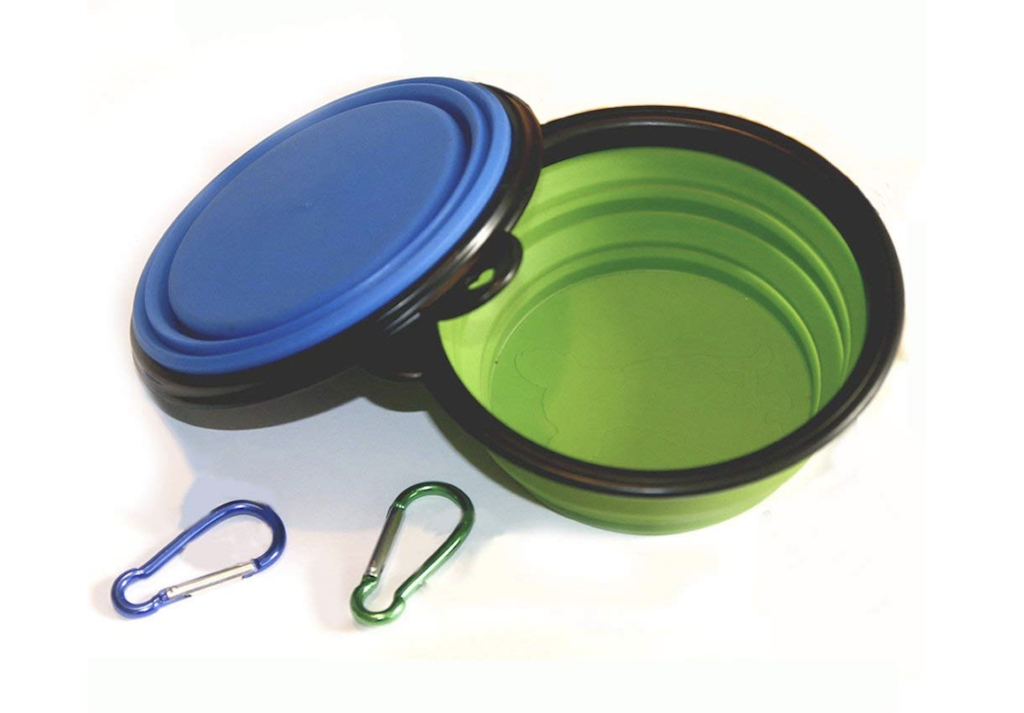 Quick tips to pick outdoor pet supplies:
There's no real science to poop bags other than the size (small dogs need small bags for obvious reasons!), and environmental impact (look for biodegradable options)

Choose a bag carry case that attaches to the lead simply so that you never forget to carry bags for walks

Choose comfortable and durable collars, harnesses and leads that are size appropriate. It helps to take your puppy to the store if you're unsure about size

Look for two collapsible bowls – one for food and another for water, so you don't have to stop and clean anything mid-walk
Products to buy:
And there you have it, a starter kit that'll help your puppy settle in without you running to the pet store every couple of hours. Stay tuned for more posts about getting your budget in order with pet insurance and puppy vet bills.
Features Photo by Daniel Wiadro on Unsplash