Soft collars, faux leather collars, embroidered or patchwork collars – no matter what your pooch's preferred style is, a dog collar is the top must-have in every puppy parent's new dog kit. It's an essential accessory that completes your dog's look (who doesn't love a little swag!), as well as a legal requirement in most countries.
This dog collar buyers' guide for brand new puppies covers everything you need to know about finding and choosing the right collar for your puppy:
Why your dog needs a collar
Having a collar instantly tells people that your dog isn't a stray. It serves as a means of identifying your dog and his pawrent, with his name stated at the front of the ID tag, and your name and contact details placed at the back of the tag.
Aside from identification purposes, a dog collar is also commonly used when you need to take your dog outdoors. It is attached to a leash so that you can walk or run beside your dog without worrying about him going astray or being too far from you. It also serves as a restraining tool that limits your dog's movement and keeps him away from other animals, people, objects, and vehicles.
Collars are also used for medical purposes. An Elizabethan collar, which is commonly known as the cone of shame, prevents a dog from scratching, licking, or picking on his wound. Meanwhile, a flea collar contains insecticide that helps fight off fleas and ticks.
Based on your dog's personality, lifestyle, and activities, you can choose to have more than one collar for him. Fashionable dogs can don decorative collars for special events, while active dogs can sport waterproof, durable collars that can handle any kind of weather or harsh element.
Parts of a dog collar
From flat collars to Martingales, there are many types of dog collars available in the market. The most common parts of a collar include the strap, the buckle, the D-ring loop, and the ID tag.
Strap
The strap goes around the neck of your dog so it should be soft against your pet's fur yet sturdy enough to withstand tugging. Sold in a variety of colours and prints, it can be made of materials such as cotton, nylon, leather, polyester, oilcloth, and/or metal. Make sure to choose the right material depending on your dog's size. If you have a small dog, chances are you won't need a collar made out of heavy or tough materials. On the other hand, pawrents with big dogs can invest in collars made of long-lasting leather or nylon.
Buckle
As for the buckle, a quick-release clasp could be made of plastic, aluminum, or metal. Other collars have a belt buckle-like closure that takes more time to put on and take off. Meanwhile, a breakaway collar has a safety clip that breaks apart when excessive force is applied, protecting your dog from accidental choking or strangulation.
D-ring loop
Shaped like the letter D, this metal loop is usually included in the dog collar so that it can be easily attached to a leash.
ID tag
Whether printed or engraved, the personalized ID tag is usually made of a small waterproof stainless steel strip or charm that dangles over your pet's neck. Some dog tags also feature printed information on the buckle itself. Aside from providing information about you and your pet, it can also share medical information such as your dog's proof of rabies vaccination or his microchip registry. Regularly check if the information is readable on your dog's ID tag. Otherwise, replace it immediately or it will lose its purpose.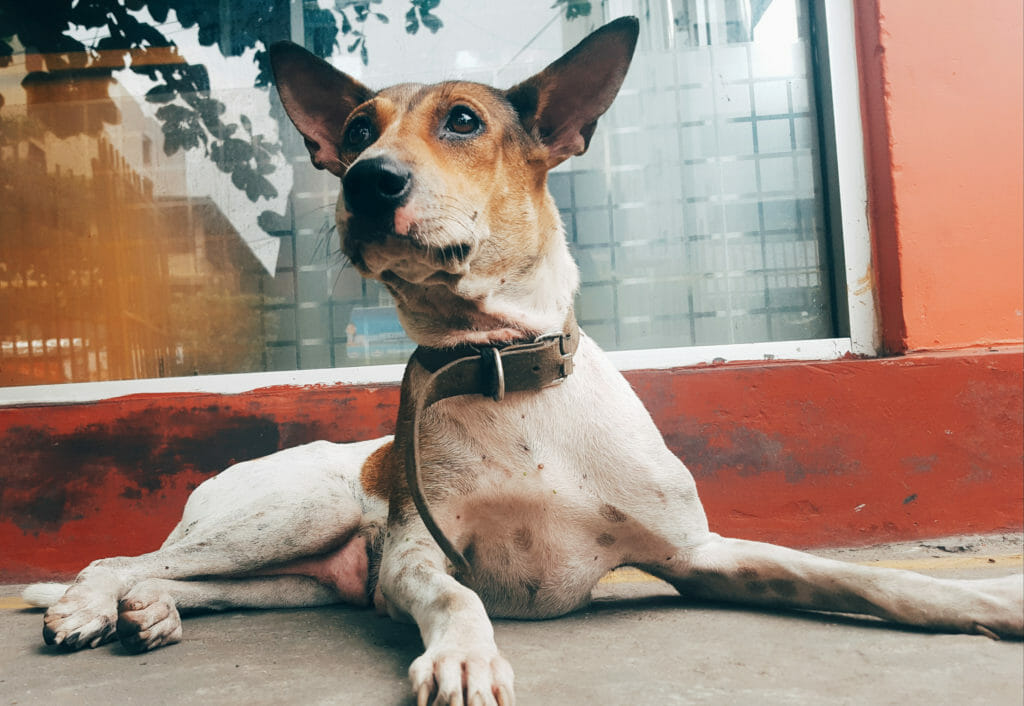 Dog collar extras
Some collars go the extra mile by having additional accessories such as bells (so that your dog doesn't creep up on you ever again), camera (so that you can take pictures and videos from your dog's point of view while you're creating new adventures together), GPS (so that you can track your pet wherever he goes), and reflective, LED, or glow in the dark straps (so that he can be easily seen when you go on nighttime walks or if he likes hiding in dark corners at home). Depending on your needs and your dog's habits, you can choose to add any of these features to his customisable collar.
How to choose the right collar for your dog
In finding the right collar size for your dog, two factors are considered: 1) your dog's head size, and 2) his neck size. The collar's strap should be comfortably fastened high on his neck and shouldn't slip over his head. As a general rule, the collar should feel snug around his neck. To know if his collar fits well, you should be able to slip one to two fingers between his neck and the collar. Also, take note of your dog's breathing and see if it changes after you put the collar around his neck.
Measure your dog's neck by using a clothing tape measure. Wrap the tape measure around his neck and add one (for small-sized dogs), two (for medium-sized dogs), or three inches (for large-sized dogs). Verify the size of his neck by measuring his current collar. You should also put into consideration how much fur he loses after his grooming session. Find adjustable collars that can accommodate his fur length and/or growing size.
Extra small to small dogs with necks measuring eight to 15 inches should ideally wear ¾-inch thick collars, while medium to large dogs with necks measuring 15 to 30 inches can wear 1 to 1.5 inch-thick collars. It's advisable not to use thick or heavy collars on smaller dogs since the weight of it may not be comfortable around their necks.
To recap
Now that you know how to choose the right collar for your puppy, you should definitely get one (or more!) for your adorable little pup. As a responsible pet owner, you should constantly check to see if your dog's collar fits well (especially since he is still growing) and if its features are working properly (you don't want your dog to suddenly break free during a walk because of a faulty buckle or a worn strap). Have fun dog collar shopping, and give your brand new pup a big squish from Waldo's Friends!
Discover more informative guides on our blog! Whether you're interested in adopting cats or dogs, you can find a wealth of sources on pet adoption and responsible pet parenting.