Toy • A set of no-stuffing squeaky plush toys.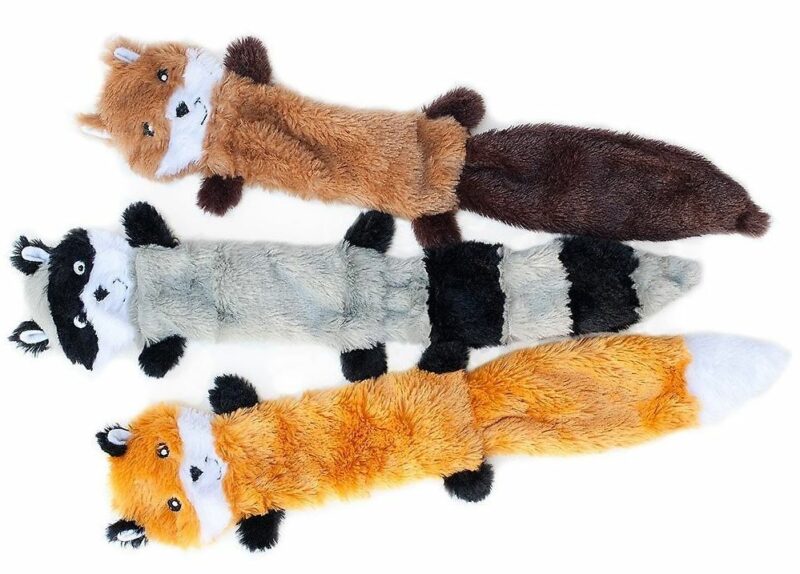 Cultivate curiosity and keep your dog's tail wagging with the help of three new friends from the woodlands.
What is it?
The Skinny Peltz No Stuffing Squeaky Plush Dog Toy, Fox, Raccoon, and Squirrel – Large is the number one bestseller in Amazon US for dog squeak toys, with over 45,000 people giving it a 4.5-star average rating.
This set of plush toys are in the shape of a fox, a raccoon, and a squirrel. They also contain three high-quality squeakers placed inside each animal's head, belly, and tail. What sets them apart from other plush toys is the fact that they do not contain any stuffing, ensuring mess-free fun.
Who's behind it?
The toy set was created by ZippyPaws, which was established in 2011.
How much is it?
The 18-inch toy set is sold at 10.69 USD, but it also comes in a smaller size at 11 inches (9.99 USD). The 18-inch set is ideal for medium-sized dogs of all ages. It is also available in Amazon Australia for 19.99 AUD (small) and 22.95 AUD (large).
*Please note these rates are based on currency conversions at the time of writing this post and may fluctuate.
How does it help me right now?
When you're too lazy to hit the park, you can play indoor catch or tug-of-war with your canine with these plush toys.
Where can I get it?
You can order the Skinny Peltz set via Amazon.