Toy • Rubber dog toy that provides mental stimulation.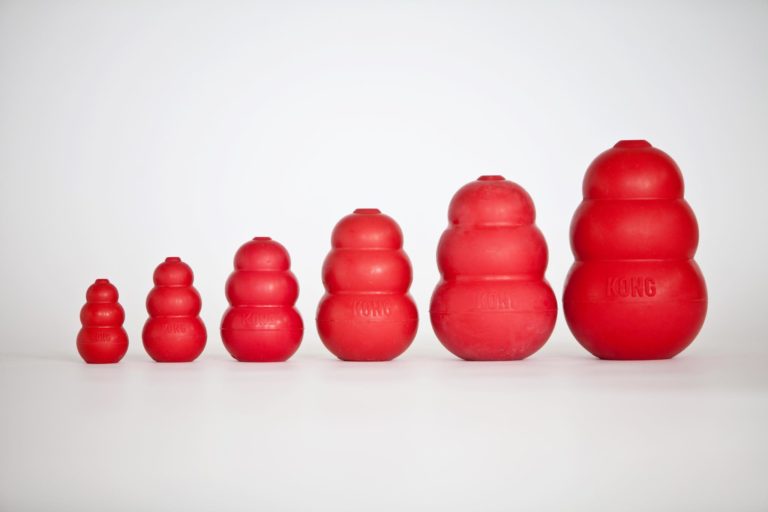 If your dog's sitting around, bored, watching your every move and stalking you from the living room to your work from home space – it's time to lay out a well-stuffed Kong.

Recommended by dog trainers, veterinarians, and dog behaviourists around the world, KONG Classic has been a dog toy staple for over 40 years. The toy's unique shape and dynamic rubber provides dogs with mental and physical enrichment, all while helping satisfy their instinctual needs.
Why is it such a legendary classic?
The KONG Classic has an unpredictable bounce that will spark a dog's chase instincts. It is a safe but durable toy for dogs that love to chew, and can be used as a food puzzle by being stuffed with kibble and peanut butter. Built for average chewers, the KONG Classic is available in six sizes (X-Small to XX-Large) in a bright shade of red. It is dishwasher safe for easy cleaning.
How much is it?
The price* (in USD) depends on the size you buy.
X-Small for $7.49
Small for $7.99
Medium for $10.99
Large for $12.99
X-Large for $18.49
XX-Large for $23.97
To get the correct size, dog owners must check their dog's age, size, and chewing habits. The toy must sit comfortably in your dog's jaw.
*Please note these rates are based on currency conversions at the time of writing this post and may fluctuate.
Who is it for?
The KONG Classic can help a pet owner deal with destructive chewing, teething, separation anxiety, boredom, weight management, crate training, digging, and barking. The dog toy can assist in mentally and physically entertaining your dog so that he burns off excess energy.
Who sells it?
The Kong Company, which was founded by Joe Markham in 1976. The toy was inspired by Markham's dog who was known for his destructive chewing habits.
Where can I get it?
You can buy it on Amazon.