Toy • Soft puzzle toy set for dogs.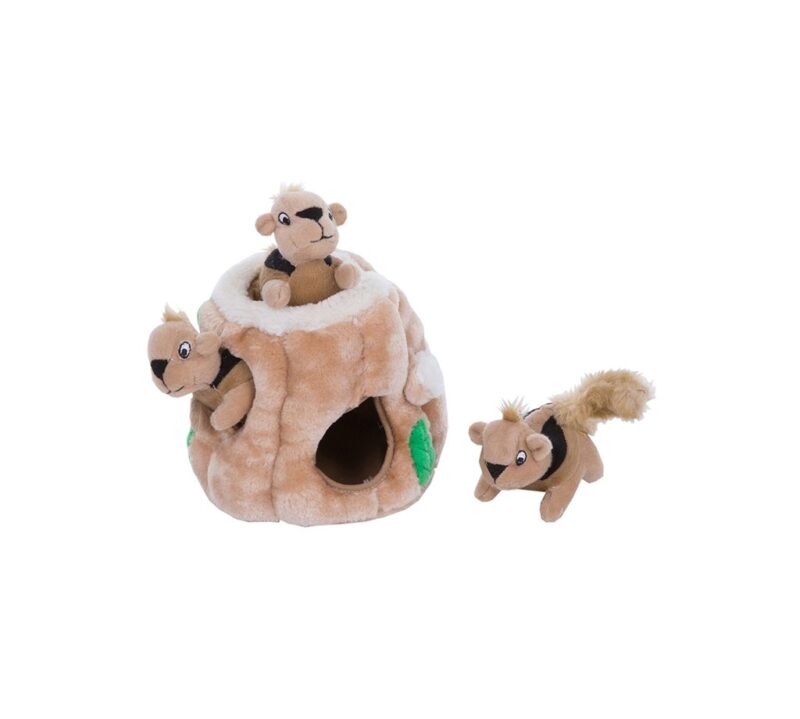 Eliminate boredom and encourage positive play with a puzzle toy that features a plush tree trunk and squeaky squirrels.
What is it?
The Hide A Squirrel Dog Toy feeds your canine's natural hunting instincts. By placing the toy squirrels inside the durable tree trunk and letting him sniff them out, the toy can keep him mentally stimulated for hours. Additionally, you can also play a game of fetch by tossing the squirrels and asking your dog to bring them back to you.
Who's behind it?
This toy was created by Outward Hound, who also created this puzzle brick dog toy.
How much will it cost me?
The dog toy set is available in four trunk sizes:
Small: 4" L x 7" W x 5" H – 27.64 AUD
Medium: 6.5" L x 6.5" W x 6.5" H – 20.22 AUD
Large: 8.5" L x 7.5" W x 7.5" H – 26.62 AUD
X-Large: 15" L x 7" W x 6.5" H – 30.63 AUD
Each squirrel is 3" x 6" in size, and is easy on the teeth of young and adult dogs. The small, medium, and large sizes include 3 squirrels, while the X-large size includes 6 squirrels. Replacement animals are also available for purchase. Outward Hound recommends that you purchase the size that matches your dog's size.
*Please note these rates are based on currency conversions at the time of writing this post and may fluctuate.
How does it help me right now?
If you and your pooch are spending more time indoors, it helps to have a variety of toys that will provide him with physical and mental stimulation. This toy may be a great addition to your collection.
Where can I get it?
You can order this toy through Amazon Australia.