Toy • A spiky and squeaky interactive dog toy.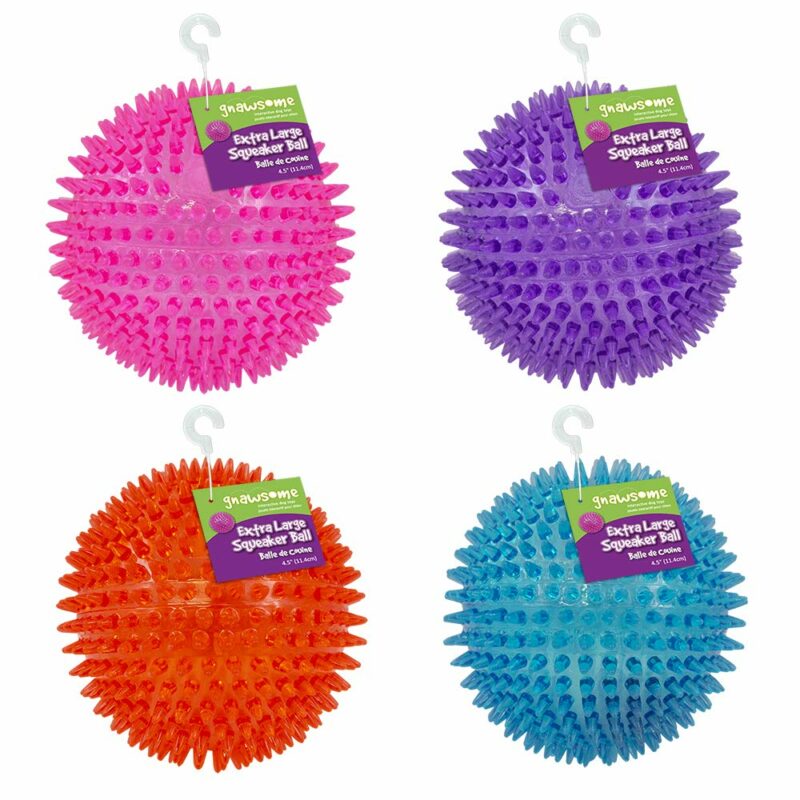 Keep your pooch entertained indoors or outdoors with a "gnawsome" non-toxic toy that's gentle on his teeth and gums.
What is it?
The Gnawsome Squeaker Ball comes in different colours (pink, blue, purple, and red) and sizes (2.5, 3.5, and 4.5 inches) for petite, small, medium, or large dogs. Your dog will love running around to fetch it, and enjoying the squeaky sounds it makes as he bites into it. Additionally, the BPA-free rubber spikes promote dental health.
Who's behind it?
Royal Pet Inc created the Gnawsome line, which are interactive toys made specially for dogs.
How much will it cost me?
Price ranges from 4.99 to 10.94 USD depending on the size and color you choose and the stock availability.
*Please note these rates are based on currency conversions at the time of writing this post and may fluctuate.
How does it help me right now?
You can keep your pooch entertained with this toy while you're busy working from home or finishing chores. This highly engaging toy can also be used outdoors for a game of catch in your yard, at the park, or by the shoreline since it is made from food-grade, BPA-free, thermo-plasticized rubber material.
This squeaky ball is also safe for teething puppies that might be tempted to gnaw on your slippers or furniture. Let them bite on this instead!
Where can I get it?
You can purchase this toy through Amazon.