Book • A guide to help you engage, challenge, and bond with your pet dog in 101 ways.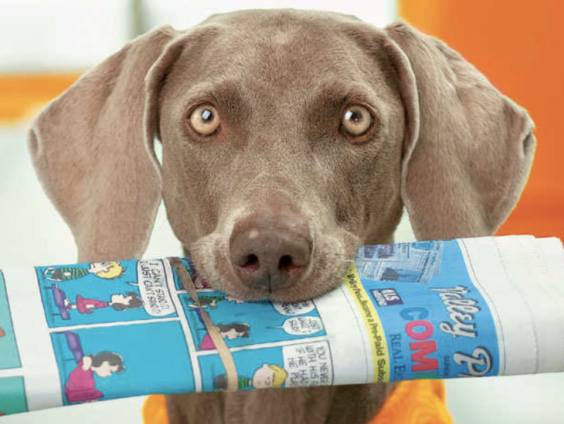 An international bestseller sold in 18 languages worldwide, 101 Dog Tricks: Step-by-step Activities to Engage, Challenge, and Bond with Your Dog is a fun book that shares training secrets from a renowned dog trainer. Ranging from simple tricks (sit, down, stay, and come) to old-time favourites (shake hands, roll over, and play dead) to more unique executions (tidy up toys, play the piano, and jump through hoops), the book contains over 100 tricks that are explained through step-by-step instructions and accompanying photos.
Who wrote it?
Kyra Sundance, a famous dog trainer, lecturer, and author who has released eight books (sold over one million printed copies) and two DVDs. Using effective and humane training methods that she has learned over the years, Sundance worked with Chalcy the Weimaraner to perform all the tricks found inside the book.
Why is it awesome for stay-at-home parents now?
This book will inspire dog owners to do more with their pooches while being confined at home. Trick training not only helps you form a tighter bond with your dog, but establishes paths of communication between the two of you.
The tricks found in this book build skills that are usually found in dog sports, dog dancing, and dog therapy work. There are 12 chapters to choose from: groundwork, traditional favourites, time for chores, funny dog, modern conveniences, let's play a game, jumping and catching, jumping through hoops, obstacle course, that dog can dance, the thinking man's dog, and love me, love my dog.
Aside from easy-to-follow instructions and coloured images, each trick comes with a difficulty rating and requirements you must have before you get started. There are also quick solutions for common problems, as well as build-on ideas that can level up a basic trick. At the end of the book, you can also find appendices for tricks by skill level and by sport.
How much is it?
You can get the Kindle copy for 8.89 USD, or buy a paperback copy starting at 5 USD (used) or 8 USD (new).
*Please note these rates are based on currency conversions at the time of writing this post and may fluctuate.
Where can I get it?
You can order it on Amazon.