If you know a crazy cat lover, chances are you've visited them and been amazed at just how many cat things one human being can own. We would know; our home has two crazy cat lovers in it, and the dog's pretty nuts about her too. So how do you show your love and appreciation for the cat lover in your life? Waldo's Friends gives you the purr-fect selection of presents to choose from. But first…
What is a crazy cat lover?

A crazy cat lover is loosely defined as a person who is passionate about, well, cats. They may have grown up surrounded by cats, belong to a cat-loving household, are engaged in rescuing cats, and are 100% obsessed with the adorable four-legged creatures (hence, the adjective "crazy"). Being a crazy cat lover is an attitude and a lifestyle. Many people have embraced it as evidenced by the growing cat lover culture around the world.
What should you consider when buying a gift for a crazy cat lover?
Fun fact: Ailurophile is an actual term for a person who loves cats! When selecting a gift for the ailurophile in your life, you must make sure that the item:
Expresses their love for cats
Highlights their obsession in a witty or humorous way
Has some cute cat graphics or puns to remind them of the true royalty in their life
What kind of gifts can I give a crazy cat lover?
Browse through 20 cat-themed items from categories such as: fashion, accessories, kitchen, home, and entertainment. Read up on each product, find out why a crazy cat person would like it, and decide if it's something your receiver would personally appreciate. 
Fashion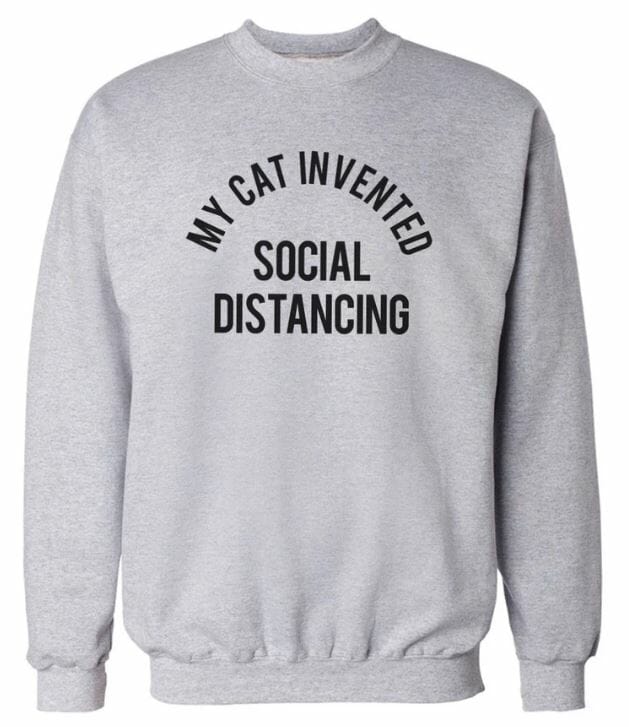 Arm the Animals My Cat Invented Social Distancing Women's Crewneck Sweatshirt
29.99 USD
Let's face it, social distancing is something that cats created way before this COVID-19 pandemic struck. Find a little humour in the current #isolife as well as your recipient's introverted cat by gifting this delightfully soft, cotton-polyester sweatshirt with the printed words, "My cat invented social distancing." It comes in three colours (black, heather grey, and white) and six sizes (XS to 3XL).
Buy the product here.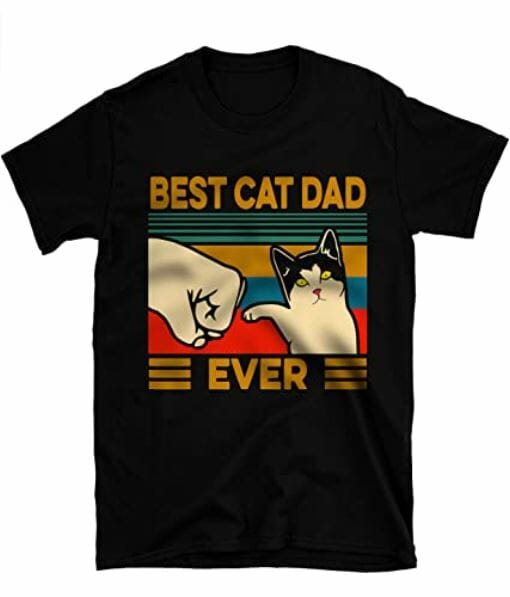 Best Cat Dad Ever Shirt
Starts at 12.99 USD
Featuring a super cute illustration of a cat fist bumping a human hand and the words "best cat dad ever" in yellow, this black tee from Harvey Martin honours the coolest cat dads. Each shirt is made of 100% ring-spun cotton, contains a bit of stretch in the fabric, and can fit men with small to 3XL body sizes.
Buy the product here.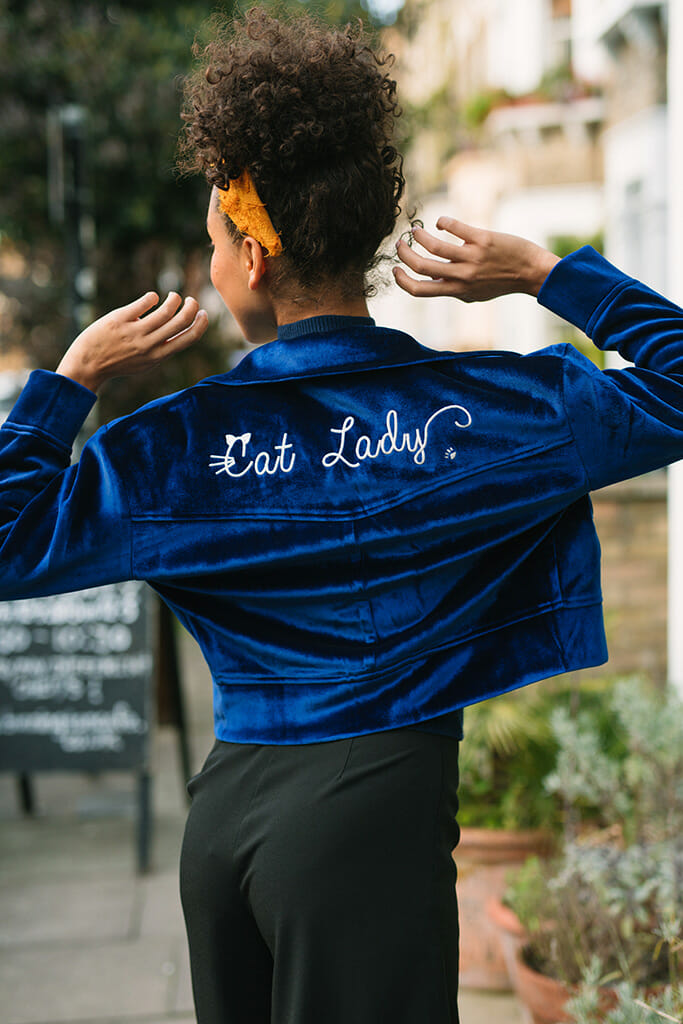 Miss Patina Cat Lady Jacket
65 GBP
Available in extra small (UK size 6) to large (UK size 12), this blue polyester jacket was made for the fashionable cat lady in your life. The velvet outerwear has an embroidered "cat lady" typography and fine cat details emblazoned on its back, which is perfect for the feline fan who isn't ashamed to let the world know about her obsession.
Buy the product here.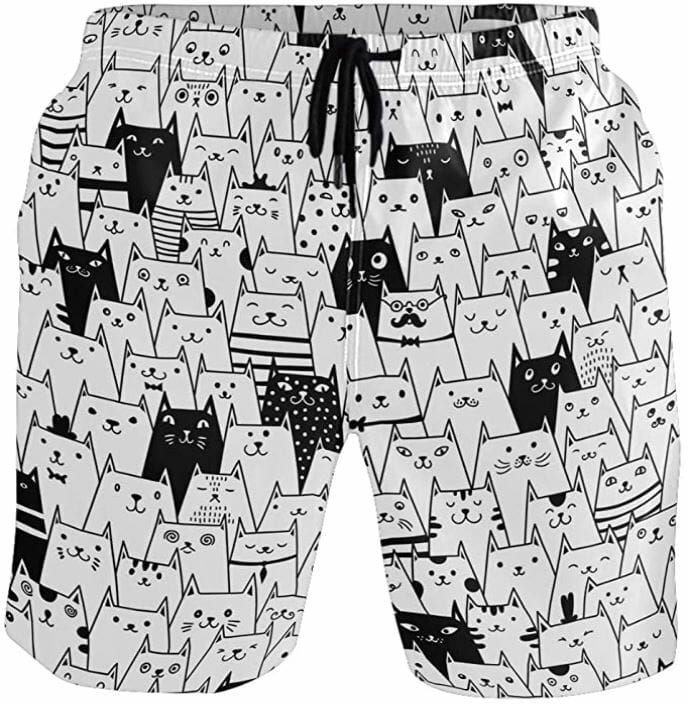 visesunny Hawaiian Men's Summer Beach Shorts
20.99 USD
Looking for beach wear with an important cat message? You've got it right here. Printed with an assortment of unique-looking cat illustrations, this pair of high quality polyester shorts can be worn for outdoor sports or just hanging out by the pool. Lightweight and durable, the breathable swimwear has an elastic drawstring waistband, a mesh lining, and two side pockets. It can be purchased in S to XXL sizes.
Buy the product here.
Accessories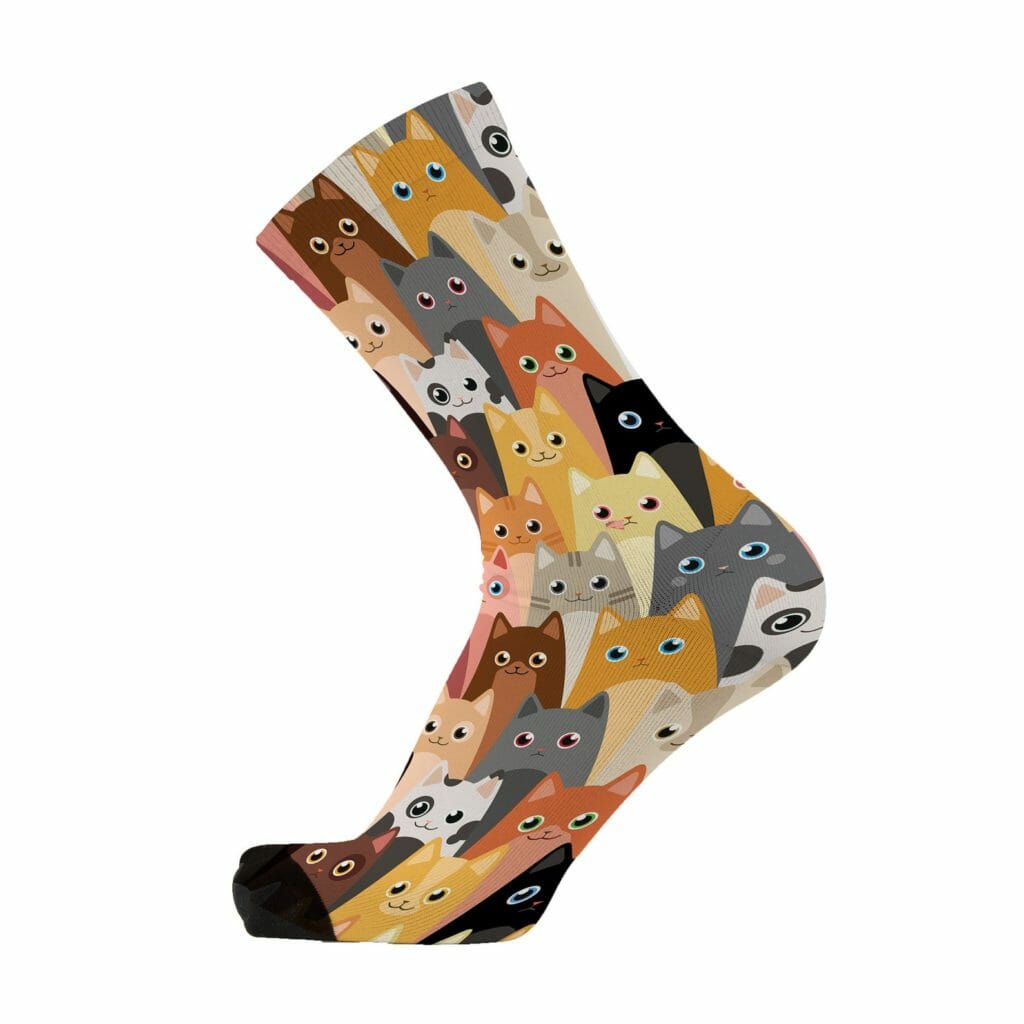 Herding Cats Bamboo Socks
15 AUD for a pair
These colourful cat-printed socks will add a pep in the step of any ailurophile. Made from organic bamboo, polyester, and elastane, each soft, seamless pair has a reinforced toe for durability and a printed continuous pattern that doesn't fade after countless washes. The socks stretch to fit foot sizes ranging from 5 to 12 (women's AU size) and 6 to 11 (men's AU size).
Buy the product here.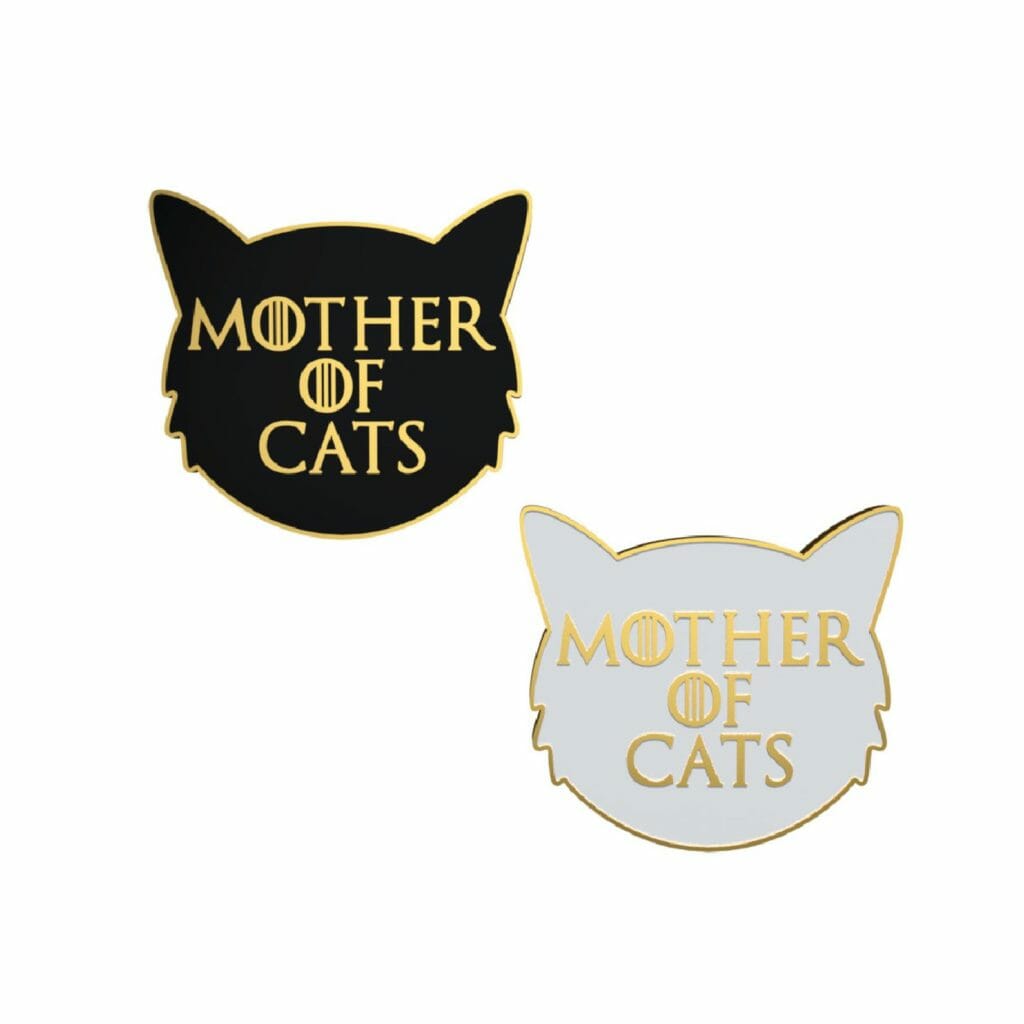 Mother of Cats Enamel Pin
12.99 AUD
Designed by The Grumpy Unicorn, this gold plated hard enamel pin is carried by the Waldo's Friends online shop. Approximately 1 x 1 inch in size, the cat head-shaped pin features the phrase "Mother of Cats" in gold lettering with either a black or white background, and includes two clear rubber clutches. The phrase and typography is inspired by the Game of Thrones series.
Buy the product here.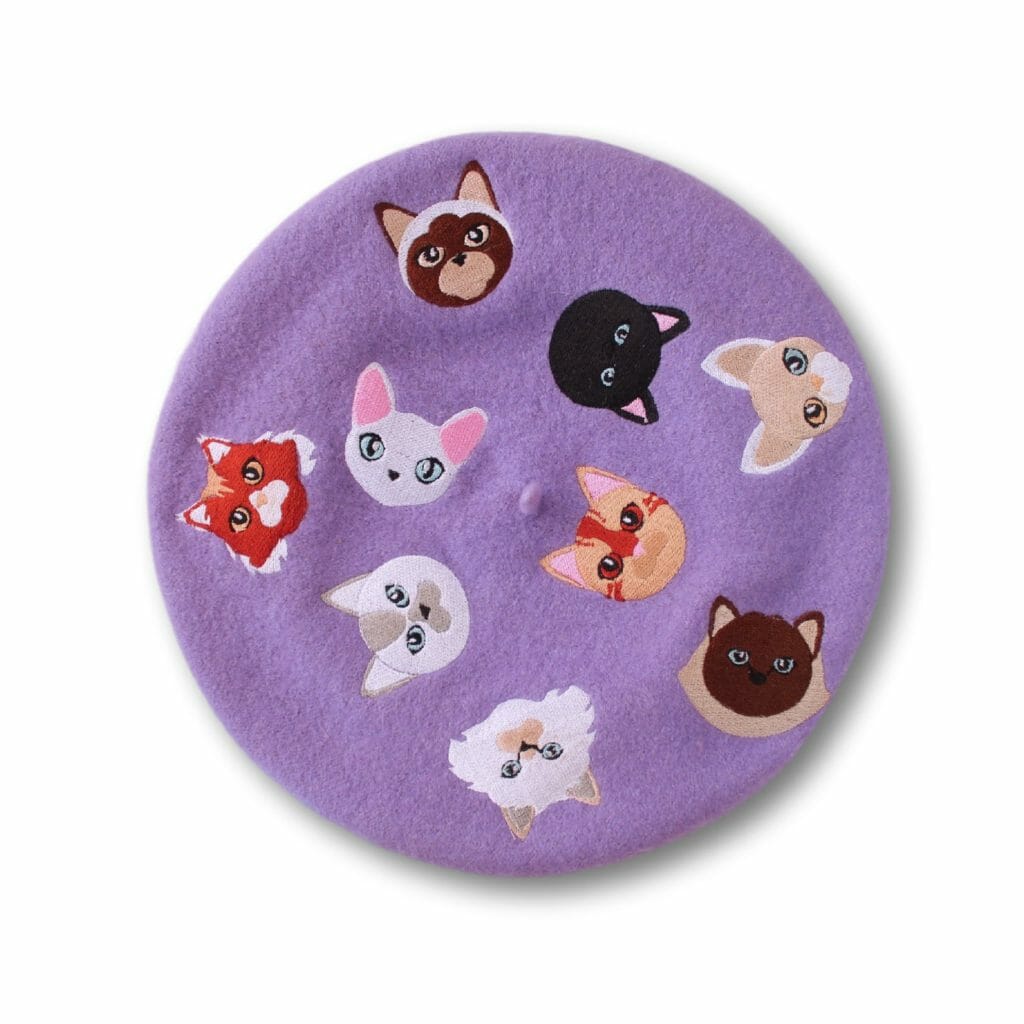 Crazy Cat Lady Beret
60 AUD
Etsy seller Ellenithelabel handmade this delightful, lilac-coloured beret for adults (one size designed to fit most heads). Made of 100% wool and features nine embroidered cats of various breeds, the beret is a must-buy for cat lovers who need to amp up their accessories game!
Buy the product here.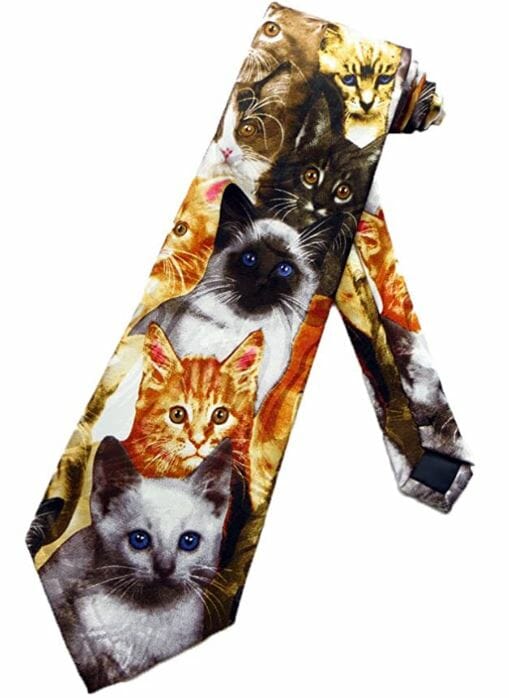 CATS Animal Tie
15.99 USD
Passionate ailurophiles can wear this cat-centric tie to work on casual Fridays. It can also be worn by animal rescuers or animal welfare volunteers who need to dress up for a cat-related event. The microfiber tie is 58 to 59 inches long, which is the standard adult length. Bonus points if one of the printed kitties looks exactly like the recipient's pet!
Buy the product here.
Kitchen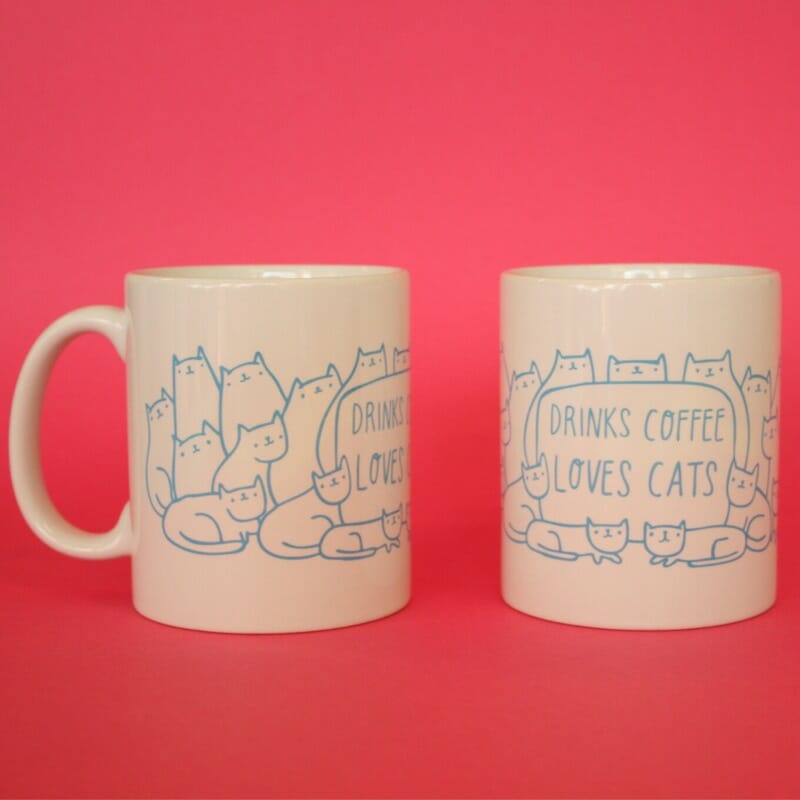 Drinks Coffee Loves Cats Mug
18 AUD
Waldo's Friends raises funds for animal rescue and welfare by selling ethically produced goods. For every "drinks coffee loves cats" mug sold via Waldo's Friends, 50% of profits are donated to animal rescue shelters so you know you're putting a smile on more than just your recipient's face! This Able and Game ceramic mug (325 ml) will help any cat pawrent start the day right with its elegant type and blue cat illustrations set against a white background. Dishwasher and microwave safe, the mug is 9.5 cm high and 12 cm wide including handle.
Buy the product here.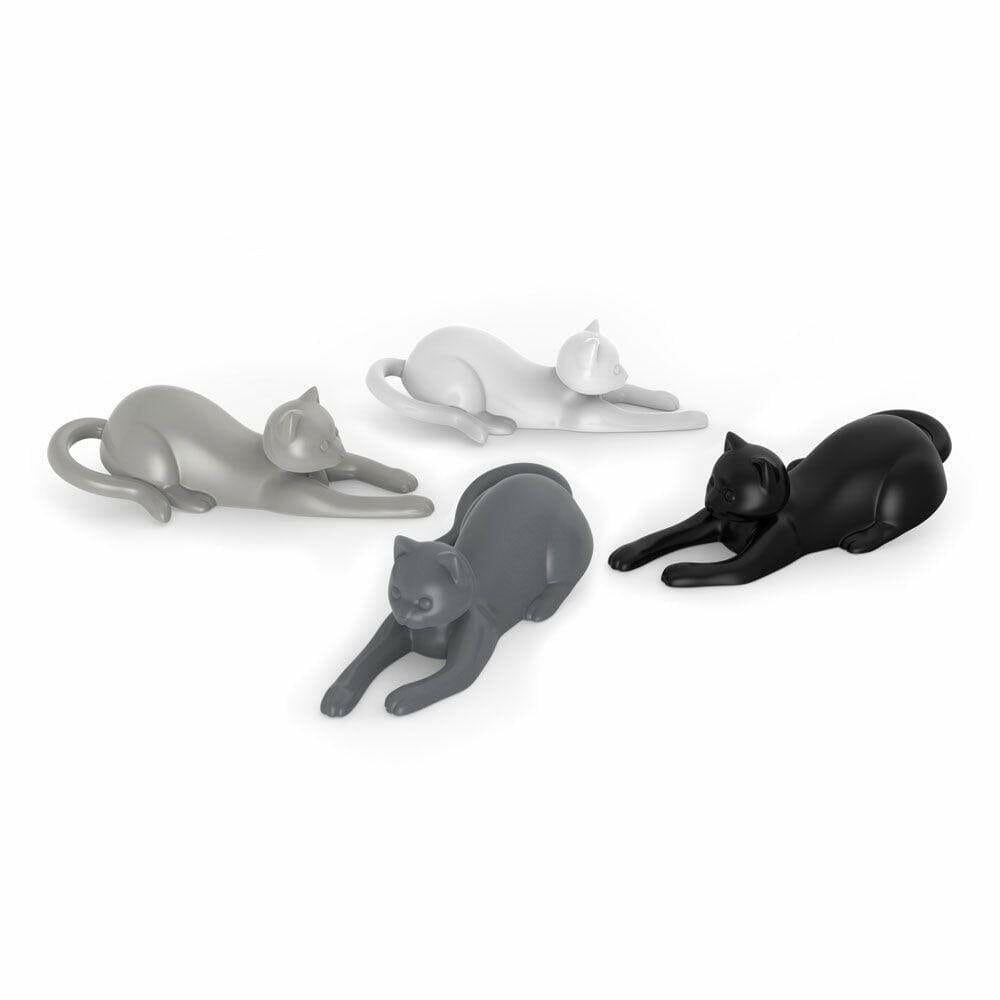 Magneticats Interactive Cat Fridge Magnets
14.99 AUD for a set
Dress up a cat lover's kitchen with this pack of lounging kitty fridge magnets! Designed by Genuine Fred, each set comes with a white cat, black cat, light grey cat, and dark grey cat (approximately 8 x 3 x 2 centimetres in size). Suitable for people ages 3 and above, these stylish decorations can help post reminders/lists/drawings/pictures on the fridge. Plus, it even entertains everyone! Simply press the cat's butt and watch it delightfully rock back and forth.
Buy the product here.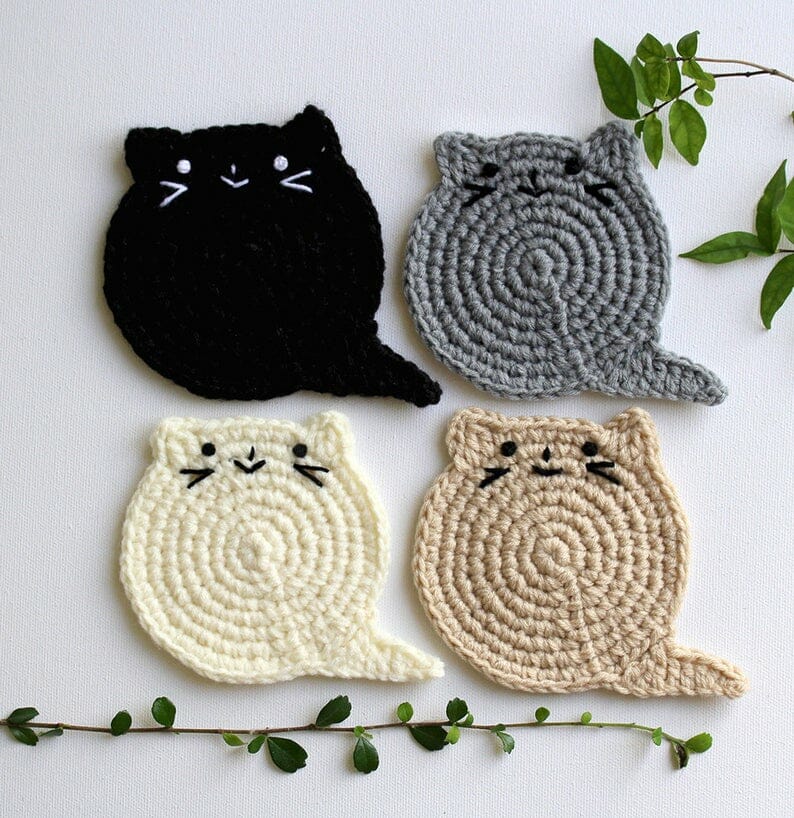 Fat Cat Coasters Set
Starts at 12.12 AUD for two pieces
Kitty coasters are great housewarming gifts for cat fanatics! You can choose to give a set of two, four, or six coasters in a variety of shades (ivory, grey, tan, and black) that go well with any dining and kitchen colour palette. Each two-strand, hand crocheted coaster in the form of a fat cat is approximately 10 centimetres in diameter excluding the ears and tail. They can protect most table surfaces from hot or cold beverages.
Buy the product here.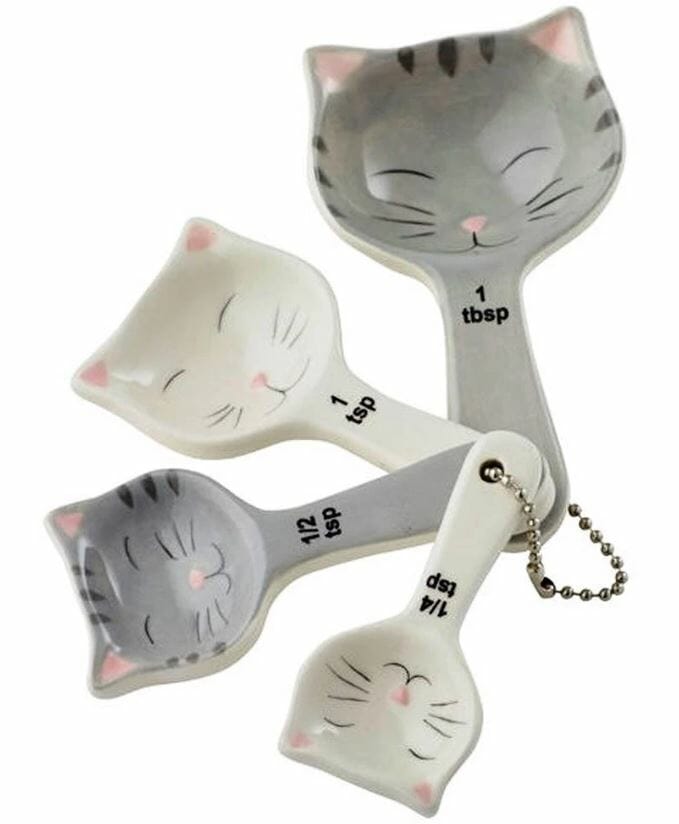 Cat Handpainted Measuring Spoons Set of Four
16.99 AUD for a set
These cat-themed measuring spoons were crafted by Davis & Waddell, one of Australia's leading kitchenware brands. Purrfect for the cat lover who spends most of his or her time in the kitchen, the four hand-painted dolomite spoons (1 Tablespoon, 1 Teaspoon, 1/2 Teaspoon, and 1/4 Teaspoon) can help measure cooking and baking ingredients correctly while looking utterly adorable. Don't be surprised if this present inspires your giftee to go on a cooking or baking frenzy! Because honestly, who could resist the smiling faces painted on the spoons?
Buy the product here.
Home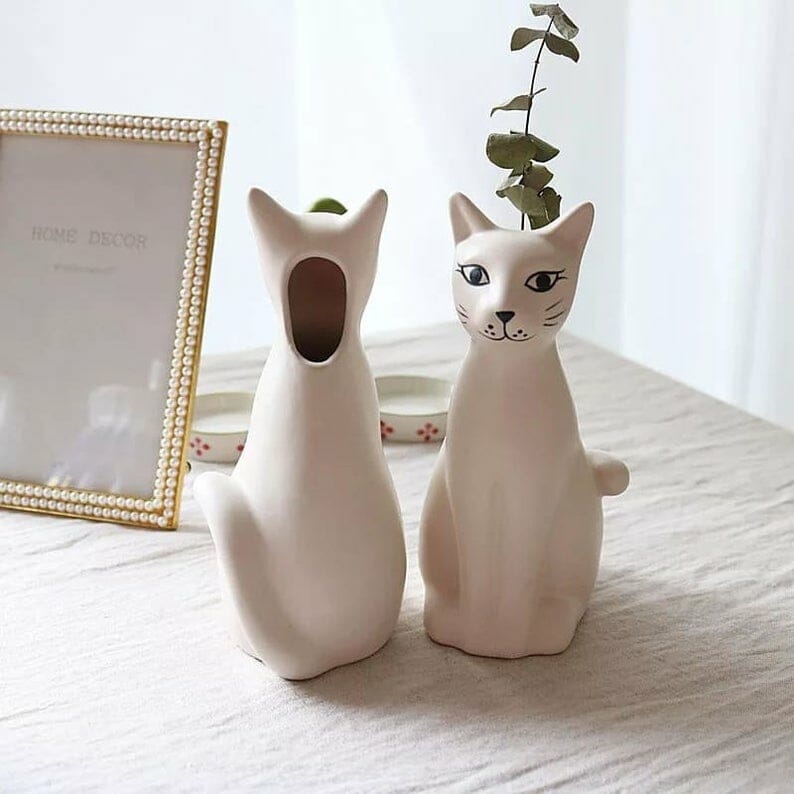 Cute Cat Vase
44.64 AUD
Made of ceramic and porcelain, this white, cat-shaped home accessory will add personality to any room. The crazy cat lover in your life can use this understated vase as a stand-alone room accent or as a plant holder to display succulents, cacti, or air plants.
Buy the product here.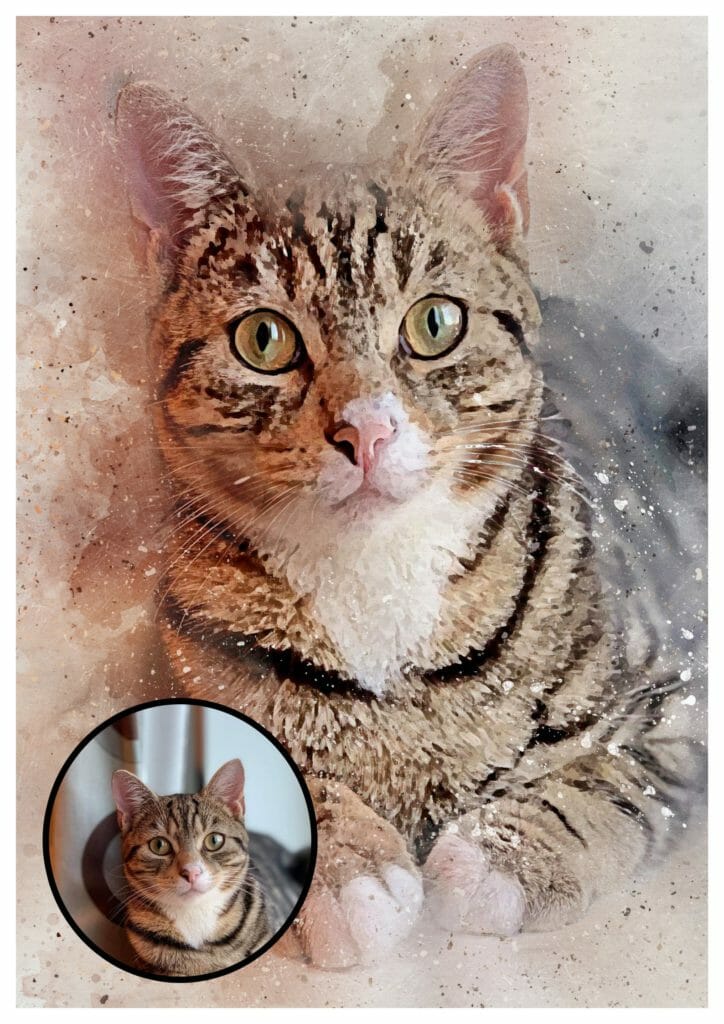 Custom Pet Portrait
Starts at 57.87 AUD
Surprise a cat owner with a gift they won't be able to stop raving about. Take a photo of their cat, and let PreciousPetArt turn it into a watercolour-inspired portrait. You can choose the size of the print (from 7 x 5 inches to 16 x 20 inches), the frame (black or white wood frame with glass), and the number of cats you want to include in the portrait (from 1 to 4 pets). You can even choose to add the cats' names in the portrait, or opt to order a digital version only (then have it printed in a local printing shop!).
Buy the product here.
Cat Castles: 20 Cardboard Habitats You Can Build Yourself book
11.69 USD
Help revamp your favourite cat lover's home with this do-it-yourself cat construction guide written by Carin Oliver. With Cat Castles, anyone can build homemade cat habitats while using easy-to-source materials. The fun read includes step-by-step instructions on how to construct cardboard pirate ships, climbing towers, scratching pads, and more!
Buy the product here.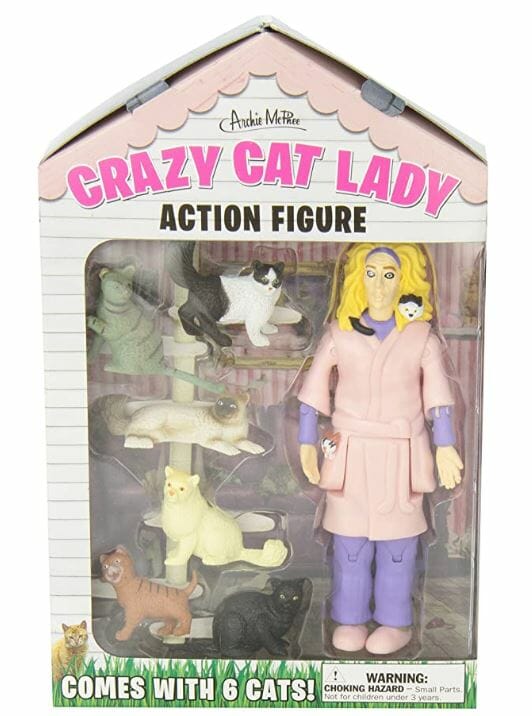 Crazy Cat Lady Action Figure
Starts at 7 USD
Have a laugh with a certified crazy cat lady you know and love by giving her this one-of-a-kind action figure! Standing at 13.3 centimetres tall, the frazzled-looking collectible doll wears a pink robe and lavender pajama set, and comes with six cats that all vie for her attention.
Buy the product here.
Entertainment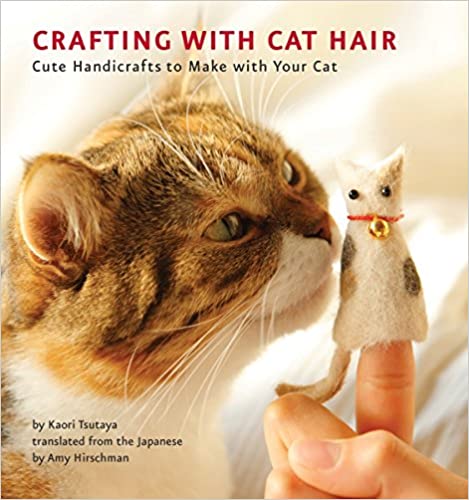 Crafting with Cat Hair: Cute Handicrafts to Make with Your Cat book
Starts at 10.05 USD
Author Kaori Tsutaya asks, "Got fur balls?" If you answered with a loud, resounding yes for your cat-owning acquaintance, then they just might appreciate receiving this book. Crafting with Cat Hair explains how anyone can turn stray clumps of cat fur into soft and adorable handicrafts. In under 60 minutes, your recipient can whip up simple, eco-friendly projects such as kitty tote bags, finger puppets, fluffy cat toys, and picture frames. Not for the faint hearted and definitely for the extreme cat lovers in your life.
Buy the product here.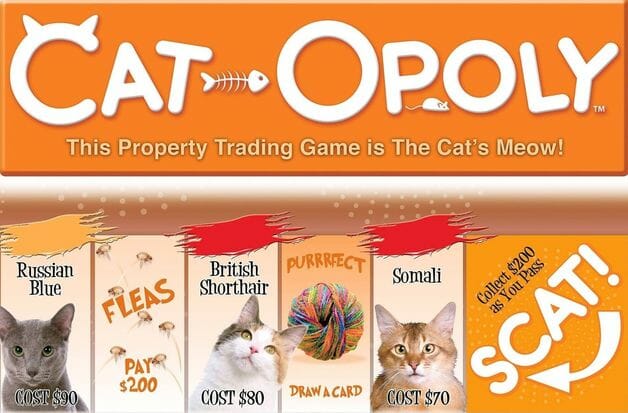 Cat-Opoly
48 AUD
Think Monopoly but with cat-astrophic twists! This property trading game can be played by 2 to 6 crazy cat lovers, 8 years old and above. Everyone's goal is to buy their favourite cats (such as the Ragdoll, Tonkinese, Abyssinian, and Maine Coon) and to collect litter boxes to trade for fish bones. As the players go around the board, they all have fun while learning interesting cat trivia found on the back of each deed card.
Buy the product here.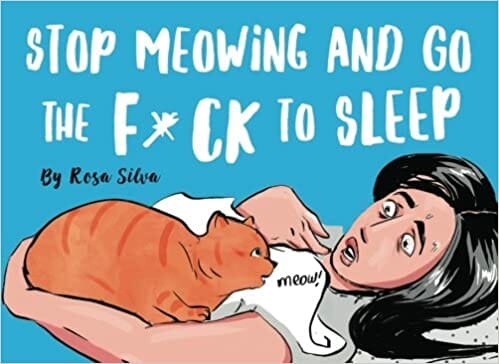 Stop Meowing and Go the F*ck to Sleep book
9.99 USD
With the help of illustrations drawn by Diana Necsulescu, author Rosa Silva whips up a comic bedtime story that recounts a woman's frustration at being unable to get some shut-eye due to her nocturnal pet. If you know of someone who suffers the same predicament, that person just might appreciate reading this 32-page storybook as he or she lies awake all night.
Buy the product here.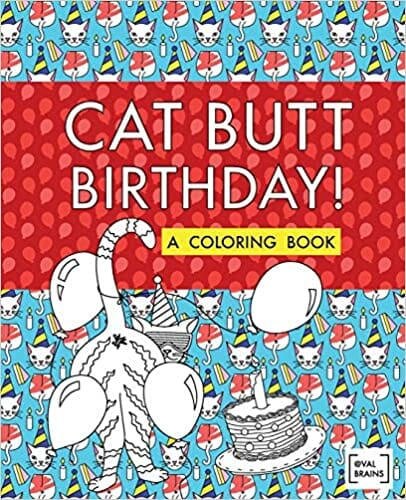 Cat Butt Birthday: A Coloring Book
Starts at 6.93 USD
Commemorate a creative crazy cat lover's birthday by gifting them this 43-page colouring book that will help any cat lover unwind and laugh out loud at the same time. This unusual and unique gag gift by illustrator Val Brains contains ready-to-colour drawings of cats eating birthday cake, blowing out candles, enjoying kat-raoke, and much more!
Buy the product here.
To recap
The crazy cat person in your life will definitely go crazy over all 20 items we've suggested. Now it's up to you to make the purchase and shower them with these presents!
Browse our other guides to discover gift options for dog lovers, vegans, and animal rescuers.