Dog treats are not just delicious snacks you can give to your pooch in between his meals. When given correctly, dog treats can also be used to help modify your dog's behaviour or as rewards during training sessions. In this Waldo's Friends article, we share 10 healthy dog treat recipes you can make using human food. This article delves into:
How many treats should you give your dog?
Limit your dog's treats to only 10% of his daily caloric intake. Talk to your veterinarian to find out how much you can give to your pet depending on his age, his weight, and his daily activities. Also, ask for ingredient recommendations based on what your dog likes to eat, as well as existing health problems your dog might have.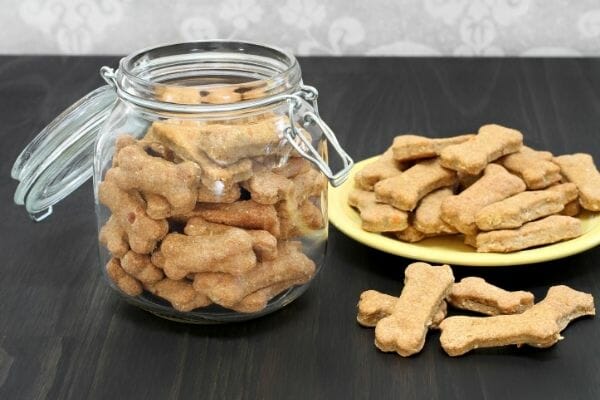 What ingredients can you use for dog treats?
Some commercially sold dog treats include ingredients—artificial colouring, flavouring, additives, meat by-products, salt, and sugar to name a few—that cause more harm than good to your pet. Protect your canine's health by purchasing treats from trusted sources (go for those that only use all-natural and nutritious ingredients), or better yet, find time to create your dog's treats! That way, you can guarantee its freshness and nutritional content.
Before baking treats made from items found in your kitchen, go through our "Can Dogs Eat" category to make sure your pooch can consume these ingredients. Here's a quick rundown of fruits and vegetables your dog can eat:
Apples
Asparagus
Bananas
Bell peppers
Blueberries
Broccoli
Brussel sprouts
Cabbage
Cantaloupe
Carrots
Cauliflower
Celery
Corn
Cucumber
Kiwi
Lettuce
Mango
Orange
Sweet potatoes
Pear
Peas
Pineapple
Raspberries
Spinach
Strawberries
Tomatoes
Watermelon
Zucchini
Remember that these fresh produce ingredients must be properly washed, peeled, chopped into bite-sized pieces, or even cooked before being served to your pet. The hard, inedible portions such as seeds, leaves, or stems must also be removed. Take note of the prescribed portions for each ingredient. Some should be served in limited quantities compared to others. You can search for any of these foods here to get a detailed idea about how to include each of them in your dog's diet.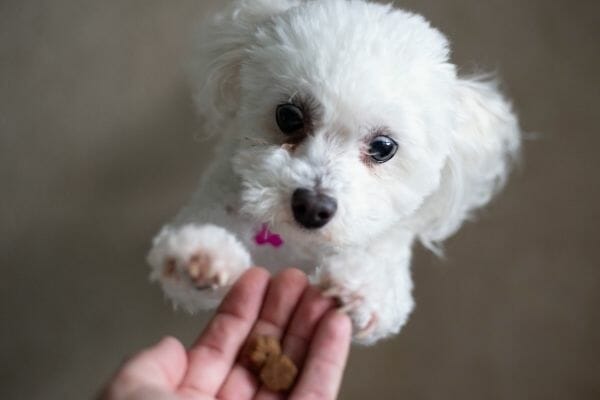 As with all new food being integrated into your pet's diet, start off with a small amount to see how your dog will react to it. Your dog may suffer from food allergies or intolerances, which may be triggered by new ingredients. WebMD states that common dog allergens include beef, chicken, dairy, egg, fish, lamb, pork, rabbit, soy, and wheat. If your dog is allergic to a certain ingredient, he may manifest symptoms such as itchy skin, vomiting, or diarrhea. Hyperactivity, weight loss, lack of energy, and even aggression may also develop. To be on the safe side, do not introduce multiple novel ingredients to him at the same time.
Homemade dog training treats you can try:
1 Pumpkin Peanut Butter Training Treats
Userealbutter.com shares a recipe using whole wheat flour, eggs, pumpkin purée, and peanut butter. These are combined with a stand mixer fitted with a paddle attachment. The mixture turns into dough, which can be formed into shapes, squares, or strips. Depending on your preferred baking time, they can turn into soft or hard treats.
2 Liver Dog Training Treats
According to House That Barks, 3 pounds of thinly sliced liver is all you need to create tasty treats for your pooch. You'll need to place these in trays then let them cook in a dehydrator for 4 to 6 hours.
3 Peanut Butter, Banana, and Oats Training Treats
Grab a ripe banana, unsalted peanut butter, old-fashioned oats, and hot water to make this recipe by Key to My Lime. After grinding the oats, mashing the banana, combining all the ingredients, and baking the cutout pieces in the oven, you'll end up with homemade dog training treats your dog won't be able to resist!
4 Homemade Training Treats for Allergic Dogs
Kol's Notes suggests using 1 pound of lean ground meat (or your dog's favourite canned dog food) and water to create allergen-free training treats for your dog. These can either be cooked in a dehydrator or oven. Easy peasy!
5 Carrot Dog Biscuits
Elephantastic Vegan shares a recipe that her veggie-loving dog cannot get enough of. When mixed together and baked for 15 minutes, carrot purée, whole wheat flour, oat flour, all-purpose flour, and cinnamon powder will turn into crispy dog treats!
6 Turkey Bars
Another hypoallergenic option, this training treat recipe from DogVills uses three ingredients: ground turkey, oatmeal, and egg. Combine these in a bowl and pat into a greased loaf pan. After baking it for 30 to 35 minutes, let it cool completely before serving the thick strips to your pooch.
7 Dried Banana Dog Treats
The Crazy Dog Mom recommends slicing bananas into small bite-sized rounds, brushing them with lemon juice (to prevent browning), then baking them for 1½ hours to turn them into crunchy treats!
8 Healthy Homemade Dog Treats
Take your pick from sweet potatoes or zucchinis when following this recipe by My Life Cookbook. Cut the vegetable into ⅛-inch-thick strips and pop them in the dehydrator for about 2 to 4 hours, depending on the texture you want.
9 5 Ingredient Grain-Free Dog Treats
Use all-natural nut butter, coconut flour, organic eggs, coconut oil, and sweet potato or pumpkin purée to recreate this baked dog treat from Lexi's Clean Kitchen. You can even add shredded carrots and dried parsley to the mix!
10 Cheesy Chicken Dog Treats
As long as your dog isn't allergic to cheese and chicken, you can try baking Wiggleworthy's dog treats. Make sure to have all these ingredients at hand: whole wheat flour, finely grated cheddar cheese, unsweetened applesauce, shredded cooked chicken, chicken bone broth, and ground flax seed.
In conclusion
Making homemade dog training treats is an inexpensive way to provide your pooch with fresh and nutritious nibbles. Since these treats are made without preservatives, serve them to your dog as soon as possible. It's advisable to feed them to your dog within a week, or store them in the refrigerator or freezer to prolong their shelf life. Remember that soft treats do not last as long as fully baked or dehydrated treats.
Expand your pet parenting knowledge with more dog-related reads from our blog. Find out what reverse sneezing is or how to help an anxious dog. You can even get gift ideas for fellow dog lovers!