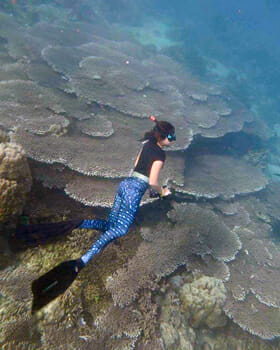 Kaila Ledesma Trebol is the Trustee Adviser for Conservation and Education of Philippine Reef and Rainforest Conservation Foundation, Inc. (PRRCFI). A foundation that owns and manages Danjugan Island in Cauayan, Negros Occidental, PRRCFI was established 25 years ago with a mission to inspire people to take action for biodiversity conservation and sustainable development through experiential learning, collaborative research, nurturing partnerships, and enabling communities.

Through a conversation with Kaila Ledesma Trebol, Waldo's Friends learns about the foundation's origins, the tireless people behind it, and their continuing efforts to inspire change through their conservation work.
Waldo's Friends (WF): Could you share the brief history of PRRCFI and Danjugan Island?
Kaila Ledesma Trebol (KLT): In the 70s, Danjugan Island was discovered by a group of SCUBA divers from Bacolod. They leased a small beach on the island as their base camp in the 80s. Over the years, they experienced a lot of environmental threats both in Danjugan and on mainland Negros. They made efforts to work with the leaders back then. However, it was a real struggle. It was then they realized that educating the youth was a way to build the right leaders to fight for environmental conservation.

Back then, Danjugan was also under threat from so many extraction activities. One day, the owner of the island asked the group if they would like to buy a tree on the island for its lumber. A pair of white bellied sea eagles called this tree home, so there was no way the group would see it cut down. They asked if the island would be for sale instead. The owner agreed to sell it, but the group had no money. They had to seek assistance from Land Bank of the Philippines (for its first environmental loan) and World Land Trust in the UK to help purchase Danjugan Island for its conservation. The island is now owned by PRRCFI and is a private protected area. In 2000, the Municipal Ordinance No. 99-52 was passed declaring "the surrounding waters of Danjugan Island as a marine reserve and portions of it as marine sanctuaries."

WF: What do you do as a part of PRRCFI?
KLT: I am part of a nine-member volunteer Board of Trustees. We are the management committee for anything PRRCFI takes on. We are responsible for making sure that all the activities and programs are in line with its vision and mission.

As Trustee Adviser for Conservation and Education, my work involves helping create the camp curriculum and materials, acting as resource speaker, camp staff, or just work in camp logistics. I also assist the creative department in information education material development as well as find ways to ensure the sustainability of the foundation's operations—from a well-organised ecotourism program to enterprise development and other activities taken on to help sustain PRRCFI. Documenting biodiversity is also one of my passions on Danjugan, so I work closely with the Communications and Science & Research Departments as well.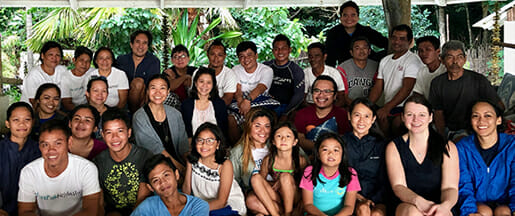 WF: What would you say are PRRCFI's most effective campaigns to date?
KLT: The most effective and popular program of PRRCFI is the Marine and Wildlife Camp, for sure. The first camp began in 1991. I was one of the campers, and my father, Gerry Ledesma, was the visionary who started it all. It started with just one annual summer camp, but over the years, it gained popularity and the demand increased.

Today, we do multiple camps all year round (except during the typhoon season) catering to all groups and all ages. We even expanded to do family camps, so parents and children can discover and connect with nature together. The camp's tagline was "today's youth, tomorrow's conservationists" because it really started with the youth. Today, however, we find that it really is not too late to become a conservationist. We have had so many lives touched by Danjugan, and so many connections have been made that we have created a family of people who really want to make a difference. And as for camp alumni, we have had many who were inspired to go into the field of natural science and environment conservation. Many testimonies have assured us that our camp program is indeed working.

Our newest campaign is SWEEP (Sea Waste Education to Eradicate Plastic). It's only a year old, but it's one of our most ambitious and difficult projects to date. Here we create awareness of the growing plastic problem and its effects on marine life. SWEEP embarks on an awareness campaign (through coastal clean-ups and audits, mobile museum, and workshops) in the hopes to get the public to face the problem head on and hopefully find ways to cut their dependence to plastic. We created a mobile museum called "fishbolan" that tours around our partner municipalities to engage communities in creative discussions of this problem (like plastics entering the food chain).
We also opened a Wala Usik (which means "nothing is wasted" in Hiligaynon) store in Bacolod and formed partnerships with sari-sari stores (neighbourhood sundry stores) to join us in our journey toward a "wala usik" lifestyle. We also engage the local government units in helping them in their municipal action plans to really tackle the problem of solid waste management.

WF: What would you say is the best thing about working for PRRCFI?
KLT: It is being able to be in Danjugan Island, working with the most amazing people and the most dedicated team and island staff. We are just so lucky to have them. Being able to work with such an amazing team makes everything rewarding! It has become a real family.

Danjugan is the real uniting factor—it is a healing place. Over the years, we have strived to build a culture that respects nature and people. We strive for balance, an understanding and inclusiveness that make Danjugan such a welcoming place for those who are also open-minded about it and the experiences you allow it to give you.
WF: On the flipside, what's the most challenging thing about working for PRRCFI?
KLT: When environmental conservation is not a priority for most leaders in this country, you can already see what we face. Yet we continue. No matter how slow the process seems to take, we just keep on doing the work that is meant to be done.

We are also here to support and encourage others who want to do this kind of work too. This is our way, but there are many approaches and many avenues toward conservation. We partner with others who do the things we can't but ultimately work toward the same goal.
WF: Over the years, has there been any misconception about the work your foundation has done for Danjugan Island?
KLT: We had to battle years of notions that the marine reserve and sanctuaries were protected for our selfish agendas. For years, we had to educate that having marine protected areas are meant not just for biodiversity conservation but also for food security. This goes both ways, meaning we are for the people, too. There are fishermen around Danjugan who are allowed to fish in certain areas. This somehow is also misunderstood for some who visit. They think the whole island is protected, but our vision is "wildlife and people in harmony for a sustainable future." What we hope to ultimately achieve is balance.

WF: Personally speaking, what do you love most about Danjugan Island?
KLT: Everything! It is the most unique small island because in just 43 hectares, you find so much wildlife and so many ecosystems. Plus, it was kept to keep tourism low-impact and low-volume, but with high-value and high-quality experiences. The trails on the island are easy. You would not need to trek for hours to see amazing birdlife and a cave full of bats. And if you're lucky, even a python!

I never get bored on the island. It is living simply next to nature, and it has given me the best kind of work and advocacy I could ever hope for. It is like a second home since I've been visiting it since the 80s. I already know where the critters are, where the beautiful blue anemone is, where the school of batfishes are, when the shark pups will show up, or where the rare beach thick knee lives. I truly have a love affair with this island. I am also fortunate that I am able to give my kids the same kind of childhood my father gave me.

WF: Can you share some interesting stories about the island?
KLT: There are many! There are love stories and forever connections formed on the island. Maybe one interesting fact about Danjugan and its visitors is that they manage to come back somehow. The island contributes to changing their lives significantly. From a British volunteer who came in 1998 and came back eventually choosing to live in the Philippines to a camp volunteer who is now one of our hardworking trustees, Danjugan truly inspires.

There is one special story about a green sea turtle that we rescued. We found her floating, unable to dive back down. Turtles are known to get buoyancy disorders which are dangerous for them because they may get hit by boats, become easy prey, or starve as they are unable to dive down for food. Together with our kids on board the boat, we rescued her and they named her Star.
Star was rehabilitated in Danjugan Island. She underwent many tests and procedures, close care, hand feeding, and was even brought to a nearby clinic to get an x-ray. We were so fortunate that Dr. Nielsen Donato and Dr. Ari Barcelona treated her. Slowly, Star got better and was able to leave Danjugan's Moray Lagoon on the 48th day of rehabilitation. It was a bittersweet day. We were all happy she was well and free, but sad as we were going to miss her.

WF: What's your advice for other people involved in protecting the environment?
KLT: It's not easy and frustrating, but the rewards are great. I always say that the stars aligned for Danjugan Island—to make what seemingly was impossible to happen, happen. Everything fell into place, from the timing and the people who got involved down to the grants. I feel our hearts have always been in the right place, but it happened with a lot of hard work. So as long as your heart is in the right place, I feel your work will come across and be heard.

The Philippines is so rich in natural resources. We have the rarest and most unique wildlife there is, but they are fast disappearing. We NEED more people to go into wildlife conservation. It is not easy and your heart will break many times, but when you do see an animal that is wild, free, and meant to be there, it is the best thing.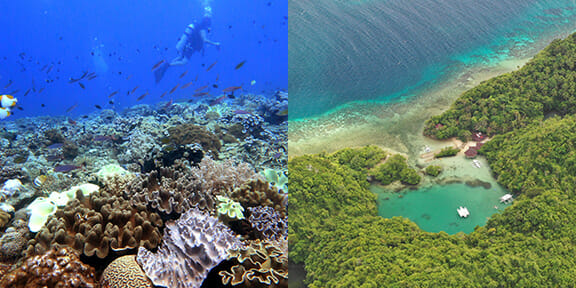 WF: How can people support your organisation?
KLT: You can support PRRCFI by visiting Danjugan Island or taking part in one of our camps. All proceeds of our ecotourism program go right back into conservation. It is what keeps us going and doing what we do! Visit our Facebook and Instagram pages for more information. Danjugan Island is nature's perfect classroom. With so many ecosystems and wildlife, it really is the perfect place for anyone to connect with nature.
Read more about the environment and conservation in our blog! Get to know a climate justice campaigner for Greenpeace or discover 10 websites to keep you updated on climate change.