Desiree Llanos Dee is the Climate Justice Campaigner of Greenpeace Southeast Asia – Philippines. She seeks compelling stories from all around the world and uses them to humanise climate justice. This is her inspiring story.
Waldo's Friends (WF): How did you first get involved in climate change-related pursuits?
Desiree Llanos Dee (DLD): I first dove into this field when I worked with the Philippines' Climate Change Commission back in 2010. After three years of government work, I received a scholarship to take my master's degree on climate policy in Germany. After graduating, I had this choice to go for internships or join the People's Pilgrimage from Rome to Paris. I packed my bag for the 1,500-kilometer two-month journey that changed my life. 

After the walk, I shifted my focus from public policy to campaign and communications. Walking across communities in Italy, Switzerland, and France, I realised the great value of stories and human connection in this climate crisis. It also inspired me to pursue the path of being an illustrator (see my works at Deslikesdoodling) to visually communicate complex topics such as climate change, sustainable food systems, and peace. Eventually, the job post at Greenpeace came up and it seemed like a good fit for what I wanted to do.
WF: What are your tasks as Climate Justice Campaigner?
DLD: Greenpeace exists because this fragile Earth deserves a voice. Being a campaigner is being one of those voices. There are country-specific issues such as plastics, energy work, food, and mobility, and I serve as the spokesperson on those issues. But more than that, I would liken the role to being a film director. Like any good film, it starts with finding a good story that is worth telling. Every story involves characters, conflict, and a resolution, and every campaign presents both the problem and the solutions to any issue. It is about orchestrating all those elements into a strategy on how to best tell the story, who to best present it to, and how to build a movement around it.
WF: What would you say has been Greenpeace's most effective campaign to date?
DLD: In September 2015, Greenpeace Southeast Asia – Philippines and 13 other civil society organisations filed a petition with the Philippines' Commission on Human Rights (CHR). They were joined by 18 Filipino individuals living on the frontlines of climate change. In December 2016, the CHR announced that public hearings will start from April 2017, despite apparent opposition from fossil fuels companies. In 2018, the public hearings were conducted in Manila, New York, and London, culminating with thousands of pages of statements and evidence on climate change.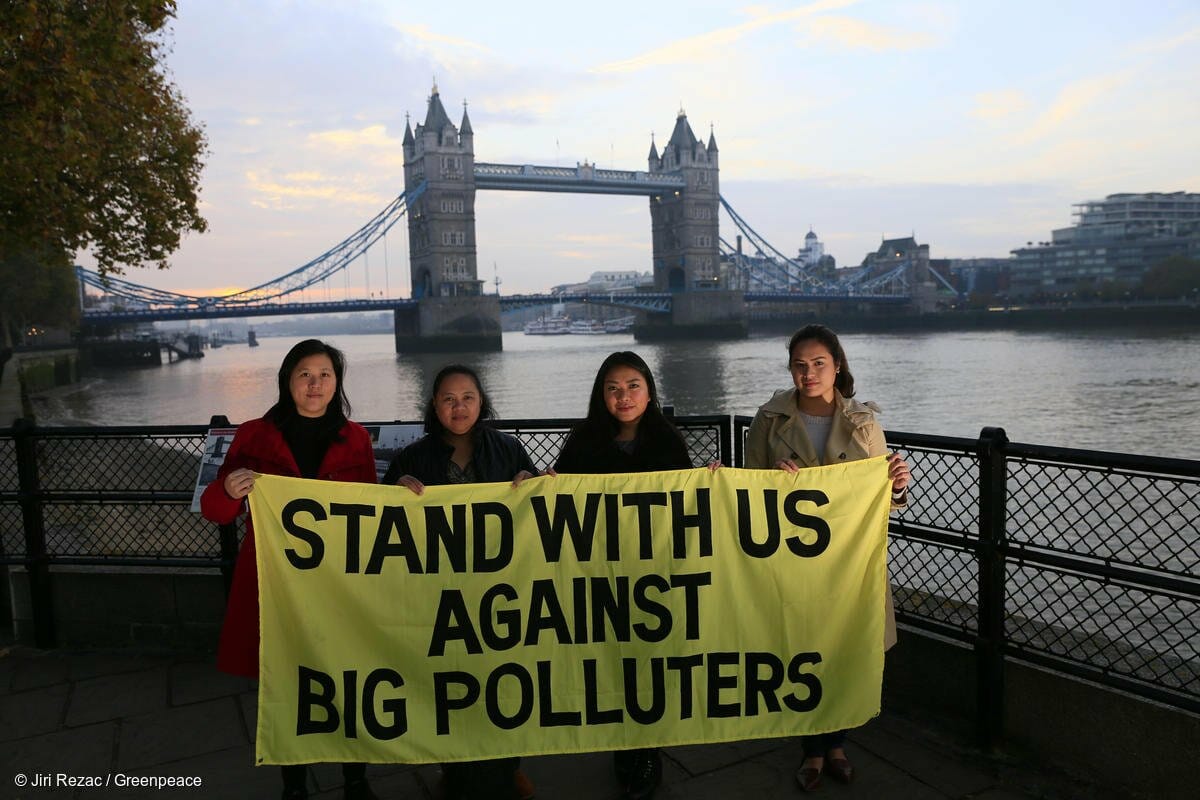 We are expecting the resolution this year, and the outcome will be the first to hold fossil fuel companies accountable for human rights violations resulting from climate change. It will not only be for Filipinos, but will be for vulnerable communities everywhere. (Watch the animated video I illustrated below or read more about it here.)
WF: Aside from this ongoing petition, do you have other interesting stories you can share about working for Greenpeace?
DLD: There are many! In July 2017, I went on board Greenpeace's ship, the Arctic Sunrise, for three weeks to protest the new Arctic oil drilling in the Barents Sea. It was to bring the story of Filipinos to the Arctic region and connecting the climate impacts we experience to what they're experiencing. Actress Lucy Lawless (Xena: Warrior Princess) was also on board with us to protest as well. That journey in itself was a lot of firsts. It was my first time to be on a ship for that long, to be seasick, to see an oil rig, to protest in Arctic waters, and to be in the region at a time where there was zero darkness.
In early 2018, the Rainbow Warrior came to the Philippine shores to campaign on climate justice, and I was on board for a month. We sailed from Hong Kong to Manila, Batangas, Guimaras, and ended the journey in Tacloban. It was really stressful to have a whole ship tour, but there were moments to be grateful for. While I was sending out emails in one of the rooms, the captain announced that there were whales outside so everyone stopped what they were doing and went outside! I remember thinking, "This can only happen in a mobile office such as a ship." It was a moment for me to really reconnect with nature again.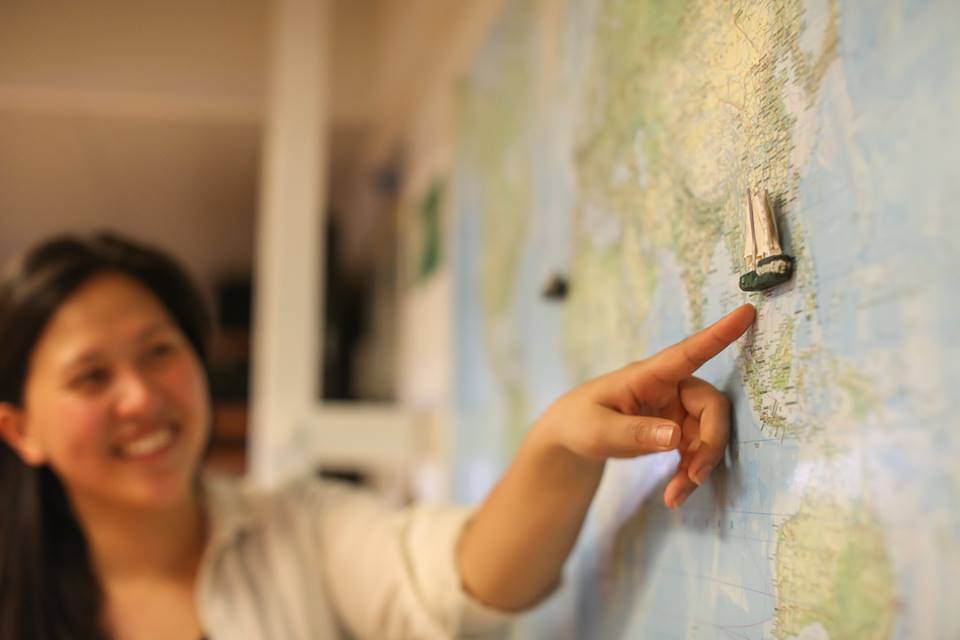 Tacloban experienced the brunt of climate impacts when Haiyan happened back in 2013. With so much loss devastating the whole region, there was not enough psychosocial support for people to process their experience. So the locals came up with the human library called LIVErary, a platform where people can share their stories of tragedy, loss, hope, triumph and various dimensions of disaster. Today, this platform is being used by locals for different issues: LGBT rights for Pride Week, labor issues of workers for Labor Day, voters education for elections, Yolanda commemoration events, and more.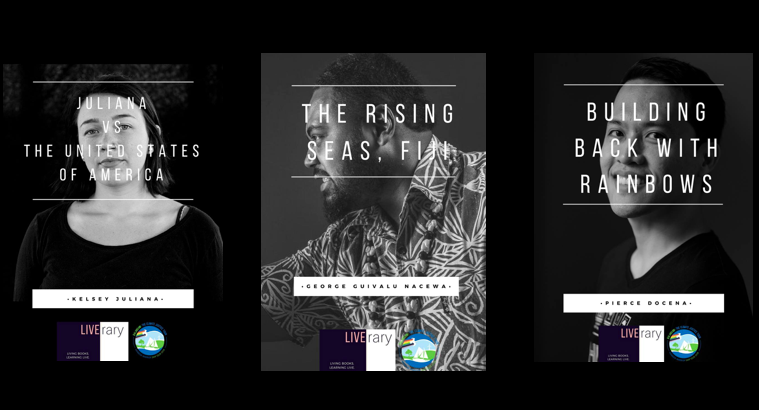 WF: How has working for Greenpeace changed your life? And what do you love most about working for them?
DLD: In some ways, it definitely made me expand my notion of the spectrum of activism. It's not just protests, banner hangs, and confrontations, it's also about creative engagement, negotiations, and diplomacy. At a time when there's so much bleak news, it continues to give me hope to be connected to a global organisation with over 5,000 staff in 55 countries all over the world fighting for the same things.

What I love most about this work is being surrounded by people who choose courage over comfort, and passion over politics. I'm surrounded by people who want the work done more than their own personal interests.
WF: What would you say is the most challenging thing about being part of an environmental organisation like Greenpeace?
DLD: What's challenging is how people tend to separate themselves from the environment and think it's something remote from them. Or how people are afraid to talk to environmentalists because they're afraid of being judged. I think that we should always endeavour to have an open space for dialogue for people to feel comfortable asking difficult questions, without judgment.
WF: Has there been any Greenpeace campaign or project that has left its mark on you?
DLD: Definitely the climate justice campaign. Whenever I witness people discovering their own role and story in the whole climate movement. For the public hearings of the climate and human rights case, we had to gather stories from different communities including indigenous people, youth, farmers, fisherfolk, jeepney drivers, and overseas Filipino workers. To ask them to be resource speakers on the witness stand in an investigation against big companies was not an easy feat. When I saw them on the witness stand, I remembered all their fears and doubts when we first met. I was so proud of how they've overcome all that and realised the value of their story not only to the case, but to the whole global climate justice movement. (Read the stories from the New York hearings here.) 
WF: What do you think are the actual steps we need to take to create more climate-conscious individuals and communities?
DLD: It starts with awareness—to know and understand what climate change is about, how we're affected by it, how we contribute to it, and what we can do about it. And to take it deeper would be to be conscious of how we can concretely contribute to the solutions. Climate change is a big problem and it has several solutions. Think big, start small. Some examples include talking to your government officials about what their plans are for climate change or changing your diet. Meat has a high contribution to carbon emissions, so going on a plant-based diet is a concrete individual contribution to lightening your footprint on the planet.

Any individual action is important because it is the beginning of your journey, but it becomes greater when you engage the community around you. We can't keep thinking that someone else will save the planet. We are the ones we've been waiting for. In many ways, we tend to give up our power by not caring, not paying attention, not asking, not doing enough, and not doing anything. I want people to be reminded of their own power to make that change.
WF: How can ordinary people support Greenpeace?
DLD: You can donate. Greenpeace is an independent global organization and it relies on individual donors. It does not accept donations from corporations or governments to maintain its independence. 

You can also volunteer. When you volunteer, you can be involved in different campaigns depending on your interests and skill sets. There are also a lot of workshops that are offered for the development of volunteers.
WF: What's your advice for people involved in protecting the environment or for others thinking of getting into it?
DLD: Just start. Start small. Start in your own way. Start with your strengths. Start with what you're curious about and just pursue it whether it's research, illustrating, having an urban garden, volunteering, and communicating. Starting something removes the fears and doubts of creating anything. And if you fail, learn from it and fail forward. (Watch this video to be inspired.)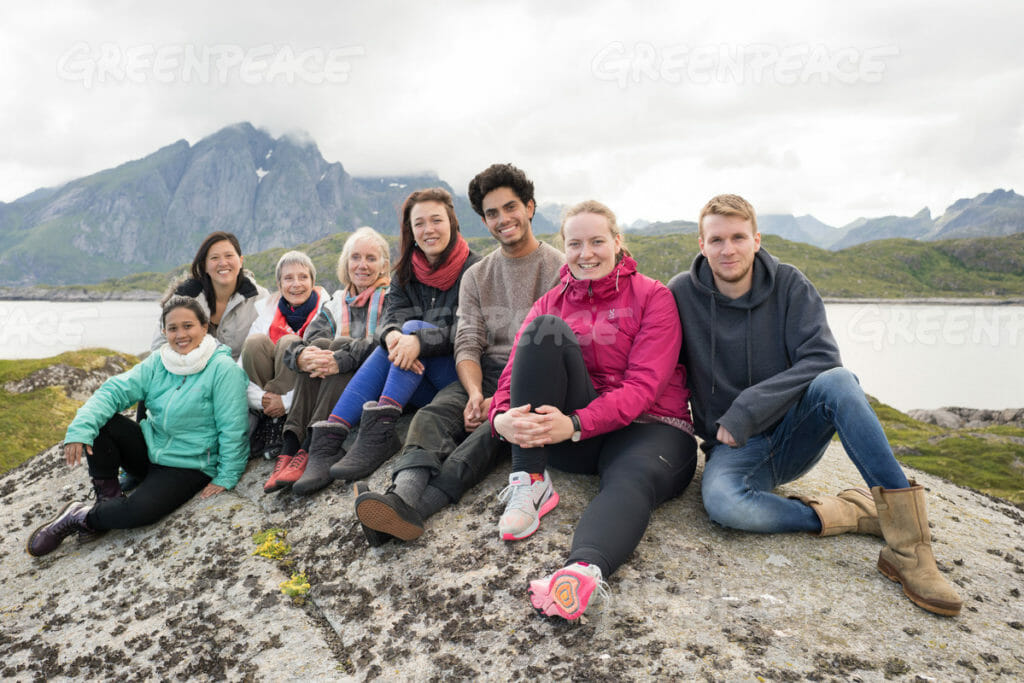 Support Greenpeace Philippines by visiting their website and their social media accounts: Facebook, Instagram, and Twitter. You can also support Greenpeace in your country!
Read more about the environment and conservation in our blog! Discover 10 websites to keep you updated on climate change and 20 ways you can reduce your carbon footprint.