Yvonne Leung only started adopting cats in 2016 when she moved to Shanghai, but she admits that the graceful creatures have always had a special place in her heart. As a modern-day nomad who can't seem to stay at a place for very long (she's lived in Hong Kong and the UK before coming to China), Yvonne is ready and willing to take her cats with her wherever she goes. She reminisces about how she met her beloved furbabies, Hoi Hoi and Pumpkin, and what she loves most about them. 
Help out by donating to Paw Pals Animal Rescue
With your kind assistance, Paw Pals Animal Rescue can continue maintaining its Shanghai-based shelter, providing comfort and tranquility to all rescued cats and kittens.
Waldo's Friends (WF): Could you share your adoption stories with us, Yvonne?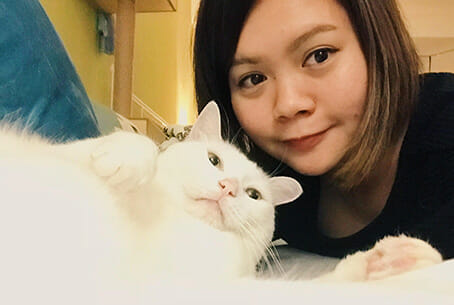 Yvonne Leung (YL): My first cat, Hoi Hoi is a handsome, mixed breed cat with a V-marking on his forehead. He was picked up by my friend when he was just two months old. He was the unwanted one among a litter of six kittens (all his siblings already found a home but he was still waiting to be adopted) and his rescuer was leaving the country, so my friends took him in. I fell in love with Hoi Hoi before I came to Shanghai. I saw his photos and found his unique marking super adorable, so I adopted him right after my move. He was six months old back then and is nearly four years old now. Sadly, he is currently missing, but I still have faith that he will come home. 
My second cat, Pumpkin, is a big ginger girl who is around three years old. I met her near my office on a cold day in December. I was walking down the street, and saw a big ginger cat from far away. I called "meow, meow" and she came running to me and rubbed my leg. She was very sweet and was not afraid of people. 
As it was cold and not safe on the streets, I decided to pick her up and help her find a home. With the help of two very nice colleagues (Angela and Win), we were able to capture her on the second night and brought her back to our office. Pumpkin was our office cat for a while, and during that time, we made posters to find her a new home. But during Chinese New Year, the office was empty for over a week so I took her home. She got along extremely well with Hoi Hoi, so I decided to officially become her mom.
Pumpkin was my first rescue, but I've always believed that we should adopt pets instead of buying them. I've read so much about terrible breeders so I've never considered buying a cat.
WF: Were there any challenges or hardships that came with adopting your pets?
YL: I was very lucky as it was quite easy with both Hoi Hoi and Pumpkin. They adapted to new environments very well. I'd say the most difficult part is to become consciously aware that I am responsible for two other living things, and I need to make the best decisions for the three of us.
WF: What was it like suddenly having two cats at home?
YL: I was lucky that Pumpkin and Hoi Hoi become good friends in a short span of time. They would sleep together and always lick each other's fur. They would stick together and enjoy quiet times.
WF: How would you describe Pumpkin?
YL: Pumpkin has a very majestic personality. She has the air of a queen around her. I believe she used to be an alpha cat when she was still a stray. All my friends call her queen. Haha! She is very chill, laid-back, and sweet to humans.
However, she can be very mean to other cats, especially if the other cat bugs her too much. One time, she hit the other office cat Tofu really badly. Tofu screamed so loud the entire office heard him! She also doesn't like kittens. Whenever the little ones want to play with her, she would run to the other side of the room.
Every morning, she meows at me as soon as she knows I'm awake to demand for food. She would sit and stare at me as I use the bathroom to pressure me. But she is also very sweet because she would only start meowing when I'm awake. Before that, she would lay quietly beside me. Pumpkin hates getting her nails clipped so her nails are super long and sharp, but she loves kneading her hoomans so it is a problem.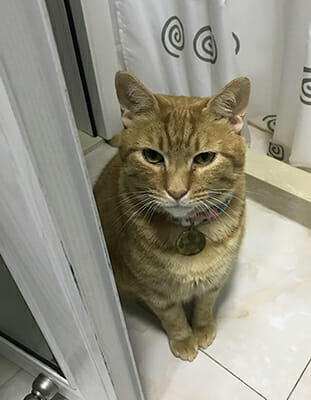 WF: What are the things Pumpkin loves doing with you?
YL: She enjoys getting her fur combed, receiving rough head and chin rubs, putting her head on my lap, and staying quietly next to me. She is a lazy indoor cat.
WF: Since Pumpkin was originally a rescue cat that stayed at your office, do you still bring her there these days?
YL: Pumpkin doesn't enjoy staying in the office that much. I think it's because it gets too noisy there. The last time I took her there, she peed and pooped in the cat bag when I took her home! She would rather sleep at home all day and not move an inch.
WF: What tips you can give for first-time kitten or cat parents?
YL: Read a lot of cat blogs. Try to get a basic understanding of cat behaviour and their needs. Also, bear in mind that every cat is different, so just be patient and shower your cat with love because they will feel it and reciprocate.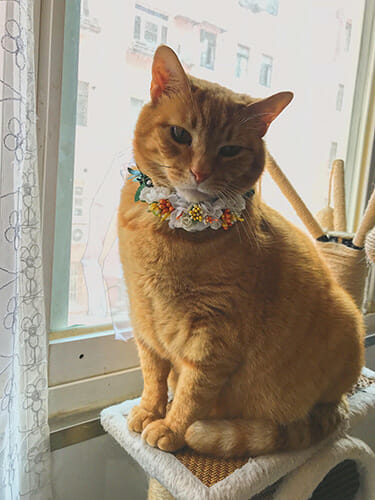 WF: Why would you personally encourage adopting animals?
YL: Because I've received so much love from my cats, it is very heartwarming to know that your cats are always there and waiting for you after a long day's work. They make my home in Shanghai feel like a real home.
WF: What's your advice for people thinking of adopting a rescue animal?
YL: Go ahead! But also make sure you have the capability and willingness to care for the animal for the next decade or so. A pet can only make your life better. It is also a blessing to see how a rescued animal transforms right in front of your eyes.
WF: How has your life changed after adopting Hoi Hoi and Pumpkin?
YL: I feel that being a cat mom has made me more responsible and has forced me to have some sort of future plans. For example, it's not easy to bring cats from China to other countries, so I need to research and plan ahead.
Also, I think Pumpkin saved me when Hoi went missing. I was very, very upset and I didn't have the heart to do anything, so Pumpkin would sit quietly next to me to give me support. She wasn't a very cuddly cat before, but since then, she has become quite cuddly to show me that she loves me.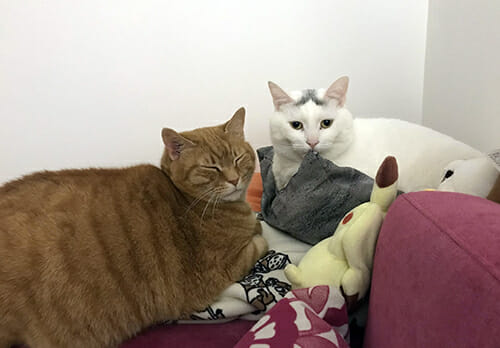 Read more rescue stories here! Do you know of an interesting pet adoption, foster, or rescue story? Share your suggestion with us by commenting below!