Animal lover Ivy Ilaya is the proud pawrent of six-year-old Maru and five-year-old Dany. Previously based in Manila, Philippines, Ivy is now exploring the other side of the world in Costa Rica with her two cats in tow. She shares how she adopted Maru and Dany, and how they all traveled 16,162 km to their new home.
Help out by donating to the Firefly Animal Rescue
With your kind assistance, the Firefly Animal Rescue can continue to help rescue and rehabilitate cats in Sydney, Australia.
Waldo's Friends (WF): How did Maru enter your life?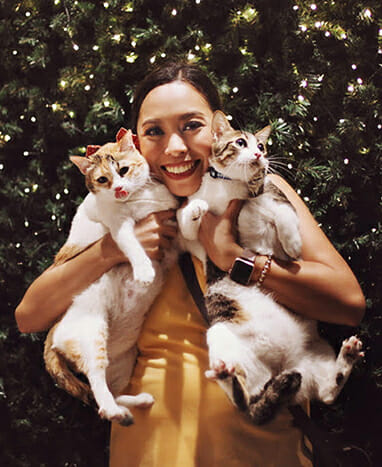 Ivy Ilaya (II): Maru was born at my parents' house in Quezon City. A beautiful white stray cat was temporarily staying in our home, but we did not know that she was pregnant back then. My mom and I are highly allergic to cats, but I have always loved cats, and it had been quite a while since I had a pet of my own. When I found out about the pregnancy, I told my mom to let her stay with us for a while, at least until the kittens were big enough to be adopted out. I'd visit my parents' house every weekend, treating the momma cat as my own and making sure I had enough antihistamines every time I went there. During that time, I was a huge fan of the YouTube sensation Maru, and promised myself that if I have a cat, I would name him Maru.
On September 14, 2013, momma cat gave birth to four kittens—two white cats, one black cat, and one grey white tabby that had the same colouring as the Japanese Maru cat. Later on, the three kittens and the momma cat were adopted out, while Maru stayed at my parents' home with the rest of our dogs.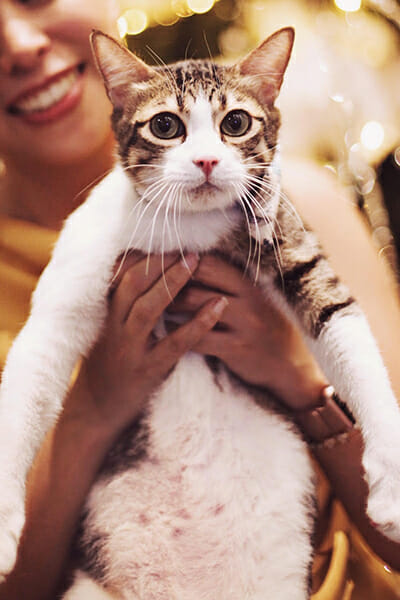 One dreadful day in February, Maru suddenly went missing! It took three weeks before he finally returned, and from that day on, I made sure he would never be an outdoor kitty anymore. I brought him to my condo (so he has a better, more quality life by staying indoors) and got myself immunisation shots (so I could live with him and all his fur and dander).
WF: How about Dany?
As for Dany, I had been working long hours and traveling a lot, and felt that Maru needed a companion. I initially hesitated adopting another cat because Maru isn't really fond of other cats or pets for that matter. However, I felt that if I introduced them properly, then he might be able to adapt more quickly than I expected him to. 
I initially looked at kittens because I felt that Maru may take it easier if the new pet is a kitten. But then I remembered ending up with lots of scratches when playful Maru was still a kitten, so I decided to look at full-grown cats as well. One of my friends from Cat Care Philippines helped foster this fat calico cat, Dany, who had a burn on the side of her body. I remember seeing her in the parking lot of my friend's condo (where she used to reside), and somehow, my heart was drawn to her. Another friend who also fostered Dany found out that I was interested in adopting her, and started sending me photos of her: when she looked extra plump and cute, when she was being lazy, when she was such a good girl in the car, and when she was terrorizing other foster dogs. 
When her spay procedure and vaccinations were complete, Dany came to live with us on November 26, 2016. I was really scared of how Maru would react, but Dany just kept quiet and isolated while I introduced them. Being super curious, Maru kept smelling the new cat from the other side of the door. Dany, being her sweet but ferocious self, did not back down and decided that she can go out and meet whatever was on the other side of the door. By the second day, I tried letting Dany out, and she immediately cuddled up to me, let Maru do his thing, and figured out that the bed was the best place to hang out in. By the third day, Maru and Dany were already eating together (no more hissing from Maru), and they have been siblings ever since. ️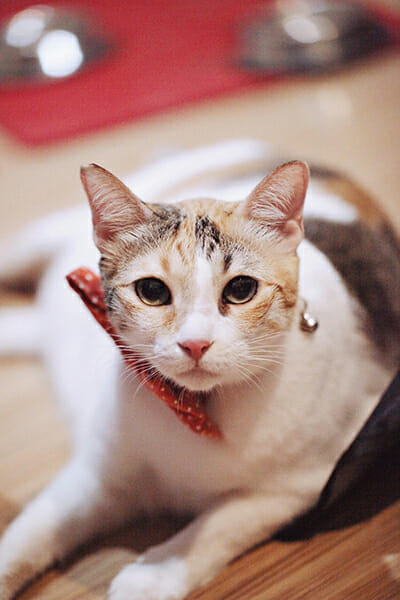 I guess it helped that 1) Dany was used to having other pets around, so it wasn't too difficult for her to accept Maru, and 2) because from the onset, I started feeding them across each other with the door closed, they got used to each other's scents faster. Also, as both cats can be playful with each other, they do not allow one or the other to be the boss—so that also helped because one didn't take over the other. It's cute because when the other "cries for help" (e.g. taking a bath), the other runs up to see if they can help their sibling.
WF: Before Maru and Dany, did you have previous experience with pets? How did this affect your decision to adopt these cats?
II: We had lots of dogs throughout the years, which were mostly given to us. I had a cat when I was around 12 years old, which we bought from Cartimar. I remember going there and looking for a Persian cat, but ended up getting a big Siamese, just because she had already outgrown her cage, and it seemed like no one was going to buy her. During that time, I remember feeling so bad about the other pets, all locked up and without anyone really taking care of them. I never went back to Cartimar after that. 
We were also not aware of spaying and neutering back then. My cat would end up destroying everything in the house (including the window screens!) every time she was in heat. She ended up having three or four sets of litters, and two of her litters stayed with us. However, after about six years of going in and out of the house whenever she pleased, she disappeared. I never had another cat after that, and I decided that if I got another one, I would learn more about taking good care of him, and understanding how to make a cat's life better.
WF: What were the challenges that came with adopting your pets? 
II: The biggest challenge for me was managing my allergies, especially since the cat stayed inside my condo the entire day. I had to find a doctor who would encourage me to keep my pets instead of getting rid of them. Thankfully, I found a wonderful doctor, who is also a furmom herself, so she really helped me with the immunisation process. It was expensive, and I had to invest in a lot of things like a good vacuum and air purifier, to help me overcome my allergies. I'm still technically allergic, but I think that having the cats with me helped lessen that. 
Another challenge I had was that the condo I previously lived in only allowed one pet per unit. Since my sister was also living at the same floor and building, I got her to secure Dany's permit even if Dany lived with me. 
WF: What makes your adopted pets unique? 
II: While Maru and Dany have been together for almost three years, they do not like to cuddle at all. They may sleep near each other or beside each other, but I barely see them cuddling one another. They like having their own space, but at the same time, like to be where the other is. For example, if one is on the sofa, the other would also want to sleep on the sofa. 
Maru loves to sploot with his legs stretched like frog legs, and is very loud. Dany squeaks, but she looks up to Maru a lot, because once Maru demands for food, Dany's squeaks suddenly turn into loud meows as well. 
I have A LOT of funny stories about them (check out our Instagram account to see what these two have gotten themselves into!), but one thing is for sure: They always somehow know how to get inside my cabinets so that they could sleep on top of my clothes—both new and dirty! Maru can also pick up hair ties from inside my bags, no matter how hidden these are.
WF: What are the things your cats enjoy doing with you? 
II: Dany loves to cuddle with me, kiss my face, and be beside me a lot of times, but she hates it when I'm the one hugging her. Maru is a bit more aloof, but he enjoys it when I carry him around, especially if it's to let him out to the balcony. He also loves to sleep on my head and bury his face on my pillow.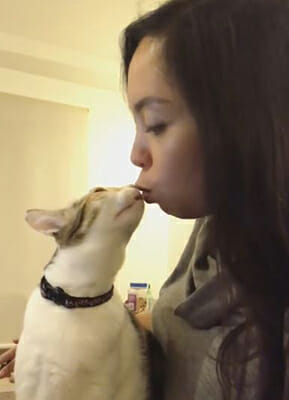 WF: We heard that Maru was once a pet meowdel. What advice would you give aspiring cat mums who would like their pets to be professional meowdels? 
II: Yes! She once modelled for Bow & Wow, a local pet store. The important thing is to always keep your social media audience and furriends engaged with everything your cats do. Instagram has been a great platform for us—we met lots of friends through the Instagram cat communities, and I have to say, they are the nicest and most helpful people around the world. ️️️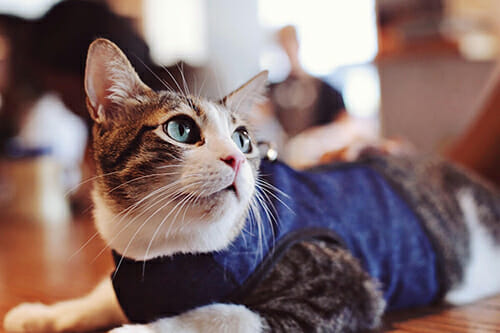 WF: You and your cats just recently moved from Manila to Costa Rica a few months back. Can you give tips for people who plan on making their pets travel long-haul? 
II: The most important thing about doing long-haul travel is to research on the best way to get there. Find the answers to questions such as: What are the requirements of the receiving country? How many flights will it take for them to get there? Are there options to bring them as carry-on? Which airplanes allow pets on board or in the cargo? Also, check if there are any pet-related Facebook communities in the country that you are going to. Don't be afraid to ask them questions.
WF: How easy or hard was the adjustment process for the cats? More importantly, how did you make them feel at home in your new space? 
II: I suppose the most difficult part for them was the long travel. It helped that when they got to the hotel, I was there the entire day, so they felt safe with me even when they were in a new environment. 
Similarly, when we moved to our new apartment, I made sure to stay at home the entire day so that they could roam around and feel safe. I also kept some of my clothes in different areas of the apartment so they always have a familiar scent.
WF: Are there new activities they can do in Costa Rica which they weren't allowed to do back in Manila? 
II: We finally have a small garden/balcony, which Maru and Dany love to explore. I let them out for a few minutes to eat grass (but highly supervised and one at a time) since I haven't gotten some of their things that I had shipped. Once I get their harnesses and leashes, they will be able to enjoy the fresh air longer.
WF: What's the best pet parenting tip you can give for first-time cat owners? What about to multiple cat owners? 
II: Please spay and neuter your cats! Find a vet that you can trust and who loves your pets as much as you do.
WF: What can you say to people thinking of adopting a rescue animal? 
II: It's the best thing in the world! Please adopt don't shop. It saves lives.
WF: How has your life changed after adopting Maru and Dany? 
II: Adopting them changed my life A LOT! I really became more responsible because I know that my cats depend on me for the most part. I love them so much and I want them to be able to live longer lives, so I make sure that they're spayed/neutered, they get their vaccinations, and they get their yearly check-ups (full blood tests) to determine how they are. I also became more observant of everything that's happening to them. I feel that I am also more capable of love because of them.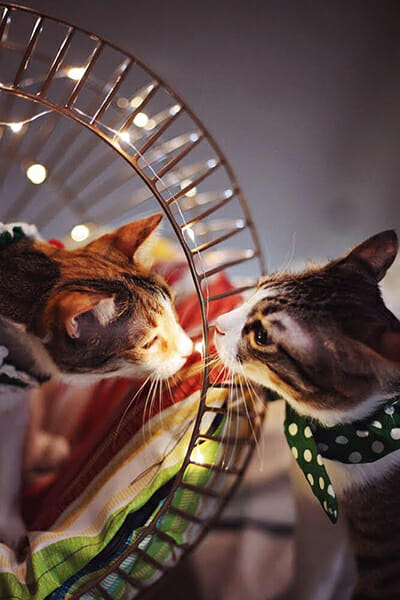 Follow Maru and Dany's delightful adventures on Instagram.
Read more rescue stories here! Do you know of an interesting pet adoption, foster, or rescue story? Share your suggestion with us by commenting below!

All photos by fellow cat rescue owner Gia Lara of Petograpiya