Say hello to cat mum Annette F., a freelance editor/writer who keeps herself busy by working for a non-profit organisation that promotes Philippine art through art shows and children's books. Annette reveals, "I could never keep my pets alive as I was a young girl⁠. My goldfish, puppies, bunnies, and guinea pigs all died on me. So as an adult, it became my pride that I have been able to keep my cats alive!"

Annette currently owns three cats with her partner, all shorthair cats which they either adopted or rescued together. She recounts the story of how four-year-old Mosey joined their fur-mily.
Help out by donating to Philippine Pet Birth Control Center (PPBCC) Foundation 
With your kind assistance, PPBCC Foundation can help control the animal population in the Philippines through neutering.
Waldo's Friends (WF): Hi Annette! Tell us about your cats.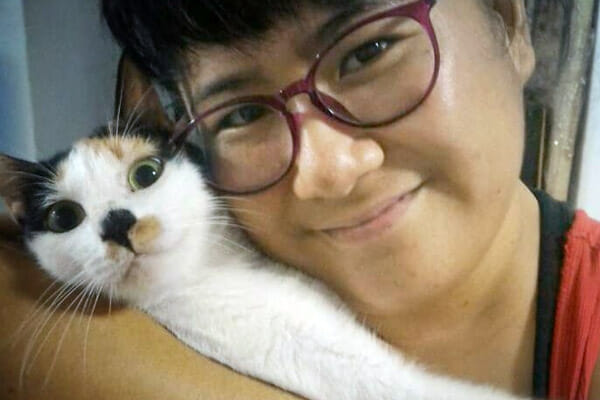 Annette F. (AF): Duchess is a 10-year-old male cat who was mis-sexed when he was a kitten. My partner was the one who first adopted him. Meanwhile, I found our two younger cats: a six-year-old ginger tabby named Hot Sauce, and a beautiful calico named Mosey.
Mosey is the youngest cat of our brood. My partner and I had a fight at the time, and to cool off, I went out for a walk. Being sad and upset makes my ears more sensitive to kitten's meows, so as I was walking, I heard some very loud meows. I crossed a busy street and went to the entrance of an alley. Near the garbage bags, I found Mosey—the cutest little furball! I took her home with me in the palm of my hand. It's funny because I think that I was projecting my sadness onto the kitten, and I just felt so bad for her. At the same time, I was also missing the fun of having a kitten around, and I was also curious as to how it would be to have a female cat, since our two cats at home were males.
I took her home in the guise of wanting to foster her, but truly, I wanted to keep her from the get-go. I waited for my partner to be totally smitten by her—kept her in the bedroom with us, saying that the older cats should be introduced to her slowly—before I asked him very sweetly if we could keep her instead. Sneaky, sneaky, I know! But it worked, and we are a happier family for it. However, I also had to promise him that Mosey would be our last cat.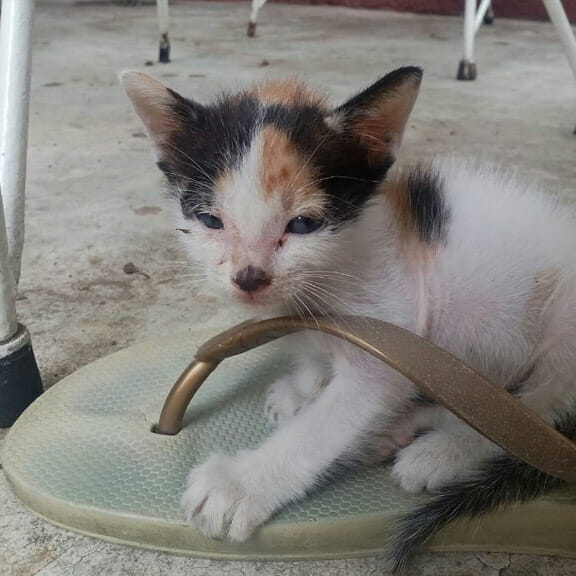 WF: Before your adopted pets came along, did you have previous experience with cats? How did this affect your decision to adopt them?
AF: I never had any cats before, but I once borrowed my partner's cat because of a rat problem in my apartment. His cat was totally useless but he was nice company, so that's when I felt like I could actually take care of a cat.
I've also been very unsettled about having to pay a big amount of money for a pet. I had considered buying a cat before, but I realised that adoption is much better because it costs me [practically] nothing and I am able to give a home and a family to an animal that needs it. I also do not want to support bad breeding practices from backyard breeders.
WF: What makes Mosey unique?
AF: Of all our cats, Mosey is the sweetest physically. She doesn't mind cuddles, and although she might want to squirm out of my arms sometimes, she never scratches me or gets angry when I shower her with cuddles and kisses. She likes hopping onto the bed next to me, and squeezes herself next to me.
For approximately two years when we first adopted her, she never made a sound. We wondered if she was mute or something. When she eventually made sounds, it was like, "Krrr, krrr." She sounded like a bird chirping! It is very funny. To this day, she doesn't meow.
WF: What are the things your other adopted pets enjoy doing with you? 
AF: Duchess likes to just be in the same room as us, but he doesn't like being touched. Hot Sauce doesn't like to be touched using our hands, but he looooooves it when we rub him with our feet!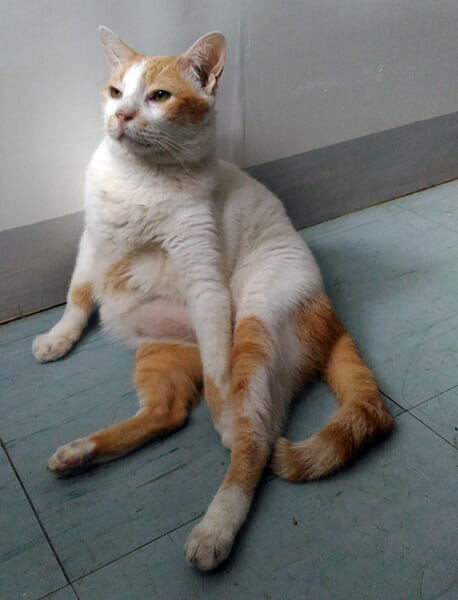 WF: What's the best paw-renting tip you can give for first-time cat owners? How about those about to have multiple pets at home?
AF: My tip would be to just let cats be. When they first come home with you, let them come out of the carrier on their own and let them explore on their own. Cats have their own pace at warming up. Don't be nervous and just let your cat's personality unfold.
When you get another cat at home, do the same thing. Introduce them to each other gradually and just let the wonderful process unfold.
WF: What's your advice for people thinking of adopting a rescue animal? Why would you personally encourage them to adopt?
AF: Do it! Adopt, don't shop. In the case of the Philippines, so many cats are waiting for homes in shelters, and these shelters are underfunded and undermanned. There are also so many cats just living on the streets. They are hungry or get run over, so consider giving them a beautiful life.
WF: How has your life changed after adopting your cats?
AF: I think I've become a more patient and kind person. There's just something about letting creatures be, and that also transfers to humans as well. Cats have their own personalities and don't want to be controlled. When you let them be, their personalities shine, and you can have a beautiful, open, and loving relationship with them. This is true for people too!
Having cats has also been such a source of comfort for me in sad and difficult times. It's great to have "someone"—just a living presence—at home with you. This would also be such an important lesson for people to learn—how to be there for each other. Sometimes, and especially when things are hard, what you need is just someone's presence. You don't need them to give you advice or tell you want to do; you need someone to be there for you and just be with you in your suffering. My cats have been like that to me, and that is also how I try to be with my friends and family.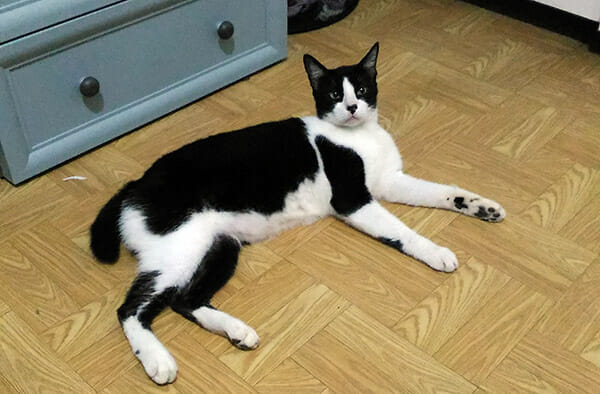 Follow the adventures of Annette and her cats on Instagram. 
Read more rescue stories here! Do you know of an interesting pet adoption, foster, or rescue story? Share your suggestion with us by commenting below!