Gia Lara is proof that there's always room for one more rescue pet in your heart and home. The 37-year-old professional pet photographer was inspired to take pictures because of her beloved animals: a rabbit and 16 adopted puspins [short for pusang Pinoy, which are domestic short-haired cats from the Philippines]. She says, "Booni the rabbit was given to my niece in 2006. With the help of Google and reputable rabbit care websites, we upgraded our pet parenthood skills as a family. We had Booni first and then the cats came along. I decided to adopt the cats because I felt bad when I would take their pictures. I wanted to offer them something in return."

Gia adds, "Most of the cats just happened to end up in our garden. Having a garden surrounding your house is kind of a magnet and a safe haven for stray cats. Two were dumped in our garden. Three were adopted from CARA Welfare Philippines via Cat Cafe Manila, where I worked as a manager for one year." Though Gia actively adopted most of her pets, CC is an entirely different story. The pet photographer says that the white cat adopted her instead. This is their unique adoption story.
Help out by donating to Compassion and Responsibility for Animals (CARA) Welfare Philippines
With your kind assistance, CARA Welfare can spay, neuter, and help find homes for many unwanted animals in the Philippines.
Waldo's Friends (WF): How did you and CC meet?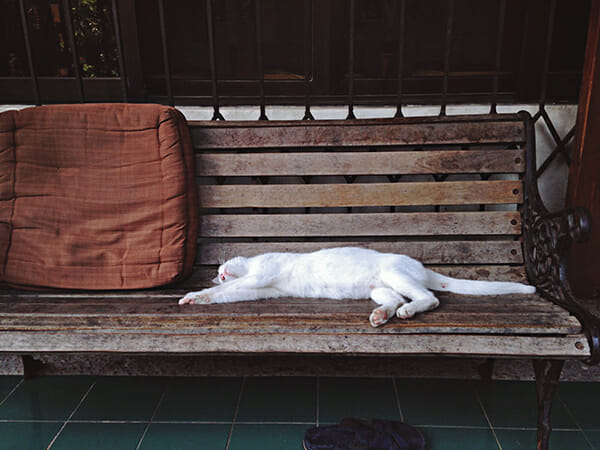 Gia Lara (GL): I was a cat mama with 7 cats already when I met CC. My dad had always been very supportive of my doing pet photography, so he quickly alerted me about this odd-eyed stray cat outside. One morning, he brought this white cat with one blue eye on the right and yellow eye on the left. She quickly felt at home and posed to my delight. I remember her lounging on top of our garden bench after our little photoshoot with her licking my hand (which my other cats never did), and wondering why such a sweet cat is not mine. I even posted on Instagram saying that she's up for adoption as I already had a pure white cat. I assumed she will eventually go home so I left her there.
By now three days had passed, and every time I would check on her she'd be so peacefully asleep like she didn't sleep for three years straight. It was like a prank of some sort that my boyfriend and I would be joking about her pretending to be asleep so she didn't have to go home. The fourth day was Sunday and my brother reminded me that her owner might be looking for her.
With a heavy heart, before I left for Sunday church, I carried her to the apartment where she was said to be staying. There was a woman at the gate and I said, "Here's your cat, you might be looking for her. She seems to have taken a liking to our garden." The owner got her from my arms and said that she only stayed in their house to sleep, and if she liked to eat, she went out to eat. Upon hearing that, I wasn't sure if it was right to leave her there, but I left as soon as the lady and the cat went inside their apartment.
Sunday mass was ordinary and my thoughts were haunted by thoughts of this white cat so I hurried home right after. Only one hour since I left home and there she was, already sleeping on our doorstep! She was so happy sleeping as if returning her earlier happened in a parallel universe. She made up her mind, my home is her home.
WF: How many cats did you already have before CC? How did this affect your decision to adopt CC?
GL: I had seven cats when CC came along. She made the decision somewhat easier as she was already spayed. CC blended seamlessly with my cats, but then she had to be treated first for her scabies (which was contagious). I had to isolate her for two months before I started bringing in the cats one by one inside the house.
WF: How did you come up with the name CC?
GL: My original white cat's name is Coco. Ideas went from Coco Chanel, to Chanel's CC logo and it somehow clicked when I thought of the name CC. She is, after all, literally a carbon copy and a copycat of my Coco.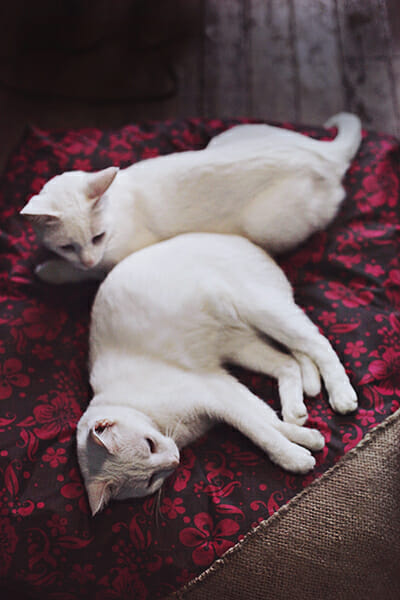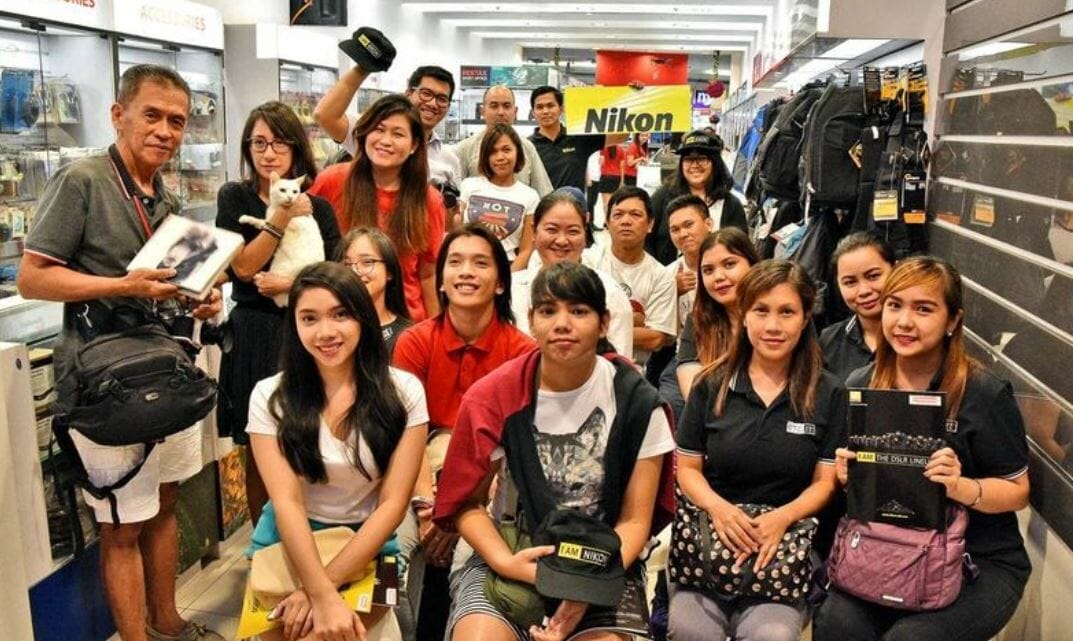 WF: What makes CC unique?
GL: I feel like she is the cat version of me. Somehow, she is the leader of the cats because she cries out when it's way past dinnertime to alert me.
WF: What are the things CC enjoys doing with you?
GL: She loves hanging out with me. When I worked out of the house for a year as a manager of a cat cafe, she became thin. I felt like she was happiest when I decided to work from home again. She has always been my office mate.
WF: Being a mother to multiple pets, how do make sure all of these animals are given enough love and attention? Are there bonding activities you do with each of them or as a group?
GL: The cats and Booni don't really interact as a group as Booni is a senior rabbit and doesn't quite like other animals. Booni has a room downstairs, while the cats are upstairs invading my room, the cat room, and my home office.
The cats are divided into two groups: five office cats stay in my home office, and the other 11 mostly stay in the cat room. My bedroom is their middle room where I let them eat and hang out. Some of them can interact with the others, but having quite a number of cats, some just do not get along.
I bond with each group with treats and toys. I also try to spend time with each cat as much as I can, giving them soft pats and saying hello to them.
WF: What's the best tip you can give to pet owners with multiple cats?
GL: Personally, I provide multiple water bowls and food bowls for each cat. I have three sets of these bowls as well, in case of emergency when I'm too busy or sick to clean up immediately. I also like to upgrade our cat room and office with multiple perches, sleeping areas, and cozy spots. It's important that they don't have to argue about resources as some cats may want to guard some of them.
I have a lot of litter boxes as well. Standard is total number of cats plus one, but I feel like once you cross over the double-digit kind of multi-cat household (basically anything more than nine), you need to provide as many litter boxes as possible. I have 26 litter boxes because I only clean once a day. Having fewer litter boxes means you have to clean frequently.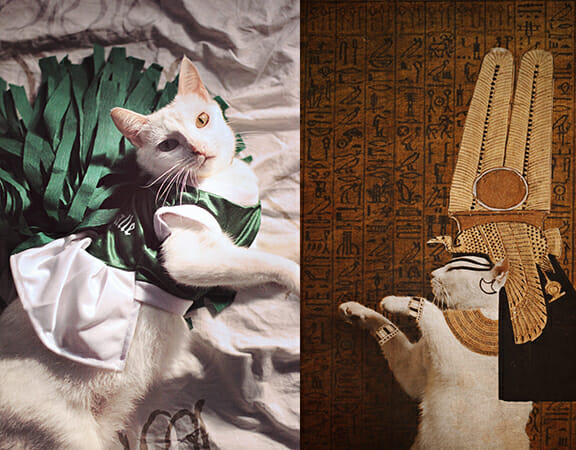 WF: Why would you personally encourage adopting animals?
GL: Adopting is really close to my heart, thinking how so many rescued/strays are in need of homes. I feel like adopting makes a difference because you are rescuing a pet in need. Plus, the rescuers or foster parents can also take in and help more animals.
WF: What's your advice for people thinking of adopting a rescue animal?
GL: Make sure you are 100% committed because we can't adopt and back out when the going gets tough. These animals cannot survive on their own anymore once we care for them and tame them. Adopting a pet goes beyond just feeding them. It also entails keeping their environment clean and safe, spending quality time with them, and caring for your own needs as well.
WF: How has your life changed after adopting your pets?
GL: It's like motherhood as I have to take care of their needs. Apart from caring for them, I also feel the shift in my life in having such a responsibility, and I feel like they also express their love for me the way they know how. We coexist happily.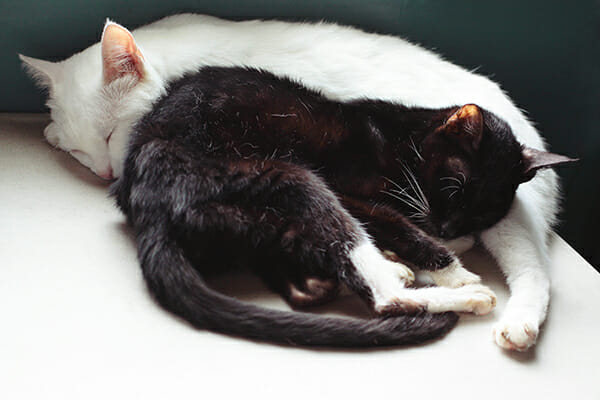 See beautiful photos of Gia's rabbit and cats on Instagram.
Read more rescue stories here! Do you know of an interesting pet adoption, foster, or rescue story? Share your suggestion with us by commenting below!