Lisa H is a 40-something Melburnian who works on Information Technology-based projects. Though she grew up surrounded by dogs, she had a fondness for cats but could not own them because she was allergic to them. For three years, she built an immunity so that she could adopt two domestic short-haired cats—an eight-year-old named Archie and a six-year-old named William. Here is their story…
Help out by donating to Cat Protection Society of Victoria
With your kind assistance, Cat Protection Society of Victoria can care for and rehome thousands of abandoned and forgotten cats every year.
Waldo's Friends (WF): Hi Lisa! Tell us about Archie and William.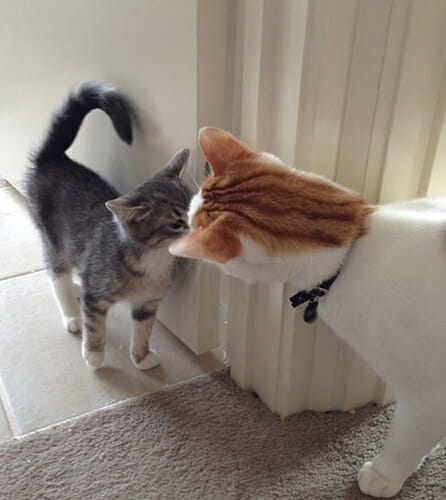 Lisa H (LH): Archie was named after the comic book character Archie as he is white and orange in colour. Meanwhile, I named my other cat William Whitesocks because of his white feet.
Archie was actually the first cat I adopted over seven years ago. He and I found each other at the Cat Protection Society of Victoria in Greensborough—he kind of chose me. Meanwhile, William was a kitten that was rescued from a friend's farm. He turned up at their front window one night in the middle of a rainstorm. We tried to find if he had a family, but we found none. I had a feeling Archie needed a friend, and it just worked out wonderfully!
WF: Before these cats came along, did you have previous experience with animals and/or pet rescue? How did this affect your decision to adopt pets? 
LH: I grew up in a dog household which were all rescues. They proved that they had so much love to give and that all animals should be rescued.
I've never had pet cats before as I used to be highly allergic to cats. A lot of my friends had cats, and so I decided to go down the path of three years of needles to become desensitised. It worked! After nine months, I adopted Archie. The immunotherapy process is a journey and takes a solid commitment, but it's definitely been worthwhile.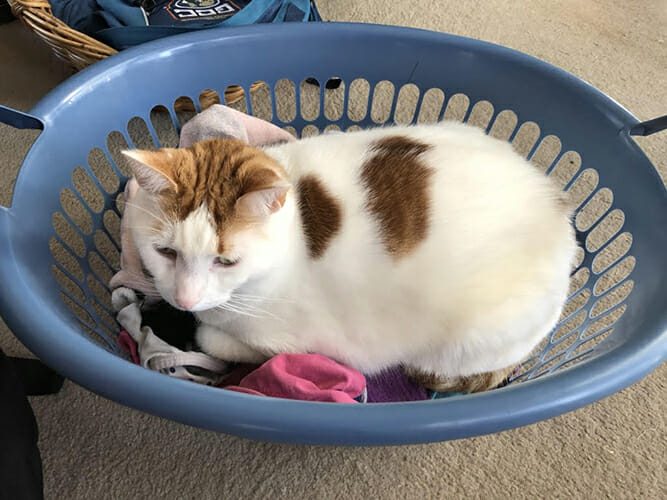 WF: Were there any challenges or hardships that came with adopting Archie and William?
LH: I didn't really have any issues with their adoptions. The second day after bringing William home, Archie peed on my bed to claim it as his. But after a few days, they became best buddies.
WF: What do your cats love to do at home?
LH: My two boys are pretty solo guys. They like their own space and aren't big on cuddles at all. William likes to follow me around the house. I call him my Dog Cat. I'd say that's the Bengal part in him coming out. I also know when someone is coming up to the front door as William runs to the door excitedly. Sadly, Archie runs away to hide because he has anxiety.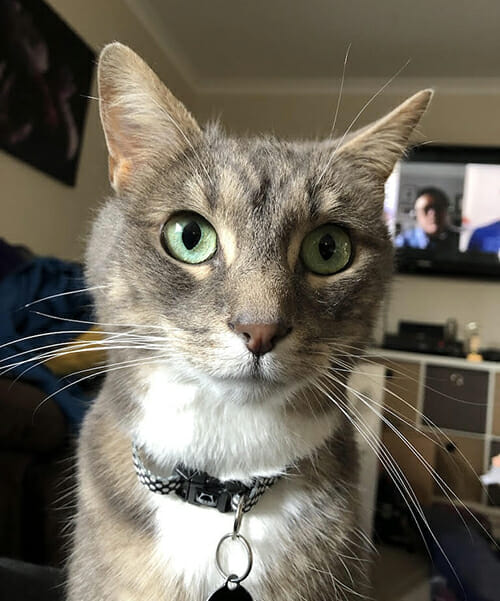 WF: WF: In your Instagram account, you mentioned that you also own four chickens. Do the chickens and cats get to interact on a regular basis?
LH: No, the chickens stay in the backyard while the cats are in the house. Archie used to try to pounce at them through the glass, but he soon learned not to with the help of a water spray bottle.
WF: Why would you personally encourage people to adopt animals? 
LH: Pets really make a house a home, and I think adoption gives them another chance at life. I love having them to talk to. They are wonderful and they really do thank you.
WF: What's the best pet parenting tip you can give for first-time cat adopters? 
LH: Do your research. When adopting, try to find a kitty with a personality that suits yours. If the foster family/centre can't tell you about his personality, then you really don't know if you are a match or not.
WF: What's your advice for people thinking of adopting a rescue animal?
LH: Just do it! Now! Go and do it!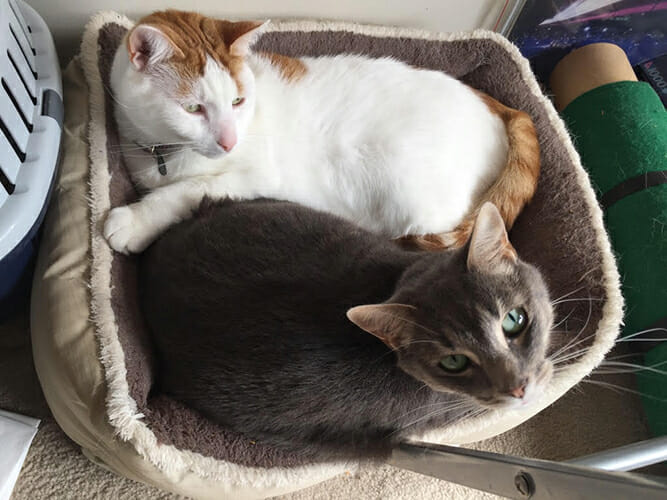 Follow the adventures of Lisa and her adopted cats on Instagram. 
Read more rescue stories here! Do you know of an interesting pet adoption, foster, or rescue story? Share your suggestion with us by commenting below!