Manila-based Michelle Calasanz is a Theta Healer, and a certified plant and kitty lover. She has rescued and fostered strays all her life, and fondly shares two of her most memorable cat adoptions with Waldo's Friends: Cocoa Banana (a brown Persian – British Shorthair mix who was with her for 16 years and passed away in December 2017) and Apricot Pineapple-Locklear (a year-old puspin she recently adopted last April).
Help out by donating to Happy Animals Club
With your kind assistance, Happy Animals Club can pay for dog food, cat food, veterinary care, and all the expenses involved in running a no-kill animal shelter. 
Waldo's Friends (WF): How did you get into animal rescue as a child?
Michelle Calasanz (MC): I've been rescuing cats since I was a child. We are a family of cat lovers, and rescuing is an activity we grew up with. If we rescued a cat, it would automatically be ours. I remember we had 29 cats at one point!
Once, my family and I heard non-stop meowing coming from somewhere. After many hours, we finally found a kitten inside a plastic bag that was inside a garbage bin. We named her Lagro, which was short for Milagro (which means miracle). She went on to live a long life and have kittens of her own. 
I've had good experiences rescuing animals, but also traumatic ones. I've rescued so many cats that I don't even remember all of them. There have been many deaths, but the most traumatic ones involve me leaving or abandoning cats behind. Once, when I was around 10, I was walking home from school and I picked up a tri-coloured kitten with either a head injury or worms on her head. We had her for a week, and I named her Mew-Kit. For reasons I don't remember, my mom told me to return her where I found her. I cried the entire time. 
Also, a few years later, we had to move to a condo. We didn't know how to rehome the cats we had at that time, so we abandoned them. I was young, and we were inexperienced in these things. It wasn't until I was older when the thought of bringing a cat to a vet or rehoming them became a thought. It traumatised me so much that I vowed never to abandon a cat again.
WF: How did you come to adopt your two pets?
MC: I adopted Cocoa Banana when I was only 18 years old. I was depressed at the time, and we didn't have any cats in or out of our house. My psychiatrist told my mom that I should have a cat again, so despite the "no cats in the house" rule that my mom implemented at the time, we adopted Cocoa from my cousin, in order to save me. He was a tiny, flea-ridden brown rat (yes, rat), and my brother Simon and I had to carefully remove his fleas one by one (we didn't know about flea treatments back then).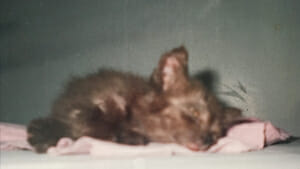 As for Apricot, my best friend/roommate Dennis and I were just wandering about Bonifacio Global City when we came across Pet Week outside the Central Square area. We passed by the Cats of Manila adoption booth simply to "inspect" the "children" (yes, we call cats children). Our eyes immediately went to Apricot, even if I have an affinity for calicos.
Out of the blue, Dennis said, "Let's adopt her." We lost two children within a few months of each other, and we were left with only one cat at home. It was weird because I am usually given a cat or I rescue one, but something in me said yes. We immediately inquired with Cats of Manila on how to adopt Apricot.
We were told that she was already reserved, but they interviewed us anyway. I gave her the name on the spot too! Dennis has a way of speaking and charming people, especially when talking about animals, and I honestly think HE is the reason we got chosen to be Apricot's parents.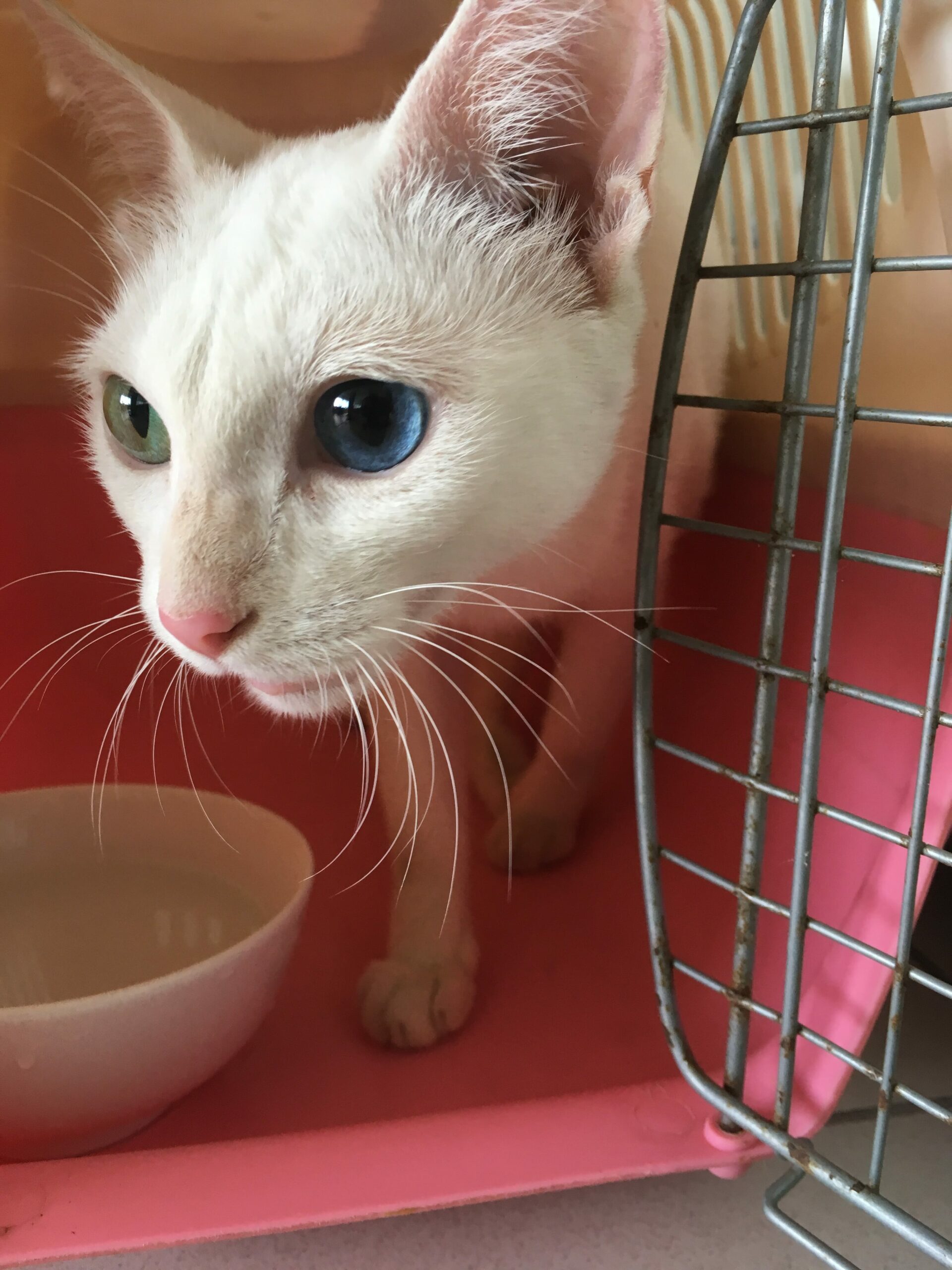 WF: Were there any hardships that came with adopting Cocoa and Apricot?
MC: Aside from dealing with his fleas, Cocoa was an active, ankle-biting cat. Before his first birthday, he got sick and remained a sickly child for 16 years of his life. He had to visit the vet at least once or twice a year.
Meanwhile, getting chosen to adopt Apricot was easy. When we came back to the adoption booth that same evening, we were told that we were chosen. Yipee! The first three days was the adjustment period. Apricot was skittish and paranoid, but she was always headbutting us and asking for belly rubs. She met our resident queen, Ongina, and it took them a few days to "tolerate" each other. Ongina is a 10-year-old orange fluffy Persian who prefers cats with breeding (she's such a snob!). In rare occasions, she and Apricot have sniffed and played with each other.
Apricot is still young, so she sometimes likes to play or be noisy when I have clients at home for sessions.
WF: What would you say makes your adopted pets unique?
MC: Cocoa was my son. My shadow. My best friend. My anti-depressant. He would wake me up every morning by jumping on my chest and suckling my fingers. He would lay on my hands as I typed on a keyboard. He would sit beside me when I was feeling upset. He was my only cat who loved being carried like a baby.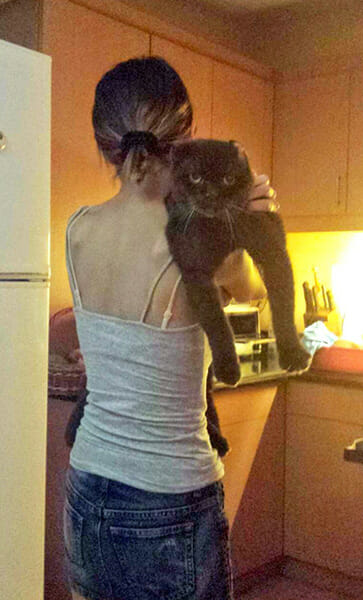 Apricot was the most popular in the adoption booth because of her white coat and different eye colors. She's lived most of her life in the streets, so that's something she still has in her. In the beginning, she loved hanging out on dustpans and brooms, and licking garbage bins—thank God she outgrew that phase!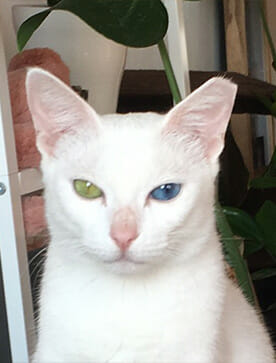 Though Apricot is very sweet, she strangely likes Dennis more than me. I think she knows Ongina is "mine," so she claims Dennis as "hers." She loves to headbutt and flop on the floor to ask for belly rubs. She cries loudly when she realizes she's alone in the flat (I take Ongina out for walks in the corridor), but she's afraid of going out. I guess she's still traumatised from being a street cat. 
Apricot loves playing with her feather toy, sleeping on the bed with us, and snuggling while watching Netflix. She loves to "help" me when I do my gardening. When we rescued Oswald Wineburger on June 30, Apricot immediately took him in as her own. She became his mother while he was with us.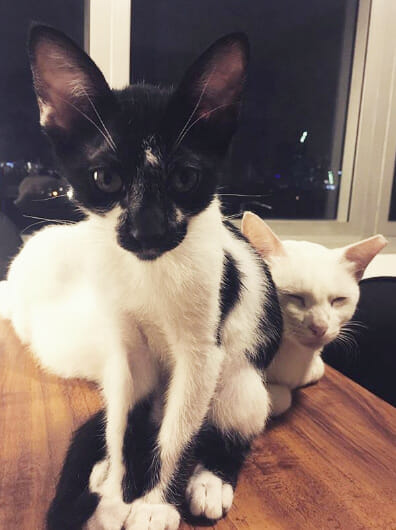 We rescued Oswald right before the heavy rains poured over the tree where we found him. It was supposed to be a quick bathe, feed, then release operation, but it rained non-stop. By the time the rain stopped, it would have been cruel to release him when he got accustomed to indoor living. 
 
Apricot herself was a trap-neuter-release project (when her captors decided not to release her, and give her up for adoption instead). In fact, she was pregnant when she got captured. The babies were aborted, but her motherly instincts remained. She immediately took Ossie under her wing, bathed him, played with him, and basically made him feel at home. We had him for nearly two months.
WF: Speaking of Oswald, how did you get into fostering cats?
MC: When I moved out into my own place (a studio-type unit), I realized I couldn't keep too many cats inside, so that's when I started fostering. I foster the cats that I would rescue myself. Oswald, who just got adopted recently, was a male kitten and LOVED to play. I had to tire him out before a client arrived, or else it would be a disaster.
The bad thing about this though is how Ongina (and other cats before her like Cocoa) react to a new kitten in the house. Ongina needed to visit a vet because she got herself sick to protest the new cat. Because of this, I am unsure I can rescue/foster again unless I move to a bigger unit with more rooms.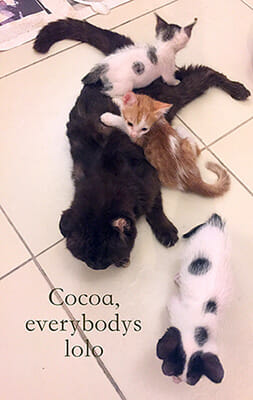 WF: Any interesting anecdotes you can share about your adopted pets?
MC: I remember the neighbourhood kids used to call Cocoa a monster. They weren't used to cats of that breed, and because of Cocoa's size and colour. They would yell to each other to run whenever they'd see him.
WF: Aside from Cocoa and Apricot, do you have other memorable rescue stories over the years?
MC: Back in 2015, I had an ectopic pregnancy. During this time, there was an outside cat we would feed, who was also pregnant. She eventually gave birth and became the best mother ever. Then I had my surgery, and when I came back from the hospital, mother cat was gone and abandoned her five kittens. We rescued all five of them, and this picture (below) shows Dennis feeding them with a syringe. I lost my baby, but the mother cat gave up hers to fill the void in my heart.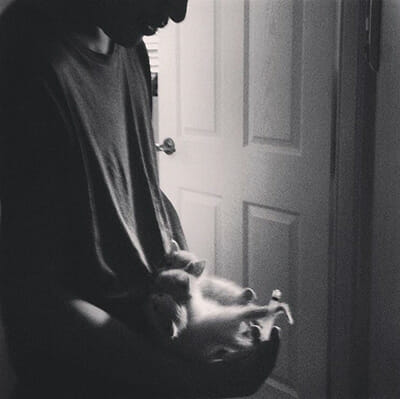 WF: How do you come up with unique names for your pets?
MC: Apricot was a name of a cat from Neko Atsume. When I played the game, I knew I wanted to name a cat Apricot someday. Locklear happened because I watched The Dirt. Pineapple was Dennis's idea. Ongina is a Banana-Locklear, but she and Ongina seemed so different, so we decided to create a different kingdom, the Pineapple-Locklear kingdom.
Inspiration just hits me, and it's usually food-related names and usually doesn't match their actual fur color. Sometimes, it's inspiration from an anime, series, or a Japanese boyband. Some examples include Cocoa Banana, Raspberry Brownie Banana, Strawberry Panty Sr., Raisin Bread, Jelly Pop, Tohoshinki Mango Kun/Tart, Ginger Toast, Cherry Lollipop, Chewie Yogurt, Belladandy, Sakorako, and Sakuragi.
WF: What's the best pet parenting tip you can give to fellow animal owners?
MC: Research, ask, watch YouTube videos, and NEVER ASSUME. When in doubt, go to the vet!
WF: Why would you encourage adopting animals?
MC: For people thinking of adopting a rescue animal, I'd say give it a shot. Besides, most adoption centers will take the animal back in if it is a "wrong match." There are so many animals in need of help. If we have the space and resources, it would mean the world to them to have a furever home. 
Personally, it was Cocoa Banana who helped me overcome my depression and anorexia many, many years ago (with the help of family and friends, of course!). Cats may be aloof and jerks, but when you are sad and lonely, they DO care.
See more of Apricot by following Michelle on Instagram.
Read more rescue stories here! Do you know of an interesting pet adoption, foster, or rescue story? Share your suggestion with us by commenting below!