Pawssion Project is a relatively new rescue shelter found in Victorias City, Negros Occidental, Philippines. The non-profit organisation started last October 11, 2018 after its founder, Malou Perez, came across a Facebook post about 50 unwanted dogs who were scheduled to be put to death by gunshot at the local pound. The post compelled her to save the lives of those canines, and eventually create a safe haven for them and many more rescue animals. This is her inspiring story.
Help out by donating to Pawssion Project
With your kind assistance, Pawssion Project can help save the lives of unwanted animals and create a safe haven for them in Negros Occidental, Philippines. 
Waldo's Friends (WF): Could you share how Pawssion Project came about?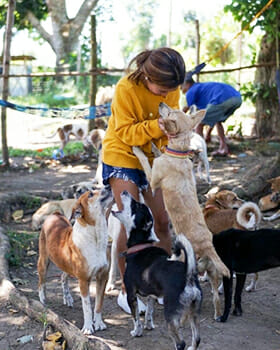 Malou Perez (MP): I've always felt that how we treat our animals is indicative of how evolved we are as human beings. Pawssion Project is a humble non-profit organisation that I started with the goal of helping and rescuing stray and impounded dogs, who all scheduled to be killed by gunshot, if left unadopted or unclaimed at the Bacolod City pound three days after being caught.
Pawssion Project started last October 2018, when I saw a Facebook post about some 50 dogs who were all scheduled to be killed. My business partner, who owns the four-hectare farm where the shelter is right now, offered two hectares for the rescue animals. We were initially supposed to use it for Airbnb purposes, but in the end, we both thought the animals' lives were far more important than the business.
WF: What does your animal rescue hope to achieve?
MP: It's really to create a kinder environment for the animals through population control so they are provided with quality life. We also hope to educate pet owners on their responsibilities, and educate the masses that it's never okay to hurt animals.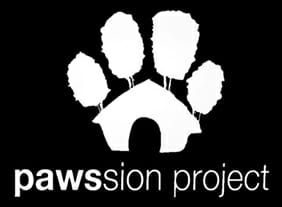 WF: What is your involvement in the rescue?
MP: I personally manage the social media pages (but I get help from a volunteer with our Facebook inbox), manage shelter operations, take care of the rescue operations, and do fostering too!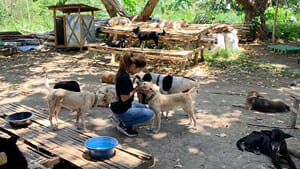 WF: What would you say has been Pawssion Project's most effective campaign?
MP: By far, we have a number of dogs that have been adopted from the shelter since we started last October, so the campaign for dog adoption has been effective. Prior to Pawssion Project, dog adoption has never been top of mind for most people here in Bacolod. Another thing worth mentioning is that there has been zero cases of dogs killed at the pound since we started.
WF: What do you think are the biggest misconceptions about the animal rescue industry? How does your rescue address those fallacies?
MP: I think one is people attacking animal rescuers about the lack of concern for humans. I hate the argument, "Why help dogs when there are a lot of kids and poor people without homes and food to eat?" This is basically why this is an advocacy. Just because people in the animal welfare world focus on animals, it does not mean that we care less about humans. The efforts to vaccinate and sterilise dogs are something that will benefit both animals and humans, because in the end, healthy animals equates to a healthy environment. And at the end of the day, to each his own.
WF: Where do you draw inspiration for your rescue?
MP: My main inspiration for having put up the shelter is Territorio De Zaguates, the land of the strays in Costa Rica. They have over 1,000 rescues and they don't stop. In terms of standards, it's SOI Dog Foundation in Thailand. Any dog documentary like Dogs and Life in the Doghouse on Netflix are also just as inspiring.
WF: What's the best thing about running an animal rescue?
MP: It expands your heart and your capacity to love and care for those who need help the most in ways you can never imagine. Until now, I still feel emotional every time I look at the rescue animals at the shelter. I always think, "They all should have been dead now. But hey, look at them, running around and just living like normal dogs at the shelter."

WF: On the flip side, what would you say is the most challenging thing about running it?
MP: I have thought to myself, this advocacy is the toughest, most draining thing I have ever done in my life. It's physically draining. I can't remember the last time I had eight full hours of sleep. I can't remember the last time I had three complete and on-time meals in one day.
It's also emotionally draining. Imagine losing dogs from cases you accommodate daily, wherein most of them have been reported to you when it's just too late already. Even if I haven't personally met all the dogs, I still feel involved and attached. Every single case affects me emotionally. I remember getting two days of rest since I started the shelter, and I felt like going into depression because the horrible images, videos, and cries of the dogs in the pounds would haunt me as I slept.
And of course, it's financially draining. Most often, donations don't even form half of rescue operations, shelter operating expenses, and vet bills, which is why I also make it a point to make time for my job and my business. I also have an online job on the side to help sustain the expenses.
WF: What is your advice for other rescue owners like you?
MP: KEEP THE FAITH. This is a mission and a calling. If it's not for you, you won't survive this advocacy. And whenever you are on the verge of giving up, think of all the dogs you have helped and all the lives you have preserved. Should you give up, what will happen to them? There aren't too many committed animal rescuers, so let's not let the boat sink. Nothing is impossible if we work and pray together.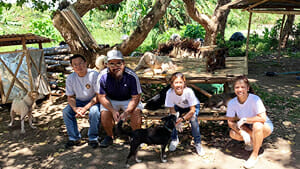 WF: What advice can you give for people interested in getting into animal rescue?
MP: This is a tough niche you're getting into. We are talking about the lives of voiceless animals. Animals who can never admit themselves when they're sick or buy food when they're hungry. But these animals can be the most amazing, loving, and grateful creatures you'll ever meet when you dedicate your time, talents, skills, and love to them. It's tiring and exhausting, but nothing can be more fulfilling. In the end, that's our prime purpose here on earth anyway.
WF: How can regular people support Pawssion Project?
MP: They can adopt, foster, donate, advocate, and volunteer at the shelter which can be found inside Hacienda Cosculluela, Victorias City (a 45-minute drive from Bacolod City) or at our one-month-old shelter in Paradise Farm (San Francisco, Del Monte, Bulacan). The newer shelter has around 80 rescues and 40 for pick up. They can also stay up-to-date by following us on  Facebook and Instagram.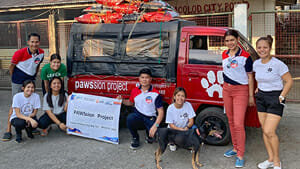 Learn more about Pawssion Project by visiting their website.
Read more rescue stories here! Is there an animal shelter in your community that's worth featuring? Do you know of an interesting pet adoption, foster, or rescue story? Share your suggestion with us by commenting below!