App • A handy assistance in dog walking, day care, and home boarding.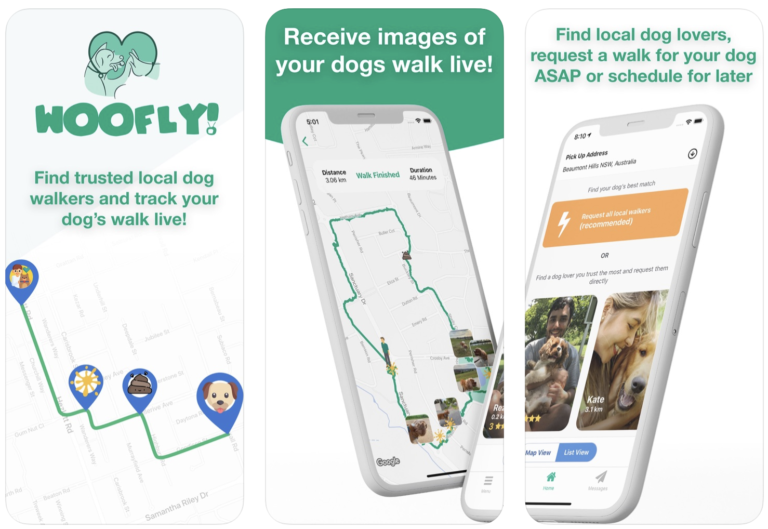 With this brilliant new app, you can find trusted dog walkers within your area, schedule a walk, and track your dog's walk via GPS. Available walkers are primarily based in New South Wales, Australia, but the Woofly app plans to have more walkers nationwide soon.
Who's behind it?
Reza M Sazesh, a dog owner who finished this project during the COVID-19 quarantine.
How much will it cost me?
The app can be downloaded for free, and your first walk is free. A 30-minute walk costs 16.5 AUD (one dog) and 23.5 AUD (two dogs), while a 60-minute walk costs 25.5 AUD (one dog) and 32.5 AUD (two dogs). Prices include the callout fee and hourly fee, but are still subject to change as the app develops further.
*Please note these rates are based on currency conversions at the time of writing this post and may fluctuate.
How will it help me right now?
Though humans are advised to stay indoors to lessen the spread of COVID-19, dogs are not known to contract or spread the disease. If your dog needs to take a walk but you are too busy or simply unable to get out of the house, you can schedule one through Woofly. During the COVID-19 quarantine, trusted dog walkers will wear proper personal protective equipment (face masks and gloves) and practice social distancing while walking your dog.
Dog owners and dog lovers who are looking to earn extra income during the lockdown can also apply as walkers through the app. Approved walkers can easily get their payments via the app within 48 hours.
How does it work?
With usual business services disrupted during this time, your usual dog walker/s may not be available to you. This is exactly what makes Woofly such a lifesaver.
The app allows you to instantly request for a walk with any of the available walkers in your current location, or schedule one for later. Each dog walker has a bio that mentions their dog walking experience, profile photos, and Woofly walk photos. If you're interested in getting to know a dog walker better, you can even send them a direct message through the app.
With Woofly, you'll be able to track where your dog currently is via GPS – a feature we love, and receive real-time photos taken by your appointed dog walker.
You'll even find out exactly where he peed, pooed, or marked his territory – how good is that! Afterwards, you can see the distance he's covered as well as the entire duration of his walk.
Where can I get it?
The Woofly app is available for download on Google Play and App Store.