App • A handy assistance in everyday pet care.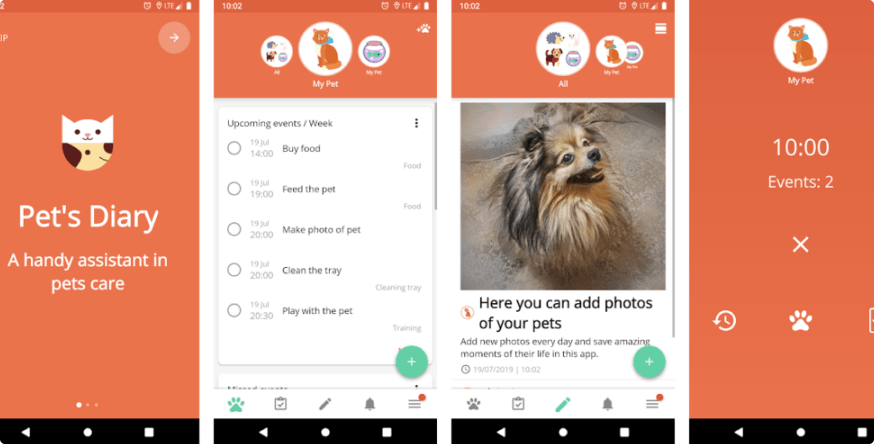 When the long hours of being cooped up indoors seem to merge into one endless day, it pays to have a handy app that will notify you about every little ritual between your little buddy and you – whether that's over the next few minutes, hours, days, or weeks. The Animal and Pet Care Diary app does just that by allowing you to log in information, events, and reminders related to any pets.
How much will it cost me?
The Animal and Pet Care Diary app can be downloaded for free, but it contains ads and offers in-app purchases. You can unlock each feature for 16.36 AUD (via Google Play) or 24.39 AUD (via the App Store).
*Please note these rates are based on currency conversions at the time of writing this post and may fluctuate.
How will it help me right now?
Think of it as a handy assistant when caring for pets. The Animal and Pet Care Diary app can be used by people who own dogs, cats, fish, birds, hamsters, rabbits, or even less popular house pets. With it, a user can list down all the activities that must be accomplished to make his pet's life as comfortable and complete as possible during the quarantine.
The app also gives users the opportunity to look back on their pet's past and chronicle new achievements. From the pet's adoption story to his favourite tricks, a pet owner can note every important milestone in his pet's life in this mobile diary app and share it with fellow animal lovers.
Why is it better than the offline or traditional alternative?
It's easy to lose track of things like how much food the dog ate last night, the last time the cat used the litter box, or the most recent date the aquarium water was changed. Your usual apps and calendars will fit the bill too, so perhaps there's a way you could sync the pet diary to them? It's worth checking that out, but in our book – something that especially follows your pets' day is worth a shot.
While we stay at home through these lockdowns, it can be easy to miss grooming routines, medicine cycles, and a lot more that is otherwise set to reminders and emails from service providers. You can keep all of it organised by using this diary or another app like it to keep tabs on everything such as…
Scheduling daily tasks, setting timed reminders for different categories (such as feeding, washing, or buying supplies), and adding unique categories to the list. For every reminder set, you can place it under a specific category, create a title, turn on the notification, set the starting date, and schedule repeating times. Once an alarm rings, the user can turn off or snooze the notification. A filter feature also makes it convenient for users to review all related activities or reminders within a particular period of time or category.
Users can also upload pet-related photos to show their pet's progress, from baby pictures to favourite toys he's outgrown.
Where can I get it?
The Animal and Pet Care Diary app is available for download on the App Store and Google Play. It is available in the following languages: English, Arabic, Bengali, Bulgarian, Catalan, Czech, Danish, Dutch, Estonian, Filipino, Finnish, French, German, Greek, Hebrew, Hindi, Hungarian, Indonesian, Italian, Japanese, Kannada, Korean, Latvian, Malay, Marathi, Norwegian Nynorsk, Polish, Portuguese, Romanian, Russian, Simplified Chinese, Slovak, Slovenian, Spanish, Swedish, Tamil, Telugu, Thai, Traditional Chinese, Turkish, Ukrainian, Urdu, and Vietnamese.
Who's behind it?
Animal and Pet Care Diary was developed by Whisper Arts.