Book • A guide book for training cats.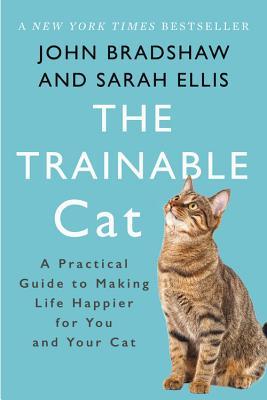 If you've ever asked "Can I train my cat?," this book answers a big, resounding YES. It presents science-based methods to train a cat, further strengthening the bond between you and your foster or pet.
What is it?
The Trainable Cat: A Practical Guide to Making Life Happier for You and Your Cat is a book that demystifies long-held beliefs about cats and decodes cats' behaviour. It teaches its readers a variety of useful tricks, such as how to instruct a cat to come when called, how to make a cat swallow a pill, how to walk a cat on a leash, how to make a cat enjoy visiting the vet, and how to make a cat stop destroying the furniture.
The 352-pager contains 11 chapters. Examples include Understanding Your Cat's Training Requirements; How Cats Adapt to Living with an Alien Species (us!); Cooped-up Cats; Touch: Insult or Indulgence?; Fight, Flight or Freeze?; and Shredded Curtains and Corpses.
Who's behind it?
Anthrozoologist John Bradshaw and feline behaviour specialist Sarah Ellis worked together to come up with this informative guide.
How much is it?
On Amazon Australia, you can get the paperback version for 29.12 AUD, the hardcover version for 30.08 AUD, and the Kindle version for 14.99 AUD.
On Amazon US, you can get the hardcover version for 8.59 USD, as well as the paperback version for 11.20 USD.
*Please note these rates are based on currency conversions at the time of writing this post and may fluctuate.
Why is it awesome for stay-at-home parents?
Training reduces, prevents, and eliminates stress-induced behaviour exhibited by cats—actions which may be driving stay-at-home parents crazy since they've been spending more time together. With the step-by-step instructions offered in this practical guide, anyone can work towards making a cat happier and more sociable.
Where can I get it?
You can purchase The Trainable Cat: A Practical Guide to Making Life Happier for You and Your Cat via Amazon Australia and Amazon US.