YouTube channel • Relationship-based dog training guide.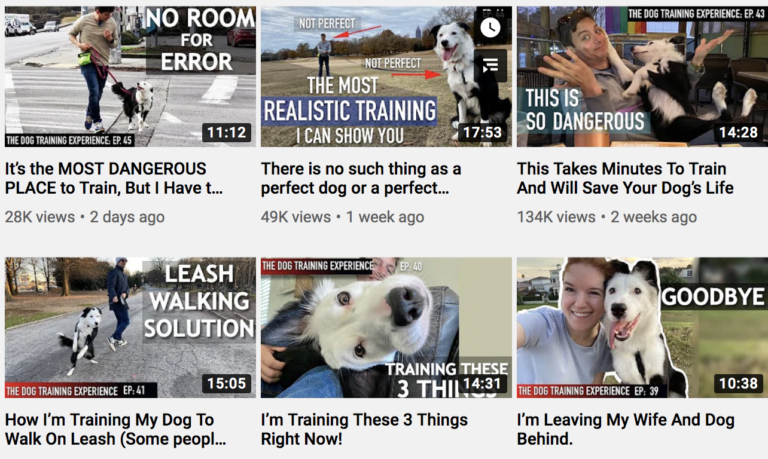 If you're sitting at home with your dog and trying to figure out how to spend some quality time together – off the couch or the bed, then this YouTube channel has some great DIY learnings to be had.

Follow Zak George's lead and get inspired to bond with your dog through relationship-based training. Regularly uploading videos once a week on YouTube, the celebrity dog trainer has over 2.39 million subscribers who follow his advice on teaching puppers and training older doggos.
Who made it?
Zak George, an American TV presenter, book author, and celebrity dog trainer who is a proponent of positive reinforcement dog training. He's been quoted as saying, "I began teaching people how to teach their dogs out of a genuine desire to bring the world of dog training into the 21st century and to show people that through relationship-based training anything is possible."
How does it help me right now?
Zak George's fresh and positive approach to dog training sheds light on how dog owners should understand their dog's behaviour and tailor their training to fit the dog's unique personality and energy level. His clips will entertain as well as inform dog parents who are looking to train their dogs while being on lockdown, to keep these canines from feeling restless and bored while being cooped up inside.
Search for indoor-related topics to get the most out of the time your dog currently spends at home. For owners with dogs that are still under the age of one, the video How to Train your Dog to Be Good in the House shares how to set boundaries and instill good habits in your pup. Meanwhile, 7 Reasons You're Having Trouble Housetraining Your Dog will reveal common mistakes you should avoid while trying to potty train him indoors. For a bit of fun, watch and attempt to teach these 6 Impressive Dog Tricks That Are Easier Than You Think, and show them off in your next family video call.
How long is it?
The videos he posts can be as short as eight minutes, or can go over 30 minutes long.
Is it sponsored?
Yes. Some of Zak George's videos are sponsored by pet food delivery Petflow, training treats Pupford, and pet subscription box PupBox, to name a few.
What will I like about it?
Zak George has prepared five video playlists which you can play non-stop and learn from. They tackle specific dog training experiences: Stop Leash Pulling, Everything You Ever Wanted to Know about Teaching Fetch!, How to Train Dog Tricks (Easiest to Most Difficult), Puppies, and A Step by Step Guide to Teaching Your Puppy or Dog (this playlist currently has the most number of uploads at 68 videos!).
His most popular videos include 3 Easy Things to Teach Your New Puppy (which has garnered over 9.3 million views), How to Potty Train Your Puppy Easily (7.6 million views), and How to Train Your Puppy to Stop Biting (5.5 million views).
Where can I watch it?
You can watch Zak George's YouTube videos for free here. He has been uploading high-quality dog training videos since June 2009, so there are a lot of topics he has tackled over the last 10+ years.