Toy • Behavioural aid toy in the shape of a cat.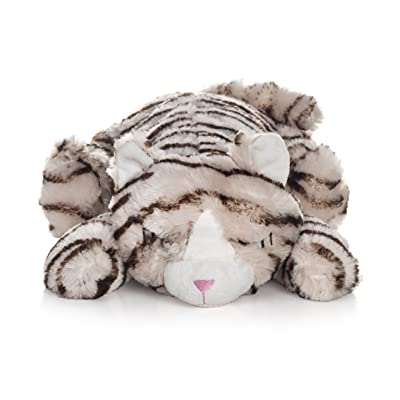 Ease your pet's crying fits and decrease her separation anxiety through this cosy plush toy in the shape of a cat.
What is it?
Weighing 0.45 pounds, the Snuggle Kitty Behavioral Aid Toy for Pets – Tan Tiger emits a "real feel" pulsing heartbeat and physical warmth that orphaned baby animals or anxious pets will find relaxing. The tan-coloured striped cat will encourage any pet to snuggle and sleep beside it.
Included with the toy, two AAA batteries are placed in a heart-shaped machine that mimics calming heartbeats. The batteries can last up to two weeks with continuous 24/7 use. You can opt to use it for 8 hours, or extend it to 24 hours straight. Just press and hold the button for five seconds. Meanwhile, the warmth is created by one disposable warmer pack, which can last for 24 hours. These inclusions are both inserted in the Snuggle Kitty's belly pouch.
Who's behind it?
It was created by the company SmartPetLove, whose motto is "pet care with heart." The brand also sells Snuggle Puppy Starter Kits and other toys.
How much will it cost me?
The prices range from 63.65 to 132.86 AUD on Amazon Australia. On the other hand, it costs 39.92 USD on Amazon US. 
*Please note these rates are based on currency conversions at the time of writing this post and may fluctuate.
How does it help me right now?
If you're a pet owner with an anxious animal or a foster carer regularly caring for young rescues, this machine washable toy can provide lots of comfort for them. It also works with an optional feeding bottle that can stick out from the pouch's opening, so it can act as a virtual mom to young kittens.
Where can I get it?
You can purchase the Snuggle Kitty Behavioral Aid Toy for Pets – Tan Tiger through Amazon Australia or Amazon US.