App • Unleash your cat's artistic side.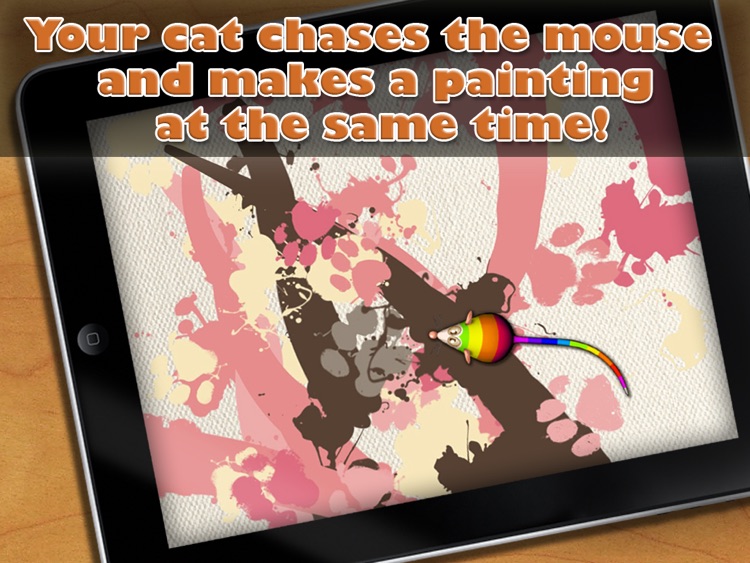 A unique game that your cat can play, Paint for Cats doubles the fun by creating artistic paintings you can share online or print and display at home or in the office.
What is it?
Paint for Cats is an iPad-compatible app that allows your cat to chase a mouse while crafting her next masterpiece. There are 10 color palettes you can choose from, namely Caturday, Psycatdelic, Litter Box, Hot Paws, Mighty Jungle, Wild Side, Tabby Town, Cool Cat, Kitten Toes, and Shadow Cat. When your kitty is done running after the mouse on the screen, you can save her paw-some artwork and opt to post it on Facebook, send it to anyone via email, or print it out.
How does it work?
The app is designed for iPad use only. The larger screen surface can aptly capture the movements of your cat's paws as she tries to capture the mouse running around. The palette you choose will be shown on the canvas.
As a reminder, it is best to place your iPad on a flat surface, preferably the floor. You can avoid getting cat scratches on the screen by placing a screen protector.
Who's behind it?
Little Hiccup, LLC, an app developer that also made Game for Cats and Squishy Fishy Kitty Toys: A Game for Cats.
How much will it cost me?
Paint for Cats costs 1.99 USD.
*Please note these rates are based on currency conversions at the time of writing this post and may fluctuate.
How does it help me right now?
If your cat needs to log in some hours of playtime while you're rushing to finish something, this app can prove to be an enjoyable distraction for her.
Where can I get it?
You can download Paint for Cats on the App Store.