Responsible pet parents value their furbaby's welfare just as much as they give importance to their family, property, and belongings during emergencies. As bushfires continue to burn across Australia, it is essential for pet owners to have a written bushfire plan, especially if they live near places with significant bush, coastal, forest, or long grass scrub. The bushfire plan should be discussed and assigned to each member of the family, answering questions such as "Which fire danger rating will be our trigger to leave?" and "What provisions should we organise for our pets?" 
Whether your domestic animals are at risk of being exposed to fires or inhaling harmful smoke, you can keep pets safe and protected throughout bushfire season.
If You Live Near a Bushfire-Prone Area
Your kit should be portable, within easy reach, and contain the following:
Food and water
A bowl for each pet
A second collar and lead
A carrier for cats and smaller pets
Beddings and wool blankets
Towels
Pet first-aid kit
Your pet's favourite toy
Your pet's medication and a written list of what they are
Your pet's medical history (including proof of vaccination and other special needs)
Your vet's contact details
2 Check your pets' identification tags.
Be sure your pets are microchipped and are wearing their identification tags at all times. Update your name and contact details on the microchips and collars if needed. Visit Central Animal Records for free identification of dogs and cats.
3 Decide what to do with your pets in different scenarios.
Sit down with the family and discuss what to do with pets during an emergency. This includes finding places where you can house them temporarily (i.e. boarding kennels or a friend's place) if you decide to leave early, or discussing arrangements with neighbours who can care for your pet when you're not at home. Of course the option we hope everyone can take is to take them with you wherever you decide to leave.
4 Practise moving your pets.
Do a dry run of how you will take your pets and their provisions into the car, and see how long it will take to complete the task. Think of ways to cut down the time since you'll be attending to other tasks during an actual emergency.
During a Bushfire Emergency
1 Stay calm and secure your pets.
Pets can sense danger and feed off nervous energy coming from their owners, so when disaster strikes, try to stay as level-headed as possible. Place your pets in a secure room and give them plenty of water to drink. Do not tie up your pets so they can freely move in case of emergency. Bird owners should place a damp towel over their bird's cage, and provide ample food and water. For livestock owners, animals should be contained within a large, safely fenced area that contains water, has clear access, and is well grazed with minimum fuel to carry fire.  
2 Relocate them to a safe place early.
Put your pets on leads or in carriers, and take your pet bushfire relocation kit. Keep the animals cool and hydrated by giving them enough water to last throughout the trip. Have towels and wool blankets ready to cover and protect them. Before leaving your property, check to see if the selected relocation place for your pets is accessible.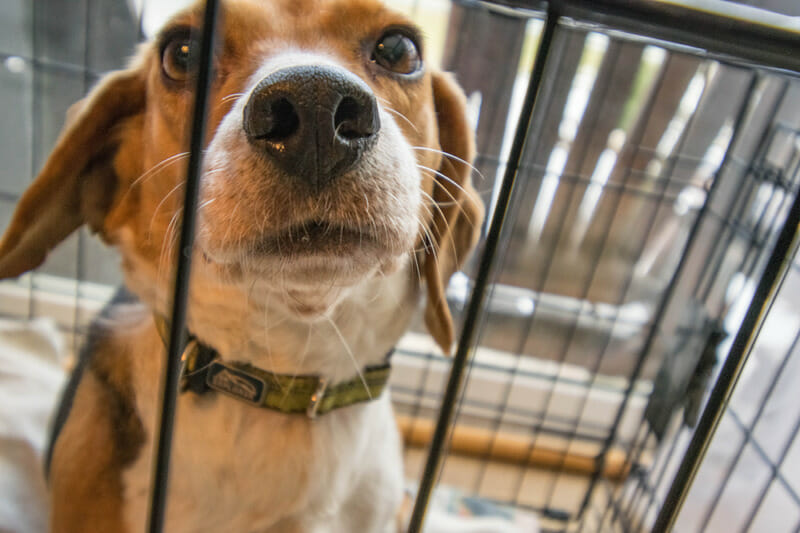 3 Call the appointed person.
If you're not at home during a crisis, contact the appointed family member, neighbour, or friend so that they can check on your pets.
4 Bring them to the vet.
If your pet suffers from smoke or burn-related injuries, take them to the vet or emergency clinic as soon as it is safe to do so. If you cannot take your pet to the vet immediately, treat burns with cool water and watch for signs of shock.  
During Hot Weather Days
1 Stay updated.
Keep abreast of daily weather reports and bushfire conditions in your area. Always check for fires and closures before considering a trip to a nature park or reserve. 
2 Keep pets cool and comfortable.
Allow your pets to stay in the coolest areas of your home and give them fresh, cold water at all times. Treat them with ice cubes in their water bowls, or place ice cubes in pillowcases that they can lie on. Wipe down your dogs with cool, damp towels, or rub damp hands over your cats' coats. Also, consider giving your pet a haircut if his coat or fur grows too long and thick during the summer.
3 Minimise exposure to bushfire smoke and pollution.
Bushfire smoke contains a mixture of carbon dioxide, carbon monoxide, soot, and other pollutants that can trigger respiratory problems or cause respiratory damage to your pets.
Secure all doors and windows on days when the air quality in your area is poor. Keep your pets indoors and limit their exercise and toilet time outdoors. Consider placing a portable air cleaner in a space where you and your pets can stay. Keep indoor air fresh by not frying or broiling food, burning candles, or smoking.
4 Observe your pet.
Your pet may experience heat-related stress during Severe, Extreme, and Code Red fire danger days. Look out for excessive panting, salivating, whining, nervous movement, or vomiting. Your pet may also be affected by wildfire smoke that could irritate his eyes, lungs, and/or heart. Symptoms may include coughing or gagging, red or watery eyes, nasal discharge, throat or mouth inflammation, reluctance to eat hard foods, difficulty in breathing (i.e. open-mouth breathing, more noise when breathing, or fast breathing), fatigue or weakness, disorientation, uneven gait, stumbling, and reduced appetite or thirst. 
If your pet displays any of these symptoms, call your vet immediately. Remember that as pet owners, we are responsible for the safety and well-being of our pets.
Read up on other articles related to bushfires in our blog. Donate or support bushfire recovery in your own way.