Say hello to our brand new Pet Finder – a 100% free pet rescue listing platform for animal rescuers and foster carers based in Australia! We're very excited to announce that shelters and foster carers can now list their rescue animals up for pre-adoption or adoption right away! Take a peek here to see what your listings would look like.

In this post, we'll walk you through everything you need to know about this latest pet rescue listing engine so that you can get started with your very first rescue animal listing in a few quick minutes! But first – a very short introduction to who we are for those of you joining us at this stage in our journey.

We launched Waldo's Friends in 2017 and in the past five years we've carefully created different spaces – from a Shelter Finder to a Pet Library, Rescue Stories to encourage adoptions, Shop, and Blog for guides – to support ethical and responsible pet ownership. We're now an ACNC-registered not-for-profit and the Pet Finder is our latest offering towards our mission of giving every rescue animal the second chance they deserve.
Through this quick guide, we'll answer some FAQs to help you get started on your rescue journey with Waldo's Friends:
How does our Pet Finder help you as a shelter owner?
Our online platform can help you list all your current rescue animals in need of adopters and foster carers. In under five minutes, you can create a Shelter Account (more on this below!) and instantly post a new animal listing.
Each shelter has their own designated Shelter dashboard, allowing you to carefully track the status of each listing. Plus, you can edit or update any listing with just a few clicks from your desktop or mobile phone.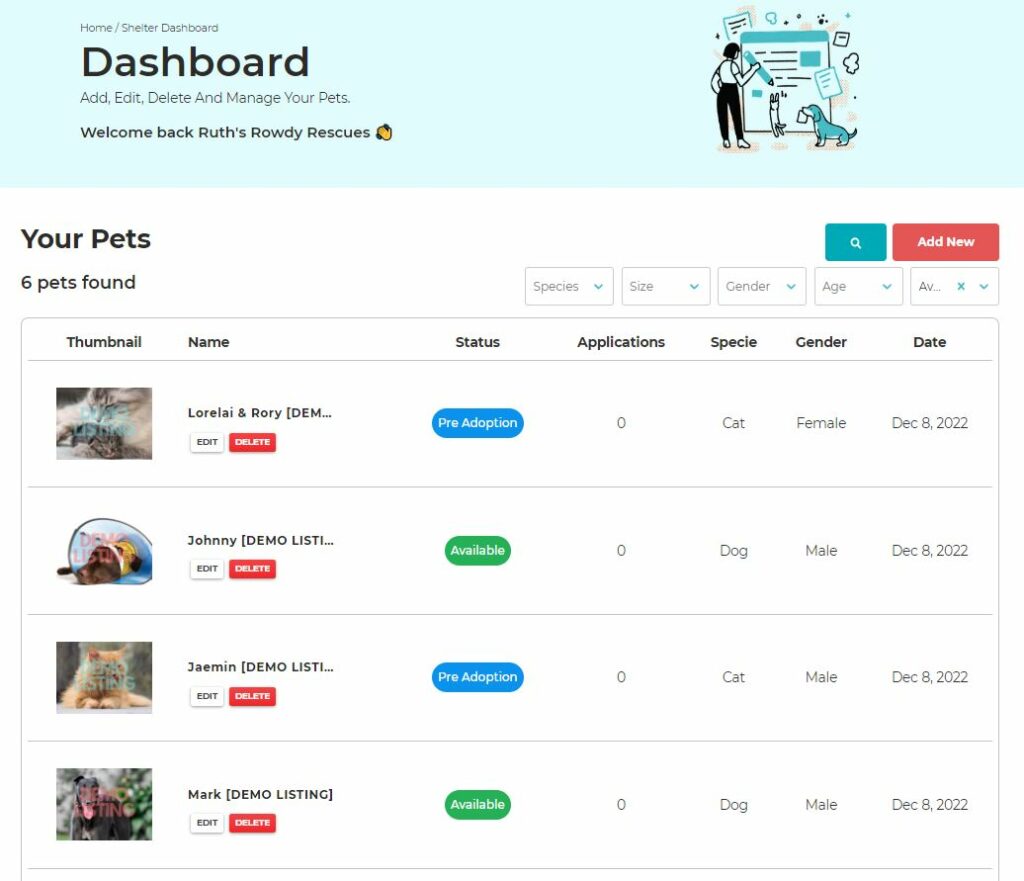 We designed this dashboard with the busy shelter owner or foster carer in mind. Our goal is to give you one place to manage all your listings without having to click into a full page to then decide what needs updating. From this dashboard you can also click through to edit an older listing (quickly glancing at the Date will help you track which old listings need an update). A couple of highlights:
Using Dates from the dashboard
Why do we care about updating old listings? Because we understand that rescues in shelter or foster carer for long periods could improve some behaviours or develop new ones – making them more attractive to adopters. This management allows you or your foster carer to keep all info current and updated without the extra chore of managing the animal intake or adoption upload dates through another sheet or paperwork.
Using Status and Applications filters from the dashboard
This gives you complete control over the latest adoption status for each animal in one overview. All incoming vetted applications will collect in this dashboard view and you will be able to view new as well as shortlisted applications quickly. The good news is that these are pre-vetted applications – that are already verified to avoid wasting your time with general questions.
How does our Pet Finder assist animal foster carers and adopters?
Interested parties can easily check the Pet Finder to browse through all available animals to foster or adopt. They can filter through the options by location, animal type, size, gender, age, and more.
Once they find an animal they're interested in, they can send an application that's reviewed by the Waldo's Friends team so that when you receive applications – they're already vetted and ready for your shortlisting based on details such as the applicant's home status, lifestyle, etc. As these vetted applications come in, you will receive email alerts on the email address registered with your Pet Finder account, and you'll be able to access them all in one place via your dashboard.
How can you register and open a Waldo's Friends shelter account?
It will only take you a couple of minutes to sign up! Just follow these five easy steps:
Step 1: Click here to create an account.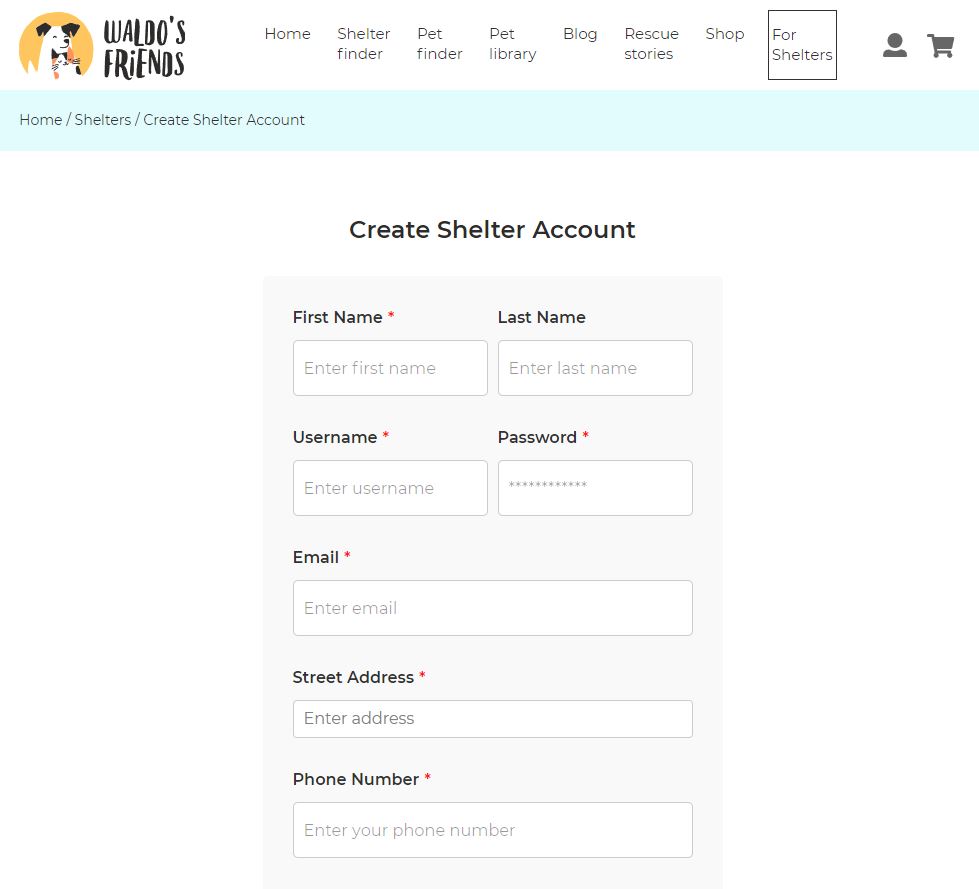 Alternately, you can click on the "For Shelters" tab found on the upper right section of the website. Click the "Create one" sign found below the "Sign In" button.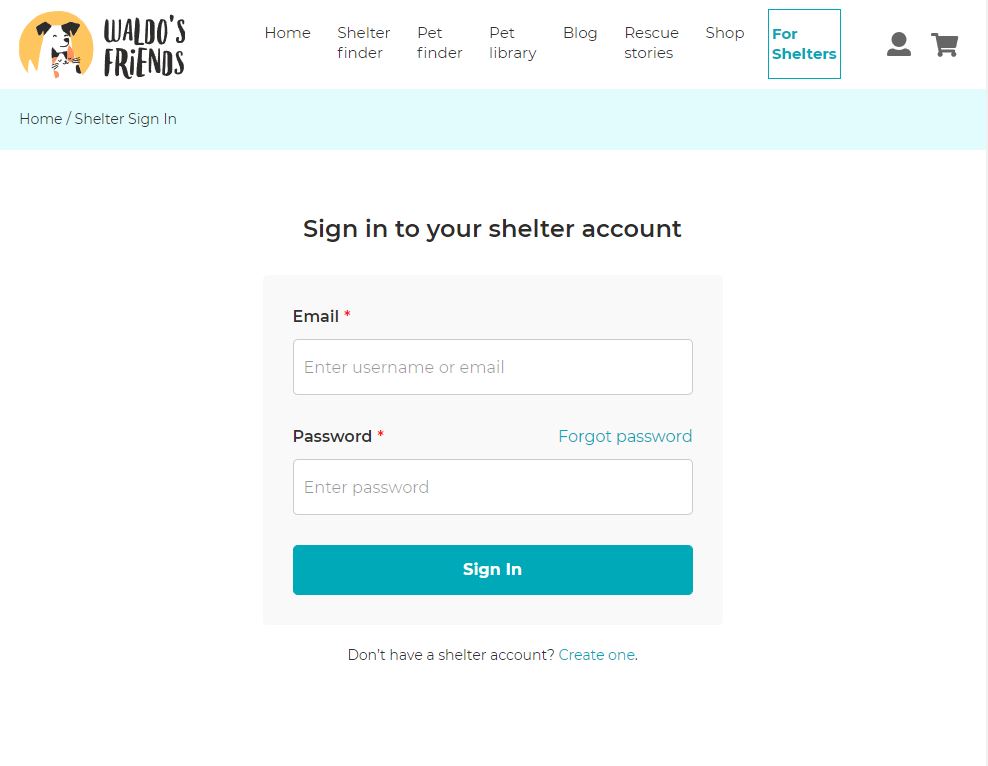 Step 2: Fill in all the details, making sure to answer all the required fields with the red asterisks.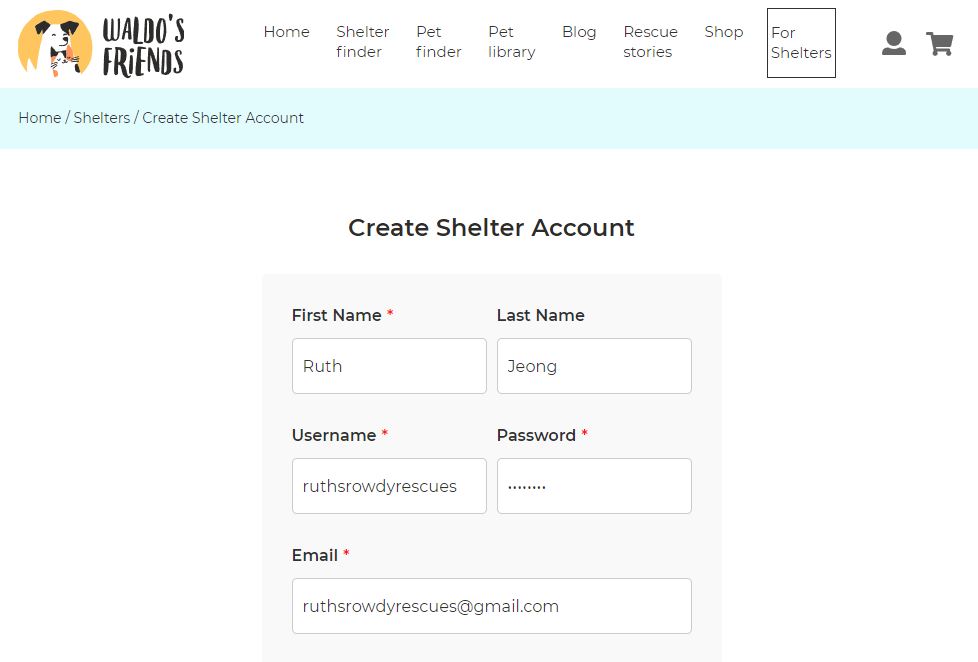 Step 3: Click on the "Create your account" button at the bottom of the page to submit your application.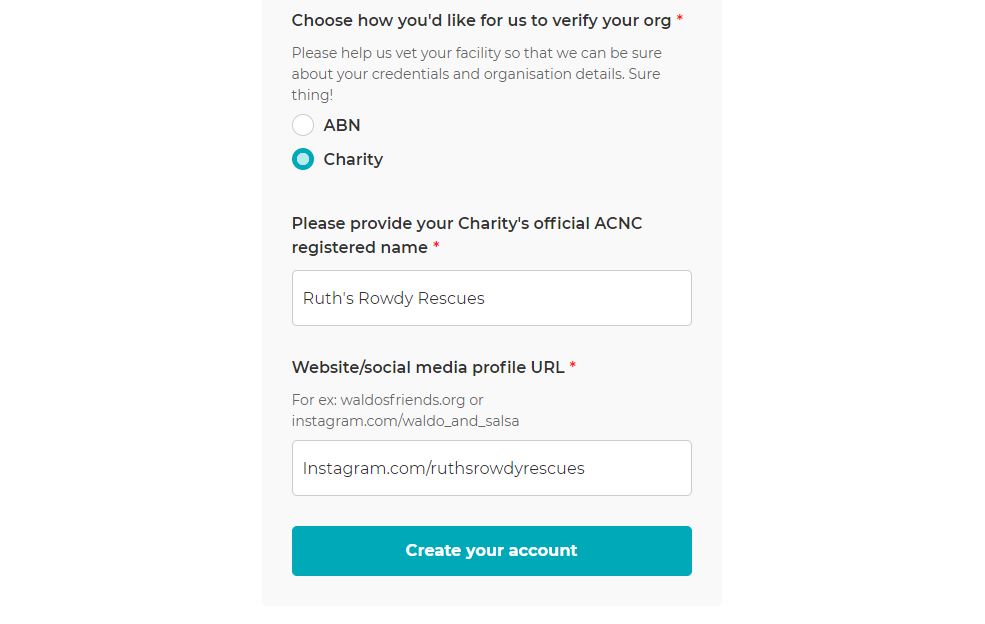 Step 4: Wait to receive an email notifying you that your account is under verification.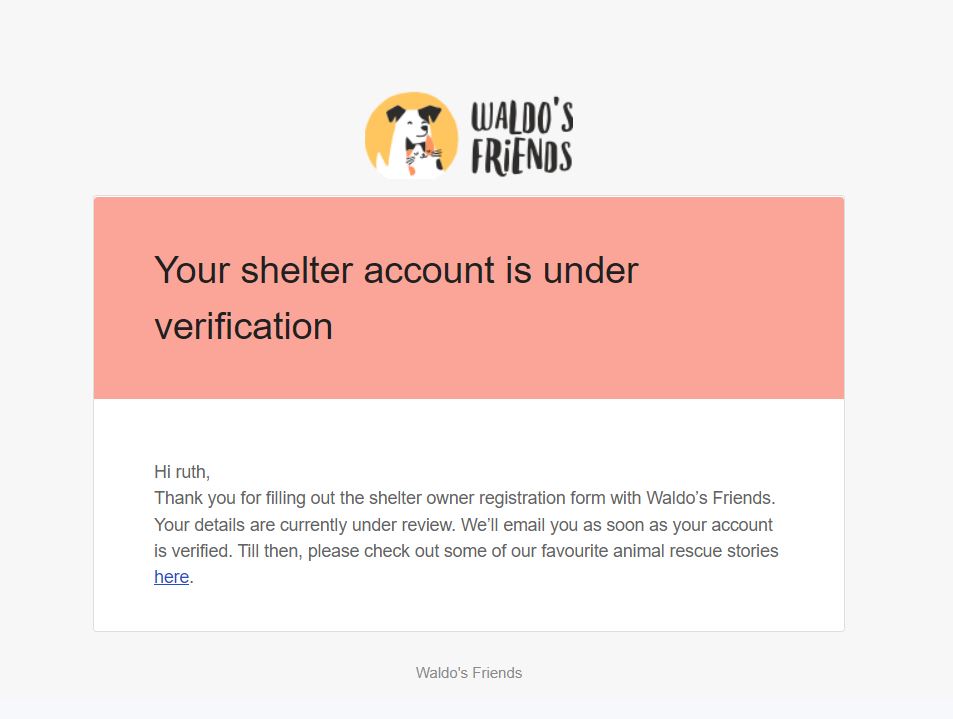 Step 5: Wait to receive an email stating that your account is approved.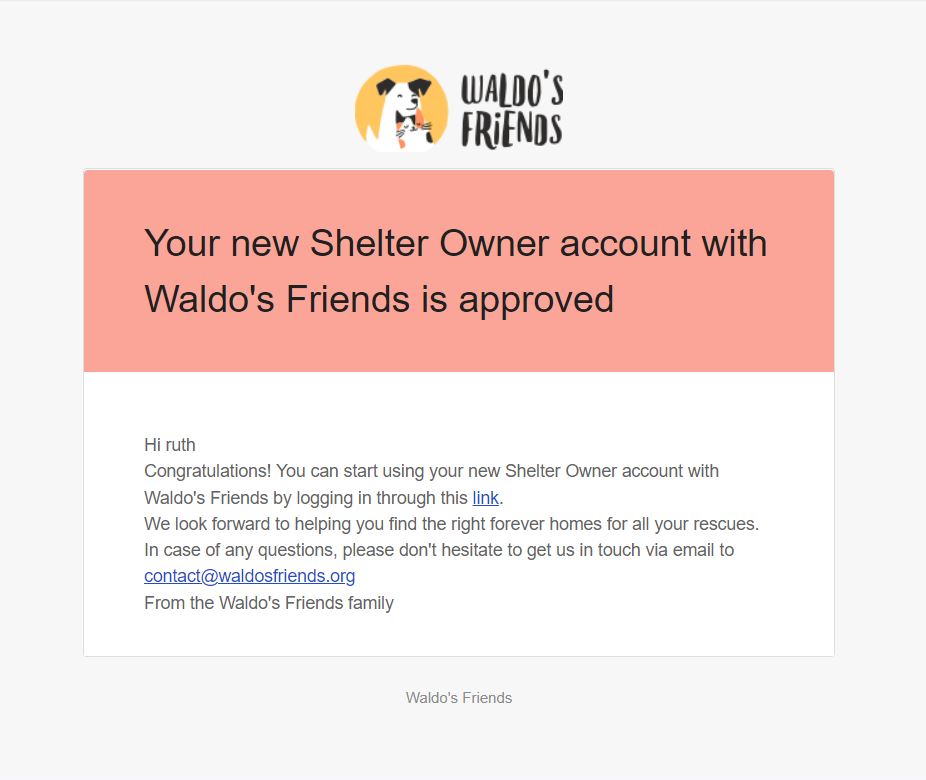 Once your account has been approved, you can sign into your shelter account any time and create a catalog of animals in need of new paw parents or foster carers in Australia. (Next: We'll teach you how to post your animal listing.)
We look forward to helping you find the right forever homes for your rescues!