It takes a community to help animal shelters and rescues survive and thrive. From adopting a senior dog to becoming a foster carer, a little goes a long way in helping neglected animals find their furever homes. But aside from these two common ways of helping out, you can also make a contribution to an animal shelter or rescue through other forms. These include raising funds on their behalf, supporting their projects (by sharing their updates or buying their products), volunteering your time and talents, and making a donation in cash or in kind (as an individual and as a company). In this Waldo's Friends post, we discuss leaving a bequest for your favourite animal shelter or rescue group. The post answers the questions:
What is a bequest?
A bequest is defined by the Merriam-Webster dictionary as "the act of giving or leaving something by will." A will contains the "legal declaration of a person's wishes regarding the disposal of his or her property or estate after death." The estate includes money, belongings, stocks, shares, or anything that person wants to give away.
Can I leave a bequest for an animal shelter or rescue group I support?
Yes! These days, leaving money or other personal property to charity through a person's last will is not unheard of. But first things first: Draft a will with the help of a professional such as a solicitor or public trustee. Though you can easily write your own will, seeking professional advice will make sure that you don't miss out on important details. Plus, it will guarantee that your wishes will be carried out after you've passed away. Without a will, your relatives or the state can decide what happens to your estate.
When writing your will, don't forget to select your beneficiaries, decide on how to distribute your estate, and choose an executor. You must sign the will in front of two witnesses (of legal age and not your beneficiaries), and keep copies of the signed will (give one to your executor!). Additionally, it is best to inform your loved ones of your decision to leave a bequest.
What are the types of bequests I can give?
Include A Charity, a social change campaign managed by Fundraising Institute Australia (FIA), lists four types of bequests you can give to a charitable institution, namely: residual, pecuniary/specific, percentage/fractional, and whole estate.
Residual bequest: This involves the remainder of your estate after you leave gifts to your loved ones and pay off debts, taxes, funeral arrangements, and other financial commitments.
Pecuniary/specific bequest: This type of gift gives a specific amount or donation in the form of money, stocks, shares, and/or property. A painting, jewelry, and a car are examples of property you can give away.
Percentage/fractional bequest: This bequest would be a percentage of your entire estate. Your estate is divided, putting into consideration its changing value due to inflation, property fluctuations, and the like.
Whole estate bequest: This type of gift consists of giving your entire estate to a selected beneficiary. If you do not have any family or beneficiaries in mind, this bequest can help make a significant change in the animal rescue or shelter you support.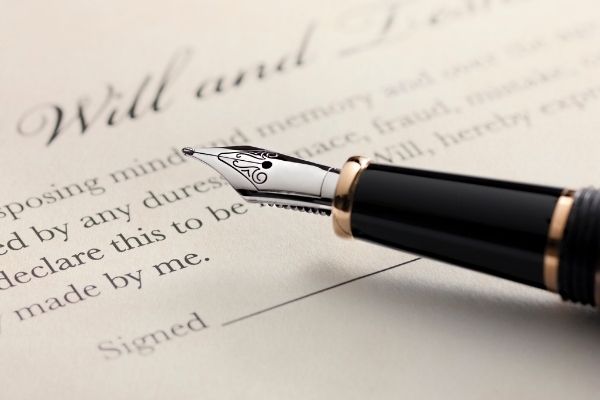 How do I leave a bequest for an animal shelter or rescue group I support?
Many not-for-profit institutions provide their company details on their website to make it easy for someone to leave a bequest. If you're interested in including a specific shelter or rescue in your will, email or call them to gain more information about where your donation can go and the specific projects you can help fund. Afterwards, discuss the best type of bequest that will suit you with your solicitor.
If you're from Australia and are thinking of leaving a bequest for a specific charity, it's essential to include the institution's name, their address, and their Australian Business Number (ABN) in your will. Here are some suggested wordings based on the type of bequest you choose to give:
Residual bequest from Hunter Animal Rescue:
I GIVE a (insert quantum of share, for example: one half share) of my residuary estate UPON TRUST for Hunter Animal Rescue for its general purposes absolutely. I DECLARE a general charitable intention.
Pecuniary/specific bequest from Include a Charity:
I leave to (CHARITY NAME) of (CHARITY ADDRESS) Charity ABN: (xxxxx) (description of item) absolutely for the general purposes of the said charity and I direct that the receipt of the Treasurer or other duly authorised officer shall be a sufficient discharge to my Executors.
Percentage/fractional bequest from WIRES:
I give and bequeath (free of all duties) __% of my estate to WIRES NSW Wildlife Information Rescue and Education Service Incorporated, PO Box 7276, Warringah Mall, NSW, 2100, in aid of that Foundation and for its general purposes, with the written acknowledgement of WIRES to be accepted by my executors as a full and complete discharge.
Whole estate bequest from Second Chance Animal Rescue:
I give devise and bequeath to Second Chance Animal Rescue Inc. for the general purposes of the Second Chance Animal Rescue Inc. the whole of my Estate of whatsoever kind and wheresoever situate after the payment of all my just debts, funeral, and testamentary expenses and all duties, taxes, and charges payable on my Estate at my death.
Once you have made a bequest to a charity, let them know so that they are made aware of your support.
Why should I leave a bequest for an animal shelter or rescue group?
Leaving a gift in your will for your favourite animal shelter or local animal rescue group can assist your selected institution in improving the situation of injured, homeless, and unwanted animals. It will surely make an impact on your chosen beneficiary in the years to come. Moreover, the will writing process can help frame the discussion of death in a positive light and make you feel good about where your estate will go. It gives you a chance to reflect on yourself, your values, and the causes that matter most to you.
Want to leave a bequest for Waldo's Friends? Email us for more details.