Eat. Play. Sleep. Repeat. Your pooch relies on you to provide him with daily sustenance in the form of nutritious meals, treats, and dog-friendly human food. Based on his age and needs, your canine pet should be fed at least twice a day, about 12 hours apart and at the same times. As a dog owner, you can make mealtimes more exciting for him by investing in a slow feeder dog bowl that can change the way he consumes his food. 
In this Waldo's Friends article, we answer the questions:
What is a slow feeder dog bowl?
A slow feeder dog bowl is a modified feeding bowl with built-in obstructions that slows down your dog's intake. There are varying puzzle patterns and difficulty levels as well as bowl sizes to match your dog's age, skill level, and meal requirements. The bowl's design forces your pooch to figure out how to effectively get his food. This can be done by positioning his head at certain angles, or moving the food around using his tongue, nose, or paw.
Slow feeder dog bowls are primarily used for dry and wet food, but they can also hold water. When used for liquids, it is advisable not to fill it above the ridges of the inner puzzle.
Why should you get a slow feeder dog bowl?
There are many reasons why dog owners should invest in slow feeder dog bowls. You should purchase one if your dog:
Eats too fast
Tends to choke while eating
Needs help digesting his food
Is prone to bloating
Sometimes vomits after eating
Slow feeder dog bowls may help prevent life-threatening conditions such as gastric torsions or twisted stomach, which are caused by overeating and/or eating too quickly. They are also known to reduce flatulence by reducing your dog's air intake as he chows down his food.
Aside from helping your dog eat slowly and correctly, the puzzle makes mealtimes mentally stimulating for him. Problem solving mimics natural behaviours, similar to how a dog in the wild needs to make an effort to get his next meal. It also helps reduce boredom, excessive barking, and unnecessary chewing. 
What should you look for in a slow feeder dog bowl?
You'll need to determine the right size, material, puzzle difficulty, and design for your canine. 
Size
Slow feeders come in various sizes (small to extra large) with manufacturers indicating how many cups the bowl can handle. Read through the descriptions and reviews to make sure the bowl matches your dog's size/breed and, at the same time, fits his snout. Also, refrain from getting a bowl that's too big for your pet or he might end up not being challenged by it.  
Material
You can choose from bowls made with plastic, ceramic, or stainless steel. Many slow feeders in the market today are plastic, but you'll need to make sure what you pick is made of materials free of BPA, PVC, or phthalates. Though plastic bowls are more affordable, they are slightly porous (making bacteria tougher to remove) and can be chewed off by dogs who like to gnaw.
Ceramic feeder dog bowls, on the other hand, are known for their heavy and chemical-free materials. This type of bowl may smash or crack when accidentally dropped, and may even chip your dog's teeth. Once the bowl has chips or cracks, these porous imperfections have a tendency to collect bacteria. They will also be harder to clean.
Some veterinarians recommend using stainless steel bowls because of their antibacterial properties. Plus, they are easy to clean and virtually indestructible. When it comes to stainless steel feeder dog bowls, these aren't as popular as plastic ones and usually contain simpler obstructions.  
Puzzle difficulty
Start off by choosing a simple puzzle design that your dog can solve. If you begin with a feeder with a complex design, your dog might end up chewing on the bowl out of frustration.  
Design
More than just the size and puzzle difficulty of your slow feeder dog bowl, a sturdy, non-slip base is also important. This way, the feeder bowl won't move while your dog works through the puzzle.
Elevated or raised slow feeder dog bowls are also being sold in the market. Great for large or tall dogs, this type of slow feeder dog bowl allows your pet to comfortably stand as he eats. The height of the bowl doesn't constrict his esophagus, making food enter easily into his stomach. 
What are some of the best slow feeder dog bowls?
Choose from these slow feeder dog bowl recommendations depending on your dog's needs:
1 Outward Hound Fun Feeder
Dogviously and DogLab both rank Outward Hound Fun Feeder as their best all-around slow feeder for 2019. This plastic slow feeder bowl is dishwasher friendly, BPA, PVC, and phthalate-free, and claims to increase eating time by about 10 times. It also comes with a slip-resistant base to avoid sliding and spillage. Go for the orange (spiral) or purple (floral) design.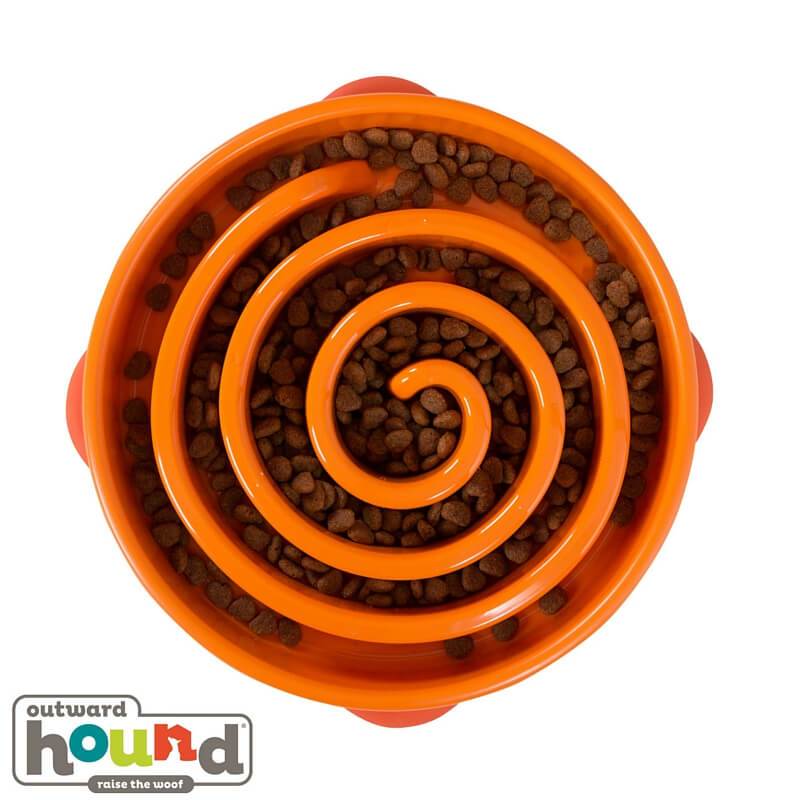 2 Dogit Go Slow Anti-Gulping Dog Gish
Dogit Go Slow Anti-Gulping Dog Dish is also included in both lists compiled by Dogviously and DogLab. Best for small or short-snouted pooches, the plastic dish comes in four sizes (extra small, small, medium, and large) and colours (blue, pink, white, and black). The puzzle design is not too complicated, making it easier for most dogs to solve. But it still does the trick in helping dogs eat more slowly!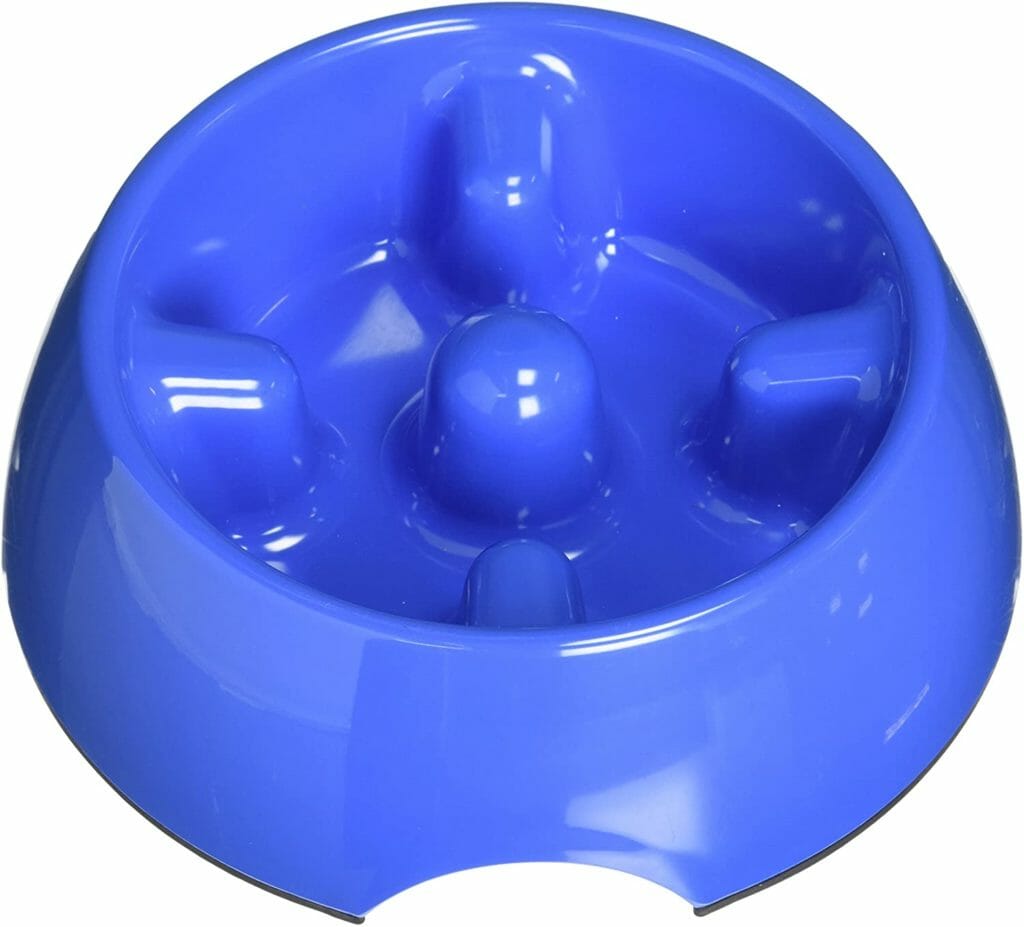 3 Magisso Happy Pet Project Ceramic Pet Food Bowl with Bone
Thanks to the ceramic material, this slow feeder bowl by Magisso can keep your dog's meal fresh and cool. The pricier bowl comes with a fun bone shape in the middle, three colors (black, pink, and blue), and three sizes (5", 6", and 8").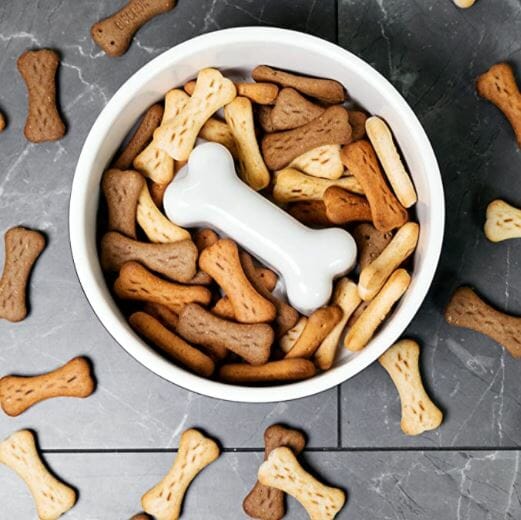 4 OurPets DuraPet Slow Feed Premium Stainless Steel Dog Bowl
This heavyweight stainless steel bowl by DuraPet features a permanently bonded ring that keeps feeding in one place. Hygienic and dishwasher safe, the rust-resistant slow feeder can hold up to 3 cups (small) to 8 cups (large) of dry food. It's highly recommended for dogs with wide, short snouts.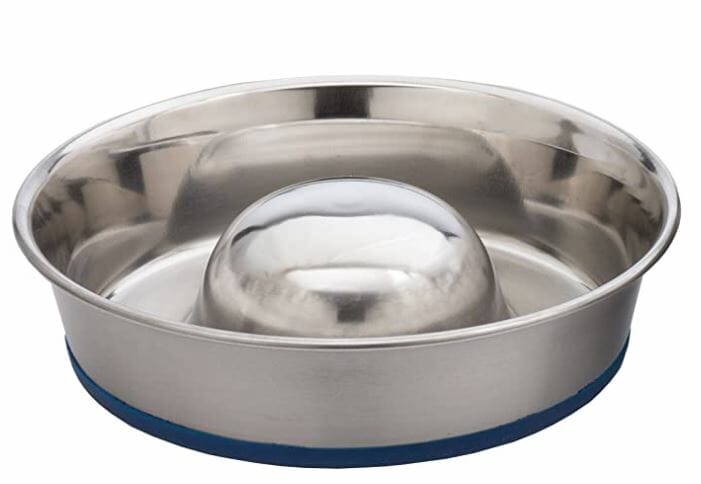 5 Neater Slow Feeder and Accessories
Neater Pet Brands offers 7.5"-tall leg extensions as a way to increase the height of their dishwasher safe, ABS polymer big bowl base. This feeder can carry up to 6 cups of food, and works well for larger dogs, taller dogs, and those with medical conditions such as arthritis or spinal issues. The base can also double as an extra large water bowl!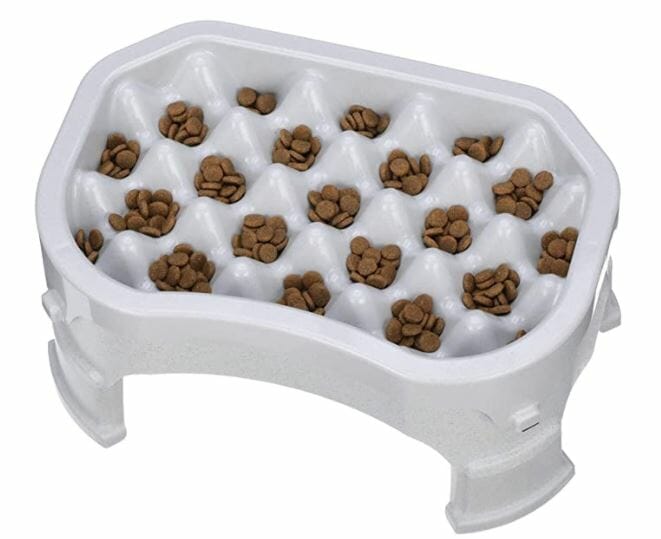 Other dog feeding reminders
Consult with your veterinarian to determine if your pet will truly benefit from using a slow feeder dog bowl. Once the vet gives his approval and recommendations, find the best one that will match your dog's age, size, meal requirement, and skill set.
When letting your dog try the slow feeder bowl for the first time, start off with easier puzzle patterns. Observe him each time you replace his bowl, and don't hesitate to give him a hand when needed. This activity can result in a stronger bond between you and your pet!
Read up on our other helpful guides such as how to pick the best collar for your dog.