Originally from Vietnam, Win Win is a packaging designer who has been living in Shanghai for almost three years. Though she first adopted a dog as a child (Fidel stayed with her for over 12 years!), the 29-year-old creative is currently a loving cat mum to two cats: a tuxedo called Lucifer, and a black cat called Shadow. This is their adoption story!
Help out by donating to Second Chance Animal Aid (SCAA)
With your kind assistance, SCAA can rescue, rehabilitate, and rehome more cats and dogs in Shanghai.
Waldo's Friends (WF): How did you come to adopt your beautiful cats?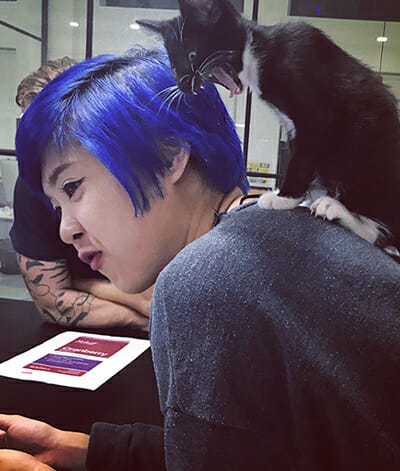 Win Win (WW): I've never had cats before I came to Shanghai, partially because my mom didn't like cats. But after a few months in Shanghai, I was really lonely because I didn't go out much. I've had dogs most of my life (I've had two dogs when I was in Vietnam), so my friend asked me if I wanted to try having a cat. She introduced me to her cat first, who was so nice and gentle it changed my mind about cats right away.
I've always wanted a black cat, partially because I watched the TV show Sabrina the Teenage Witch as a little girl, so I told my friend to tell me if she finds a black one. Lucifer was almost all-black. I had no idea a tuxedo cat existed before I saw his photo. I got Lu from a rescue lady who found him wandering across a busy street, underweight and with slightly infected eyes. Shadow, however, was a rich neighbourhood stray cat. He was already fat and shiny when I got him, but very timid and shy.
WF: Were there any challenges that came with adopting cats since you didn't have any prior experience with them?
WW: It was so easy because Lucifer was so smart and cuddly. He was only a month and a half when I got him, so I was scared I would crush him sometimes. But everything went super smoothly. [All he needed was] food, water, a litter box, and he took over my bed. 
With Shadow, it was a bit more tricky 'cause he was very nervous and antisocial at first. He hid for a week when I got him. I would just leave food in the corner of the room and sat quietly, and eventually, he came out. Not long after that he started flopping at my feet every minute of the day. He's still very scared and would hide right away if there's a guest over or delivery at the door, but will come out and cuddle again when it's all quiet.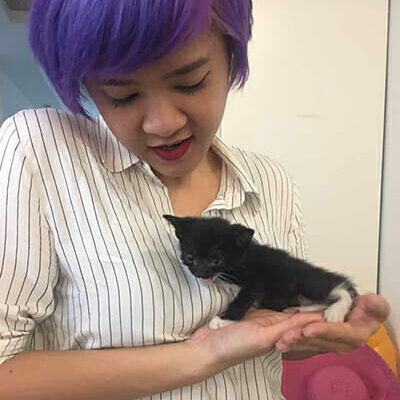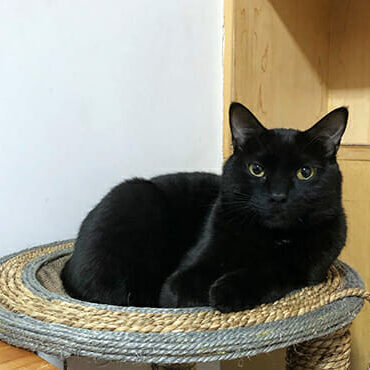 WF: What would you say makes your cats unique?
WW: My friends all tell me that Lu is one of the chillest cats ever. A stranger can come pick him up and cuddle him, and he wouldn't care or move at all (although he has a face that looks like he's judging your every move!).
Shadow is just like me, shy and introverted. He would constantly rub his head on my face and hands everytime he sees me, even in my sleep. Lu is more of a big independent brother, but he'll sneak up on me at night for head rubs and won't stop meowing until I give it to him. In the winter, they would both cuddle on my blanket, and some mornings, I cannot feel my legs at all.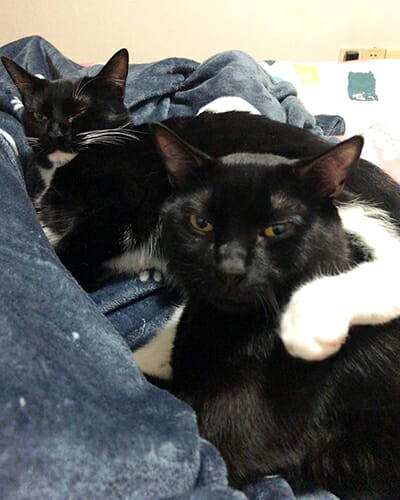 WF: Why would you personally encourage adopting animals?
WW: There are so many unique and adorable animals waiting to be adopted, especially in Shanghai where a lot of foreigners abandon their animals when they leave the country. I also feel like strays or adopted animals have much higher strength and immunity than the ones shops sell. Even if you're looking for something specific (like a certain colour or size), there's always one ready to be adopted in a shelter somewhere.
WF: How has your life changed after adopting Lucifer and Shadow?
WW: I can't wait to go home to my cats everytime I go out. I spend more money on cat food and toys than I spend on myself sometimes. Plus, the feeling you get when they come and greet you after a day of work is just so worth it.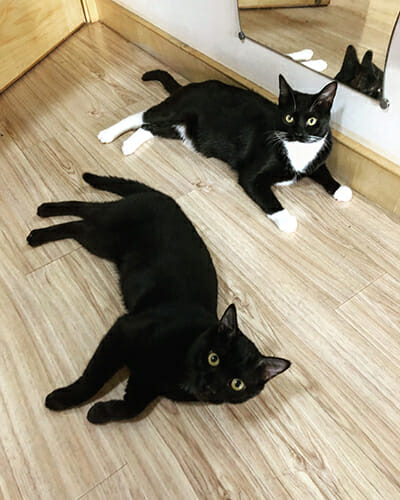 WF: What's the best pet parenting tip you can give for first-time animal owners?
WW: Take it slow and be patient with them. Also, prepare to spend a lot of money on them, whether it comes to spoiling them or spaying/neutering them. Always have backup funds for their vet expenses.
WF: What would you say to people thinking of adopting a rescue animal?
WW: Just do it! Stop overthinking. All your doubts and fears will disappear the moment you hold that fur baby in your hands.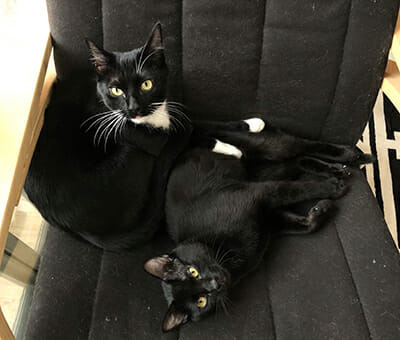 See what goes on in the life of Win's adopted pets on Instagram.
Read more rescue stories here! Do you know of an interesting pet adoption, foster, or rescue story? Share your suggestion with us by commenting below!