Aside from being a Content Specialist at Canva Manila, 30-year-old Neobie Gonzalez is a story writer, occasional doodler, and object maker behind Occult's Razor and Ay Dios Mio. She is also a first-time cat mum to Noisy, a black-and-white domestic shorthair who is known for being a headbutter, biscuit-maker, and all-around champion sleeper. 

Neobie shares how she first crossed paths with Noisy at her workplace, and what ultimately made her decide to take him home permanently.  
Help out by donating to Compassion and Responsibility for Animals (CARA) Welfare Philippines
With your kind assistance, CARA Welfare can spay, neuter, and help find homes for many unwanted animals in the Philippines.
Waldo's Friends (WF): How did you come to adopt your cat, Noisy? 
Neobie Gonzalez (NG): Noisy was one of the Canva Manila cats. He was always the first to greet anyone who stepped into the parking lot. He was known for his affectionate headbutts and the way he would trot beside you as you shook the bottle of cat food during feeding time. He was an official Canvanaut before I was. Plus, he was well-loved by the office's pets club, aka the Canva Kitty Crew.
A while back, I started helping out with feeding the community cats before and after work. Noisy, of course, was an immediate favorite. He was often spotted sleeping underneath parked cars, cosied up to his best feline friend, Gingy. He was also used to being around people. He liked to plop his chonky body in front of us and roll around on the ground. 
Recently, a new cat came prowling into the office parking lot. Being a stray, he was quite aggressive and picked fights with the resident cats. Noisy suffered the worst of it. He seemed to be a pacifist (which is a nice way of saying he was terrified), so he was unable to protect himself. He was rarely present at feeding time. He would even hide in awkward places to make sure the area was clear of the new cat. 
One day, we noticed that Noisy was limping and wounded. There was a deep gash near his tail that started to develop into an infection. We didn't want it to get worse, so over lunch, the Canva Kitty Crew brought him to the vet. At the clinic, the vet told us that the wound was deeper than expected. Noisy had to stay over for a few days to heal, despite how stressful it was for him to spend days with other confined pets. He was also diagnosed with feline immunodeficiency virus (FIV), which would make it difficult for him to live on the streets on his own. It was, ultimately, best for him to be adopted by a single-cat household as soon as possible.
As Noisy recovered at the clinic, the Canva Kitty Crew started making plans for Noisy's adoption. We started looking at possible foster homes, but during our initial talks, I shyly volunteered to bring him home. I didn't get to consult my husband, but he didn't seem to mind. I had always wanted a pet cat, but my parents wouldn't allow it when I lived with them. Now that we had our own place, we both knew it was the perfect time to make space for Noisy.
WF: Did you have previous experience with animals? How did this affect your decision to adopt Noisy?
NG: While my sister and I fed a few outdoor cats at my family's house, I still consider myself a first-time cat parent. Noisy is the first pet I've actually had to regularly feed and clean up after. I was anxious about my decision at first, so I tried to learn as much as I could from my friends.
Most of the Canva Kitty Crew members lived with plenty of cats, and they reassured me that everything would be fine. They were incredibly supportive throughout, giving me reading materials and sharing their best cat-caring practices. We even organised a sticker fundraiser to cover Noisy's vet bills, and they set up a thoughtful send-off party on the day he moved in with us. Katrina Ballecer, mother to all cats and Pets Club Manager, shared the sweetest story of Noisy's first days with Canva, his quirks, and how loved he was in the office. They also brought him gifts! Through it all, I was aware that adopting a cat was quite the commitment, but despite my fears, all I really wanted was to make sure Noisy stayed healthy, happy, and safe.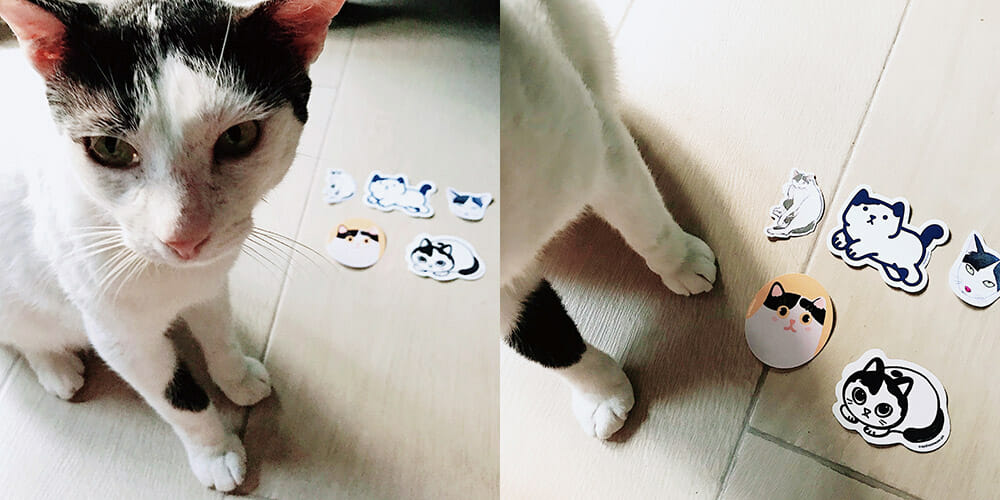 WF: Were there any challenges that came with adopting him?
NG: Thanks to the Canva Kitty Crew and CARA Welfare Philippines' TNR program, Noisy was already neutered. He had his vaccinations at the vet, and was pretty much ready to be brought home. However, most of the worry I had over adopting a pet revolved around making our place more cat-friendly. Our building welcomed pets, but our unit was a relatively small space for two people. I simply wasn't sure Noisy would be comfortable in it.
In the days before Noisy's arrival, I frantically moved our stuff around, bought all the cat care essentials at the pet store, and watched all the cat videos I possibly could. Even then, I still didn't feel ready. It took more than a week for me to finally bring Noisy home. Luckily, with a bed and a stuffed food bowl all to himself, he wiped away my worries and settled in in no time.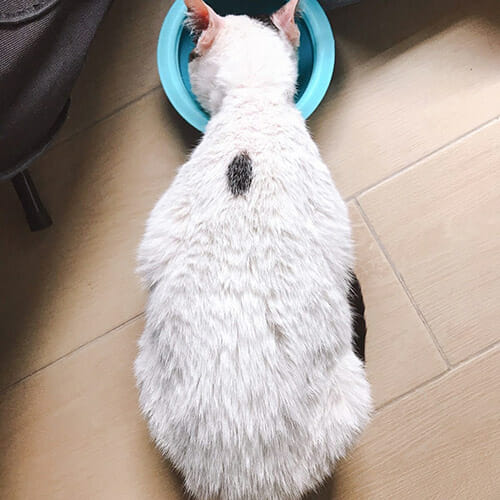 WF: Earlier, you mentioned that Noisy was diagnosed with FIV. Do you need to do anything special to help him deal with it?
NG: I didn't know about FIV until Kate explained it to me. It's a condition that makes cats susceptible to infections, which is why we were told to keep Noisy indoors. It's also best for us to limit his interaction with other cats, as FIV is transmitted via bites. Sadly, there's no treatment for FIV. But a proper diet, regular check-ups, and a stress-free environment will help ease Noisy's symptoms.
WF: What would you say makes Noisy unique?
NG: Noisy is a true advocate of the "sleep, eat, and repeat" lifestyle. We often find him snoozing in his bed when he's not nudging my feet towards his empty food bowl. He's still quite fond of plopping on the floor and rolling around, expecting the belly rubs he's grown to love. Contrary to most cats, he doesn't seem to like heights and is easily startled. I think he's already christened our vacuum as Enemy Number 1. Noisy doesn't care much for toys either, but I really appreciate that he's a sweet, sleepy chonk who perfectly complements my overall grandma energy.
WF: What are the things your adopted pet enjoys doing with you?
NG: When I get home from work, I sit beside him on the floor for a few minutes to make up for my absence. Instead of playing with the toys I made for him though, he would just curl up in my lap and nap again, all the while making biscuits with his paws.
WF: Any funny or interesting anecdotes you can share about Noisy? By the way, what made you name him as such?
NG: The Canva Kitty Crew named him Noisy because of his persistent, unique meows, which either meant he was happy to see you, or happy to see all the food you were bringing him. I decided to keep the name because he already responds to it, and it really captures his character. Even though he's asleep most of the time, he never fails to make noise when he wants our attention.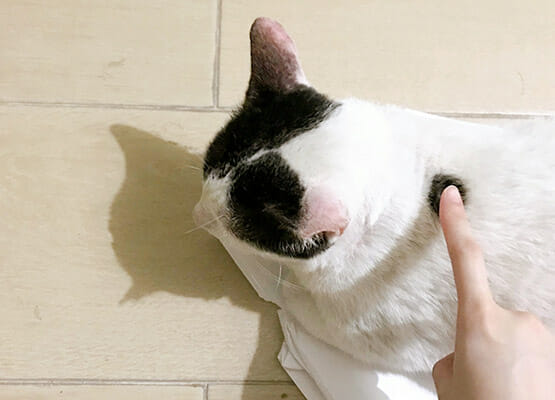 WF: What's the best tip you can give for first-time cat owners?
NG: Though I've only been with Noisy for a few weeks, I've learned to pay attention to his body language. He has a way of telling me what he needs, where he wants to be petted, when he wants my attention, or if he wants to be left alone. I think it's important to spend a few days just observing your pet to improve your communication. It also doesn't hurt to meow back at him from time to time. I'd like to think he finds this funny.
WF: What's your advice for people thinking of adopting a rescue animal? Why would you personally encourage them to adopt?
NG: To be frank, I don't think any animal can survive living off the streets. They don't have the resources to fend for themselves and are prone to so much danger, whether it's being attacked by ill-willed people or getting run over by speeding cars. Adopting a stray into a loving home really gives him a better chance at a longer, happier life.
Anyone looking to adopt a pet should know that it truly is a lifetime responsibility. A pet will be dependent on you for a lot of things, and it's impossible to look them in the eye when you know you've let them down. Before adopting any pet, I'd suggest fostering or volunteering at organisations like CARA first, just to familiarize yourself with pet care. You can also reach out to different animal welfare groups on social media, such as Cats of Salcedo or Cats of Ortigas. They've dedicated themselves to feeding, fostering, and finding homes for our furry friends. I think being part of the Canva Kitty Crew and similar communities has definitely made me more aware of how we can treat animals better and provide more for them. Just getting involved in these efforts is a good place to start.
WF: How has your life changed after adopting Noisy?
NG: Not being able to see him at work hasn't been easy, but now that our home has gotten a little bit Noisy-er and cosier, I wouldn't have it any other way.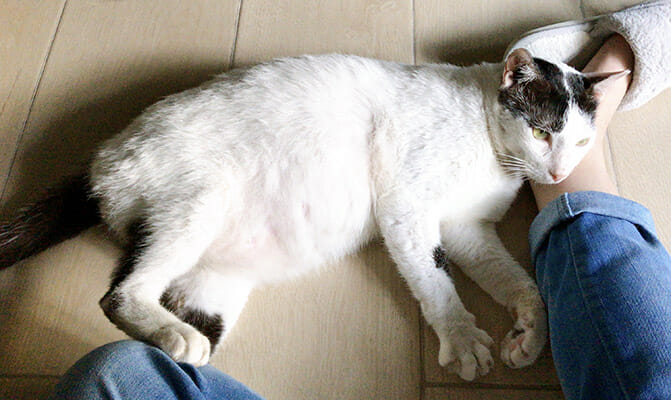 Follow the adventures of Neobie and Noisy on Instagram. 
Read more rescue stories here! Do you know of an interesting pet adoption, foster, or rescue story? Share your suggestion with us by commenting below!