Sydney-based yoga teacher Vicki Smart met her purr-fect match in the form of Aroha, a five-year-old female calico tortie she adopted in March 2018. With Aroha meaning love in Maori, Vicki shares her love story with her perennially shook cat with Waldo's Friends.
Help out by donating to Maggie's Rescue
With your kind assistance, Maggie's Rescue can support more cats and dogs in need of homes.
Waldo's Friends (WF): What made you decide to adopt a cat?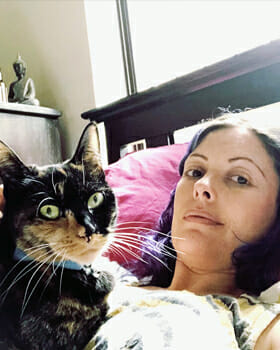 Vicki Smart (VS): I've always had cats, and my family has always been suckers for a rescue story. My childhood cat was taken in from a local Greek restaurant when they were told they couldn't have him anymore. Growing up in Samos, Greece, we fed so many stray cats it was ridiculous. So I always knew that when I got my own cat, it would be a rescue.
I moved into a unit on my own and was so ready to adopt a cat. I really missed having one in the house. I saw Aroha's picture on the Maggie's Rescue website and literally fell in love with her from that second! I met her at her foster carer's place, and apparently, I was the first person she'd met and hadn't hissed at and ran away from. She came to live with me the following week.
WF: Were there any challenges or hardships that came with her?
VS: Aroha was a dream. She was terrified the first night and ran around hissing and swiping me, but I woke up to her purring on my chest and it's been us against the world ever since. She's had moments, but she feels safe now and it shows.
WF: Aroha's Instagram account is filled with many images of her looking shook. When did you discover this funny-looking face? Does it get triggered when you do something in particular?
VS: I have no idea how Aroha came to be the queen of the shook cats! It's her natural face and one of her skills. That and falling off tall surfaces.

WF: How has your life changed after adopting a pet?
VS: I can't imagine my life without Aroha now! Having a friendly little floof to greet me and cuddle with is amazing! Going away is a lot harder than it used to be. I went to Thailand for a nine-day training last March, but it was so hard leaving her in the care of a friend.

WF: What's the best pet parenting tip you can give for first-time animal owners?
VS: Give your new animal space. Not all cats and dogs will be the life of the party right away. You have to allow some space and time for them to become comfortable in your home and to create a territory. In the case of cats, let them have space and hide under the bed if they need to. Don't rush them to your agenda, especially if they've experienced trauma or abuse. You need to build trust!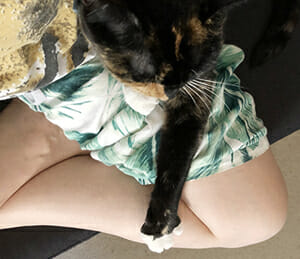 WF: What's your advice for people thinking of adopting a rescue animal?
VS: Meet the animal first and be really honest with yourself regarding the time and commitment. Ensure that if you're offering an animal a home, it's forever.
WF: Why would you personally encourage adopting animals?
VS: Adopting ensures animals get a second chance. It's such a gift to take in a small furry creature. There are so many animals in need of love. If you can give it, do it!
Follow the adventures of Aroha on Instagram.
Read more rescue stories here! If you know of an interesting pet adoption, foster, or rescue story, share your suggestion with us by commenting below.