Twenty-eight-year-old freelance graphic designer, painter, and artist Ivy Pangilinan has always wanted to adopt a dog with her boyfriend Enter Lily, an adorable white aspin (Philippine street dog) that came into their lives through a Facebook post. Ivy recounts how they took in the adopted pup over a year ago, and how Lily has brought so much joy, playfulness, and love into their home!
Help out by donating to the Philippine Animal Rescue Team (PART)
With your kind assistance, PART can continue to help feed homeless animals and owned pets in poverty. 
Waldo's Friends (WF): How did you come to adopt Lily?
Ivy Pangilinan (IP): My boyfriend Eric and I have been wanting to adopt a dog for about a year before we ended up adopting Lily. We "met" Lily through several layers of people, but the original story is narrated in a Facebook post, which kind of went around social media.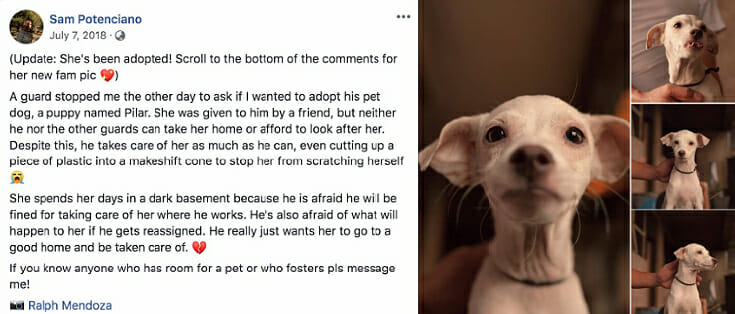 We didn't see this Facebook post at the time—it was a friend of mine who first did. She and her girlfriend were initially considering adopting the puppy. However, it didn't work out with them because they needed to find a pup with a personality that would match their other dog's. Anyway, they told us about it and asked if we would be interested. I think the day after Eric and I found out about it, we went to go meet her for the first time and took her home the same day!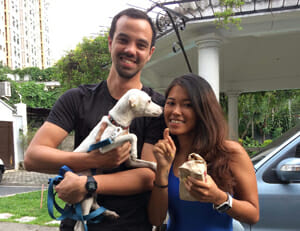 WF: Were there any challenges or hardships that came with adopting Lily?
IP: It was honestly very easy to transition into having her with us. Eric and I both work from home, so it was easy to keep an eye on her and do all the house training, especially in the beginning. We had to make a few adjustments with our habits/lifestyle, but we were able to establish a routine for her pretty easily. 
I think the only hard thing about getting a pet is that it has somewhat limited our traveling a bit. Eric and I love to go on longer trips abroad and around the country (at least two weeks or more), but since we got Lily, it's been harder for us to take them, especially if they involve flights. If we're only doing road trips though, we try and take her along every chance we get. She loves spending time outdoors like us, so she's made all our hiking and beach trips extra fun!

WF: What are the things Lily enjoys doing with you?
IP: Lily absolutely LOVES being out in nature, which is perfect because Eric and I love going on outdoor adventures as well! She loves the beach (well, sand… She's not much of a water person!), but I think she loves the mountains more. She is the best trail running/hiking buddy because she runs so fast and never gets tired! She's really good at going off leash too, so we can easily let her loose to run around without worrying that she'll get lost!
When I'm painting at home, she just likes to hang out next to me. She's really behaved about it. I work on the floor, and she knows not to step on the canvasses or materials.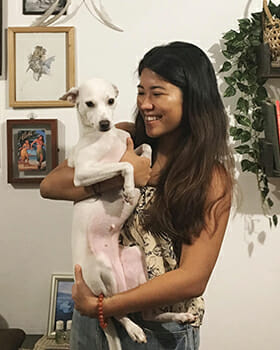 WF: Since Lily has been with you for over a year now, are there any funny or interesting anecdotes you can share about her?
IP: We genuinely think that Lily thinks she's human. LOL. She looooves being with and meeting new humans. It's really easy for her to warm up to new people, and will easily lambing (show affection to) all our friends who come visit us at the house! However, she doesn't care much for other animals. We wish she played more with other dogs, but if there are others around, she'll just stand there and ignore them. She really is not an animal-loving dog.
WF: How has your life changed after adopting Lily?
IP: She's definitely brought so much more joy, playfulness, and love into our home! Sometimes, it makes me so emotional when I think that this super smart, adorable dog could have ended up on the street if it were not for that fateful turn of events that led us to her! It also makes me think about how many street dogs are out there who could be just as amazing and deserving of homes and families that will truly love and take care of them. 
In the Philippines, I think some people are more attracted to purebred dogs and aspins are not valued as much, which is a shame! I wish more people knew that they are truly some of the sweetest, smartest, and healthiest dogs around.
WF: What's the best pet parenting tip you can give for first-time animal owners?
IP: Be patient and persistent in your training. It helps if you can build routines as early as possible because dogs thrive in a structured environment, and it will help you both adjust quicker to your new lifestyle. Also, YouTube helps A LOT. Look up dog behaviour/training videos so you're more informed about how to handle your new pup in different situations!
WF: Lastly, what's your advice for people thinking of adopting a rescue animal?
IP: DO IT! It may be challenging at times, but the joy that comes from taking care of these animals will be worth it.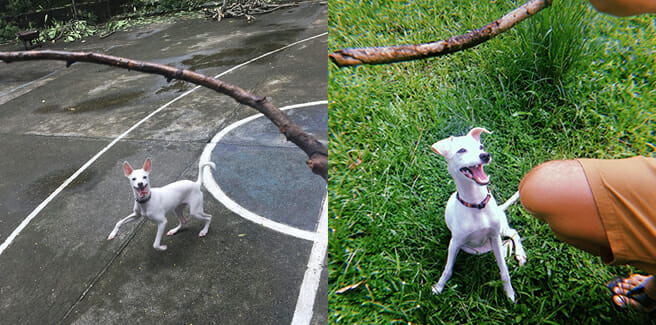 Follow the adventures of Lily and her fur mom Ivy on Instagram.
Read more rescue stories here! Do you know of an interesting pet adoption, foster, or rescue story? Share your suggestion with us by commenting below!