Freelance writer and mom of four Audrey Carpio has always had a soft spot for rescue animals. Over the years, she has adopted countless cats, going so far as flying two of them with her from New York to Manila. Pet parenting temporarily took a backseat when Audrey became busy with her own (human) children, but now she and her family have welcomed a couple of furkids to their brood. This is the delightful adoption stories of Homer, Missy, and Moka. 
Help out by donating to Homeless Hounds Animal Rescue
With your kind assistance, Homeless Hounds Animal Rescue can find loving homes for abandoned dogs (and even cats!).
Waldo's Friends (WF): Hi Audrey! Could you tell us about the first pet you adopted?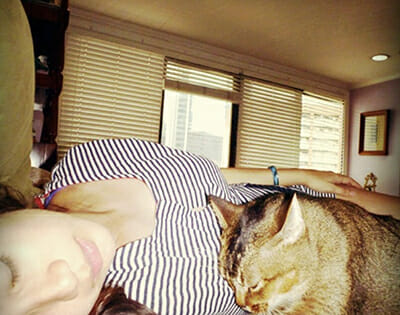 Audrey Carpio (AC): I'm actually a cat person. I've been keeping strays ever since I was a kid. When I was living in New York, my roommate and I adopted two half-Abyssinian, half-Bengal kittens from Craigslist. We named them Baz and Delfina.
When my roommate and I parted ways and I decided to move back to the Philippines in 2008, I couldn't bear the thought of giving them away, so I took the cats home with me. Now, they still live with my parents and are very fat and healthy for cats that are nearly 13 years old. Later, I realized that I was allergic to cats, so unfortunately, I couldn't keep anymore indoor cats when I moved out of my parents' apartment.
WF: Tell us more about your adopted dogs.
AC: All of the pets I've ever had found their way to me through adoption/rescue. It's also always been my husband's policy to only take in rescue animals. He's particularly fond of aspins [short for asong Pinoy or Philippine native dog]. Homer is an 11-year-old aspin who my husband rescued as a puppy. He was found on the street after being hit by a car.
We had another rescue dog, Scrappy, who passed away in 2018. Homer and Scrappy had been together for such a long time, and he was really sad after she died. We started to consider getting another dog so Homer wouldn't be lonely. One of our Facebook friends posted about a six-month-old puppy she had rescued from a construction site, possibly from becoming the next meal. She was black like Scrappy, and we decided to adopt her. My husband named her Little Miss Sunshine, but this got shortened to Missy.
Barely a month after we got Missy, she gave birth! We thought she was just getting fat, but one day, she delivered four puppies under the couch, so we're not actually sure how old she is. We found new parents for three of the pups, and we kept one which my daughter named Moka.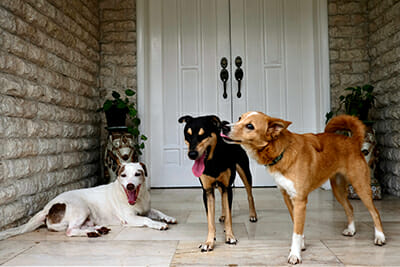 WF: Were there any challenges that came with adopting them?
AC: Missy was a typical young dog—exuberant and destructive—but add that to the chaos of having four small human kids (I had just given birth a few months before we adopted Missy!). We didn't have time to train her the way Homer was trained, and she still remains a bit of a wild thing. Homer didn't get along with Missy in the beginning, but he enjoyed playing with the puppies like a doting grandpa. 
A few months ago, we moved to a bigger house with a yard where they could really run around, and the dogs have been so much happier.
WF: What do you guys do for fun with the dogs?
AC: We always take Homer with us on road trips. He's gone hiking in Sagada, loves running along the beach in Baler, and also waits for us on the boat when we go diving in Anilao (though he hates swimming!).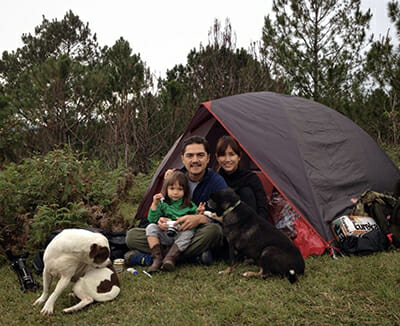 WF: What's the best pet parenting tip you can give for first-time animal owners?
AC: You really need a lot of time, patience, and a sense of humor. Puppies will destroy your slippers, phone chargers, and anything you leave lying around. Cats will pee just about anywhere. Kittens can be elusive. There were a few times that I thought I lost a cat, but he was just hiding somewhere. One time, I found my cat inside the fridge!
WF: How has your life changed after adopting a pet?
AC: Baz and Delfina were my rocks during some tough emotional times. They were also there for me during my first pregnancy. Even though we don't live under the same roof anymore, I still consider them my first children.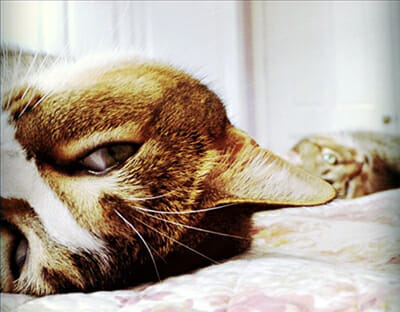 WF: Why would you personally encourage people to adopt animals?
AC: There are so many dogs and cats out there who need a home! Aspins are very hardy and don't get as many diseases or conditions that purebreds do. Also, it's really good for kids to grow up around pets. It boosts their immune system. And my kids aren't afraid of animals or other people's dogs.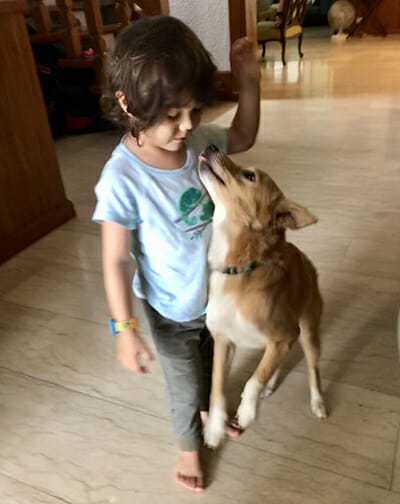 See what goes on in the life of Audrey and her adopted pets on Instagram.
Read more rescue stories here! Do you know of an interesting pet adoption, foster, or rescue story? Share your suggestion with us by commenting below!