In October 2017, Clare and her partner adopted Frankie—Waldo's brother! The high school English teacher recounts how the cuddly rescue pup ended up in their Sydney home all the way from Mt Isa, Queensland.
Help out by donating to Paws Hoofs and Claws
With your kind assistance, Paws Hoofs and Claws can continue providing fostered refuge to abandoned, abused, surrendered, and orphaned animals.
Waldo's Friends (WF): Could you give us a backgrounder on your adopted pet?
Clare S (CS): Frankie is my first adopted pet! By the end of this year, he'll have been with us for two years. He's one year and 10 months old. According to his foster carer, one of Frankie's siblings had his DNA test done and came back with 50% Dachshund, 25% Tenterfield Terrier, and the remaining 25% being a mix of other different terriers. A very interesting combination and we can see it—he's long like a dachshund when he sprawls out, and he definitely has the energetic characteristics of a terrier.
WF: How did you come to adopt Frankie?
CS: It was a lengthy process—a lot of searching, enquiring, sending emails and texts to various pet adoption agencies/foster carers, and a lot of rejections, too. I found Frankie's mum first. Her name was Lala, and she had just given birth to a litter. At that point, the rescue organisation Paws Hoofs and Claws was getting a huge influx of puppies from all kinds of dogs. They're a small, humble organisation from Mt Isa, Queensland that works tirelessly round the clock to find homes for animals. I think they were quite desperate since a majority of the pups were up for interstate adoptions, and they were very willing to send them out anywhere. I looked at their Facebook account and website for ages over Lala and her litter. In the end, we ended up settling on Louie (now Waldo!) with Frankie as our second choice.
 
One afternoon, I called the organiser, Sue, and I remember her saying, "Well, Louie is in the backseat of my car right now on his way to the airport to Sydney. He's in the crate and he's not pleased about it." I asked about Frankie, and she said, "He's still available. I have to warn you though—he is very, very cuddly. He's the cuddliest and gentlest of the litter." He sounded perfect. We had him reserved and there were a few back and forth phone calls to sort out the payment and Frankie's flight. I remember being incredibly distracted and excited at work that entire week.
 
When we went to pick him up at the domestic airport for pets, it was surreal. He was tiny, sitting on a soiled blanket (the flight from Mt Isa to Sydney was over six hours, including transfers), and shaking. He whined during the car ride home. My partner and I agreed before we adopted Frankie that he wasn't allowed on the bed, but that flew right out of the window that evening. He's king of the bed ever since.
WF: Before Frankie came into your life, did you have any previous experience with animals and/or pet rescue?
CS: I haven't had any experience with animals as I was never allowed a pet growing up. In hindsight, this was understandable; being from Hong Kong where homes are small and with very few large outdoor, dog-friendly areas, I can't imagine a dog flourishing well in that environment. My partner did have a dog growing up in Port Macquarie—Katie, a Shih Tzu/Maltese from the RSPCA. It did affect our decision in that, for my benefit as a first-time dog owner, we needed a small, young dog with a history of good behaviour. We talked a lot about getting a senior dog, but decided to leave that for the future when our lives are less transient.
WF: Were there any challenges that came with adopting Frankie?
CS: Finding the right dog was definitely difficult. It's surprisingly competitive and some adoption processes were long and complicated.
 
Following that was our home. We moved from an apartment to a townhouse and that made a huge difference to Frankie's well-being. That took some time, too, but luckily, plenty of rental homes are dog-friendly in the Inner West. Frankie's toilet training improved with a courtyard (the pee pads definitely did not help and sent the wrong message in an apartment), and he likes to spend his days sunbathing outside with fresh air.
 
The hardest part was handling the growing-up stage: toilet training, teething, and socialising. Basically all the important stuff that you do in those early years that will shape the kind of dog they will become. For the first couple of months, we definitely questioned ourselves and I told everyone I qualified for maternity leave.
WF: What's the best pet parenting tip you can give for first-time animal owners?
CS: Socialise them early and give them exposure to as many experiences as you can. Also, join your local dog/pet group on Facebook. It's a great place to seek advice and be updated on what's happening around your area.
WF: Are there any interesting stories you can share about Frankie?
CS: We were watching Richie Rich on Netflix one lazy evening when we got to the scene where Richie says, "Come here, Dollar!" and his dog enters the scene. He is a carbon copy of Frankie—all white with black ears, the fur marked with dollar signs. We decided in that moment that Dollar will be Frankie's annual Halloween costume.
 
Frankie has also been in a pop-up art exhibition. We got approached by an artist/dog owner Nicole Eggers at our local dog park, and she asked us for permission to photograph and draw Frankie alongside her own dog. She invited us to the gallery and we ended up buying a copy of the illustration.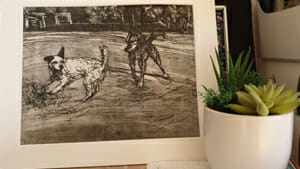 WF: How has your life changed after adopting a pet?
CS: I'm home more often. Dog parties now count as a proper social event for the weekend. We have framed portraits of Frankie on our nightstand. This is what we have become.
WF: How did you discover that Frankie and Waldo are siblings?
CS: This is definitely one of those "small world" moments. Ever since adopting Frankie, we always kept up to date with what the rescue was up to. I found out that Lala ended up in Victoria, and the rest of the litter all found forever homes. There was a post on the site celebrating a year's worth of successful adoptions, and it had a collage of all the adopted dogs. I saw Frankie there and I recognised Waldo too! The comments were of people pointing out their dogs and giving the organisation an update of how they were going. That was when I saw Sasha's comment. I remember Sue telling me he was in Sydney so I messaged Sasha, and it turned out we were both living in the Inner West! 
 
We eventually met up at the local dog park and that was very memorable for all of us. Waldo and Frankie definitely still remembered each other. They both love a good chase and have the same mouthy/teethy expression when they wrestle; they're pretty much a mirror image of each other when they play. The main difference is that Waldo has more prominent markings on his face and coat; without them, they'd look like twins. We celebrated their first birthday together with some doggy friends and I imagine we'll do it again this year when they turn two!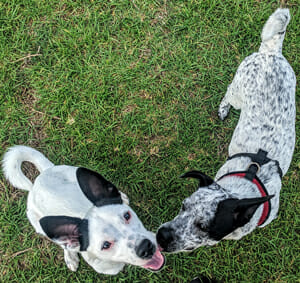 WF: What's your advice for people thinking of adopting a rescue animal?
CS: Be realistic. Consider your space, your finances, your time, and your lifestyle. That being said, it may never feel like it's the right time to adopt. This was the case for us as full-time workers in a small rental home, but we took our time over the decision and in the end, we made it work.
WF: Why would you personally encourage adopting animals?
CS: You make a difference when you adopt. It's easy to get caught up in what you want rather than what the animals need. I think a lot of people end up thinking in this way and turn to perhaps less ethical options of adopting in order to find a pet that fits with what they envisioned. Did I want an annoying small dog with black ears that takes up half the bed, pulls socks down from the clothes rack, and runs away when he sees something normal like a frying pan or a water jug? No, but we would not have it any other way.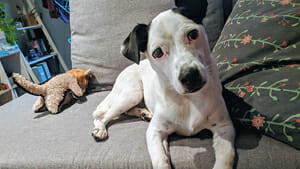 Read more rescue stories here! Do you know of an interesting pet adoption, foster, or rescue story? Share your suggestion with us by commenting below!