There are so many things a first-time cat parent needs to learn, such as preparing a starter kit before your cat comes home to finding ways to groom her at home. Depending on the age of the cat you decide to adopt or foster, you'll also need to provide the right meals so that she receives the proper nutrients to make her grow into a healthy pet. For kittens, feeding her right will help her achieve her maximum size and weight. 
When it comes to food, it's important to provide the appropriate meals for your cat's physical and mental well-being. You should not give adult cat food to kittens, and young cat food to fully grown cats. (Also, feeding your pregnant cat is a totally different matter.) Both cats have specific needs, and letting them eat the wrong type of food may lead to malnutrition or obesity. 
Before we reveal the difference between each food type, let's break down the components of regular cat food and discover what should be in it.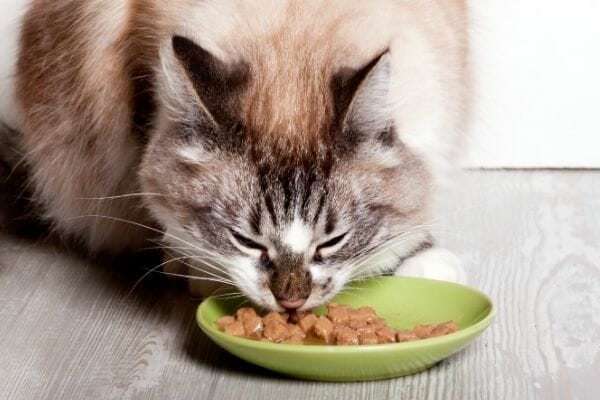 Cat Food Components
Fetch by WebMD states that complete and balanced cat food needs to have four key nutrients: protein, fat, fiber, and moisture. Protein should come in the form of high-quality meat such as beef, turkey, and chicken—not low-grade rendered meat.
To guarantee you're getting the best for your cat, check the label found on the side or back of the package. It should list the percentages of nutrients found in the cat food, starting with the heaviest weight. Aside from listing the minimum protein, minimum fat, maximum fiber, and maximum moisture, other vitamins and minerals can be indicated as well.
Make sure to get your veterinarian's approval before feeding something to your cat or switching brands. Some cat food may trigger stomach irritation, especially if they're made with ingredients your cat is intolerant or allergic to. Other brands may also contain additives, flavourings, and/or preservatives that are not recommended for your cat.
The Main Difference Between Cat Food for Kittens and Adults
A kitten's nutritional needs vary greatly from that of a full-grown cat. During this stage in her life, she is engaged in high-level activities and grows double or triple in size. Because of these factors, she needs more protein, amino acids, vitamins, and minerals in her body—much more than what an adult cat needs.
Protein and Fats: Fetch by WebMD recommends that kittens get approximately 30 to 40% of their energy from protein. The Nest adds that the US Food and Drug Administration (FDA) requires kitten food to have a minimum of 22% protein and 8% fat, plus amino acids and essential fatty acids to help with healthy tissue growth. Meanwhile, the US FDA requires adult cat food to contain at least 18% protein and 5% fat.
Vitamins and Minerals: There should be calcium and phosphorus in kitten food to assist in proper bone and teeth growth. Aside from these, vitamin E and selenium aid in developing a kitten's immune system. Adult cats do not need these aforementioned vitamins and minerals, so they may or may not be found in their food. 
Other Kitten Food Considerations
It is advisable to feed kittens food high in protein, fat, vitamins, nutrients, and calories until she turns one year old. Your kitten should eat specially formulated kitten food multiple times a day since her stomach can only hold a small amount of food. This will also prevent her from gorging and vomiting what she eats.
Kitten food is available in wet and dry forms. It is best to let your young cat eat canned food since it is softer and has more protein than dry food. If you prefer feeding your cat dry and canned food, it is recommended that you do canned feedings two times a day. But if you choose to feed her only wet food, do so four times a day.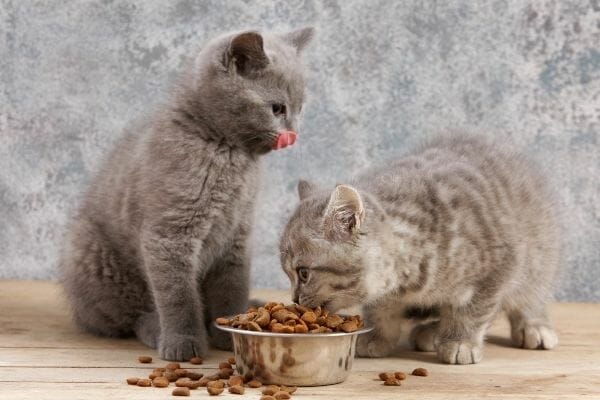 What Happens If You Feed the Wrong Food to Your Cat?
Kittens that consume adult cat food may not achieve their ideal height and size. Worse, the food may not sit well in their stomach and may cause indigestion. On the other hand, adult cats that regularly consume kitten food may gain unnecessary weight and become obese.
With the proper meals, your cat should appear healthy, active, and alert. She should have a glossy coat and energy to do her everyday activities. If something in her appearance or behaviour changes, speak with your veterinarian.
Decipher your cat's intriguing behaviour through our blog. Find out how long she can go without making a trip to the toilet or learn how to prevent her from sleeping in your bed.