We love dog-friendly bushwalks more than your average dog family and Bidjigal Reserve did not disappoint. Last month, when Waldo had spent a few too many sullen Saturdays giving us third degree guilt stares, we decided to venture out and find a new walk that satisfied our tried and tested dog walking criteria:
The bushwalk must be mostly shaded since hot rocks aren't great for puppy paws.
There must be access to picnic tables and grounds with toilets and facilities; nothing extravagant but no bush toilets for this family amidst all other 2020 challenges please.
A short drive of no more than 45 minutes from our home in the Inner West.
A dog-friendly trail where locals are welcoming toward dogs.
On-leash rules that are respected, as these trails are narrow and could lead to unwanted attention from dogs who are still being socialised.
Overall, from a few searches and reviews online, we decided that the Bidjigal Reserve in Sydney's Hills district was a great option for a two-three hour weekend walk. So we put on our hiking shoes, packed some essentials (listed below) and hit the road:
water
sandwiches
a collapsible water bowl
some kibble and treats
leash and collar
battery pack
sunscreen
The drive to Bidjigal Reserve
This short drive took us just over 40 minutes (from Leichhardt) at around 11am on Saturday. The route is comfortable, no surprises there. The approach to Bidjigal, however, can get a little confusing as you either land in a playing field or smack amongst some residential streets. Don't let that phase you and follow the pin. We promise you'll suddenly emerge into a picnic bench clearing. Be mindful of Fox poison signs. We're not sure how old these are, but one sign was enough for us to watch like hawks every time Waldo tried to grab and eat anything during the walk.
What to expect
A very relaxed, pleasant, clean and friendly walk with lots of dogs on leashes with lovely locals and tourists alike. This walk may be crowded in a post-Covid 19 world, but we don't know when that'll be so for now – we'd say this is as good as it gets on a Saturday. We walked past maybe two groups every 10-15 minutes, and the picnic benches had about three other groups seated when we finished the track.
How many tracks does the reserve have?
There's something for everyone. Biidjigal Reserve's tracks are:
The Murri-Yanna Track, which we believe is the longest at about 8kms. While it's estimated at about three to four hours, we wouldn't quite walk it with a dog that sniffs 20 things for every two steps. But if your dog is a more diligent walker than ours, check out the start at Whitbread Place, North Rocks to Heidi Place, West Pennant Hills. Expect to hug the creek for most of it.
The Burraga Track, which is under 5km and estimated at about two hours. Check your map for the closest access point from whichever direction you arrive from: whether Baulkham Hills, Castle Hill or West Pennant Hills. This is meant to be quite beautiful and worth it if you don't have any agenda for the rest of the day and are happy to do some exploring.
The Platypus Track – this is the shortest of the three tracks and the one we did (all the photos in this post are from this track). It starts on the Castle Hill end and meanders around the creek for 1.7kms. It should have taken us one hour but Waldo had some friends he wanted to sniff, so we had quite the leisurely walk for about two hours, including a lunch stop.
Dog-walking etiquette
While we did get a few squeals from some couples who weren't there with dogs, we were happy to note that none of them tried to pet Waldo without permission. This is important to his continued training and is well appreciated (by us and him).
We were also happy to see that young kids on the track did not try to grab Waldo even though at times they were close enough to give it a go. Was it a wonderful coincidence that we only encountered considerate dog-walkers, dogs and non-dog walking humans? Perhaps, but we hope it's the norm. Here's a great post to read and pass along if you're keen to know the right method to greeting a dog.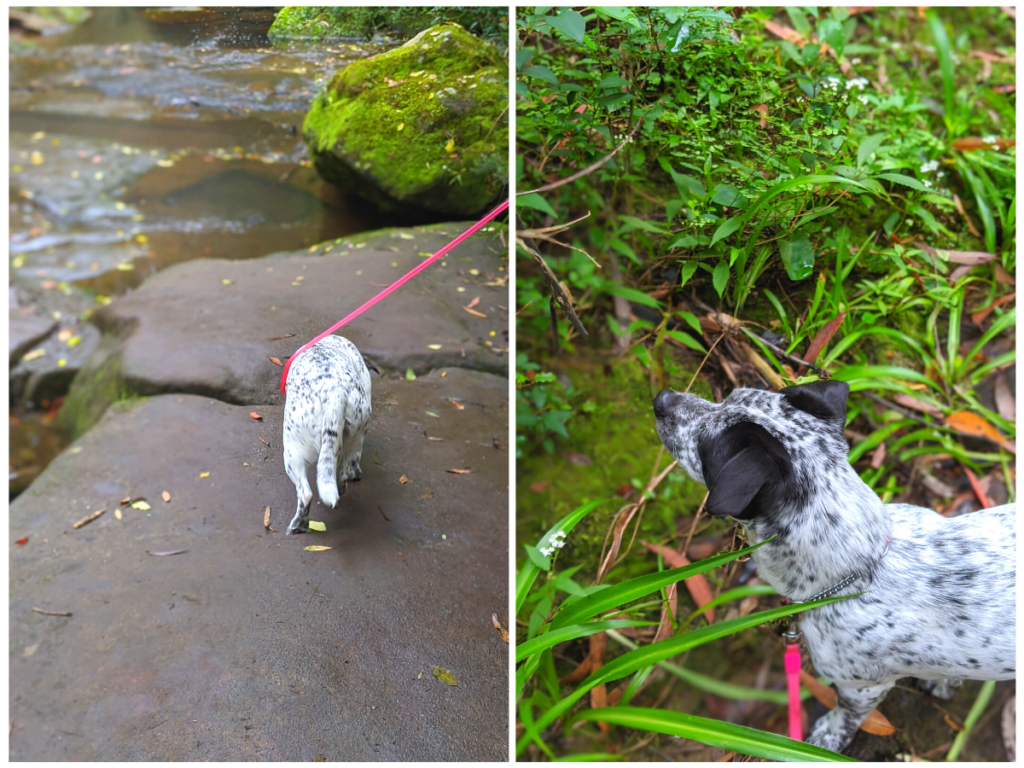 If you're interested in reading about more dog-friendly walks in NSW as you and your best friend make it through these uncertain times, read our weekend pet guides, especially this post on Sydney's 8 dog-friendly walks and parks.