Just three months ago, Kylina Turner came across an emaciated stray pup that got itself stuck in a wire bed frame. Thanks to the tireless care and attention provided by the local vet clinic and generous donations from GoFundMe, the sickly pooch transformed into a healthy and gentle 50-pound German Shepherd named Caro. This is his adoption story.
Help out by donating to Royal Society for the Prevention of Cruelty to Animals (RSPCA)
With your kind assistance, RSPCA can continue providing consistent and ongoing support for all creatures, great and small.
Waldo's Friends (WF): Please tell us about how you found Caro and what went through your mind when you decided to help him that day.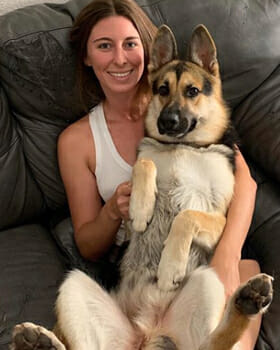 Kylina Turner (KT): I found Caro when I was doing a property inspection for my work. He was a stray who had gotten tangled up in a bed frame on the side of a house. I initially thought he was a fake/stuffed coyote because he was so skinny and not moving whatsoever, but as soon as I got near him, I saw his ear twitch and was horrified that he was a live animal. I dropped what I was doing and immediately rushed him to the nearest vet because I was sure he wouldn't live long enough to get to the shelter.
WF: How were the vets at the clinic that nursed Caro back to health? Could you tell us a bit about them and how they contributed to your pup's full recovery?
KT: I rushed into the vet on the verge of tears and told them I had an extremely sick puppy. They immediately rushed Caro into the back and asked me how far they should go with treatment. It was clear he had a lot of issues that would require a lot of time and money to correct. I asked them to just make sure he was stable before I transported him to the shelter. Our shelters here are no-kill, which is the only reason I felt comfortable taking him in. 
The vet tech came back in about 10 minutes later and said they'd all fell in love with the puppy and would pool their money in order to keep him in the clinic and nurse him back to health. They evaluated him and diagnosed him with sarcoptic mange, which is incredibly contagious to both dogs and humans, sunburns, several intestinal parasites, and extreme malnutrition. He was estimated to be a six-month-old German Shepherd and should have weighed over 50 pounds, yet was only 18 pounds. The techs named him Freddie and got him stable before placing him in a kennel where he stayed for the next seven days to rest and heal. They weren't sure he'd live until about day five or so. He was very inactive, only occasionally picking up his head to eat or drink and his skin was seeping from the wounds caused by the mange mites. He had to have frequent medicated baths, multiple small high-calorie meals a day, and medications to fight the internal parasites.

WF: When you decided to foster Caro and first brought him home, how did your only child at that time, Casey, cope with it?
KT: I had no intention of taking this puppy home whatsoever, but after visiting him daily and following his progress, I couldn't help thinking that he needed to have some special care. Fortunately, I work a very flexible schedule and thought I could provide that for him and foster him until he was better. So I started a GoFundMe and it was a huge success. I was able to raise over $1,300 which covered his weeklong stay at the vet as well as some of his follow-up appointments and medications.
 
On day seven, I took little Freddie home and we renamed him Caro. At this point, his skin was beginning to look a little better and he'd gained one pound. Our seven-year-old Golden Retriever mix Casey had other thoughts about having a new dog around the house. She was extremely irritable for almost a month about the new addition, constantly snapping at the puppy whenever he got too close, guarding all of her toys, and seeking extra attention from us constantly.
 
I believe Caro really learned a lot from this time though. He didn't have any manners and since we knew he would get bigger than Casey, it wasn't such a bad thing that she asserted her dominance while he was still small because now he wouldn't ever think about trying to cross her or be the dominant one.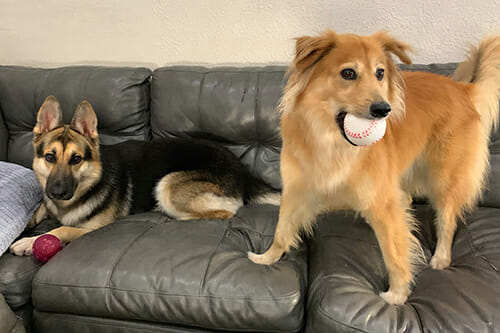 WF: How did you arrive at the decision to adopt Caro and not give him up post foster care?
KT: I didn't think I'd be adding Caro to the family permanently, but after only a couple days around Casey, he was glued to her hip and absolutely devastated anytime she was out of his sight. I couldn't imagine breaking his heart by separating him from her. From being so small and malnourished, Caro became so full of life and energy, and his personality really started to flourish after a few days at home. He discovered squeaky toys and his voice and liked to use the two as often as possible because he knew it got him attention. He was also extremely calm and well-behaved when everyone else settled down. He wasn't and still isn't an affection seeking dog, but he is very loyal and has to follow us from room to room to lay at our feet but doesn't bother us to get pet.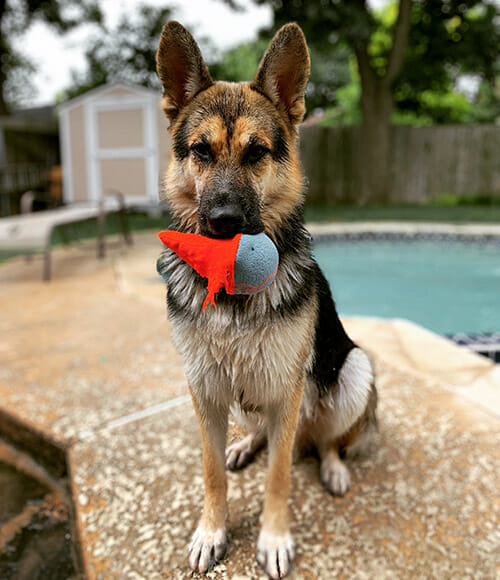 WF: What's your biggest advice you can give to people interacting with sick and injured animals that need help?
KT: My best advice for people trying to interact with sick or injured animals is to be cautious and know that an injured animal can react in an aggressive manner when in pain or cornered. Luckily, Caro wouldn't hurt a fly, literally (he thinks they're fun new friends to play with), but so many other dogs that were in Caro's position would definitely be inclined to bite or react negatively even to someone trying to help.
WF: How would you suggest an everyday person, who can't adopt yet, help the animal rescue ecosystem to make an impact?
KT: Even if you can't adopt or foster animals, a great way to help them out is to volunteer or donate to shelters/vets. I asked for anyone who couldn't donate funds for Caro in GoFundMe to consider donating old dog beds or towels to his vet. Caro had to have his bedding washed daily⁠—separately due to the mange mites and that takes up a lot of resources. The vet was very thankful for these donations and several of the people who donated even got to see Caro at the vet, which they were really excited about.
WF: Could you tell us about Caro's first interaction with a child? We read that he's great with kids, but how did you prepare yourself for the very first time he met kids?
KT: Caro is simply an anomaly. Based on his past, he should be fearful of humans, dogs, and really just everything, yet he is the absolute sweetest dog. He's always submissive around other dogs, never barks at anyone, and hasn't shown the slightest bit of aggression ever. He even loves going to the vet.
He especially loves children and is so gentle with them. He met his very first child at a family get-together, and while I was timid about it, it was very obvious there was nothing to worry about. Caro was incredibly sweet and gentle with the children and was quickly playing tag around the yard with them before laying down for a nap with his head on a child's lap. I was definitely relieved that he had such a good reaction. I hope we can make some progress to help break the stereotypes out there surrounding "bully breeds," and I think this is an important step for Caro to do that.
WF: We'd love to hear your thoughts and experiences about platforms like Gofundme.com, and how they help causes such as Caro's.
KT: I am so lucky that GoFundMe exists. There's absolutely no way I would have been able to afford Caro's vet care on my own. It was absolutely a game changer for not only Caro, but us too⁠—without that we wouldn't have been able to bring Caro into our family. One of the vet techs or vets that I brought him to likely would have adopted him, and while he would have obviously had a great life with any of them, I can't imagine not having this goofy puppy in our family now.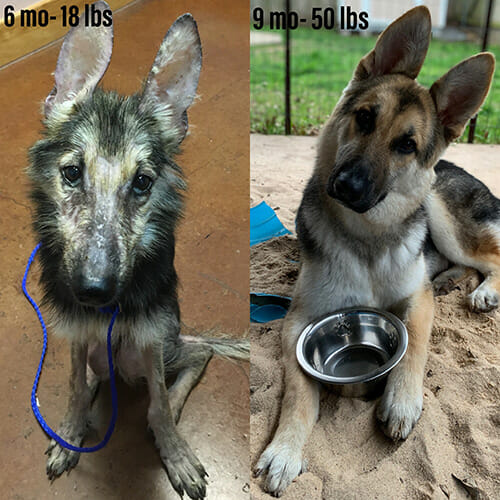 Follow the adventures of Caro on Instagram.
Read more rescue stories here! Do you know of an interesting pet adoption, foster, or rescue story? Share your suggestion with us by commenting below!