Former preschool teacher Chat Padla is the proud paw-rent of two dogs. One fateful day in August, she came across an aspin [short for Asong Pinoy or Philippine dog] while taking her pooches out for their daily walk. Next thing she knew, she was walking home with a two-year-old stray dog in tow. Chat shares Spike's adoption story and how he became a happy domesticated pet. 
Help out by donating to Animal Kingdom Foundation
With your kind assistance, Animal Kingdom Foundation will be able to provide food, medicine, and clean lodgings for their rescues.
Waldo's Friends (WF): How did you come to adopt Spike?
Chat Padla (CP): I was walking Jeter (my one-year-old Jack Russell) and Charlie (my one-year-old Beagle) around the neighbourhood park a few weeks ago. We came across Spike walking by himself just outside the park. My dogs were curious and so was he, so they started sniffing each other. 
Jeter can be walked off leash so I took off his leash, looped the leash, and tried to put it around Spike's neck (it's something I learned from watching Hope For Paws videos on YouTube. Hahaha!). It took me a few minutes because Spike kept dodging the leash, but he didn't run away. When I finally got it around him, we took him home. 
WF: What were the initial challenges you had to face with Spike?
CP: Spike was pretty scared of everything at first. He didn't want to come inside our building. He didn't want to get inside the elevator. He didn't know how to eat out of a food bowl. He didn't know what dog beds were for. He cried a little on his first night with us (which I could only assume was because he wasn't used to being inside), but he slept like a log that first night. I put him on the bed then he figured out that it was for resting. He slept through the noise of my dogs and the TV that first night. 
I took him to the vet the next day for his shots and to have him neutered. He stayed the night so the doctors could observe him. The next day, I took him home and he's been with us since. Just recently though, I found out that our building only allows two pets per unit. So now he'll be living with my parents.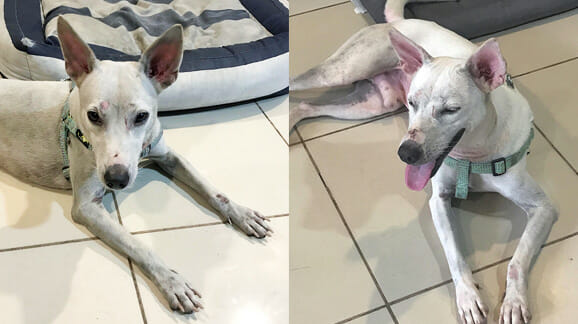 Now, the challenge for us is how to discipline him. He's actually a very good boy, and remarkably, he's potty trained. However, he can get really rowdy and rough when he plays with the other dogs. Even if we call his name (he still doesn't know that Spike is his name) or make a really loud noise, he'll only stop for a second then continue playing. He and Charlie have had to be physically separated. 
Another challenge we're currently facing is his habit of getting on the couch. He learned to jump on the couch because my dogs are allowed to do that in our house, but in my parents' house, it's not allowed. So now we're trying to get him to unlearn that and have to transfer him to his bed instead when he tries to nap on the couch.
WF: Do you have previous experience with animals and/or pet rescue? How did this affect your decision to adopt him?
CP: I've never really personally adopted, but my parents have adopted pets before. They would be given unwanted puppies and they would raise them. The cats that would come inside their house would never leave anymore—they basically became pets too! My dad kind of believes that animals and pets bring luck. We've always had animals in the house ever since I was a kid. I don't ever recall a time that we didn't have at least one pet in the house. 
At the moment, my parents have a rescue dog named Riley. Spike's been doing well at their place and playing with Riley almost exclusively.
WF: Before Spike moved in with your parents, how did your two dogs react to Spike living at home?
CP: Charlie and Jeter were pretty excited about having a new playmate. They were as much a part of the whole adoption story as I am. They were basically the reason that I got Spike. Another person who regularly walked his dog in the same area told me that the park guards have been trying to catch him for weeks, but he would keep running away. It was my dogs that attracted Spike to come to us. 
From day one, they've been playing and getting into trouble together. My dogs taught Spike how to be a dog. It was them that taught Spike how to eat and drink out of a bowl. (Spike used to drink from little puddles on the ground and it broke my heart!) They taught him how to play with toys, how to climb the couch, how to climb the bed—everything. It can be said that Spike was a better behaved boy before he met Charlie and Jeter. Now they like to get into all sorts of trouble like snatching socks from the hamper and kicking at the dog food box when they're hungry.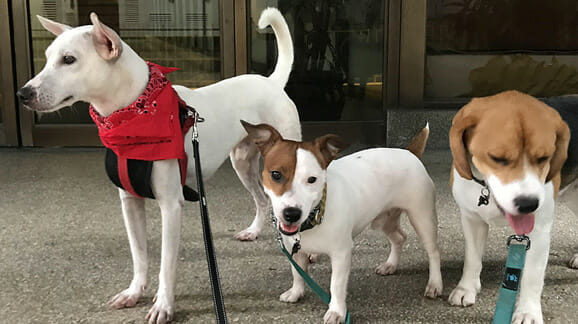 WF: What would you say makes Spike unique?
CP: He seems to be afraid of the rain, which is a problem when we have to go out for our walks. I get a little stressed because I know he's holding his pee and poo in. He'll happily go for walks when the ground is dry. But now that it's been raining, we have to squeeze in their walks before it starts pouring.
As we go on our walks, I find it funny when some people recognize him and say how handsome he's become. They would stop and I could hear them whispering, "Isn't that the stray dog we saw last week? He looks so different!"
WF: What's the best pet parenting tip you can give for first-time animal owners?
CP: Patience. You're gonna need a lot of that. They're gonna pee, poo, and break a lot of stuff (especially puppies) before you start seeing results. Be consistent when you train them for faster results. Food, love, and treats are the best for training, not punishment. Dogs naturally want to please you, so take advantage of that. 
All your pet really wants is love and attention. They don't need fancy stuff. A piece of paper is just as fun as an expensive toy. They can sleep on an old towel just as long as they're with you. Also, keep their vaccines up-to-date and have them checked regularly. It's much cheaper than having to treat a disease that's already progressed because of negligence.
WF: Why would you personally encourage adopting animals?
CP: There are so many unwanted animals that are suffering because they have no one to take care of them. There are so many animals in need that are in pounds or on the streets. There are also horror stories about irresponsible breeders who only really care about making money off of poor animals. The cycle has to stop. A pure-bred dog and one from a shelter can give you the same kind of love and happiness. 
My first-time animal adoption experience has shown me how big a difference having a home has made to how Spike behaves. He used to be so stiff and anxious all the time in our house. Now he's more relaxed, at ease, and you could see that he's actually happy. That, in turn, has made me so happy.
WF: How has your life changed after adopting a pet?
CP: There's always a sense of fulfillment when you know you've made a difference, and seeing how happy he is now is kind of a drug for me. Haha!
Read more rescue stories here! Do you know of an interesting pet adoption, foster, or rescue story? Share your suggestion with us by commenting below!