Thirty-one-year-old Jason Kraus is the author of Belly Rubbins For Bubbins, a self-published book that was inspired by a senior dog that he and his wife Michelina adopted during the holidays of 2016. He is currently the proud fur-dad of two aging pit bull mix dogs: the 13-year-old Gibbson (fondly called Bubbins) and the 10-year-old Mac (who they welcomed into their home just three months ago!). Aside from opening up about senior dog parenting, Jason reveals what it took to create his children's book and spread awareness for animal rescue. More than just spaying, neutering, sheltering, fostering, and adopting unwanted animals, Jason stresses the importance of teaching compassion and educating people (starting with children) to be able to help more dogs in need. 
Help out by donating to Newark Associated Humane Societies 
With your kind assistance, Newark Associated Humane Societies can consistently provide the highest quality of care to all animals, including their rescue, housing, veterinary care, and placement.
Waldo's Friends (WF): Before Bubbins came along, did you or Michelina have any previous experience with animals and/or pet rescue? How did this affect your decision to adopt Bubbins?
Jason Kraus (JK): Michelina had worked at a vet office for a few years when she was younger and previously had dogs. Growing up, my family had two rescue dogs as well. Although I was somewhat knowledgeable about dogs, I had heard a lot in the media that pit bulls were dangerous. Having interacted with a lot of pit bulls, my wife told me that it was not true and that they were very friendly and loyal dogs.
WF: Were there any initial challenges or hardships that came with adopting Bubbins?
JK: When we first got Gibbson, he had some bad stomach and urinary tract issues and was extremely uncomfortable. He would cry and cry and would only stop crying when being cuddled up with someone. Aside from that, he also didn't know how to walk on a leash.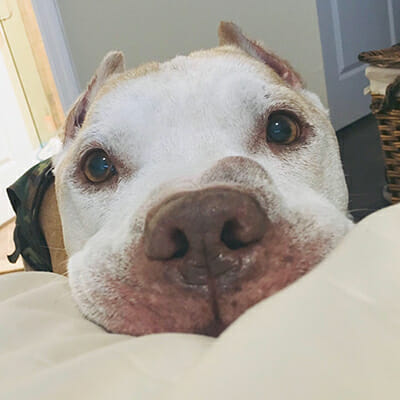 WF: How easy or difficult was it for your family to take in an older dog, especially one that was diagnosed with cancer?
JK: We never saw his age as a bad thing or even a challenge. In fact, we find that senior dogs are even more appreciative and truly just want a loving family and a comfy spot to lay. We just have to help them get around sometimes as they both have issues with their mobility. Like going up or down the stairs, they can do it but we have to monitor them for safety. 
Although Gibbson does have thyroid cancer, thankfully it has not progressed. We keep him on a very strict diet and are always monitoring his thyroid.
WF: What makes Bubbins and Mac unique?
JK: Gibbson has an insatiable appetite for being cuddled and always wants to be near people (usually laying next to you or ON you. Haha!). He is also very verbal with his noises—you can literally tell what he is thinking by whatever sounds he is making. When cuddling, he lets out grunts of satisfaction. When he wants to go upstairs to bed or go for a walk, he will breathe very deeply and then let out a very funny annoyed grunting sound. He will also jump onto the couch and plant his face in your lap even if it's the first time he's met you.
When Mac first came to us, he could barely walk because his leg muscles had atrophied. Plus, his front legs are bowed in. Now, only after three months, he's cruising around and even tries to run outside sometimes! Mac also makes hilarious noises. When he makes his noises, he sounds like a dinosaur.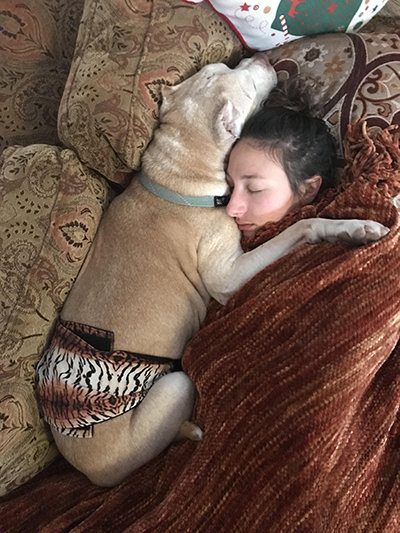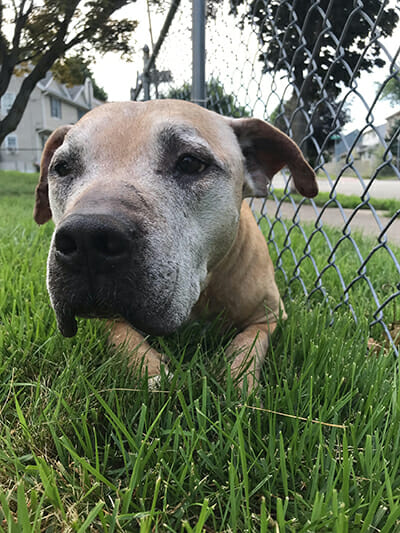 WF: What are the things Gibbson enjoys doing with you and Michelina? Since the book you wrote is called Belly Rubbins For Bubbins, we assume he's really a big fan of belly rubs!
JK: Yes, Gibbson LOVES to have his belly and his ears rubbed, and most of all, he loves just laying with people. Gibbson also loves going for his walks and "playing" outside with his ball, even though he doesn't really run after it. It's more like jogging. Haha!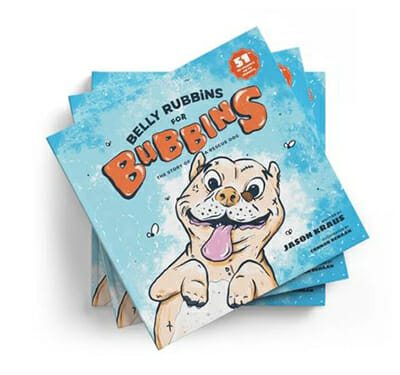 WF: Speaking of the book, what inspired you to create it? What do you hope to achieve in publishing this children's book?
JK: I was inspired to write this book while I was getting my Master's Degree in Counter-Terrorism and Homeland Security. We were taught that the only true way to stop terrorism was education. Although they are two different subjects, I still believe the same solution applies. As one of our slogans goes: "We can spay neuter, shelter, foster, and adopt, but until we educate, it won't stop." We must go after the disease, not just its terrible side effects. We are not winning the rescue battle and man's best friend is suffering. We hope to stop abuse and neglect before it happens by teaching children to be kind and compassionate to all living beings.
WF: How long did it take for you to write the story, illustrate the pages, and print it?
JK: It took about one week to write the bulk of the story, and some edits were made during the illustrative process as I was able to see the story come alive. The illustrative process took about eight months. 
WF: What are some of the milestones you've achieved after publishing the book?
JK: After launching the book on May 4, 2019 with so much amazing support from the rescue community, we hit number two (overall) on the Barnes and Noble Top 100 bestsellers list. That was pretty cool!
It has been amazing to get messages from people across the world who have purchased the book and appreciate its message—as they too believe that education is so important in changing the horrible things that are taking place in their countries and around the world.
WF: How did you come up with the list of charities which would benefit from the proceeds of the book?
JK: We selected three organisations on the East Coast: Newark Associated Humane Societies (it was the shelter that took in Gibbson when he was found wandering the streets); Green Mile Rescue (it was the rescue that pulled Gibbson from the Newark AHS Shelter as he was in bad shape); and New York Bully Crew (very well-known rescuers and advocates for pit bull type dogs). We also selected four additional organisations in California. These were recommendations of individuals we had been working with on the West Coast. We have always wanted this movement to be nationwide!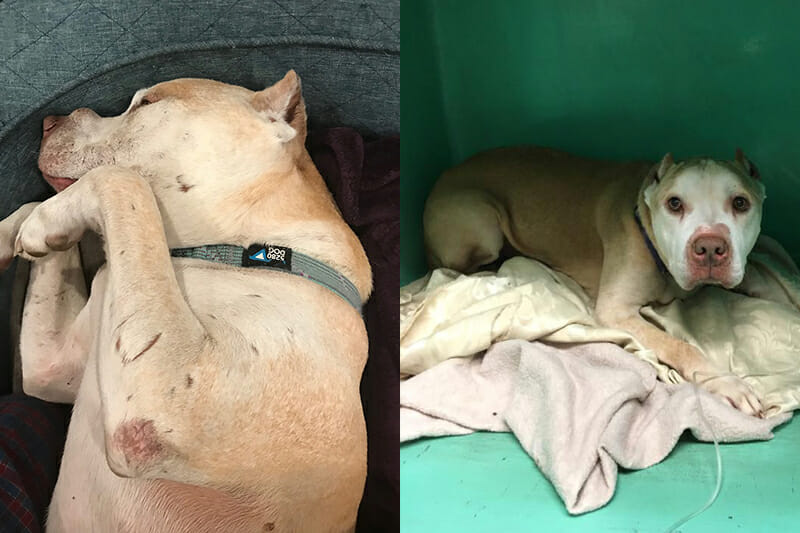 WF: In your story page, you mentioned that you originally thought pit bulls were "mean and dangerous." As an owner of two loving pit bulls, what other misconceptions do you hope to debunk?
JK: No dog is inherently mean and/or dangerous—it is all about how the dog is raised. Pit bulls do not just "snap" or get triggered randomly. They are just like any other dog. Pit bulls are also not inherently aggressive. They score very highly on temperament tests as a breed. Lastly, pit bulls are not inherently dangerous to children. In fact, they were actually used as nanny dogs because of their temperament and loyalty.
WF: Can you talk about the lesson plan you've developed with Lisa Potiker of Lucky Dog Humane Education? How will your book be integrated with the program?
JK: After I reached out to Lisa, she was gracious enough to develop three common core standard lesson plans surrounding the book. These lesson plans focus on social emotional learning and help children understand and practice kindness and compassion toward others.
Currently on our website, anyone can access the first of three lesson plans for free. The two additional lesson plans, as well as our 8.5-minute humane education video (which explains what a rescue dog is, what a shelter is, how to interact with and be respectful to dogs, and what children can do to help) can be purchased on our website through our Humane Education Program. This program also comes with a PDF formatted version of our e-book, so teachers or educators can easily display the book on their projectors or smart boards.
WF: Why would you personally encourage people to adopt older or sick rescue animals?
JK: The obvious reason would be that they are least equipped to survive shelter life and they deserve to spend their last days in comfort knowing they are loved. There is something about older/sick dogs that when they are rescued, they seem to appreciate it even more. While many people think older dogs are more of a hassle, it couldn't be further from the truth. All they want is a comfortable and safe place to nap, and they are always so content just to do what you are doing. They love just being in your presence. Every single dog, whether old or sick, deserves a loving family!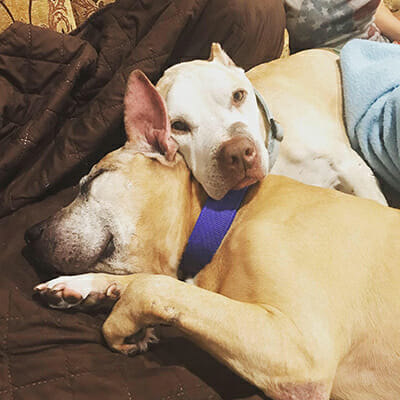 WF: What's the best pet parenting tip you can give for people thinking of adopting an older or sick rescue animal?
JK: Make sure you are feeding your dog high quality food that is tailored to their specific needs. Also, consider the setup of your apartment or home. If the dog is unable to walk, are you or others able to carry him? Make sure you are able to come home during the day time, as sick/older dogs may have to go to the bathroom more often. Most importantly, DO NOT judge a dog based on how they appear at the shelter. Dogs have an amazing ability to bounce back once they are in a loving and supportive environment. You just need to give them a chance!
WF: How has your life changed after adopting Gibbson?
JK: Since adopting Gibbson, I have switched jobs to take on the humane education mission full time. I have become more compassionate towards all animals (I no longer eat beef or chicken) and other people as well. I understand that there is much, much more to life than looking after one's self-interest. Truly, the more you give, the more you get.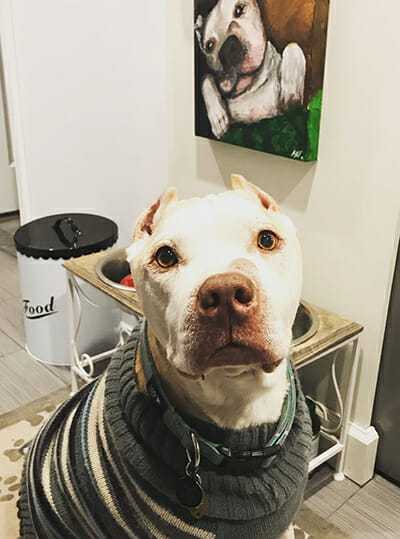 Follow Gibbson and his family's journey on Instagram.
Read more rescue stories here! Do you know of an interesting pet adoption, foster, or rescue story? Share your suggestion with us by commenting below!