Early this year, Ashton—a 30-year-old Sydneysider—and his partner, decided to adopt a gorgeous little rescue Staffie. They didn't know that taking in eight-year-old Augie would change their lives completely (and may we add—forever!). Ashton shared his wonderful journey into becoming a first-time paw parent with Waldo's Friends.
Help out by donating to Staffy Rescue
With your kind assistance, Staffy Rescue can save and rehome as many Staffordshire bull terriers and larger breed dogs as possible. 
Waldo's Friends (WF): Can you tell us how you came to adopt Augie?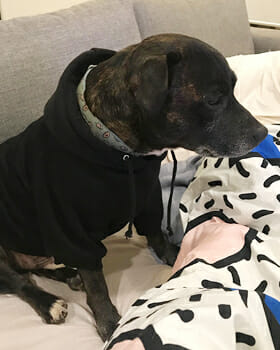 Ashton Pereira (AP): Augie is the first pet my wife and I have ever adopted. He's been with us since the beginning of 2019. We both really wanted a dog, so we actually looked to move to a pet-friendly place close to the city. Luckily, we found the perfect place and then began looking for a good three weeks for our new family member. 
We discovered Augie on a trip out west to Campbelltown Animal Care Facility. He was the only one that came up and said hello, but noticeably very quiet and reserved considering the situation he was in. It was definitely intentional to get a dog that was older so that we could give them a better life for those years remaining. It just so happened that someone that was keen on him decided not to adopt him, and we didn't hesitate at the chance.
WF: Did you have previous experience with animals and/or pet rescue? How did this affect your decision to adopt Augie?
AP: I had no previous experience at all. My wife owned a dog for many years growing up and I had no pet experience, but we knew that we'd be able to take it slow so that our new pet could adjust. 
I think it's a lot to ask of a dog or cat to trust you straight away when they aren't a puppy or kitten. We spent a while just letting Augie feel at home when we were with him, just leaving him to himself. If he came up to us or was around, we made sure to play with him and show him affection. Considering that we didn't know about the extent of his hearing problems and he had just been desexed, he was probably a bit confused. 
WF: Were there any difficulties that came with adopting him?
AP: Staffies naturally adapt to new owners and Augie became very attached very quickly. The only hardship was some medical issues that he had and will have forever sadly. Augie's previous owners didn't take care to clean his ears and he developed a rather serious condition where hematomas developed in his ears. We decided and had the means to give him surgery after we noticed he'd be constantly scratching at and hurting his ears every night. The good news is the surgery was a big success and he can hear much better now…especially his selective hearing (he is quite a cheeky boy!).  
WF: What makes Augie unique?
AP: Augie, like most Staffies, has a very vocal mannerism. He'll tell you when he wants something. Funnily enough, he refuses to go outside when it's raining without his raincoat and absolutely loves jumping in and having naps on our bed, tucked and head on the pillow like a human. Now that you mention it, he also sits like a small child.  

WF: How has your life changed after adopting Augie? And why would you personally encourage adopting animals?
AP: It's been a good lesson in patience. Animals like Augie have a lot of love to give and he's just a pleasure to be around. It's probably the best thing to come home to after a hard day.
I'd encourage adopting animals because it's an opportunity to give an animal a first or another chance at a better life. We're personally proud of the big changes we've seen in Augie and he's able to be his best self now. 
Before, Augie wasn't initially responsive to certain commands. He used to be more anxious, especially around other dogs. We've had to re-socialise him because of his hearing problems, but he's much calmer and less apprehensive with other dogs.
WF: One of your Instagram posts features a playlist for Augie. What is the music supposed to do and how did you choose the songs for it?
AP: We compiled a lot of nature sounds and classical music, and it really calms Augie down before we leave him alone at home. We had heard music like that calms most dogs down and can make them feel at ease with changes. Our playlist plays throughout the day when he's alone.
WF: You've also posted a lot of photos of Augie at your office. What's the pet set-up like at your workplace? And what does Augie do most of the day when he's at work with you?
AP: Augie is pretty lucky. I take him to the office maybe two to three times a week. We have a few other dogs at any given time, and amongst the dog owners we chat whenever a dog is coming in.
Augie has a little bed and toys set up for him so he's usually dozing off or doing zoomies in the office. Once we get to the office, he's usually walking around to get scratches and pats from everyone he can see and trying to get some food as a side hustle.

WF: What's the best pet parenting tip you can give for first-time animal owners?
AP: Research, learn about your animal/breed, and don't be afraid to seek advice.
WF: What's your advice for people thinking of adopting a rescue animal?
AP: The best piece of advice would be to get a dog trainer to come in after a month or so and work with you to understand the specific behaviours of your animal and the spaces you live in. It's made it easier for us with Augie: one to understand his wants, and him in regards to behaviour out and about.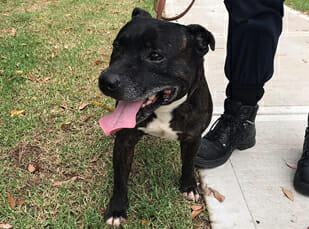 Follow the adventures of Augie on Instagram.
Read more rescue stories here! Do you know of an interesting pet adoption, foster, or rescue story? Share your suggestion with us by commenting below!