I first came across atcharlie while searching online for animal rescue supporters who aren't affiliated with any shelter, clinic or hospital – but support the ecosystem through communities and awareness; someone who does it for the love and compassion above and beyond a vocation or business-for-profit. When I found the website, I was excited to see that Steve was doing what I planned to do – share resources and profiles of animal shelters doing great work. I wrote to him with information about Waldo's Friends, and – as any good website content builder would – requested a backlink for a rescue dog adoption guide. Several emails and a wonderful shoutout to Waldo's Friends later, I realised that I had found a mentor and kindred spirit. I hope this interview gives you a peak into his ideas and work for saving abandoned animals, and spreads his unrelenting message of love at all costs.
Help out by donating to House of Puddles
With your help, House of Puddles can rescue more senior hounds—mature dogs that no one wants to adopt or are in danger of being euthanized—from shelters.
Waldo's Friends (WF): All your articles about rescue shelters are detailed and evocative. They encapsulate each rescue's specific experiences, while putting things within context of the world at large (such as how BROOD began with the backdrop of tech in 1996). Particularly poignant are your descriptions of the people behind these rescues (like the amazing dog man of Wedowee) and their communities (as in the case of the Lonesome Dove Rescue). Could you tell us about your first article about a rescue, and how it affected your future articles?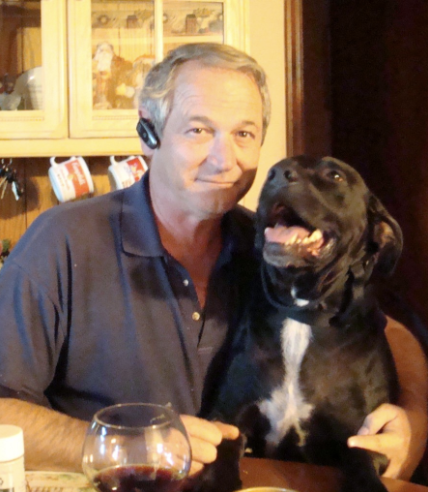 Steven Veigel (SV): I always understood people trying to start a business. Like anything else, a rescue is dealing with competition. Competition for donations to survive as an organization. But with a rescue it's not just about the business end you have to consider. It's looking at animals, looking back at you, who cannot survive without you. It's about their food, shelter, and medical care. It's like caring for little children.
My first attempt at an article was actually "Hope for Life" in 2013. Pauline Cushman ran a rescue for cats and dogs in Virginia Beach, Virginia. The building was divided into two areas. One was Hope Center where she cared for abandoned animals, and Hope's Garden Resort Boutique where dogs with owners were groomed and kenneled. The Boutique then gave her additional funds for the Hope Center.
I had just started my website with a few listings and Charlie's story. I think I had about 40 visitors to my site (now over a million per year) and I had no idea how to interview people. But "Hope for Life" is where we got Sammy. Sammy was a dog we knew had cancer (mentioned at the beginning of Charlie's story), so if you want to get started, go where you know and learn how to ask questions.
Pauline had never met me but knew we adopted Sammy. That at least gave us something in common to talk about. When I arrived, she was cordial but a little suspicious. What I didn't know was that she previously had some people nosing around. She thought they were there to adopt an animal, but they weren't. They were just poking around in her business. But despite any concerns about my true intention, she let volunteers give me a tour, spoke with me about the animal control facilities she rescued animals from in different US states, and her efforts to get the animals adopted. I watched her handling day-to-day situations with papers all over her desk. When we finished, I walked away with a few scraps of notes and a new appreciation for the dedication it took to keep operating as a charity.
What impacted me the most was when Pauline said, "It shouldn't be about the organization. It's about the animals." To this day, I continue to echo those words: "It's about the animals."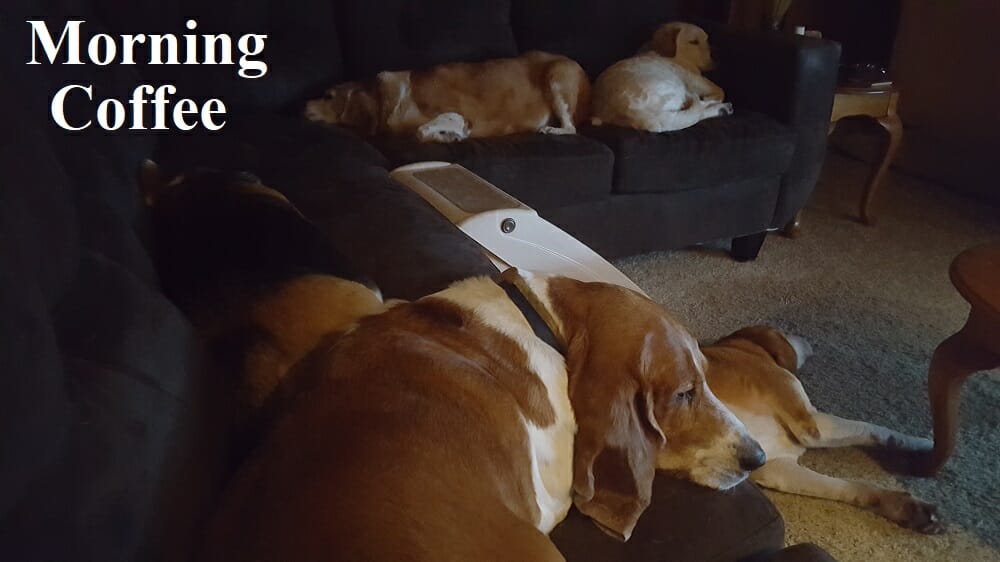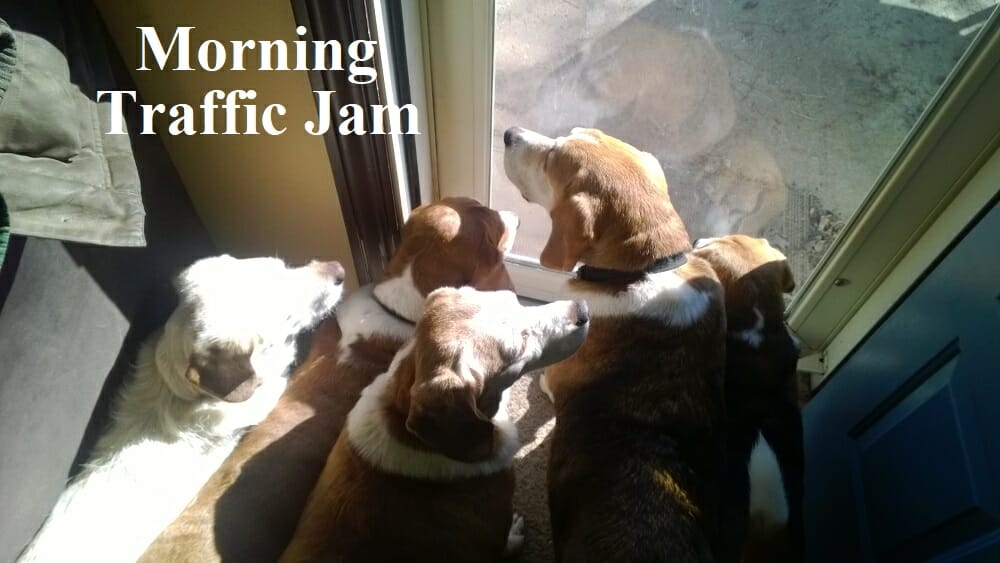 WF: In your articles about personal experiences with rescuing animals, you've mentioned adopting Charlie, then fostering and eventually adopting Smoke and Ginnie, and fostering several others. Could you tell us about your decision to foster and adopt "difficult" dogs?
SV: I had grown up around farm animals and pets, but Charlie is the dog that motivated my efforts. If you will for a moment, imagine a dog that's so quick and agile that it takes two people to corral him in a small backyard. Then, imagine you get him in the house and he leaps on top of a closed wood roll top desk and stands there balancing himself on the curvature of the roll top. He was just confused and fearful of where he was now. He had no idea what a house meant.
Charlie's story is not just a dog story. It's about how I had to break down his issues into manageable categories and goals. Charlie gamed me, forced me to learn, tested me, and made me understand his emotional struggle and intellectual nature on a far deeper level than I ever had to think about.
With Charlie, we had four dogs to manage and it became my responsibility. When Charlie passed, we were motivated to foster more dogs. Our experience with fostering, and then adopting our fosters, was wonderful. We had many really sweet dogs. We had a reputation with Basset Rescue of Old Dominion (BROOD) and on our original adoption application, I selected "willing to work with difficult dogs." So when Lisa at BROOD called asking if we could help with a special case, we did. We knowingly took dogs with aggressive cancers understanding they were only going to live one to three months. That was difficult, but we gained so much from their love it only deepened our commitment. And that brought us to Smoke and Ginnie. Two dogs that no one was going to take in, especially because they were an older bonded pair that had to be adopted together. When they arrived my wife, Jenny remarked, "Oh my, they are Charlie times two. They're your responsibility." They weren't that difficult, but they did have issues.
Before Charlie, we'd have three dogs and a cat. After Charlie, we'd have four to five dogs in the house. My wife then started calling me "the dog herder." This was not anything official. More of a title of amusement as I walked around the house with all the dogs following me and gathering wherever I was trying to work.
When I had my first knee surgery, I had to do everything with a walker, but that didn't change the fact that I had four dogs to take care of and I was determined to do everything myself. In the beginning, a therapist would come to the house to get me started on recovery. One day she wanted to see if I could get out the back door and then back into the house properly using my walker. I not only accomplished this with the walker, I did it with the walker, a cup of coffee, and four dogs. Impressed with how I managed it all, the therapist concluded, "Well, I think we have that one covered."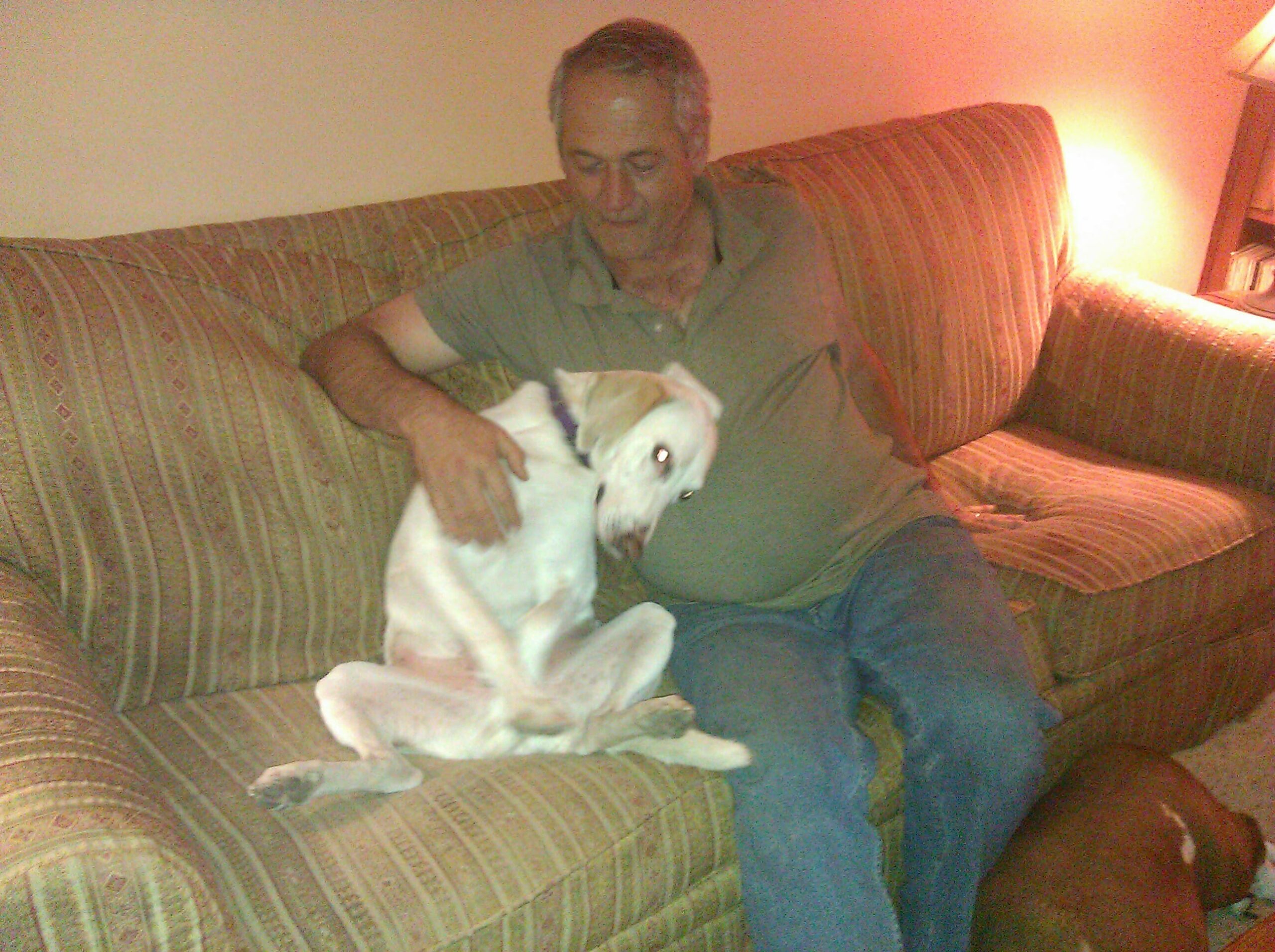 WF: What is your recommendation for people who want to follow in your steps in adopting "difficult dogs" but are hesitant due to jobs and kids?
SV: I think it's worth noting that some things we took on did not represent a normal dog adoption. And Charlie did nip my mother-in-law in the butt. In Charlie's defense, she wasn't dog friendly and she did surprise us about four o'clock in the morning with a brief visit. The small hallway was dark, the dogs were barking, Charlie didn't know her, and in our surprise, we were not paying attention to the dogs. Charlie was still new to the house, confused, and thought she might be a threat.
It's funny now and she did not really get hurt, but it impressed me with the basic rule: Be aware of the situation and don't put the dog in a position you know will get him in trouble. If we had just turned on the lights and got the dogs under control for a moment, Charlie never would have felt the need.
If you want to help "difficult dogs," understand that we're not talking "dangerous dogs." Difficult dogs are anxious, lacking guidance, and a bit fearful for their situation. They sometimes get labeled "dangerous" because they are unruly, like someone insisted on improperly feeding them a treat by hand and kept getting nipped. Start off by reading Charlie's and Smoke and Ginnie's stories. Pay attention to some subtle changes in behaviour I try to bring attention to. Learn some basic dog training, and go in with commitment. Understand you are taking responsibility for a life. They're not a toaster you return because you don't like the model. They're living, feeling, sentient beings. And they are not there to protect you. You're there to protect them.
There are literally hundreds of sweet dogs who just need a home. Rescues generally do their best to pair you with a dog that will fit your situation. Try to time your adoption when you have a couple days off so the dog can explore the house under supervision and get to know you. Don't let small children create confusion where the dog is trying to eat. Give them a comfort zone of about six feet (two meters). Your house is already strange to them and even an established pet deserves to eat in peace. Also, don't let small children walk around with food in their hand. Dogs are opportunistic. If they can take the cookie, depending on their previous living conditions, they might. Don't put them in that position. And then, don't blame the dog.
WF: Your animal rescue directory shines the light on rescue shelters. Unlike sponsored and funded organisations in animal rescue who focus almost exclusively on pet adoption listings, you focus on volunteers and organisations that run with low to no funding. Could you tell us about your decision to focus on the rescue shelters and not on animal adoption listings?
SV: I don't really care if someone is an "established charity." Established charities had to start somewhere and I try to note that. If someone is doing a good job trying to get pets adopted, I'm in their corner. With our throw-away societies there are just far too many animals who need our help. The only way to make a dent in the problem is to assist, advise, and encourage those who have the motivation and the dedication to take it on.
I try to bring attention to the efforts of animal rescues large and small. My articles serve two purposes. First of all, I try to invite people to learn more about animals, animal care, and the people. Second, if my article draws a reader because they're searching for "why do dogs eat poop" (for example), maybe they'll also notice the rescue listings while they're on my site. Maybe they'll be encouraged to adopt an animal and/or get involved with people in their area.
WF: You comment on the nature of volunteers, and this sentiment (mentioned in your article about BROOD) stands out: "These people struggling in the animal rescue community to get our attention are among our unsung heroes who represent the best of humanity. It doesn't take much to help them." In your experience, what do you consider the most challenging hurdles that a rescue shelter faces, and how best, in your opinion, do you think that regular people like us can empower them?
SV: I think the most challenging hurdles that rescues face are donations and volunteers. You can't buy food or provide medical care if you can't get donations. Some rescues are working in economically depressed regions, and not everyone is a master at fundraising. Just getting the donation page of your website noticed is extremely difficult given the nature of search engine rankings. That's another major reason I do my listings. If someone finds my website, I then increase the odds (just a bit) that one of the rescues I list will also get noticed.
As for the volunteers I mentioned, they're great people but they're not employees. They have other employment and families they're obligated to and they can't always be there. On that topic, I'd like to mention that volunteering doesn't have to take all your time. Some rescues just need help from time to time to transport a dog. They develop a list of volunteers and then put out an email to coordinate those available. I recall one time Lisa from BROOD was traveling 176 miles to bring us a foster named Caitlyn. She was also trying to pick up another dog they were rescuing from animal control in Portsmouth, Virginia. To save her time and distance, my wife drove the half hour to Portsmouth and retrieved the dog there. We brought it to our house for a couple of hours and then drove a ways to meet Lisa in a shopping center parking lot to exchange dogs. It was a good experience and we got to finally meet Lisa and chat a bit.
Donations and volunteering help empower rescues. Businesses here often provide a percentage of sales to rescues which is good for them and tax deductible. There's even a group here in the US called Rescue Bank who developed a warehousing and distribution system for pet food. They get pet food donated (some probably overstocked) from pet food manufacturers, and then provide the food to rescues at a greatly discounted rate. The pet food manufacturers then get a tax deduction and also get to tout how they support animal rescue.
Read more rescue stories here! Do you know of an interesting pet adoption, foster, or rescue story? Share your suggestion with us by commenting below!