Jen Marder is a licensed attorney living in Los Angeles, California. She has been fostering kittens for the past five years, and has taken in about 40 kittens to date! Jen shares how she got into kitten fostering, the challenges she has had to face, the fulfillment animal fostering brings, and why more people should consider doing it. 
Help out by donating to Wrenn Rescues
With your kind assistance, Wrenn Rescues can save more orphaned and abandoned kittens or cats.
Waldo's Friends (WF): What are the kind of animals you foster and how long do they usually stay with you?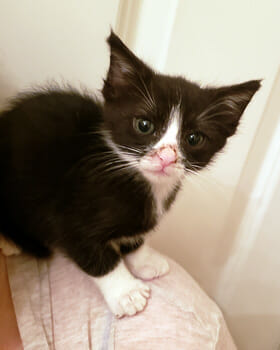 Jen Marder (JM): I only foster kittens. I usually get them when they are just weaned, so approximately five weeks old, give or take a week. The one exception is if I get a pregnant mama; then they are here with me when they are born. They stay with me through vaccines and getting fixed and until they find their forever home. So the time they are with me really varies. I have fostered kittens as short as a couple of weeks and as long as four months. Other than that, I just take in whatever kitten is in need and welcome all breeds.
My husband and I live in a house where we have a spare bedroom and bathroom combo. That's where the kittens are. I do most of the caring for the fosters, but foster dad helps out when I need to give medications and will spend time with the kittens to help socialise them.
WF: How did you get into fostering?
JM: A little more than five years ago, I had just lost my older cat to cancer. We also had a kitten at the time who was only a little more than a year old, and he was lonely without his buddy. We went to adoption events looking for a friend for him and I saw these two teeny tiny babies getting bottle fed at the event. I immediately fell in love and wanted them. They told me that they would be weaned in about a week, and at that time, I could foster to adopt them. I didn't even know fostering existed before that! It was like a dream come true. 
So about a week later, I brought Simon and Lucy home and had my first foster experience. We did vaccines, testing, spay and neuter—all the things I do now as a foster. Then, about a year later, a plea went out for fosters and I took in my first real fosters. I had to take breaks over the next couple of years and would foster when I could, but with my new rescue, I have been able to have almost non-stop babies this last 12 months. I currently foster for a small local rescue called Wrenn Rescues. It is a small but incredible group of very caring individuals. We are all very supportive of each other.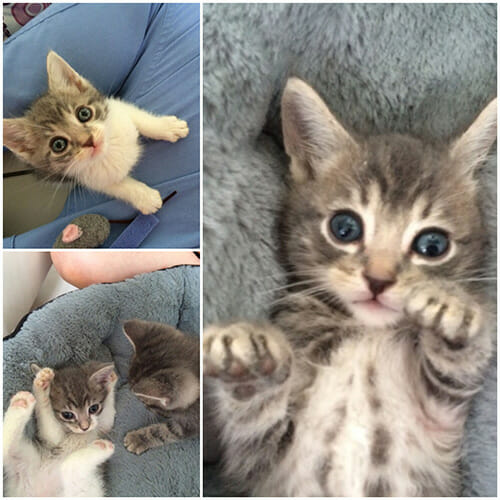 WF: What's the most number of fosters you've taken in at one time? What was the experience like?
JM: I had a mama and her litter of six kittens! That was a lot, and as the kittens grew and got closer to adoption, my lap was VERY crowded! But because they had their mom, it actually wasn't that bad!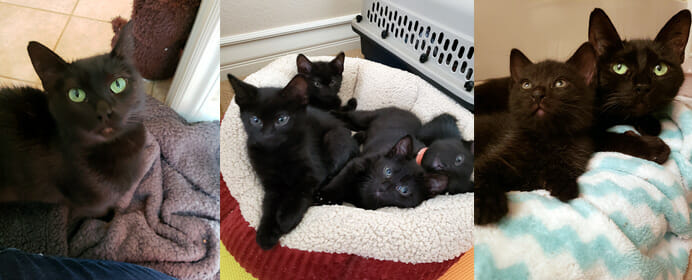 WF: What do you love most about fostering kittens?
JM: I don't know that I can pick just one, so these are my three favorites: 1) Seeing them happy, thriving, and growing, and knowing that I helped make that possible. 2) Seeing how happy each family is when they get to bring home their baby or babies. 3) Constantly being around cute and cuddly kittens!
WF: What would you say are the biggest challenges that come with fostering kittens?
JM: I try really hard to only take on what I can handle, and I think this answer depends on the litter, actually. Each group is different. I had one litter where we had to repeatedly deal with coccidia. I was constantly cleaning and trying to make sure they didn't reinfect each other, so that was the hard part with them. However, they were all pre-adopted, so that was easy. I had another group where it took a long time to find them a home, so for them, finding the right family was the biggest challenge. I have also had challenges with scheduling when I had to figure out how to feed the fosters when I had to be gone for work. All of those things worked out, though. In fostering and rescue, you kind of have to always be on your toes, because the challenge isn't always the same!
WF: Can you share some of your most interesting foster stories to date?
JM: Once, I had two kittens who got to do a holiday Ross commercial and a short little spot on a scripted TV show! They were my little child actors! I also had one litter who didn't quite understand eating, and all four of them would take a bath in their food bowls! They were so messy. It's always funny when you think a kitten is one gender, and then you pick them up from getting fixed and find out that they are not the gender you thought. Other than that, it is just crazy daily kitten antics.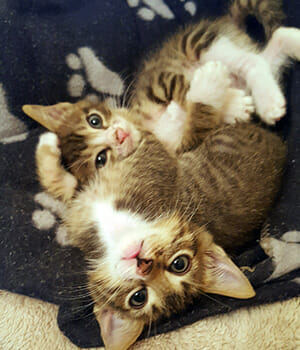 WF: When it's time to give away the foster, how easy or difficult is it for you? How do you deal and make yourself not too attached to your foster babies?
JM: It really depends. I love them all, of course, but I do get more attached to some than to others, and those are a little harder to let go. I have also fostered failed once. That won't be happening again because we are at our limit of what we can handle and afford in terms of resident cats. 
I think the biggest thing I do when I take them in is to recognize that they are not mine. I am just holding them and getting them ready for their forever family until they come along! For me, I need the closure of having a say, knowing where they are going, and being able to get updates and know that they are okay. That definitely helps letting them go for me. So I foster with a rescue that gives me that ability. Knowing that I have done a small part to help complete a family is definitely something that outweighs the temporary sadness of missing the kitten!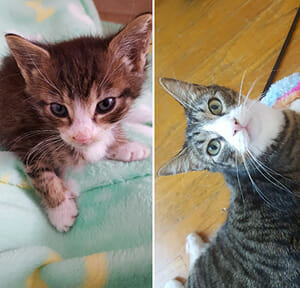 Also, knowing that the alternative to fostering can be the kittens dying on the streets or in shelters really helps take away the sting of my brief sadness of them not being with me. Honestly, knowing that I don't have room to adopt any more cats also helps with not getting attached in that way. Of course, I love them all and I am attached, but not in the way that I want them to be here forever.
WF: Aside from fostering animals, do you have your own pets? How do they feel about you bringing in other animals temporarily?
JM: I do! We have four wonderful kitties of our own. They don't really love fosters, so thankfully I have a room where I keep the fosters and we can keep them all totally separate!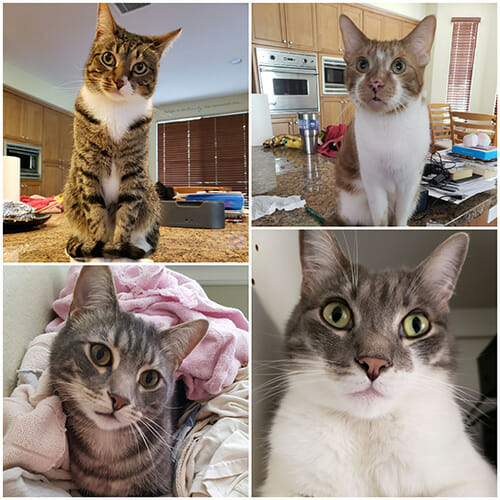 WF: What's the best tip you can give for first-time foster parents? What about to long-time foster parents?
JM: There are a couple of tips I would give, and I think they are useful for both first-time and long-time foster parents to remember. First, make sure you only take on what you can handle. Anyone can foster, but everyone has different capabilities. For example, I can't do bottle babies, so my rescue knows that I can only take kittens once they are weaned. It is important to tell your rescue or shelter what your abilities and needs are, so they can pair you with the right foster animal or animals that fit your lifestyle.
If you are a first-time foster or a long-time foster and you aren't happy with your rescue, make sure you find a rescue that works with your needs and abilities and ask them questions to make sure it is a good fit.
Second, don't be afraid to ask for help. Fostering can be a lot of work and stressful, so we need to be able to ask for help when we need it and get support. That can even be advice and emotional support that isn't local, thanks to social media. 
Lastly, trust your gut. That applies to the health of your kittens or cats, and it goes with finding adopters for your fosters!
WF: You came up with a hashtag for the new set of kittens that you foster:  #airplanekittens. How did you come up with the name for them? How are they as fosters so far?
JM: It is kind of funny how I came up with it. I have a book with theme ideas, but this one wasn't in there! It was a couple days before I was going to get them and I was scrolling through Instagram and commented on a photo from one of my fellow fosters. Her kitten was being spunky, so I told her that she was being a little spitfire. About an hour later, the light bulb went off…I should name this group the Airplane Kittens and name them after old airplanes. My husband likes old airplanes, so I knew that the Spitfire was an airplane. He helped me come up with all the planes and assign each name!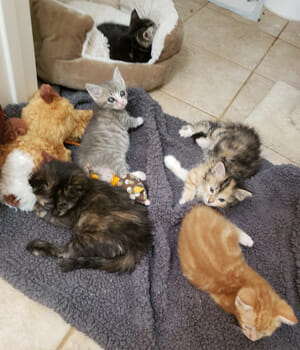 My experience with them has been amazing. They are all such good and perfect babies. They are super loving, affectionate, and sweet. I would say this is probably my favorite all around litter that I have ever fostered. They have been so easy, I get to just enjoy the fun and cuddles. A lot of that credit has to go to the bottle baby foster who had them before me, Ashley of @bruceandfoxfosters. She took care of them from about a week old and took them through until weaning, and then I took over.
WF: Why would you personally encourage people to foster and adopt animals?
JM: There are a lot of animals in need, and without foster care and adoption, even more animals would be dying on the street and in shelters. It is a great way to do something good for your community and for the lives of animals. The joy you get for yourself in being able to care for these tiny lives and being their buddy for a time is unmatched!
WF: How has your life changed after fostering?
JM: It is a lot fluffier! Seriously though, fosters and kittens bring me such joy, it keeps me calm through life. It also keeps me on my toes and even busier than I am already!
Follow Jen's fostering adventures on Instagram.
Read more rescue stories here! Do you know of an interesting pet adoption, foster, or rescue story? Share your suggestion with us by commenting below!