Born and raised in Quezon City, Philippines, 34-year-old Alice Sarmiento is an independent curator and art writer who welcomes kittens and cats into her home. Fostering for Philippine Animal Welfare Society (PAWS) since 2011, Alice also works as a humane educator, going to schools or touring shelter visitors and talking to them about animal sentience and responsible pet care. 
Help out by donating to Philippine Animal Welfare Society (PAWS)
With your kind assistance, PAWS can care for over 500 cats and dogs rescued from cruelty or neglect.
Waldo's Friends (WF): Hi Alice! Tell us about your fostering beginnings.
Alice Sarmiento (AS): The first animal I fostered is my cat, Sandwich, who currently lives with my mom. Sandwich is what we at the shelter call a "foster failure" because I ended up adopting him after the six month period.
I began fostering Sandwich after a kitten I had rescued, Strawberry, died of digestive problems. I felt compelled to take Strawberry in because I thought she was dead when I picked her up from the sidewalk and moved her to a flower box. Then, she got up and followed me back to my car, so I asked a friend what to do and she said to take Strawberry to the vet. She turned out to be very sweet, and it broke my heart when she died so soon.
When I tried to donate Strawberry's carrier to PAWS, I ended up taking two more kittens home after seeing how much help they needed caring for the smallest shelter residents. One of the kittens we took home, Maya, was a tripod whose leg had to be amputated after it had been eaten off by maggots when she was rescued. Maya was adopted as soon as I readmitted her to PAWS, but the shelter administrator at the time recommended I keep Sandwich because as a ginger tabby, he looked very common and could easily be passed over.
WF: What kind of animals do you foster and how long do they usually stay with you?
AS: I foster rescued cats and kittens for an average of six months, which is how long it takes for them to get through deworming, vaccinations, and neutering or spaying. Sometimes, they need to be rehabilitated for various reasons, so they end up staying longer or just never leaving.
My partner and I take care of our fosters. We live very near the PAWS shelter so it's easy for us to head over there for vet visits, milk, sometimes food and litter (if there is an adequate supply of donations), and just space to decompress from our own household. Right now, we have four adopted boys and six foster kittens.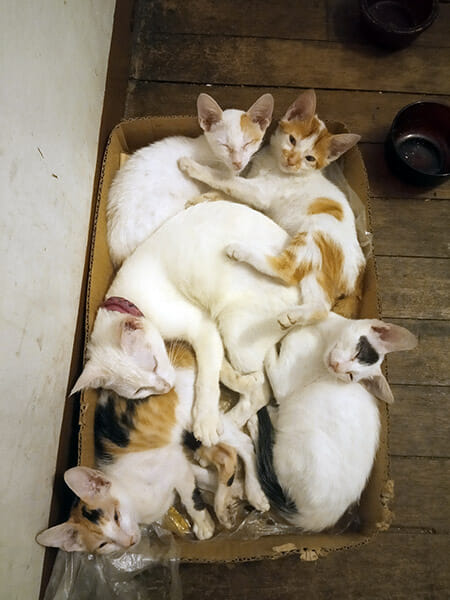 WF: What's the most number of fosters you've taken in at one time? What was this experience like?
AS: I usually have pretty big intakes, averaging about three to seven kittens. It's actually more unusual for me to have less than three. Until we learn to live with community and feral animals by simply letting them exist while ensuring their health and safety—which includes having community cats and dogs spayed and neutered to keep their numbers manageable—there will always be animals to foster.
WF: What do you love most about fostering?
AS: It's not all fun and cuteness and derpy cat videos. It's a lot of poop and sleepless nights spent bottle feeding entire litters of kittens. You also get used to the grief that comes with it because many of the kittens who end up in our care should never have been separated from their momma cats in the first place. But you also learn that grief is just all the love you can no longer give.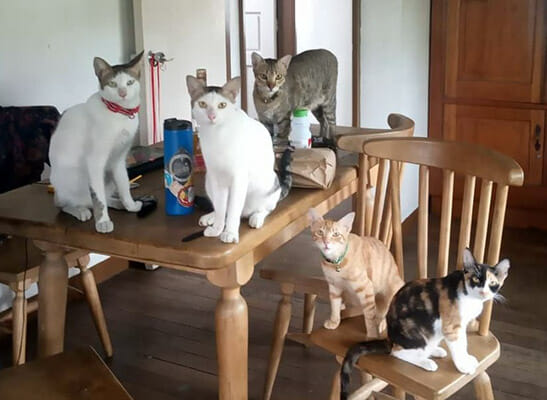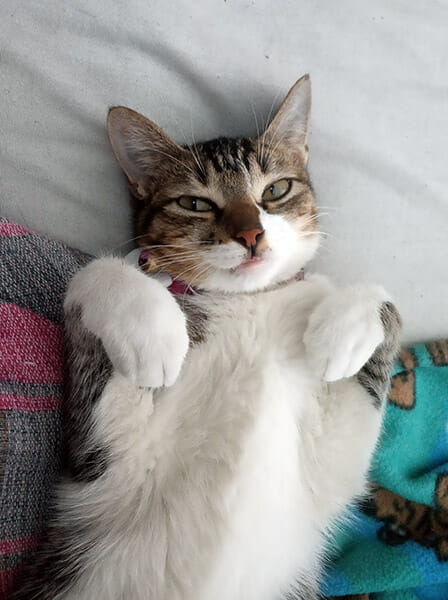 WF: What are the challenges that come with fostering?
AS: Thankfully, since most of my fosters are registered with PAWS, I get a lot of help from the shelter for milk, medicine, and most of the vet care. The hardest part is being anxious all the time about whether or not a foster kitten will make it from bottle feeding and hand rearing to full maturity where they can be spayed or neutered. And when they do, there's the even bigger challenge of finding them adopters. I would say the hardest part really is trying to convince more people to foster and adopt instead of buy pets.  
WF: How easy or difficult is it for you when it's time to give away the foster cats?
AS: It's rough for me because I know they are going back to the shelter where, even if they will be cared for by the staff and volunteers, it will in no way compare to the life they had in a foster home or the life they could have as adopted companion animals. I just wish more people would actually choose to adopt so that it would be easier to finish the fostering cycle, knowing that our animals are going to good homes sooner than later. Or better yet, nip the whole process in the bud by spaying and neutering their pets.
WF: Can you share some of your most interesting foster stories to date?
AS: I had to leave for an artist residency in Germany for five months last year. At the time, I had three foster kittens. Thankfully, my partner is supportive both of my work and of my advocacy. He stepped up and took care of all three of them, plus one of our adopted boys. For five months, he had all four cats growing up in his studio apartment. Thankfully, it worked out well and he did a great job. We eventually ended up adopting Quezon, who was the only boy in that group of fosters. The other two are Poochie Toots and Anderson Poopurr (who has been renamed Ashbey). They are still at PAWS waiting for their forever homes.
WF: Speaking of Quezon, could you tell us more about your adopted pets?
AS: My partner and I take care of four cats in our own house, and on top of that, I have another six living at my mom's house.
The ones living with us are Lynx, Louis, Fela, and Quezon. Lynx was found screaming his lungs out under an SUV that stopped at a red light. My partner, Javier, stopped the car and pulled Lynx to safety, and he now lives with us as a seven-kilo hunk of burning love.
Our twin boys, Louis and Fela, were found within a few days of each other. Louis was a tiny kitten dumped in a plant box on our street. Because he was so loud, I knew the neighbours might not be too kind to him, so I brought him home. A week later, Javier found a kitten right outside our house that looked exactly like Louis. Thinking Louis had escaped, he brought this new kitten inside, only to find Louis chilling on the couch. And that is how we got Fela.
Meanwhile, our foster fail Quezon was rescued by an exchange student on Quezon Avenue. Quezon brought to the shelter right before she had to return to the US at the end of the semester.
The other six cats at my mom's house are Sandwich, Paul Stanley, Eddie, Banana, Papay, and Miro. Paul Stanley is a fat little tuxedo who I found half-blind and covered with fungus in early 2015. She has healed beautifully, but is still partially blind. In late 2015, I found Eddie under a car with his mom and two sisters. I took them inside so they could nurse in peace.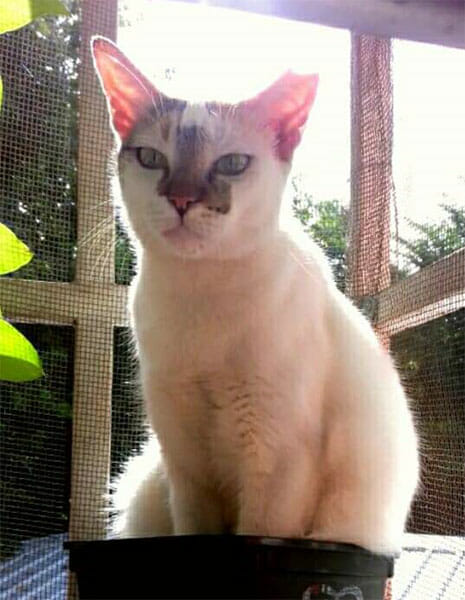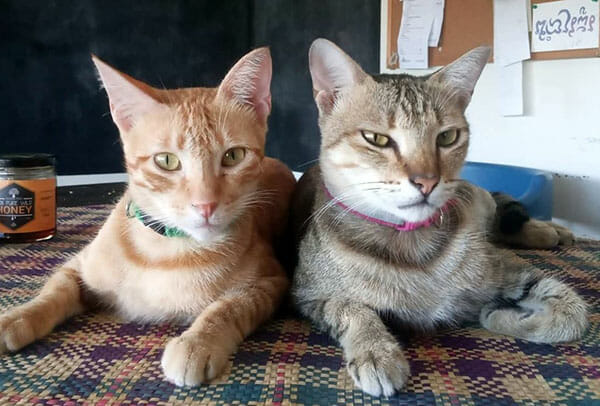 Banana and Papay have been with us since 2016. Banana was a former trash gremlin who lived near our old apartment. We started leaving food out for her, then we got her a collar. Eventually, our neighbours started thinking she was my cat. So they began letting her into the building and she would sniff her way up to my apartment. Meanwhile, Papay was left outside my mom's house in a really sorry state. She had a collar on with a nametag, so we circulated her photo and flyers with her name. But no one came to claim her.
Lastly, Miro was rescued by my boyfriend. He was sitting in the middle of the road, just outside my mom's house. Later on, we found out that he's actually partially blind as well. Because he suffers from chronic upper respiratory infection, he can't be around kittens and has to stay with older cats.
WF: How has your life changed after fostering?
AS: A huge chunk of my day revolves around their care. Even as a fairly recent cat companion, I can't imagine not having cats around.
WF: What's the best tip you can give for foster parents?
AS: Whatever happens, just do what is best for them, but don't forget to care for yourself as well.
WF: Why would you personally encourage people to foster and adopt animals?
AS: Caring for an animal is an ongoing exercise in empathy. We need to learn to see beauty and value beyond breed if we are to learn what it really means to care and have empathy.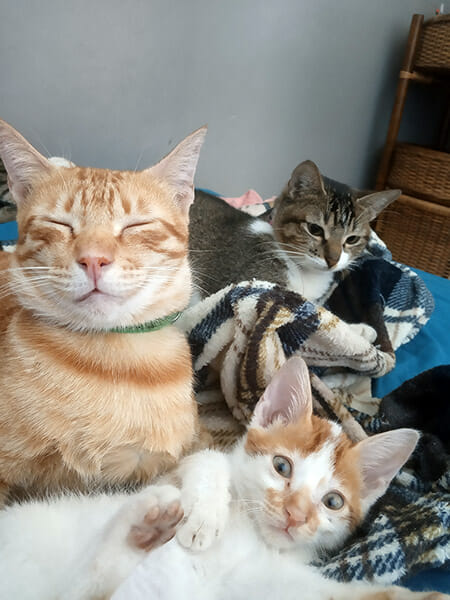 Read more rescue stories here! Do you know of an interesting pet adoption, foster, or rescue story? Share your suggestion with us by commenting below!