Twenty-one-year old Nina Segarra, a makeup artist and artistry coach from Australia, shares the touching story of how James came into her family's life at the right time. The first pet they've ever adopted, James is a ginger cat that was dumped and rescued near Blue Mountains, New South Wales more than five years ago.
Help out by donating to CatRescue 901
With your help, CatRescue 901 can take in and rehabilitate more kittens and cats and find them furever homes.
Waldo's Friends (WF): Can you tell us how you came to adopt James?
Nina Segarra (NS): James' adoption story is definitely one that represented a new beginning for our family after a period of grief. We had another cat before James—a ragdoll named Rupert. We bought him off a breeder back in 2004, when we first migrated to Australia from the Philippines.

In 2014, at the age of nine, Rupert was in and out of the vet for about six months. He was at the point where he was struggling to do his normal day-to-day activities. Eventually, his health deteriorated to the point where we had to face the choice to keep putting him through treatments to extend his life or peacefully put him to sleep. We came to the conclusion that Rupert would not have the best life as he would be in the hospital having treatments most of the time without us being around him. A day before my 17th birthday, we decided to peacefully euthanize Rupert. To this day, it has been one of the hardest decisions my brothers and I had to make. He was a huge part of our family and I am sure many people would say the same about their beloved pet.  

Our house felt so empty after Rupert passed away. Eventually, after a period of grieving, my brothers and I decided to adopt online instead of going through a breeder. Whilst looking at PetRescue (an adoption website we had been going through for days), we came across James' profile and his photos. We fell in love with him right there and then, so we contacted the rescue centre. They arranged for him to be brought to our house after we did all the paperwork online and on the phone.

The rescue centre told us that James was the only one out of his litter to survive as he was rescued along with his siblings near the mountains. Turns out, his litter was dumped in the mountains along with their mother. His original name was actually Tangerine, but we ended up naming him James after a band that sang the song, "Moving On." It was a song that my brothers and I had on repeat after Rupert died since it was about the death of a loved one and celebrating the life they lived. Eventually, James came to our house and he's been with us ever since!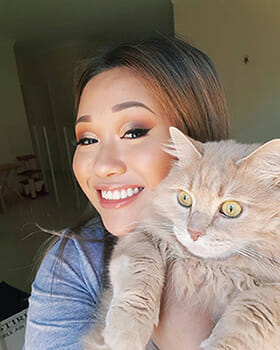 WF: What made you decide to adopt a pet?
NS: We decided to adopt a pet because we realised there are so many animals that need loving homes in this world. Just like James, a lot of them come from difficult beginnings and they deserve to have a loving home with a family to take care of them for the rest of their lives. Not only that, but thousands of animals are left in pounds or shelters every single year. Many of them are put down without ever having the experience of being loved and cared for.
Personally, I can never go back to purchasing from a breeder. After rescuing James, he has brought so much love and happiness to my life that I cannot imagine my life without him around. The fact that he has been so resilient and is still open to loving a human despite the difficulties he has faced at the beginning of his life is so amazing.
WF: Were there any challenges that came with adopting James?
NS: We had no problems with adopting him, but he did have a hard time adjusting to our tiled floors at home. He wasn't used to it and kept slipping around, but eventually, he found his grip. The same day he came to us, he spent about an hour or two hiding, but he eventually came out and wanted to know who we were. It probably helped that we lured him out with raw meat though. Haha!
When James first came to us, he actually smelt like a small dog. It turned out he lived with dogs at his rescue centre since he was a kitten. We believe he thinks he's a dog. He has many characteristics that are exceptionally unusual for a cat, like the fact that he is very forward with his affection and is incredibly needy. He needs to constantly be around people, and if you call him from a distance, he will come running to you. He also doesn't like to clean himself as much as other cats do and leaves a trail of mess wherever he goes. He also enjoys being cuddled and held like a baby.
WF: What's the best pet parenting tip you can give for first-time animal owners?
NS: Have a lot of patience. Just like how we cope with change, your pet will also need to learn how to cope with it. It's not easy getting used to new owners and new surroundings. Surround them with so much love and encouragement.
WF: What's your advice for people thinking of adopting a rescue animal?
NS: Be aware of your adopted pet's history as many of them come from difficult and sometimes very sad backgrounds. Some of them come from the streets or have been abused at the hands of their previous owners. Some pets will require more patience and care than others, but ultimately, it is one of the most fulfilling things one can experience.
Rescue pets are the most forgiving, trusting, and loving beings out there! They do not see flaws the way we do and for them to still love you despite everything they may have experienced is honestly unparalleled.
Read more rescue stories here! Do you know of an interesting pet adoption, foster, or rescue story? Share your suggestion with us by commenting below!