Thirty-two-year-old Jeng Paradero-Mamiit is a full-time homemaker, freelance writer, and tutor from the Philippines. She and her husband Aaron have their hands full at home, collectively take care of nine puspins (Philippine native cats)and nine aspins (Philippine native dogs). Jeng admits that before her first shelter dog came along, she didn't have any experience with animal rescue. "Growing up, I always wanted to have a home with lots of cats and dogs! When we adopted our first rescue/shelter dog, I told my husband that if we open our home to another furbaby, I want him/her to be a former stray since rescues find it difficult to get into a loving home."

Chatting with Waldo's Friends, Jeng recounts her favorite adoption story and shares how adopting her pets turned her into a passionate animal rescue supporter.
Help out by donating to Philippine Animal Welfare Society (PAWS)
With your kind assistance, PAWS can rescue more dogs and cats from cruelty or neglect, then treat and rehabilitate these animals.
Waldo's Friends (WF): Can you tell us how Migo became a part of your fur family?
Jeng Paradero-Mamiit (JPM): Migo was abandoned in our old village in Laguna. We initially thought that he was owned and that his owners just let him roam the streets, but as the days passed, we observed that he frequently loitered near our gate and often begged for food. That's when we realised that he had no family. 
Back then, my husband didn't want another dog as we already had four dogs and four cats. However, Migo would walk with my husband to the village gate every morning on his way to work, and would be waiting there for him whenever he got home. It happened every single day. Migo would also wait for our dogs to go in the yard so that he could play with them through the fence. 
I saw how much he badly wanted a family, so one day, I just opened our gate and let him enter our home. I gave him a bath and prayed so hard that my husband wouldn't notice. He came home asking me why the village stray was not outside to welcome him from work, only to realise that the dog was already freshly bathed and inside our home.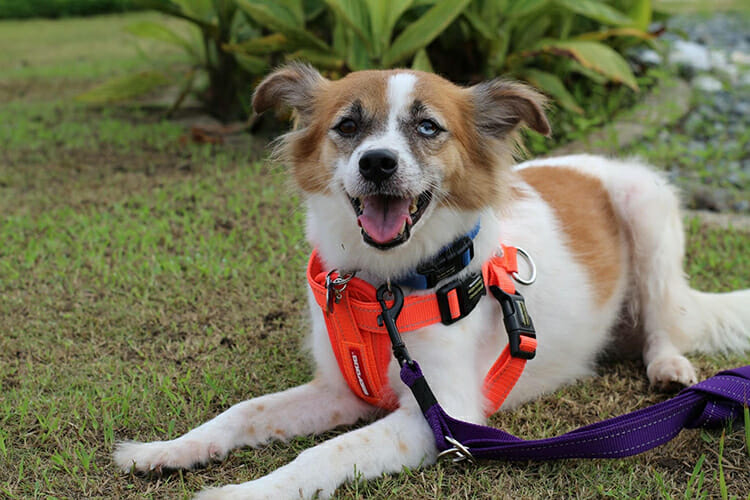 WF: Having dogs and cats in a single household, how do you ensure that they all coexist peacefully?
JPM: We just don't make a fuss out of things. We let them interact and don't make a big deal out of it. The more you're anxious or excited about it, the more they get worked up. We just let them be, and we don't force interactions with each other.
WF: What would you say makes your adopted pets unique?
JPM: Since I have nine cats and nine dogs, they all have unique traits and quirks, but nothing much out of the ordinary. But I must say, for someone who used to live on the streets, these guys learned how to live the good life overnight. They would cry whenever someone turns off the aircon.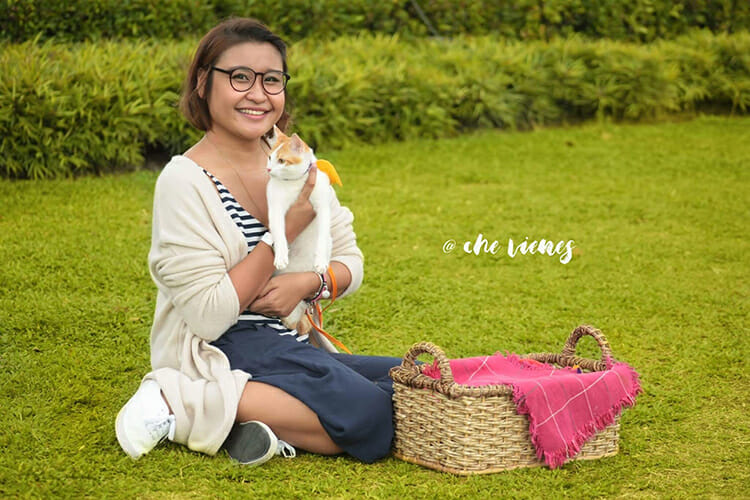 WF: What's the best parenting tip you can give for animal owners with many pets? 
JPM: Make sure that you have time, patience, and resources to care for them. While it is fun, it is also coupled with huge responsibilities. 
WF: Do you have any funny anecdotes about any of your adopted pets?
JPM: We always celebrate the birthday of my eldest dog Sushi during Halloween, and all of the pets get to celebrate with him. (Sadly, he passed away in January 2018.) It was Argus' first time then since he was recently rescued. He got so excited when we gave him a slice of pupcake. We were all surprised when he suddenly cried so loud and paced around the room. Panicking, we called our vet to consult the sudden change in Argus' behaviour. As we told him about the cake, the vet asked us to check his tongue since he most likely bit it. True enough, Argus bit his own tongue out of excitement for tasting a pupcake for the first time. 
WF: Speaking of Halloween, I saw that your aspin Leo was once chosen to model for a Halloween fashion show. How do your pets feel about wearing accessories and/or being in costume? 
JPM: They like wearing bandanas. Whenever they wear costumes, I make sure they're comfortable and that they only wear it for a short period of time.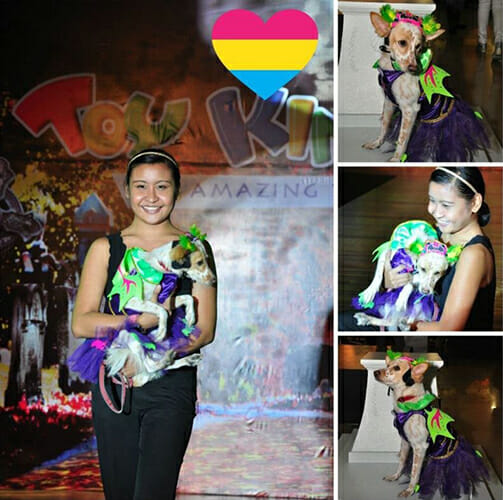 WF: What are the things your rescue pets enjoy doing with you?
JPM: We are an introverted family so we love hanging out at home. But we also love having staycations in Baguio, Tagaytay, or Batangas at least once every quarter of the year.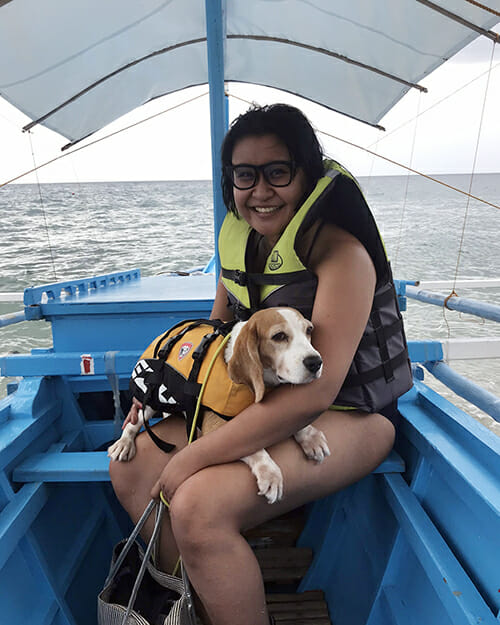 WF: Do you consciously travel with your pets in tow? If so, what do you look for in the accommodations you stay in?
JPM: We make sure to have at least one staycation per quarter, but we only let those pets who are used to travelling go with us. I am lucky that there are so many pet-friendly vacation options nowadays. We're not really picky. As long as the place is clean, safe, and secure, we're good!
WF: Could you talk about how you got involved with PAWS? 
JPM: I started working with PAWS because of Leo. He got admitted to the PAWS Dr. Dog Program. Presently, I have three therapy dogs under the program. From there, I started to see more volunteering options for me. Right now, I also do Humane Education and coordination with their TNR Projects. I am also a supporter of CARA Welfare Philippines and Animal Kingdom Foundation.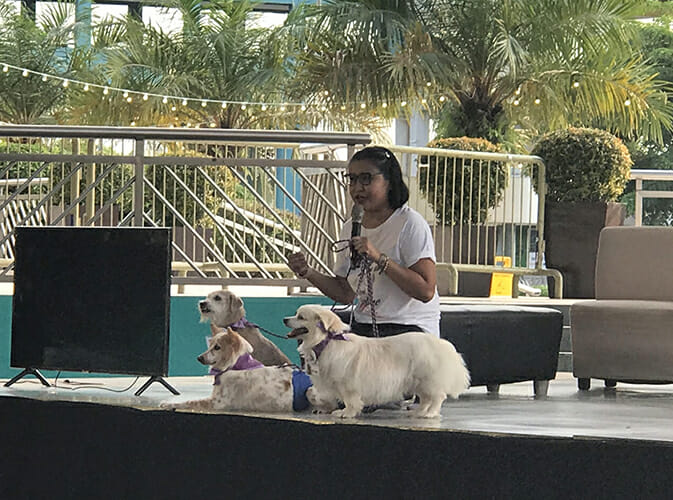 WF: Could you talk about the abstract you created for PAWS called "Literacy & Education Assistance Dogs (LEAD)"? What do you hope to achieve with it? 
JPM: PAWS LEAD is a volunteer-based program which aims to support early readers in gaining love for reading by fostering a fun, encouraging, and non-judgmental environment while teaching them awareness on animal welfare. The program caters to different grade levels through various age-appropriate, animal-assisted activities. The PAWS Professor Dogs and their Leaders will visit schools to administer the program.
As a former professional in the field of education, literacy is close to my heart, and what better way to marry two of my advocacies but by curating a program which is PAWS LEAD. 
WF: How has your life changed after adopting your pets? 
JPM: I am a very private person who has always been afraid of public speaking, but adopting pets has made me someone who speaks and works passionately about the cause. It's something I wouldn't have imagined doing during my younger days. 
WF: Why would you personally encourage people to adopt animals? 
JPM: Adopting animals changes a person's perspective. It's easy to buy a pet, get his papers, move on, and start your story. But with adoption, it's more interesting. You find your soulmate, learn his/her history, and vow from that moment on that while you cannot rewrite what has happened, you will do everything in your power that every day with him/her is a story worth telling.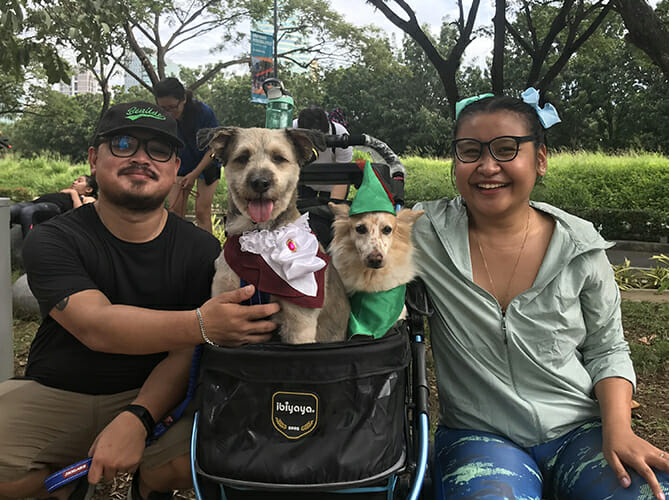 Follow the adventures of Jeng and her rescue pets on Instagram. 
Read more rescue stories here! Do you know of an interesting pet adoption, foster, or rescue story? Share your suggestion with us by commenting below!